'Then, one fine morning, I returned to my first love.'
'All the top directors of the time were waiting for me.'
'In one day, I signed 12 films.'
'Prosenjit Chatterjee was back!'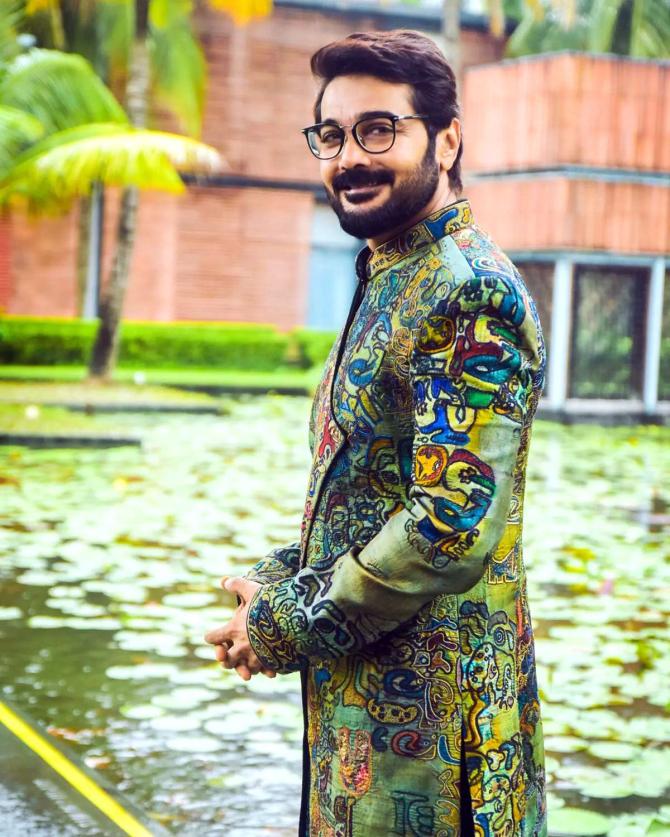 We have an appointment for 11 am at Mumbai's JW Marriott hotel.
Roshmila Bhattacharya is a couple of minutes late and unperturbed because in Mumbai, a superstar is rarely punctual.
But as she breezes in through the revolving door, the cell phone buzzes.
It's his manager wondering where I am.
"Bumbada is never late, you can set your watch by him," he explains a few minutes when Roshmila is seated opposite Prosenjit Chatterjee.
Had we been in Kolkata, there would have been chaos and hysteria by now.
But in Mumbai, Bengal's matinee idol for four decades has the luxury of finishing his breakfast without interruption.
But that's not why he in in the city.
He's here to promote his Web series Jubilee, which begins streaming on Amazon Prime Video from April 7 and has him playing an industry mogul who can kill for cinema.
In an introspective interview, Prosenjit reveals, "In real life, I am Hitler. If anything comes in the way of my craft, I walk away from it."
Jubilee, is set in the film industry of the 1950s and 1960s. As an industry kid, you were a privy to this era and its legendary stars, which includes your father Biswajit Chatterjee. What was it like revisiting the period on screen?
I knew about the concept since Soumik (writer Soumik Sen) is very close to me.
They had been working on Jubilee for the last five-six years.
When I was approached for the project, I thought it would be a great way to pay tribute to the people who had made this industry.
It has sex, drama, dreams and murder. At the same time, the series is a documentation of Indian cinema with my character, Srikant Roy, going against the ruling government, airing film songs from Radio Ceylon as Indian radio was banned from playing them here and taking several other revolutionary steps to help Indian cinema stand on its feet without foreign collaboration.
Srikant Roy is the boss, the ultimate decision maker.
Did he bring back any memories?
Yes, of Kagaz Ke Phool.
Guru Dutt, as the famous director Suresh Sinha, driving into the studio in a big, open car, smoking a pipe, everyone passing by doffing him salaam.
We replicated that scene.
I really enjoyed shooting this show because I myself have witnessed three different types of film technology.
I was fortunate to work in black-and-white films where you would dub in loops and edit with reels.
Then, we moved to rock-'n'-roll dubbing...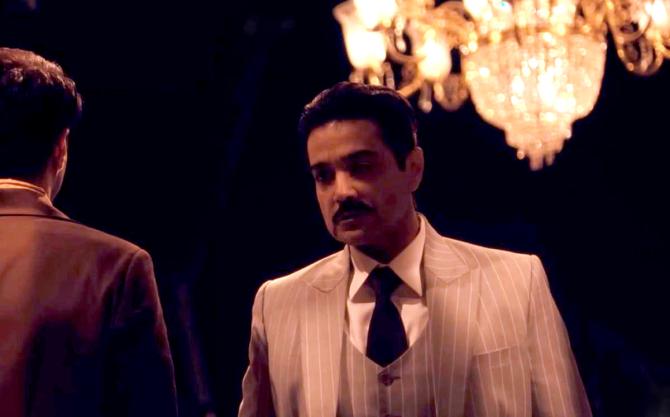 Loops, Rock-'n'-roll dubbing... Fantastic terms and completely unfamiliar.
(Chuckles) In loop, if there were three actors in a scene, they all had to be present while dubbing.
The advantage of rock-n'-roll was that you could dub with one actor at a time and he could start at the point where he had got stuck and stopped.
Now, of course, you can dub from the comfort of your home.
Technology is an integral part of cinema, and in the case of Jubilee, it is integral to the narrative too because Srikant Roy introduces cinemascope.
This character is rough, tough and kill for cinema.
Even his wife, a diva and a co-partner in the studio, acknowledges this, telling one of his detractors that you can accuse Srikant of being a womaniser and a manipulator, but when it comes to cinema, he is true to his craft.
Any similarities between the two of you?
Yes, Srikant Roy breathes cinema, so do I.
That's one reason that drew me to the character and the series.
As Vikram (Vikramaditya Motwane, director) told me during the first narration, Srikant Roy is like Al Pacino of The Godfather.
In real life, I am Hitler. If anything comes in the way of my craft, I walk away from it.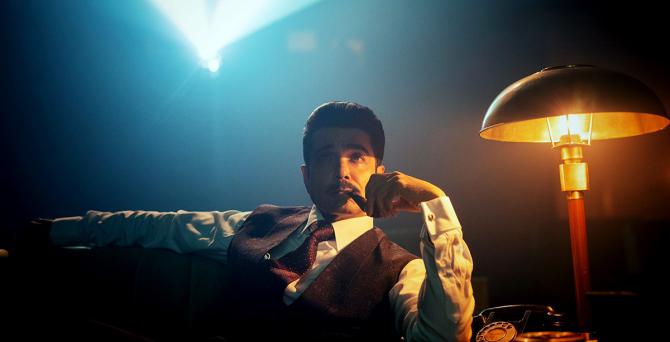 Have you ever walked away from cinema?
Not walked away, no, but after my first divorce, I shut myself up in my flat for three years.
(Smiles wryly) I was young then, around 20, and the breakup caused a huge emotional upheaval in my life.
I understood that I couldn't give my 100 per cent in front of the camera.
So at the peak of my career, I shut myself in my flat, and did not venture out for three years.
Then?
Then, one fine morning, I returned to my first love.
All the top directors of the time, from Swapan Saha to Tapan Sinha, were waiting for me with subjects.
No one else had that aura of a commercial star. I had given 22 films in one year in the '90s.
(Laughs) And in one day, I signed 12 films.
Prosenjit Chatterjee was back!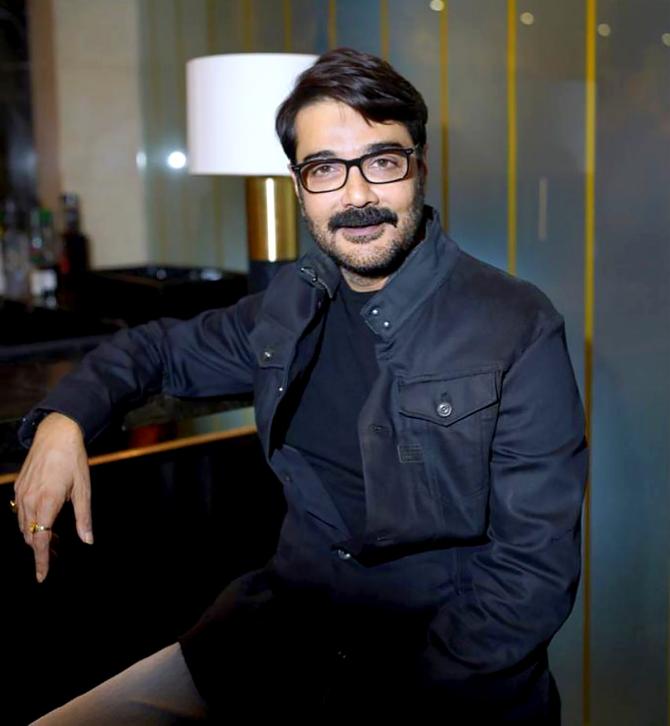 What happens if you hit a personal low today?
After that incident, irrespective of any personal or professional setback, my priority has always been cinema.
If I get upset or depressed by a flop, I lock myself at home for seven days and watch great films like Kagaz Ke Phool, Meghe Dhaka Tara, Kamal (Kamal Haasan) sir's Sagara Sangamam.
It can even be a Marathi or a Malayalam film.
I tell myself that if others could make such gems, why can't I?
And after a week, I am back on the set, rejuvenated!
I'm lucky I got to work with Tapan Sinha and Tarun Majumdar then, and I'm working with Srijit Mukherji and Kaushik Ganguly today.
It's been a long and super successful journey, but not an easy one. Let's flashback to your early struggles, an incident you have never forgotten...
There was a time when all the top directors in Kolkata had offices inside studios.
There were days when I was asked by one to meet him at noon, and the next appointment, at the same studio, could be at 4 pm.
I would take a bus from my home in Dum Dum to Tollygunge, meet the first director at 12 pm, then hang out at Tarakda's tea stall in front of the studio till the next meeting.
I would drink water directly from the tap when I was thirsty.
I didn't have money for food, Tarakda would share his dabba with me.
Mind you, the affection was not for Prosenjit whom no one knew then.
It was because I was the son of a superstar, Biswajit.
Bishu ka beta Bumba who had played in his lap.
Those were difficult days, but my struggles made me strong.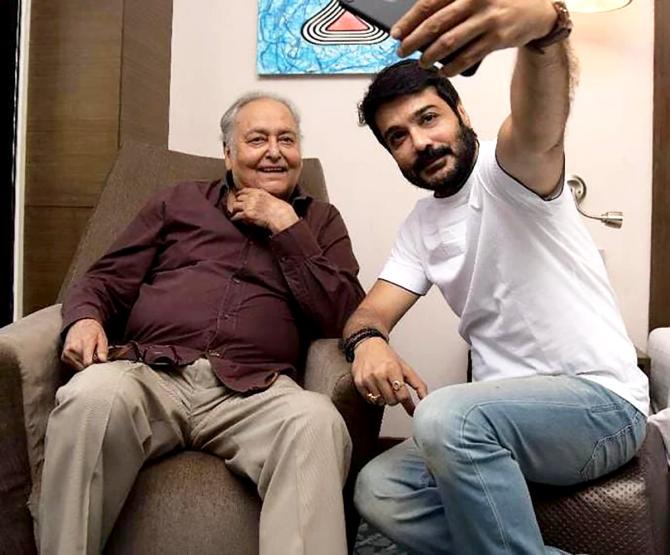 It could have made you bitter too?
No, it didn't because God and my mother are my biggest strengths.
I pray for an hour every day and still talk to maa when I am in trouble though she has left the world.
From them I understood that you can't change your fate.
At the same time, I believe that I have achieved far more than I deserve.
Really?
Yes, I work very hard, but there are far more talented people than me in this film industry.
It's because of the blessings of God, maa, my producers, directors and everybody who have touched my life that I have reached this position.
So, it is only right that I should build my brand with the utmost dedication, professionalism and humility.
I have given innumerable silver jubilees, 30-40 golden jubilees, I had a platinum jubilee in Amar Sangi.
Yet, as I tell the next generation of actors, I don't wear my hits, I wear my flops.
Could you elaborate...
I analyse my failures, figure where the fault lays, and then bounce back and try to deliver something different.
All of us who have been working for 30-40 years have not had a rock steady career graph, we have seen many crests and troughs.
So, when I was down, I didn't stop. I simply went and explored an alternate space.
I did three films with Buddhada (film-maker Buddhadev Dasgupta), including Sapner Din, and I walked the red carpet at the Toronto International Film Festival.
All the Indian superstars have had their ups and downs.
I simply pick up Soumitra (Chatterjee) kaku's or Mr (Amitabh) Bachchan's memoir, read how they handled such roadblocks, and learn from them.
Uttam (Kumar) jethu went too soon, he didn't leave a memoir behind. But I was very close to him and his life has been an inspiration too.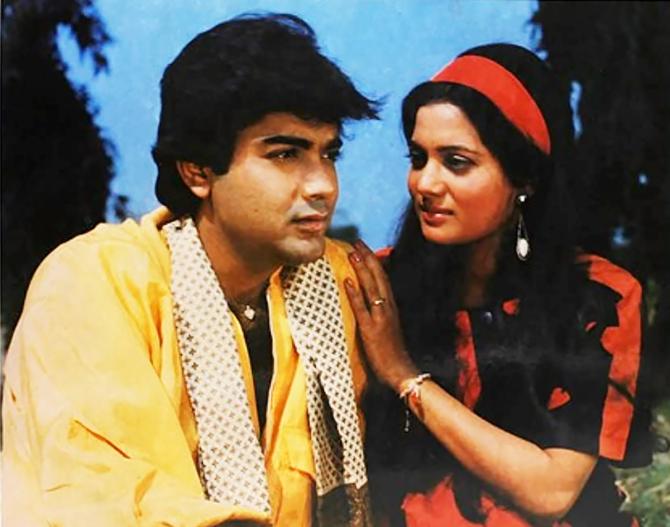 Uttam Kumar was to launch you as a leading man, in a teenage love story cum thriller, opposite Supriya Devi's daughter Shoma and Soumitra Chatterjee in a double role.
Yes, Uttam jethu was to direct the film himself.
It was in colour and we had even got a photo session done.
Unfortunately, on July 24, 1980, tragedy struck. An untimely heart attack took him away...
Yes, he should have been around for at least another 20 years.
Bengali cinema still revolved around Uttam Kumar.
He was the banyan tree under whose shade youngsters like me were blossoming.
But suddenly, the tree was gone.