There is a world that Satyajit Ray created in his films that I wanted to be a part of -- as Durga bathed in the rain to Ravi Shankar's music; when Charulata sat on the swing regretting she never had a child; and Aarti stood up in defence of her colleague.
Aseem Chhabra shares his memories of Satyajit Ray on the latter's birth centenary on May 2.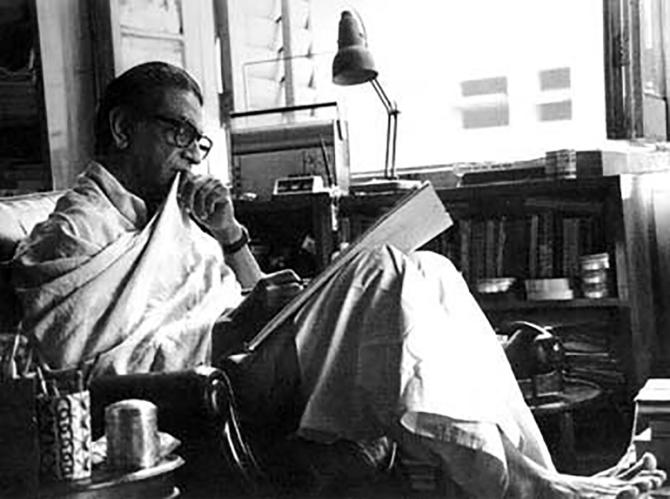 It has been 38 years but I remember it like it was yesterday -- the time when I sat in my student dorm room in New York City and made a call to Satyajit Ray's home in Calcutta.
A few weeks before that, I had typed a letter to Ray.
It was on an airmail letter form, where I explained to him that I was working on a story for my school project, based on his allegations that Steven Spielberg's ET and Close Encounters of the Third Kind were inspired by the Bengali master's script The Alien.
In working on the piece, I had already interviewed the British science fiction writer Arthur C Clarke, who was living in Colombo at that time, as well as Ray's London-based biographer Marie Seton.
While I waited for Ray to respond, I was getting pressure from my professor at Columbia University's Graduate School of Journalism to finish the story.
Seton was kind enough to give me Ray's phone number, even as she reminded me a few times -- much like a grandmother -- that I should call him between 6 am and 7 am India time. She said he would be in his study at that time.
And so, sitting in New York, I timed my call to reach Ray at that early hour.
It was an international call made on AT&T's network that cost $1 a minute in 1983.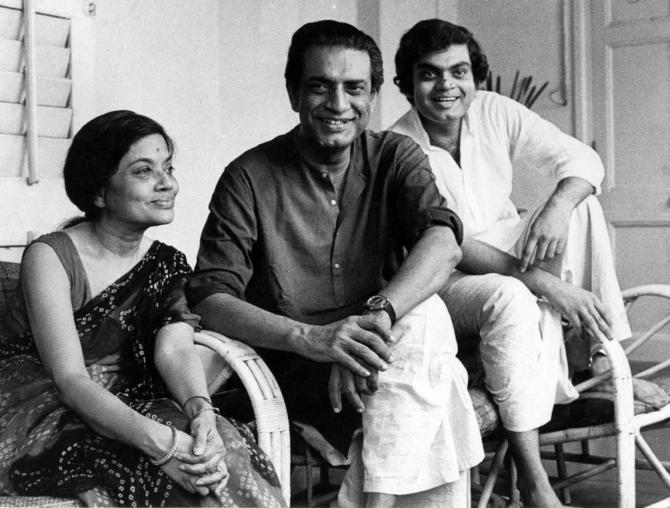 Ray picked up the phone, and I heard his deep voice, his clipped, upper class English accent.
I imagined him sitting in his chair in his study early in the morning as he talked to me and the street scene in Calcutta outside his window.
He told me he was planning to respond to my letter, but I insisted that we should talk on the phone.
I needed his quotes.
I had to finish my article to graduate with the MS degree in Journalism.
Ray told me that while he had not seen ET, Clarke had told him about the similarities between The Alien and Spielberg's film. And Clarke had suggested that he should write to Spielberg.
He added that he felt helpless since he was in Calcutta in the middle of a film shoot (he was working on Ghare Baire at the time), and it was hard to prove the charge of plagiarism since Spielberg had made substantial changes in his film.
His one regret, he told me, was that he would not be able to make The Alien, since now people would say he had taken ideas from Spielberg's film.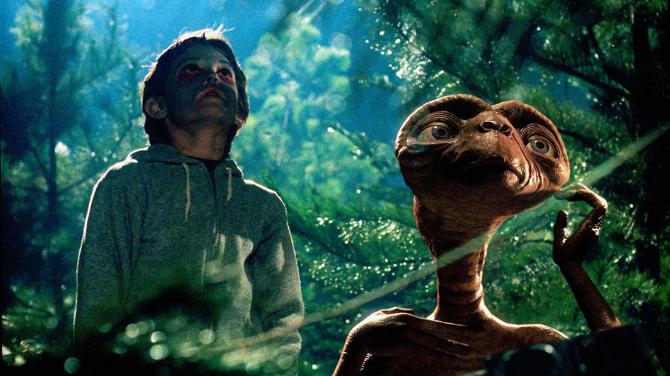 My article took off as it was picked up by several American publications, including Los Angeles Times and Philadelphia Inquirer.
The story about the similarities between ET and The Alien has been covered a lot, including in a recent book Travails with the Alien in which I have an essay. (external link)
My only other contact with Ray was a letter he sent to me after he received the clippings of my article and the follow up stories.
He was upset at me since he believed I had pushed the story to a level that had earned him a reputation he did not deserve.
He referred to me as an 'overzealous journalist'.
He also felt what Spielberg had done was unethical.
Ray ended the letter by saying that he did not want to hear any more about the issue.
I was in my early 20s and Ray's strongly-worded letter shocked me.
My hero, the man, the artist I highly respected was angry at me.
We never met and had no contact after that, but I am still haunted by his words.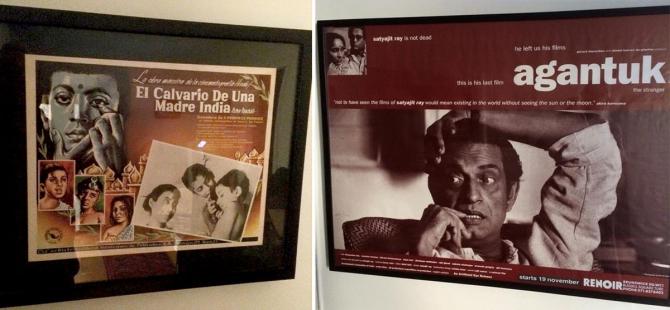 Over the years, as I became a film journalist in New York City, I regularly wrote about Ray's films as they played in the city's art house theatres.
I would often be in lines to watch The Apu Trilogy, Charulata, Devi, Nayak and many of the master's other classics.
I saw Ghare Baire when it was released at the Paris Theatre in Manhattan.
Later, I was in the audience as the Film Society of Lincoln Center released his last three films: Ganashatru, Shakha Proshakha and Agantuk.
I wrote about efforts to restore Ray's classics by The Academy of Motion Picture Arts and Sciences and later, the 4K restoration of The Apu Trilogy by the Criterion Collection.
I was fascinated by the story of the restoration process, but I also wanted the news to reach film lovers, many who were young and had not seen Ray's films.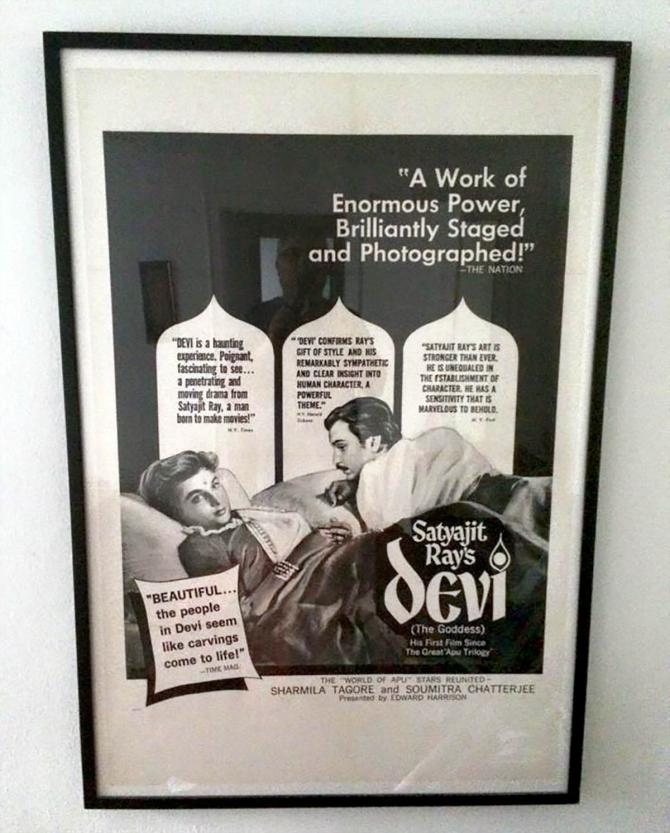 It became a mission in my life.
In my own small capacity, I wanted to spread the word about Ray and his films.
I bought rare foreign language posters of Ray's films and books on him.
As I revisited his films many times, I was pulled into the humanistic narratives he unfolded on the screen, the delicate beauty of his actors, the production design, the music, the cinematography and the precious shots.
There is a world that Satyajit Ray created in his films that I wanted to be a part of -- as Durga bathed in the rain to Ravi Shankar's music; when Charulata sat on the swing regretting she never had a child; and Aarti stood up in defence of her colleague.
Over the years, Ray's characters had become my friends.
I laughed with them and cried at their tragedies.
I felt a sense of comfort and peace visiting them on the big screens in New York City's art house theatres.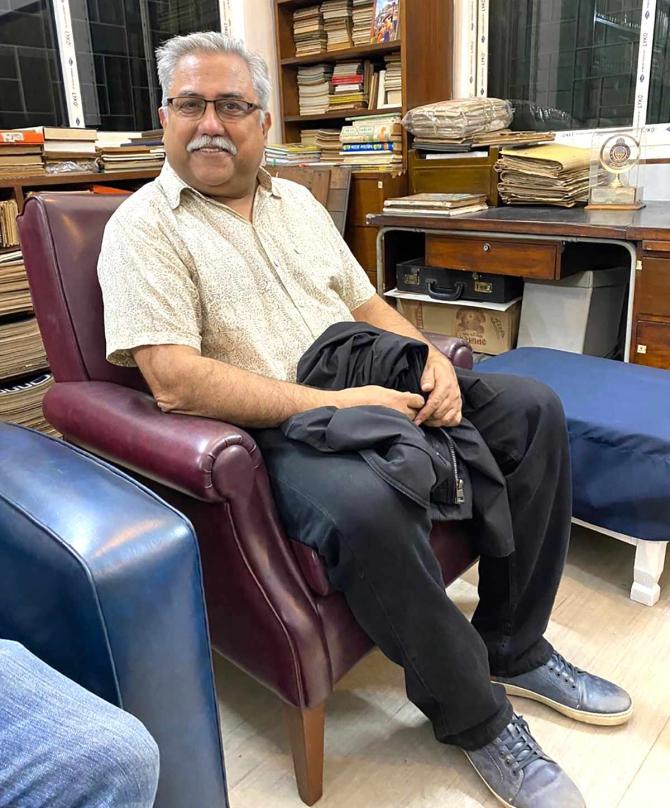 Early last year, I was invited to Kolkata by the ArtHouse Asia Film Festival.
One evening, my film critic friend Rajeev Masand asked me if I would like to go with him to Satyajit Ray's home. I jumped at the idea.
We arrived at Ray's home with a local film theatre owner who knew Sandip Ray.
Sandip's son opened the door that led to a long corridor.
The family quarters were at the back but on the right was the living room and behind it, the study with Ray's books.
Ray's daughter-in-law Lalita came in to welcome us and asked us to be seated in the study.
I saw a very comfortable chair in the corner, with purple leather upholstery and I sat in it.
Immediately, the gentleman who had brought us to the house, jumped up.
'No, you can't sit there,' he said.
I was confused, but I got up just as Lalita tried to defuse the situation by saying that it was okay and I could sit there.
Which is when I realised that I had unwittingly seated myself on the Master's chair. The same chair he would have sat on when he talked to me by phone in 1983.
We laughed at the awkward situation and as Lalita stepped out to get Sandip, Rajeev hurriedly took a picture of mine on the chair.
I think Ray would have forgiven me by now and he would not object to my briefly sitting in his chair.