'So much so we don't feel the need to create anything, but just bask in that glory.'
'It's time to move on.'
'How much burden can you put on a person or the legacy of the person?'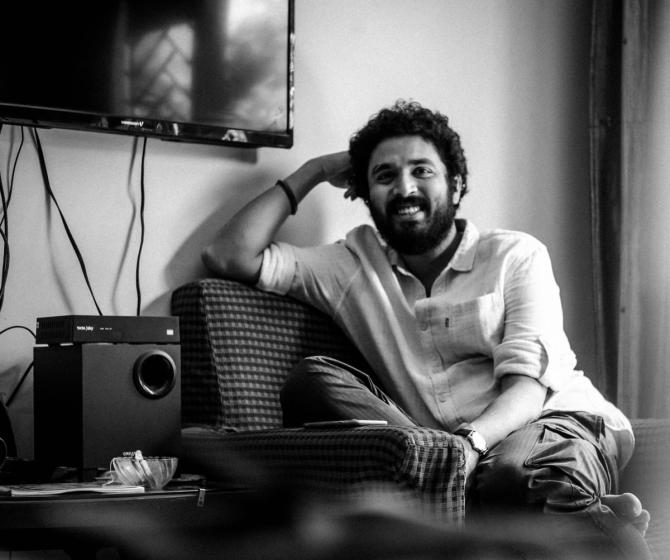 Aditya Vikram Sengupta burst on the international and Indian film scene when his first feature Asha Jaoar Majhe (Labour of Love) won the best director of a debut film award at the Venice Film Festival in 2014.
Later it also won the National Award for best debut film of a director and best sound design.
A quiet, meditative with no dialogues, Asha Jaoar Majhe tracks the days and night of a married couple in Calcutta.
Watching it can a calming experience for the audience.
This was followed by his beautiful experimental film Jonaki.
Now Sengupta is back with his third film, Once Upon A Time in Calcutta, a more ambitious film with a range of characters in transition, just as the city is also moving from the three decades of Communist rule to a government led by the Trinamool Congress.
Once Upon A Time in Calcutta premieres on September 7 in the Orizzonti (Horizons) section at the 78th Venice Film Festival. It is the only Indian film playing at Venice this year.
Rediff.com Senior Contributor Aseem Chhabra spoke to Sengupta in Calcutta as the director was trying to figure out how to travel to Venice, give all the pandemic related restrictions in Europe.
Aditya, what do you two names Calcutta and Kolkata mean to you? Why did you decide to use the name Calcutta in your title?
I come from a time when it was Calcutta. Obviously there is a connection and nostalgia we have with that name.
I wanted to stick to it. Although the film is contemporary, but everything in no time becomes once upon a time.
It becomes like a fairy tale, a time that is no longer there and you can't relate to. But that time existed.
It was a time without cell phones, e-mails. It's a time I have seen in my life.
But looking back right now I can't imagine a life without a computer or internet.
But at that time, that life seemed contemporary and modern.
So it was the name that I know since birth. Phir aa kar to koi bhi naam change kar sakta hai.
But you are Bengali. And when you speak Bengali you say Kolkata right?
When we are talking in Bengali we say Kolkata. I would have used Kolkata in a Bengali title. But why would I say Kolkata in an English title?
I read that the film also is your way to exploring the city as it broke away from three decades of Communist rule. We have now had ten years of Mamata Banerjee heading the state.
This whole increase in appetite was after the Left was defeated in elections by the TMC.
It's as if this person was kept under a strange medication for years.
He had no interest, bhook bhi nahin thi, ganne bhi nahin sunta tha. And suddenly that medication has stopped and he has become this beast.
I am not very politically inclined. But it's a change that I saw in the city.
It is also clubbed with the coming of information technology and cell phones, having everything accessible on your fingertips.
I think it is a worldwide phenomenon. I am seeing it through the story of Calcutta.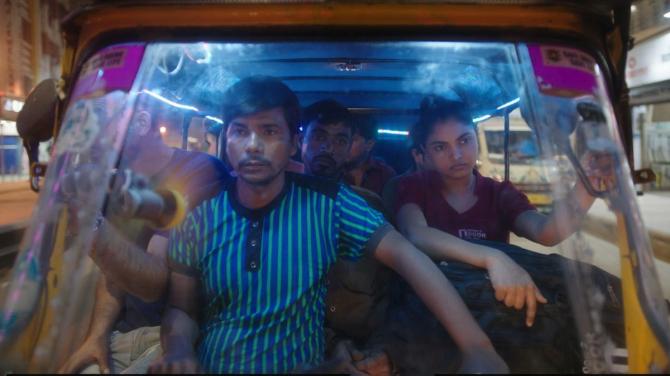 Did you believe that this is your most talkative and also accessible film as far as the narrative is concerned? Was that a thought in your mind as you were writing the script?
Not really, because each story has its own demands.
This is the story about a city and its people. And here people are like this.
They talk and talk, and banter. I knew I had to work a lot on it over two years of casting and six months of workshops. Going up to 40-50 takes.
There are lot of things that might seem improvised, but they were rehearsed to the 'T' by the actors.
Very objectively speaking I have not seen acting like this where you sometimes cannot tell ke koi acting kar raha hai.
I actually haven't seen many of the actors.
Sreelekha Mitra who plays Ela, is a veteran actor, but she hasn't done too many important films.
Bratya Basu -- the person who plays her stepbrother Bubu -- is a veteran actor and a Trinamool Congress MP.
Rest of the people are from theatre. The lawyer in the film is my father.
Tell me about that image of the dinosaur which inspired you. Or you heard it was going to be demolished?
It's an image that I clicked when the biggest flyover was being made in Calcutta and it stopped at the level of the dinosaur.
It came to a point where it seemed like the starting point for the flyover and the dinosaur, like a race.
That image gained extreme relevance for me. It talked about new, old, archaic, modern, progress.
And not just about physicality, not just that purani building hai, usko tord do.
But it was also about the mindset of people who cannot leave the past behind and want to hold on. And it becomes very difficult for them to survive.
For instance the theatre owner in the film who doesn't want to give up this crumbling property that is not in use.
And there are people who are constantly racing like the character Raja.
So I wanted to explore the city through these mindsets, rather than showing physical spaces of the city.
Of course, physical spaces are there, but the film became more about the soul of the city.
It's not just a city of bricks and mortar, but it is the people who inhabit it.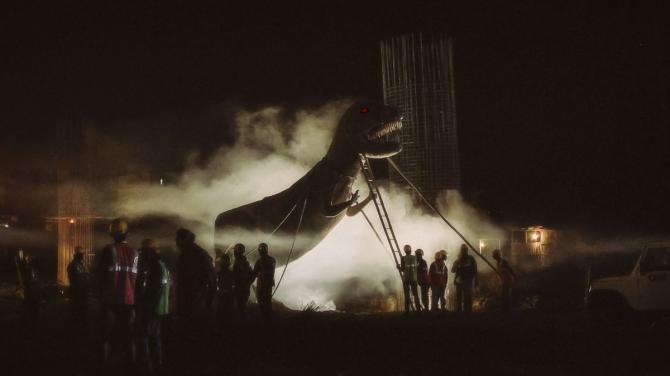 Why was the dinosaur there? Was it an amusement park?
There was a science park and the dinosaur was a part of it.
It was an iconic structure in Calcutta. Later it got demolished.
But I adapted it into a symbol. I wasn't making it into a comment ke usko kyon utar diya.
Everything is a character in the film. The dinosaur is a character, the flyovers, the constructions, the corruption -- all are characters.
And there is no black and white, good or bad. These are things that co-exist.
Apart from the dog and Ela's husband, who is almost like a dog, everyone else is a blend of good and bad, and that is how life is.
Even Ela's childhood lover who lies constantly to her. But in his work place he is extremely moral and ethical.
I know there are no parallels, but did you see some connections between Ela and her husband, even though they are estranged, with the couple of Labour of Love? The quietness in the two relationships, did you see any similarities?
All of what you seen in this film, I have also seen in real life. The dilapidated theatre for instance, I saw it for eight or nine years.
I talked to the owner who stayed exactly how you see Bubu.
He was very old and was scared that people will poison him. He got rid of his workers and servants.
He even thought his son would poison him. He just died in the theatre. No one even checked on him.
He was one of the pioneers, one of the biggest theatre personalities in the 1970s.
But then these theatres were affected by the popularity of cinema.
So they introduced cabaret dancers. And that was a big thing in India, especially in Calcutta.
Even in Delhi, there were evening cabaret shows all across Connaught Place.
Yes. So in the film Ela's mother was a cabaret dancer. Other things that we witness in the film also happened in real life.
The ponzi scheme was one of the biggest scandals in 2013.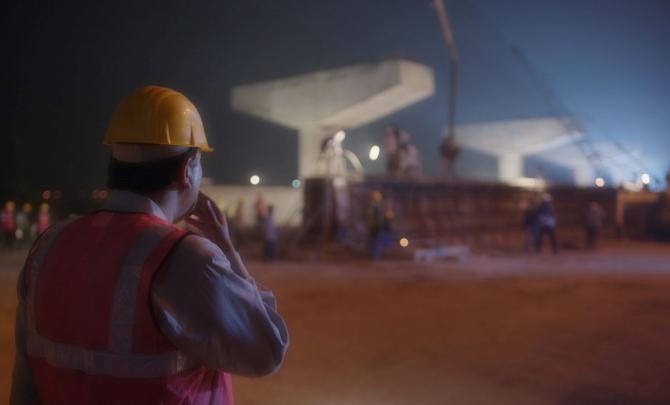 The Sharada chit fun scam. Also the flyover collapsing.
Not one. There were about six, three in Calcutta and the rest in other parts of Bengal.
There was one huge flyover collapse recently.
And that strangely happened on the day we were writing that scene.
I was writing the fifth or sixth draft of the film and we were wondering how we were going to construct that scene when (producer, production and costume designer) Jonaki (Bhattacharya) came and said to me "You won't believe what just happened."
That's the flyover I also show in the film, when Raja is smoking in the terrace. It's once again being demolished and cleaned up.
So everything that happens in the film, I have seen it myself.
I understand that the film is set in Calcutta and it is in Bengali, but I want to ask you about the references to Rabindranath Tagore.
Quite a few times in the background you play Tagore songs which have been remixed. And then Tagore's busts are scattered after the collapse of the flyover.
I want to get your sense about that. What is the statement you are making?
Honestly I am not making a statement. But I am quite bored of this over obsession with Tagore and Satyajit Ray, and everything these two have done.
So much so we don't feel the need to create anything, but just bask in that glory.
And anyone who tries to do anything unique, criticise to karna hee hai humko.
Ki idhar aa kar Tagore ka song suno. That is what a song is supposed to be.
It's time to move on. How much burden can you put on a person or the legacy of the person? It's really problematic, really unimaginable.
The so-called creatives were waiting for the copyrights to expire so they could come and scavenge Tagore's material. And that is what happened.
After a point people should just let things be and for the lack of one's creativity not keep snatching and scavenging. Ukso overuse and abuse kar ke, matlab uska aur hee kuch bana dete hain.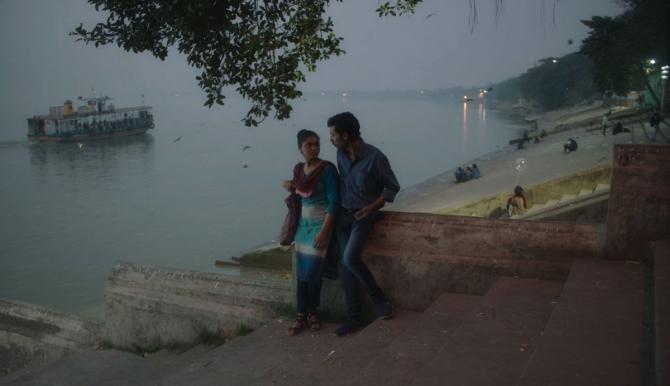 You were born a Bengali, so the legacy of Tagore and Ray... is that really like a huge burden for you?
It's very annoying, really irritating. Matlab duniya kharid lee hai jaise.
Everywhere there is Tagore, Tagore, Tagore. Any given day I get at least four WhatsApp messages about some Tagore event happening.
Some song and it's a reinterpretation, they bring a poet and a politician and both of them will discuss.
I asked you what is the statement you are making? This is the statement.
If I make something, 'Oh he's the next Ray.' Kyon bhai, I am not the next Ray. I am who I am. He has done what he has done, and it's done and dusted. Ho gaya, khatam.
You can appreciate his works, but everything is not about him. Just because you can't find any other reference point to hold on to, too bad. Move on.
Imagine what they would have felt if they were alive?
Even when their works are remade, the respect is not there to spend time with the material, to understand it and to kind of create a new thing which is at least worth something.
This whole thing about celebrating mediocrity, being in a hurry to churn out things, it is disgusting.
I wanted to talk to you about the music of this film. I know Aloknanda Dasgupta had composed the music for Labour of Love.
She made just one track for Labour of Love. It was used in the trailer. The film didn't have original music.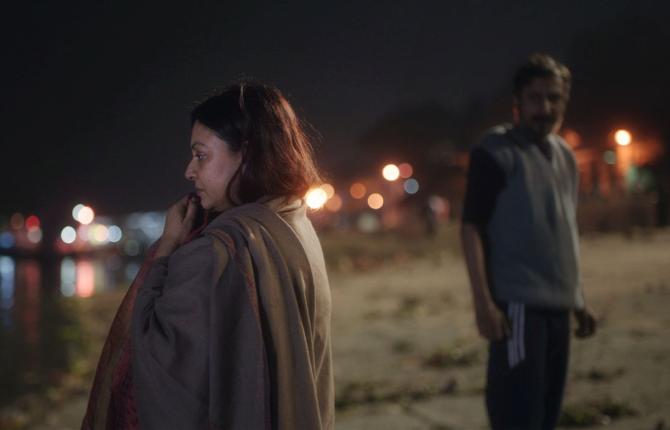 In Labour of Love you start and I think end with shehnai. And in Once Upon a Time in Calcutta also you open with labourers heading to work and we hear a shehnai piece.
Haan is main bhi shehnai piece hai starting main. There have been times when I have been out on the road early in the morning.
I have been on a drive. I generally see a lot of things and keep recording them, especially things that affect me and move me.
One morning just before the light came on, I saw this truck full of workers.
It was stuffed with workers. I think they were returning from work. I was listening to some music at that time.
I don't think it was shehnai. But it would have been something that just completed the whole experience in a very melancholic way.
That stuck in my mind. And I have seen this image many times. It says so much about life, survival.
They are being transported from one place to another, because they are building something that is basically is going to be considered as the new infrastructure of the city, jahan pe hum log gadi le ke chalenge to reach our offices. It will make our lives easier.
It's all interconnected and so complex. These things affect me very deeply. That's why I wanted something very poignant.
I wanted the scene to accompany a piece of music which was equivalent of that feeling. For me the only instrument that is equivalent of breath and the human cry is the shehnai.
I hadn't heard of your composer Minco Eggersman.
He is Dutch.
There were a couple of Bollywood tracks in the background. I know even in Calcutta you cannot avoid Hindi cinema's reach. And then there was a beautiful almost a cello sounding instrument I heard.
That was Minco's work. There is cello, viola. He's done a phenomenal job. It was a long process.
Also Jonaki was an integral part of this film. In all my three films, besides production design, as an executive producer she has made things happen with very limited resources.
Tell me about your cinematographer -- Gokhan Tiryaki. He's a star cinematographer having worked with Nuri Bilge Ceylan. How did you hire him for this film and why did you go to him?
I have the habit of writing to people whose works I like.
I have been doing this ever since I could send e-mails.
I have written to Universal to Warner Bros -- any e-mail I could get. Later people started responding, because they are human after all.
After I made my first film more people started responding. And that's how Gokhan also responded.
His English is not that good so we translated the script into Turkish. They were a phenomenal team.
It's unimaginable how enjoyable it was to work with them.
There were four of them. When they would come to the set, they just had your back. My light, camera, electric team loved them.
They were super quick and silent. It was amazing to work with them.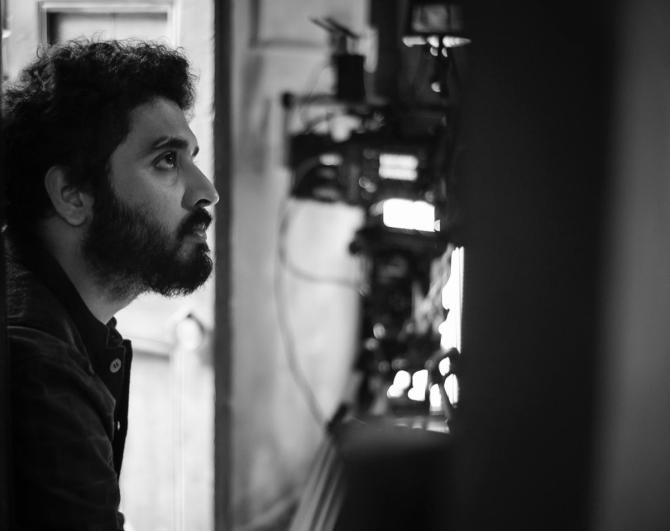 What kind of a vision had you for the film that you approached Gokhan? I know Once Upon a Time in Anatolia had a lot of night scenes, as does your film.
At the very basic level I was looking for excitement, so I wanted to collaborate with new people, just for the joy of creating.
I hadn't thought more than that other than he is Turkish, he would have a different vision.
Of course when he came, he was completely a director's DOP. He's extremely patient.
You want to do 40 takes, he will give you 40 takes. And not once would he say no.
It was perfect camera operation. Average time they would take to set up a shot, including the dolly, lighting, camera, lens would be about 20 minutes.
I had never experienced it.
I am looking at your list of producers and it includes Shashwat Singh who also produced Eeb Allay Ooo and Aise Hee.
I also see the name of Catherine Dussart. She worked on Chauthi Koot and your second film Jonaki.
There is a French fund CNC. We applied for it and that is how she came into the picture.
She's an amazing person to work with. And also we have a Norwegian producer Ingrid Lill Hogtun.
And Wishberry raised part of the funds, the Indian component.
Feature Presentation: Aslam Hunani/Rediff.com