'But it's not something I am interested in.'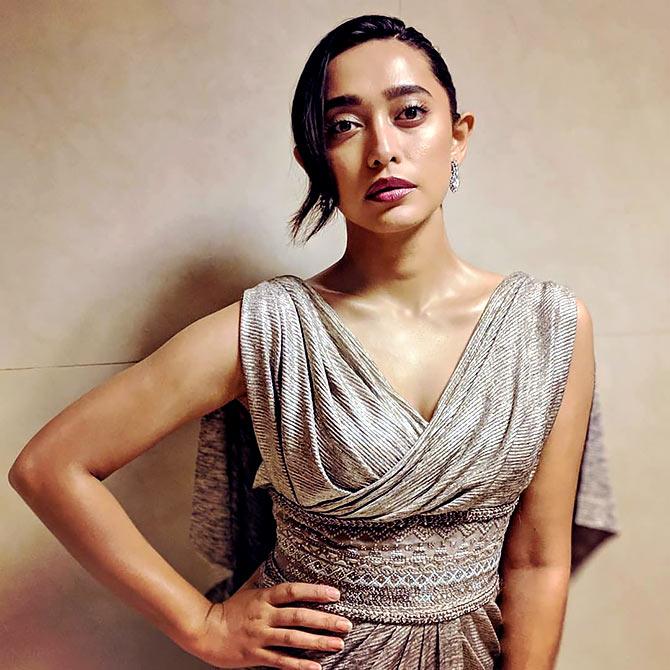 The gorgeous Sayani Gupta looks unrecognisable in her new Web film, Posham Pa.
The actress plays a child serial killer, and while the show can be quite disturbing, Sayani tells Rediff.com Contributor Divya Solgama, "I don't get affected with my roles."
The trailer of Posham Pa looks very scary. What made you take it up?
I was excited about working with director Suman Mukhopadhyay, as we have known each other for years and have been wanting to work together for a long time.
The character that Suman narrated to me, briefly, amazed me because I haven't seen anything like that. I personally wanted to explore it.
The look of my character was quite moving, especially the latter part.
Posham Pa is a non-linear Web film and I play three age groups in it -- it starts with a 17-18 year old girl, then 22-23 years old and then 27-28 years old.
When my character is 28 and is in jail for many years, my look went through a transformation, done by prosthetic.
All this made me super excited to do this role.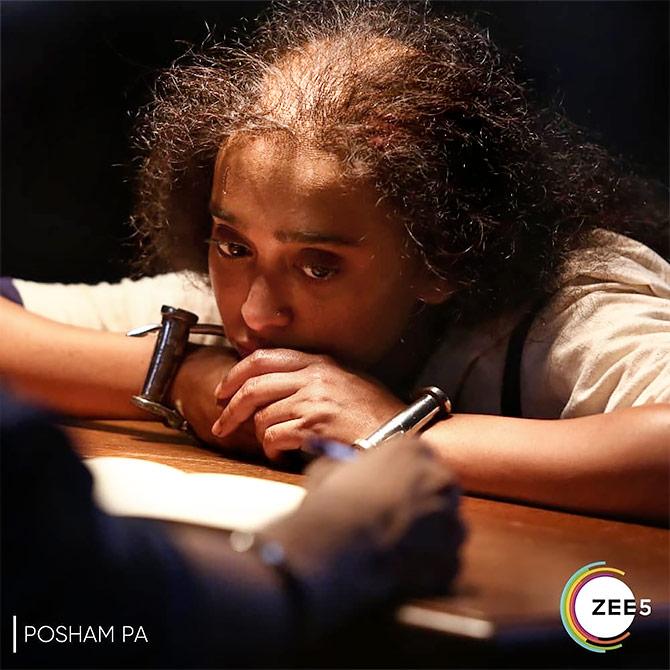 How did you prepare for your character?
I did not get much time to prepare because it happened very quickly.
I somehow managed to get nine days from my other projects, for Posham Pa.
I have always been interested in criminal psychology. I had wanted to do my Masters (degree) in Forensic Psychology.
So that interest, and a lot of reading, helped me to prepare for my role.
Also, I always feel you must keep updating yourself in life.
Nimisha (Mishra, writer) did research for a year or more. She met people, who have been convicted for the offence of serial killing.
She told me stories that were gut-drenching and sad.
On the first day of the shoot, I did a really depressing scene.
After we finished, Nimisha started crying and she hugged me. She told me that I had performed exactly how she had imagined it.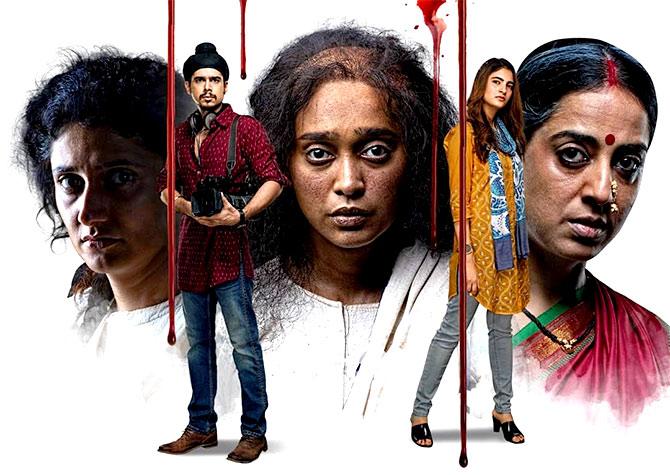 How did you de-stress after performing such an intense look?
I am not an actor who de-stresses from a role.
I think for a character about the ways one can explore it.
I don't get affected with my roles.
I go on set, understand the scene, get into my character, perform the scene, and come out.
You have been quite experimental with your characters. From a pregnant lady in Jolly LLB 2, to a teenager in Jagga Jasoos, to a glamorous role in Four More Shots Please, and now, a serial killer in Posham Pa.
As actors, you are constantly attracted to things that challenge your mind. That helps you grow.
If you are not doing different kind of things, you might get stuck.
I get bored very easily.
I am thankful that different kind of stuff is coming towards me, and also that it gets balanced out.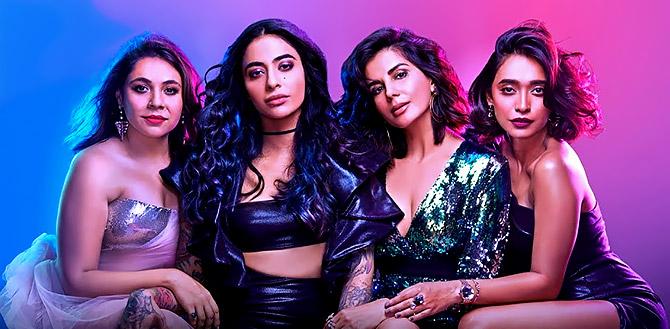 Four More Shots Please was quite a bold series. As our industry is known to typecast actors, were you approached with similar work after that?
I still remember that when I did this beautiful film called Margarita, With A Straw, people expected me to do intimate scenes with ease.
I immediately put those requests down, as it's not something I am interested in.
For Four More Shots Please, we wanted to create a sort of narrative that represents women as they are in real life.
If a woman makes her own career choices or a decision about her relationship or how she will be with her friends and lovers, we wanted to make an unapologetic, international show, where audiences from any part of the world would watch and say that this is me or they know someone like this.
The show was made by a woman, who wanted to represent women in an authentic way.
Today, anybody can make anything but it's my prerogative to say no.
Ultimately, the choice is in my hand.