'Asha atya remains down-to-earth and frank.'
'If she likes something, she will tell you to your face.'
'Ditto, if she doesn't.'
'She is full of life and energy, I have never seen her brood.'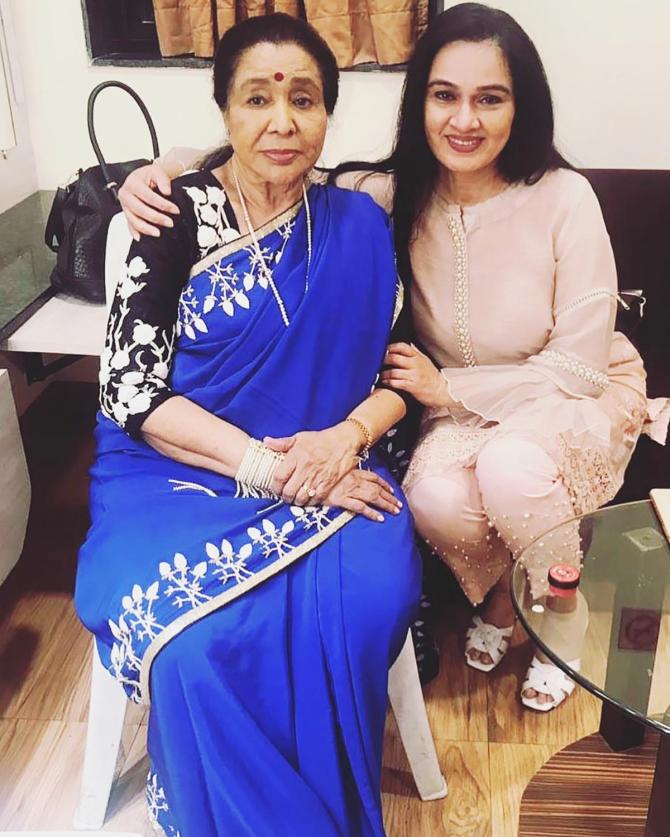 Asha Bhosle is 90 today, September 8, 2023.
The legendary singer will celebrate her birthday with a sellout concert in Dubai. Her niece, actress Padmini Kolhapure, is looking forward to listening to her favourite Asha atya songs live.
Speaking to Rediff.com Senior Contributor Roshmila Bhattacharya, Padmini reveals, "She introduced me to Dev uncle and that's how I landed Ishk Ishk Ishk."
'Asha atya loved the food we served during Ganpati'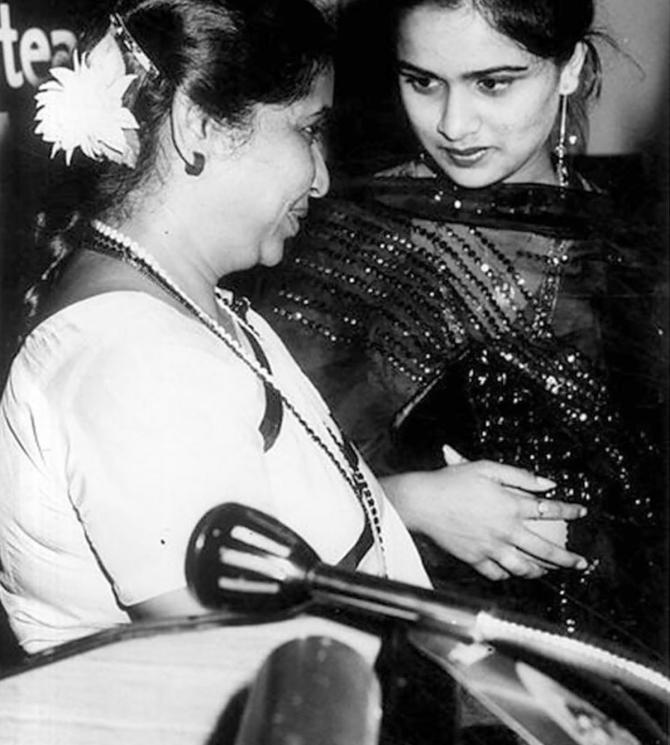 My earliest memory of Asha atya was of her dropping by our home to meet her bua (aunt), my grandmother.
She was also very close to my dad (vocalist and rudra veena exponent Pandit Pandharinath Kolhapure) and my mom.
Our home, with its casual, informal atmosphere, was like a second home for her.
Every Diwali, she would visit us dressed in one of her beautiful saris, laden with crackers and gifts.
As soon as her car swept into our building compound, my sister Shivangi and I would get all excited as for us, kids, she was our Santa Claus.
She knew I enjoyed dancing and would encourage me to dance to her songs.
I particularly remember Hai Bichhua Da Gayo Re from the 1973 film, Jheel Ke Us Paar.
For 60 years, my parents brought Bappa home every year for one-and-a-half days while at Didi atya's (Lata Mangeshkar) house, the Ganpati celebrations went on for 10 days.
It was so much fun visiting each other's homes.
Asha atya loved the food we served and even after the annual ritual was discontinued. I would take her favourite dishes to her.
'Asha atya made songs like Puchho Na Yaar Kya Hua so personal'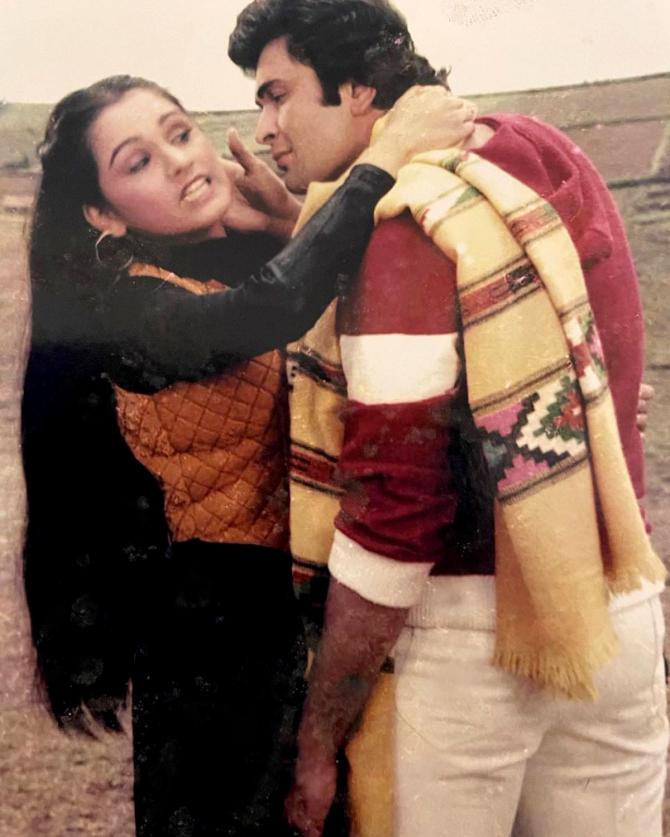 Singing is in my genes. My grandfather (Pandit Krishnarao Kolhapure) was an exponent of Natya Sangeet and my dad was a talented singer and veena player.
A few musicians who came to meet dad were cajoled by my granny to take me in the chorus.
These songs, mostly with my aunts, were great fun for me.
Shivangi, who is a brilliant singer, was far more professional.
When I grew up, I realised that whenever I was lip-syncing to a song sung by my aunts, Didi atya (Lata Mangeshkar) or Asha atya, it felt very personal, like I was singing it myself.
I guess, since they knew me well. They would give my emotions and expressions to the song.
You will understand what I mean if you listen to Puchcho Na Yaar Kya Hua from Zamaane Ko Dikhana Hai or Anari Ka Khelna, Khel Ka Satyanaash from Woh Saat Din.
'I was Asha Bhosle's discovery, she introduced me to Dev uncle'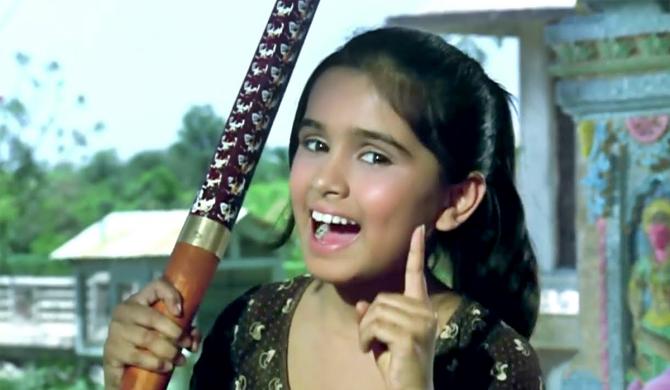 Asha atya is an effortless singer with a superior knowledge of classical music and a diverse range, from cabaret songs to romantic gaanas and tearjerkers.
Every morning, as soon as I wake up, I tune into a retro channel and every second song is by my aunts'.
There can only be one Lata Mangeshkar and Asha Bhosle.
When I became an actress, Asha atya would say appreciatively, 'Kay masta kaam karte (You are doing such good work).'
Her father, Master Dinanath Mangeshkar, and my grandfather Pandit Krishnarao Kolhapure, along with Chintamanrao Kolhatkar, founded the Balwant Sangeet Mandali in 1918.
They were legends on stage and Didiatya and Ashaatya had performed in a few plays.
Reminding me that I had acting in my genes, she would always say I was a talented actress and making good films.
She likes my performance in Satyam Shivam Sundaram.
I made waves after the film's release and was heralded as Raj Kapoor's discovery though I was Dev Anand's discovery.
Actually, I am an Asha Bhosle discovery, since she introduced me to Dev uncle and that's how I landed Ishk Ishk Ishk.
'Asha atya made a dekchi of prawn biryani for me'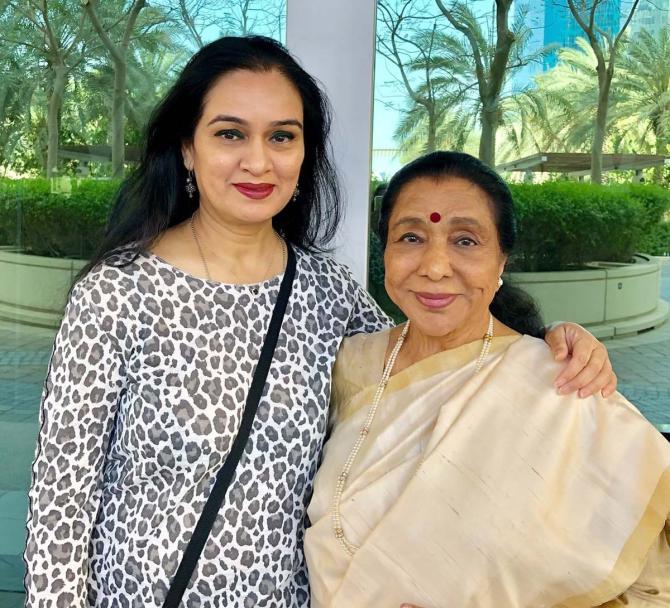 Besides being a legendary singer, Asha atya is a fabulous cook.
She knows I love food and loves feeding me.
Once when I was visiting her, she made a dekchi of Kolkata prawn biryani especially for me.
She would not let anyone even open the dekchi and served me herself.
A year or two ago, I was at a radio station for an interview.
By the time we finished, it was lunch time.
They offered to order, but I didn't want to eat outside food.
At the same time, I knew it would take me at least an hour or two to get home and I was starving.
So I called up Asha atya and told her I was coming over for lunch.
She fried fish and made some prawns to accompany the vegetarian meal that had been prepared.
When we were in Dubai, we visited her restaurant there.
After we had placed our order, Asha atya disappeared into the kitchen.
I learnt later from the chef that she had made the prawn biryani herself.
There was so much love on that plate.
'She is full of life and energy, I have never seen her brood'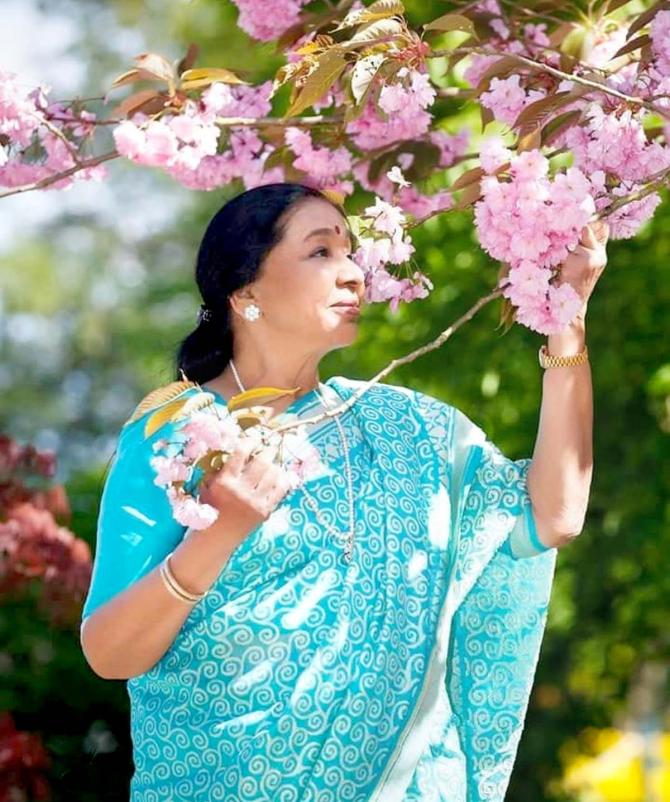 Despite who she is, Asha atya remains down-to-earth and frank.
If she likes something, she will tell you to your face.
Ditto, if she doesn't.
Even if she doesn't say something, you can see it on her face.
She is full of life and energy, I have never seen her brood.
She will just put on her sneakers and walk.
And she is so proper!
I stayed with my friend at Ashaatya's place in Dubai for three-four days and she was like, 'Padmini, look at her and look at you! You never bother to get dressed while Ashaatya, at her age, is so particular.'
That is something to learn from her.
'Legends like Pandit Ravi Shankar and Asha atya inspire such awe'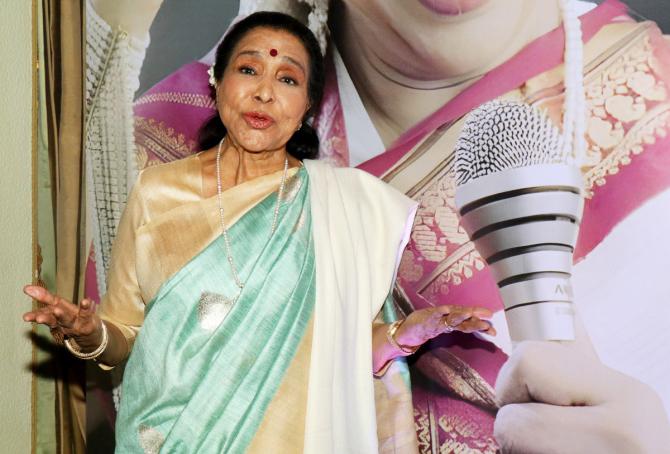 Once, we were out all day. She took us for lunch and we spent hours walking in the mall.
Her daughter-in-law, who like Ashaatya is like Santa Claus for me, insisted she go home and rest.
She wouldn't listen. I wanted to check out some things, and she came along.
Recently, I got this WhatsApp forward of Pandit Ravi Shankar at 93, with oxygen tubes, playing the sitar with his daughter at a concert.
After the performance, the sea of people gave him a standing ovation.
He acknowledged them with a namaste.
There were tears of joy running down his cheeks.
I get goosebumps just talking about it.
Only legends like Panditji and Asha atya can inspire such awe and adulation at this age.
'I was at the recording of Mann Kyun Behka Re Behka from Utsav'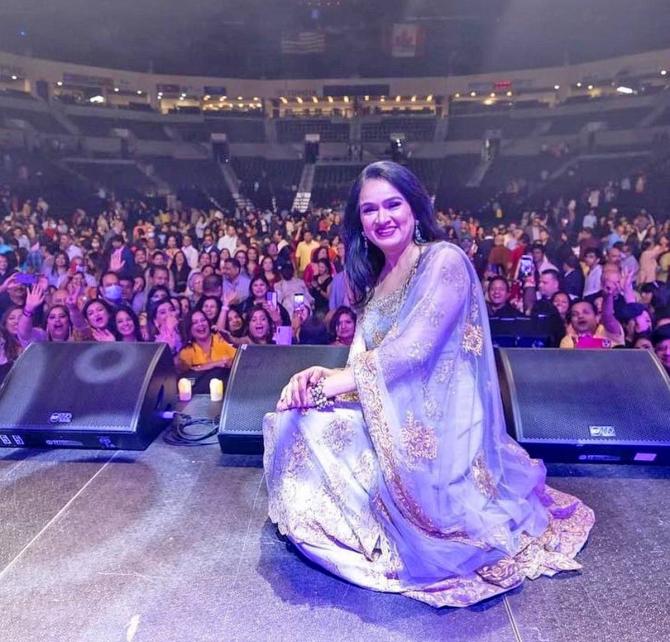 It's really difficult to pick a favourite Asha song.
I remember Mann Kyun Behka Re Behka Aadhi Raat Ko from Utsav.
I was at Mehboob Studio when this song was being recorded with Didiatya and Ashaatya.
Back then, the recording went on all day because they were live. So if anyone made a mistake, you had to start all over again.
I went on a tour with Didi atya and Kishore Kumar.
I have also attended many recordings and concerts.
Now there's a concert in Dubai on September 8, her birthday, and Ashaatya is as excited as a child and just as nervous.
Her co-singers tell me that after a performance, she will call them and ask, 'How was it? Was I okay?'
Incredible!
For me, her 90th birthday concert will be a treasured experience, like the Utsav recording.