'During the recording of Umrao Jaan, Asha Bhosle started feeling uneasy.'
'She asked if she could sing in her own scale. She said she couldn't sing in that low pitch.'
'The whole studio was tensed because everyone knew that there were differences between Ashaji and Khayyamsaab. The differences were so much that she may stage a walkout.'
Veteran music composer Khayyam revisits Umrao Jaan.
Even at 91, music composer Khayyam refuses to retire.
On his birthday on February 18, he released a music album called Soothing Melodies of Khayyam, which has 20 songs composed by him. Among the things Khayyam is known for is his contribution to the Rekha-starrer Umrao Jaan, the music of which is still so popular. He won a National Award for it.
Do you know just how much went into it?
Khayyam tells Patcy N/ Rediff.com some amazing behind-the-scenes facts.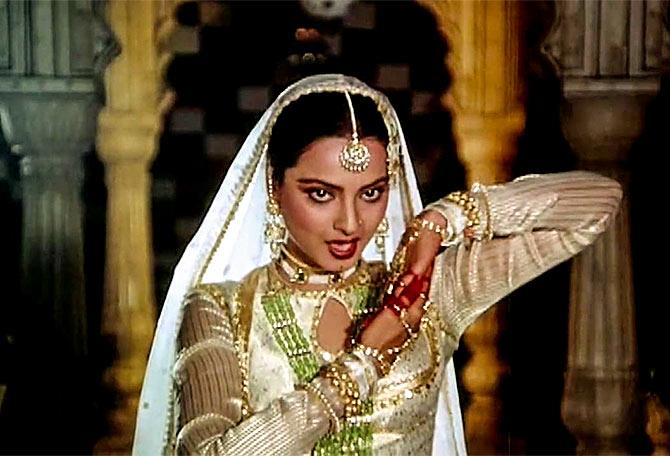 IMAGE: Rekha in her National Award-winning role in Umrao Jaan
Lata Mangeshkar had sung for Pakeezah with (composer) Ghulam Mohammed and people loved it. That's why I decided not to take Lataji because then it would be very similar.
My wife Jagjitji told me it would be a challenge to do Umrao Jaan because there would be comparisons to Pakeezah.
Awadh and Rajasthani folk music was used in that film, so I had very little scope. I was wondering what music to use for Umrao Jaan.
I read the novel Umrao Jaan Ada on which the film is based and started reading the history to know what music instruments were played in that era. Reading history books helped me understand because they spoke about raag and raginis that people sang in that era.
I came to know through books that Umrao was a trained classical singer, she knew Kathak, she wrote shayaris and she was very beautiful. Based on that, I decided how Umrao Jaan would sing.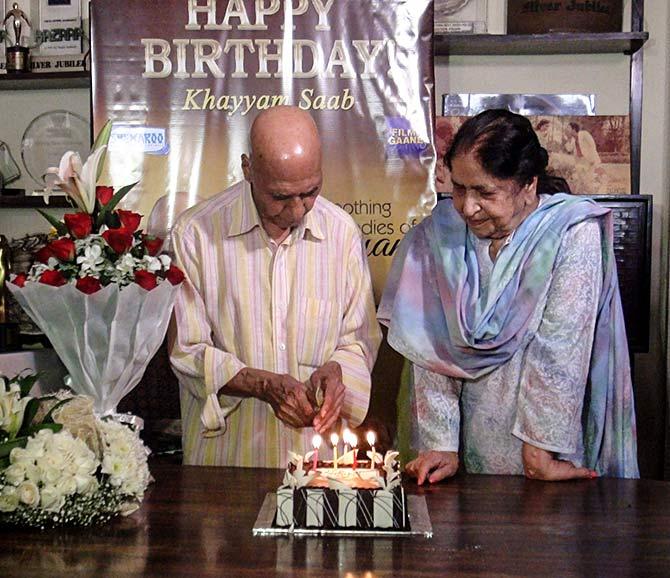 IMAGE: Khayyam celebrates his 91st birthday with wife Jagjit Kaur.
Ashaji (Bhosle) is an all-rounder but during rehearsals, I told her Umrao Jaan would not sing in a high octave like she does. She would have to sing in a lower pitch. I sang and showed her how. She asked me to record it and asked for eight days to rehearse the song in a lower pitch.
She rehearsed well and on the day of recording, she sang very well.
I arranged the music in such a way that it would be one and a half scale lower than her original voice.
But during the recording, she started feeling uneasy.
She got cold feet and asked if she could sing in her own scale. She said she couldn't sing in that low pitch.
So I came up with a solution that we would do it in one take in the lower pitch and then re-arrange the music and do another take with her original scale.
She said, 'Khao Pradeep (Khayyam's son) ki kasam ki aap ek aur take karenge.'
I promised.
So she sang.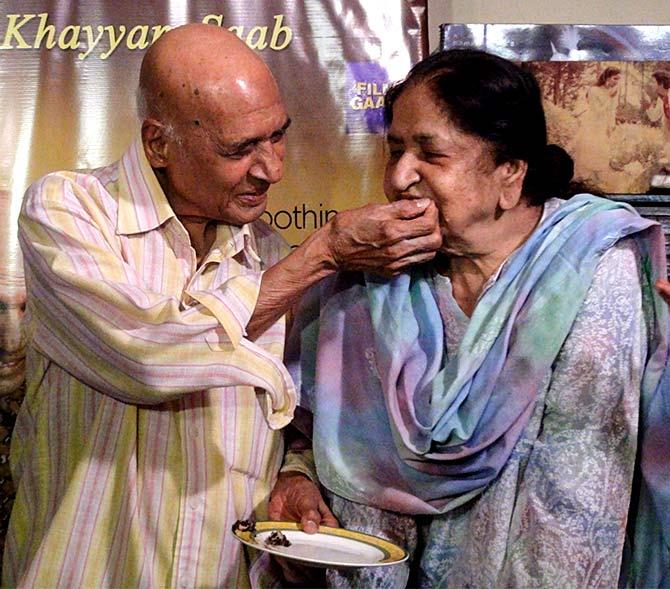 IMAGE: Cake time.
After she sang the first version, we needed a half an hour break to re-arrange everything for the second take.
In the meanwhile, I made her listen to the song she had just sung.
While listening, she closed her eyes and went into a trance. It was a five and a half minute song and the whole studio was tensed because everyone knew that there were differences between Ashaji and Khayyamsaab. The differences were so much that she may stage a walkout.
When the song got over, she opened her eyes and asked, "Kya ye main gaa rahi thi? Maine apni awaaz aise kabhi sooni hi nahi."
She did not do the second take and sang all the other songs in the same sur.
Rekha is a marvelous actress. Being a Tamilian, she spoke in such a good Lucknowi andaaz (style)! You would think she's born and brought up in Lucknow. Even today I call her Umrao Jaan when I meet her.
Director Muzzafar Ali has done a great job.
'The songs of Bazaar is one of the reasons why the film was successful'
VIDEO: Khayyam picks his favourite song
Every song has its own place and it's difficult to pick a favourite but the poetry of Dikhai Diye Yun Ke Bekhud Kiya by Mir Taqi Mir from the film Bazaar (is beautiful).
There is another song in the same film called Dekh Lo Aaj Humko Jee Bharke Koii Aata Nahin Hai. This poem is from the book Zehr-e-Ishq. The heroine is getting married to someone else and her lover is crying. She drinks poison and that's why the book is called Zehr-e-Ishq.
The song has been sung by my wife, Jagjit Kaur. When it was played in theatres, women would cry and the men would be in tears too. The songs of Bazaar is one of the reasons why the film was successful.
'There is no point in working now'
VIDEO: Khayyam on Lata Mangeshkar.
I have always done selective work. I worked on good stories.
There is no point in working now.
I'm working on just one song in Prakash Bhardwaj's film, Meri Dilbar Husne Malika, which has been recorded and sung by Sonu Nigam. Bhardwaj is stuck with the casting, so there is a lot of time for the film to get ready.
Even today at this age, I am totally involved with my music. I think songs even in my dreams, then I test them on my harmonium.
My inspirations are the shayris and the shayars, I respect them a lot because they touch the heart of the films. I have worked with Majrooh Sultanpuri, Ali Sardar Jafri, Kaifi Azmi, Jan Nissar Akhtar, Sahir Ludhianvi, Shahryar, Naqsh Layalpuri Nida Fazli...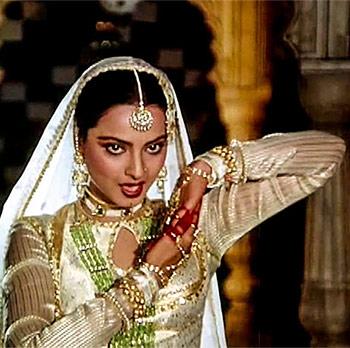 Photographs and Video: Afsar Dayatar