Sukanya Verma celebrates the singing legend who turns 90 on September 8.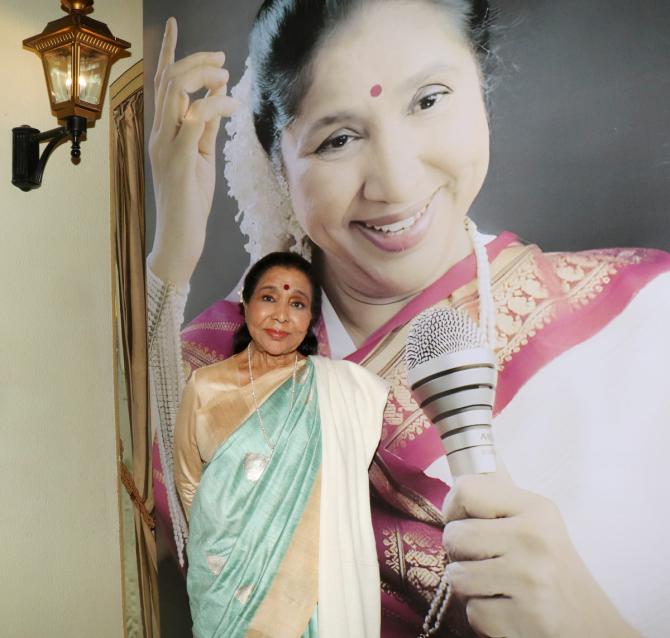 Her voice reminds me of tiramisu.
Rich, moist, potent, silky and sublime, just like the delicious Italian dessert (which quite literally means pick-me-up).
Asha Bhosle's exquisite rendition impacts the soul of her listeners in equal measure.
The little girl, who would climb up the branch of a tree to escape her mother's scolding, hardly realised how her impish temperament would someday breathe life into songs and turn them into sensations.
In a career spanning over half a century filled with music and milestones, one of India's most loved singers has battled many a personal crisis but never lost either her magic or her masti.
On her 90th birthday on September 9, I wish her the same happiness in life that her songs have brought us and celebrate this milestone with 90 of my favourite Asha Bhosle songs.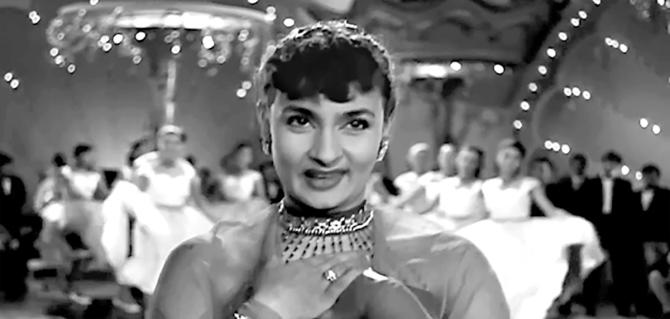 1. Mud Mud Ke Na Dekh from Shree 420 (1955)
This lilting Shankar-Jaikishen creation drew attention to Asha's poise.
2. Chanda Mama Door Ke from Vachan (1955)
A childhood favourite, it's amazing just how many generations have grown up enjoying her mellifluous narration.
3. Eena Meena Deeka from Aasha (1957)
Aasha is a frolicking rom-com, best remembered for Kishore Kumar and Asha Bhosle taking turns to amuse with the breathless gibberish jabber, Eena Meena Deeka.
4. Chhod Do Aanchal from Paying Guest (1957)
There's such ada in her infectious *Aah* Chhod Do, it's impossible to let go.
5. Maang Ke Saath Tumhara from Naye Daur (1957)
The singer teams up with Mohammad Rafi to exude village belle-next-door sweetness against the rhythmic beats of a galloping horse.
6. Haal Kaisa Jai Janaab Ka from Chalti Ka Naam Gaadi (1958)
Few singers can compliment the quirk of Kishore Kumar like Asha. And the sprightly duet Haal Kaisa Hai Jaanab Ka bears testimony to this fact.
7. Ek Pardesi Mera Dil Le Gaya from Phagun (1958)
The sheer exuberance of her delivery matches the determination of the snake charmer's ubiquitous been (flute) in this O P Nayyar classic.
8. Aaiye Meherban from Howrah Bridge (1958)
O P Nayyar and Asha collaborated on countless chartbusters, but the seduction of Aaiye Meherban on screen or off it hasn't lost an ounce of its sizzle.
9. Nazar Lagi Raja Tore Bangle Par from Kala Pani (1958)
I adore her appeasing tone of Achha Ji Main Haari from the same soundtrack, but the delightful intricacy of the mujra number, Nazar Lagi Raja gives it an edge.
10. Arre Ja Re Hat Natkhat from Navrang (1959)
The gorgeous ballets orchestrated to C Ramchandra's soundtrack rides high on Asha's signature verve.
11. Na To Karwan Ki Talash Hai from Barsaat Ki Raat (1960)
In the Sahir Ludhianvi-penned epic qawaali composed by Roshan, senses and sentiments soar in the classical assertions of Rafi, Manna Dey and Sudha Malhotra and the one and only Asha for 12 feverish minutes. Yeh Ishq Ishq hai after all.
12. Kali Ghata Chhaye Mora Jiya from Sujata (1960)
Her ability to control voice like temperature has the gift to create an ambience on its own. And Asha's gentle, graceful aesthetics in this S D Burman number achieves it harmoniously.
13. Dil Ki Kahani from Chaudhvin Ka Chand (1961)
Apart from Rafi's glorious title track, Ravi's soundtrack boasts of another gem from Asha picturised on Minoo Mumtaz.
14. Abhi Na Jao Chod Kar from Hum Dono (1962)
For all his (Rafi's) charming pleas that she stay a while longer, Asha smilingly declines, 'Nahi, Nahi, Nahi' in the remarkable romance of Jaidev's melody.
15. Saakiya Aaj Mujhe Neend Na Aayegi from Sahib Biwi Aur Ghulam (1962)
Asha is reliably bubbly in Bhanwra Bada Naadan Hai, but the drama she imparts to Hemant Kumar's Saakiya is just not celebrated enough.
16. Aankhon Se Jo Utri Hai from Phir Wohi Dil Laaya Hoon (1963)
The caramel texture of her free-flowing voice conveys the proud tone of her namesake's (Asha Parekh) on-screen declaration.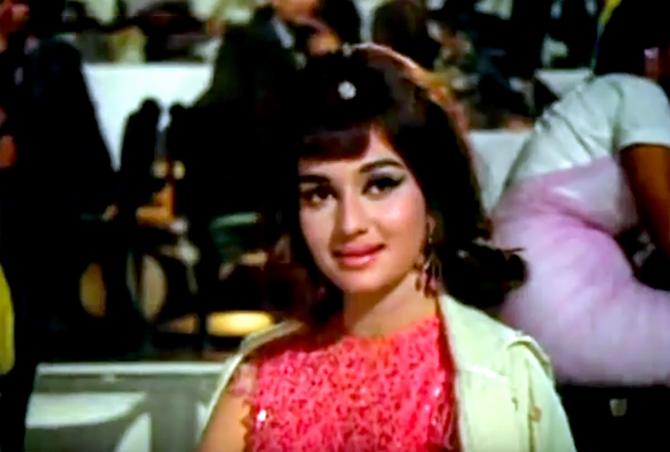 17. Nigahein Milane Ko Jee Chahta Hai from Dil Hi Toh Hai (1963)
'Woh Tohmat Jisse Ishq Kehti Hai Duniya, Woh Tohmat Uthane Ko Jee Chahta Hai...' Her golden voice radiates so much conviction; it doubles the credibility of an already fantastic track.
18. Ab Ke Baras Bhejo from Bandini (1963)
The crumbling hope in her voice, while resonating Shailendra's heart-breaking lines against S D Burman's sombre tune, is a far cry from the joie de vivre she's known for.
19. Kahe Tarsaye Jiyara from Chitralekha (1964)
Teaming up with sister Usha Mangeshkar, the duo ooze classical fervour in the electrifying Kahe Tarsaye.
20. Ishaaron Ishaaron Mein from Kashmir Ki Kali (1964)
The 1960s heroine typically alternated between coy and flirtatious. Asha embodies the demure darling for Sharmila Tagore's debut in Kashmir Ki Kali...
21. Yeh Reshmi Zulfon Ka Andhera from Mere Sanam (1965)
...And promptly transforms into a daring damsel for Mumtaz in the seductive Yeh Reshmi Zulfon. I like it better than O P Nayyar's similar-sounding ditties, Aao Huzoor Tumko (Kismat) or Woh Haseen Dard (Humsaaya).
22. Aage Bhi Jaane Na Tu from Waqt(1965)
Asha spews carpe diem-ish philosophy like only she can in Yash Chopra's glossy family drama.
23. Zara Haule Haule Chalo from Sawan Ki Ghata (1966)
Long before Tushar Bhatia could channel the ghoda gaadi flavours of Nayyar's peppy chartbuster in Andaz Apna Apna, Asha Bhosle's spunk rocked its beats 'haule haule.'
24. Aaja Aaja from Teesri Manzil (1966)
It's no fun picking just one from an album as eclectic as this. But the singer simply outshines Rafi in this zany, madcap Rahul Dev Burman rock 'n' roll number with her incredible ah-ah-ah-ah someness.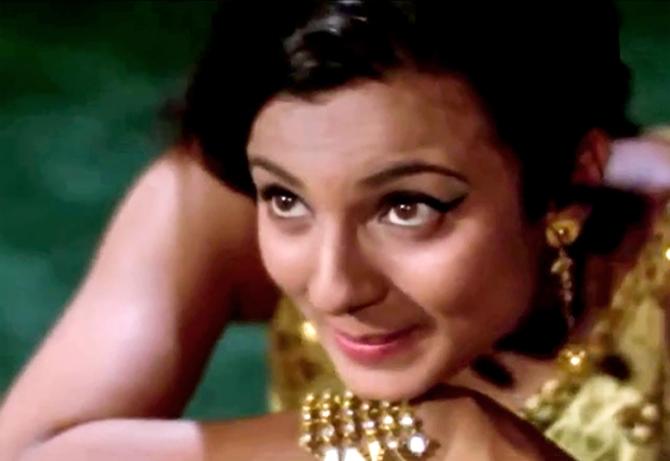 25. Khat Likh De from Aaye Din Bahar Ke (1966)
Helmed by Laxmikant-Pyarelal, the hugely popular Khat Likh De sounds like a deceptively simple tune. Try singing it and you'll realise the prowess of Asha.
26. Bheegi Bheegi Faza from Anupama (1966)
Lata Mangeshkar and Hemant Kumar may have walked away with the better songs picturised on the main leads, but Asha is no less efficient in the easy-going Bheegi Bheegi, featuring Shashikala.
27. Jab Chali Thandi Hawa from Do Badan (1966)
The Asha Bhosle-Asha Parekh combo hardly disappoints. And the melancholic mood of this Do Badan ditty is true to our faith.
28. Huzoor-e-Wala from Yeh Raat Phir Na Aayegi(1966)
The vivacious singer collaborates with Minoo Purshottam to render this breezy Helen-Madhumati cabaret.
29. Paan Khaye Saiyan from Teesri Kasam (1967)
Her ever-so-attractive emphasis on 'laal laal', 'hai hai' or breaking into a spontaneous giggle lends that extra something to Shankar-Jaikishan's beautiful creation.
30. Yaar Baadshah Yaar Dilruba from CID 909 (1967)
There are no curling machines for the human voice. but the curves in Asha's singing for the rabab-infused Yaar Baadshah, picturised on a scorching hot Helen, bear almost scientific precision.
31. Raat Akeli Hai from Jewel Thief (1967)
While a tantalising Tanuja sashays on celluloid, Asha plays the seductress behind the scenes in the super-sensual Raat Akeli Hai.
32. Hum Intezar Karenge from Bahu Begum (1967)
The grandeur and dedication of old-school romances is captured befittingly in her opulent rendition.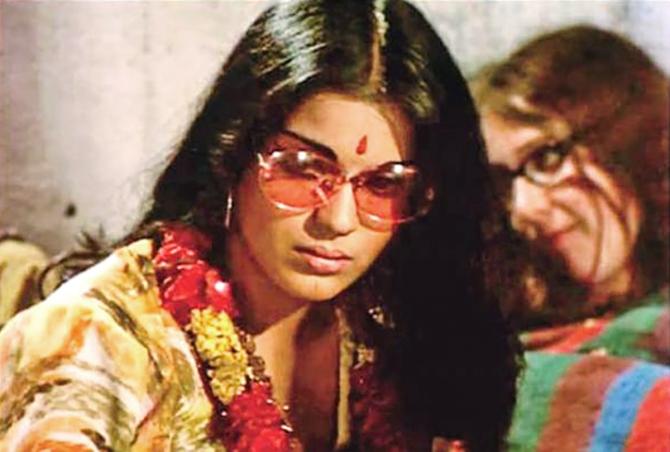 33. Raat Ke Humsafar from An Evening in Paris(1967)
The sweet, lilting vibe of Asha and Rafi's vocal serenade is relaxing, therapeutic.
34. Parde Mein Rehne Do from Shikar (1968)
Just the way she sings 'Allah' and its an instant #win.
35. Meri Beri Ke Ber Mat Todo from Anokhi Raat (1968)
Sanober Kabir's abysmal attempt to demolish its memories with her demeaning remix cannot ruin Asha's eager, flirtatious protests in Meri Beri Ke Ber.
36. Gunguna Rahe Hain from Aradhana (1969)
S D Burman's lovely score hugely benefits from Asha's penchant for the impromptu with her playful humming.
37. Kajra Mohabbat Wala from Kismat (1969)
Having sung with Shamshad Begum on several occasions, the comfort level is apparent as they bring the house down with their fun-filled Kajra.
38. Dum Maro Dum from Hare Rama Hare Krishna (1971)
Don't need to cite any reasons to explain what makes this Asha-RD classic so trippy.
39. Ab Jo Mile Hain Toh from Caravan (1971)
Asha gets wildly sexy to do justice to Aruna Irani's hourglass oomph in this song from Caravan, which is unfairly overlooked for the more prolific Piya Tu.
40. Jaane Jaan from Jawani Diwani (1972)
Ever so ingenious, her wide range comes through in the experimental treble-to-bass contribution to this RD super hit.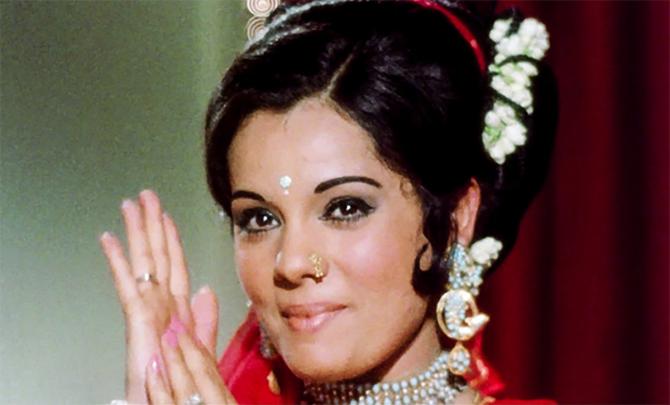 41. Jab Andhera Hota Hai from aja Rani (1973)
Asha and Bhupinder liven up RD's sly, enigmatic composition with their contrasting vocal texture.
42. Chura Liya Hai Tumne from Yaadon Ki Baarat (1973)
Despite being one of the most excessively aired songs of all time, Asha's syrupy turn in RD's iconic tune of the 1970s is food for the lovesick soul to this date.
43. Sajna Hai Mujhe Sajna Ke Liye from Saudagar (1973)
Embellished with the coquettish la la las, Asha's dolling up session to Ravindra Jain's music is way more fun than waiting for a real someone to get ready.
44. Koi Sheheri Babu from Loafer (1973)
The zingy rhythm and masti of Laxmikant-Pyarelal's upbeat score fondly resonates in Asha's playback skills.
45. Diljalon Ka Dil Jalake from Zanjeer (1973)
Saucy songs rely on perfect timing. Asha's deftly calculated pizzazz and pluck rocks Bindu's shake 'n' stir in Zanjeer.
46. Neend Churake Raaton Mein from Shareef Baadmaash (1973)
While Kishore Kumar plays hard to get, Asha fires from all cylinders to win him over in this lovely number. And win she does.
47. Jaaneman Jaaneman from Chhoti Si Baat (1975)
Asha's spice and Yesudas's soul blend seamlessly for this frothy Salil Chowdhary treat.
48 Bechara Dil Kya Kare from Khushboo (1975)
Both Bechara and Ghar Jayegi bear the stamp of Gulzar's imagination, RD's finesse and Asha's vibrancy. Just happen to like Bechara a wee better.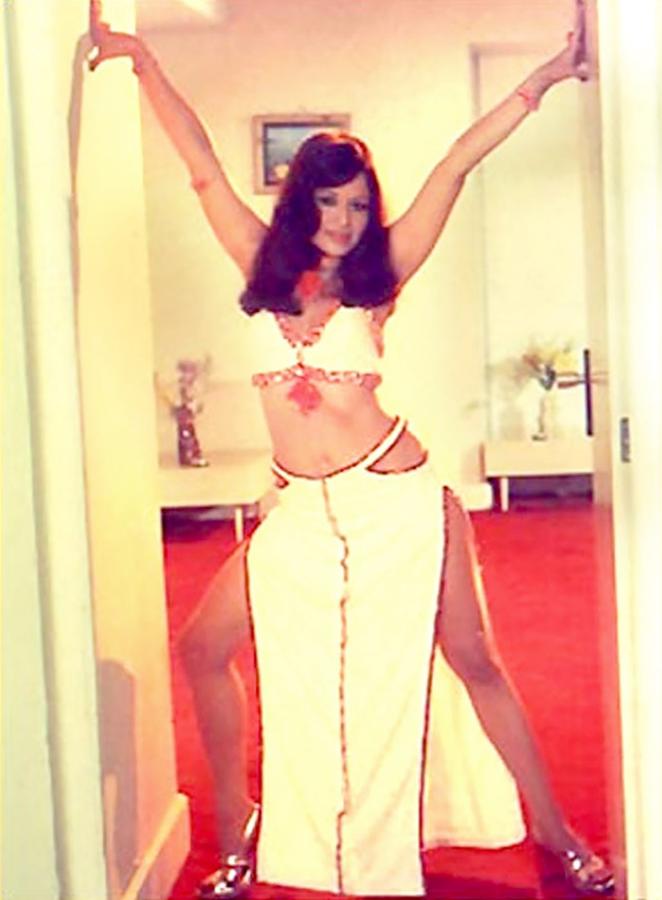 49. Sapna Mera Toot Gaya from Khel Khel Mein (1975)
Asha's expressive, narrated-in-detail anguish in Sapna Mera Toot Gaya is something no other has the nerve to recreate.
50. Yeh Ladka Hai Allah from Hum Kisise Kam Nahin (1977)
The singer, along with late husband RD, returns in the O Mere Sona Re space for the cheerful Yeh Ladka Hai Allah.
51. Sara Pyaar Tumhara from Anand Ashram (1977)
Asha keeps it understated, along with Kishore Kumar, for Shyamal Mitra's composition.
52. Yeh Mera Dil Pyar Ka Diwana from Don (1978)
Oozing oodles of oomph for Kalyanji-Anandji's ditzy ditty gave Helen yet another chartbuster to shake a leg on.
53. Do Lafzon Ki Hai Dil from The Great Gambler (1979)
Asha Bhosle's sur and Zeenat Aman's splendour translate into Bollywood's most romantic gondola number.
54. Aisa Ho Toh Kaisa Hoga from Ratnadeep (1979)
The stunning simplicity of Asha's wishful thinking in Ratnadeep makes for effortless listening.
55. Jab Chhaye Mera Jadoo from Lootmaar (1980)
After creating memorable music with composer Roshan, Asha sings for his son Rajesh in the whimsical Jab Chhaye.
56. Pyaar Karnewale from Shaan (1980)
The ambitious tone of Ramesh Sippy's 007-inspired Shaan reflects in the film's lavish soundtrack too. Asha efficiently goes for the larger-than-life effect in her swaggering delivery of Pyaar Karnewale.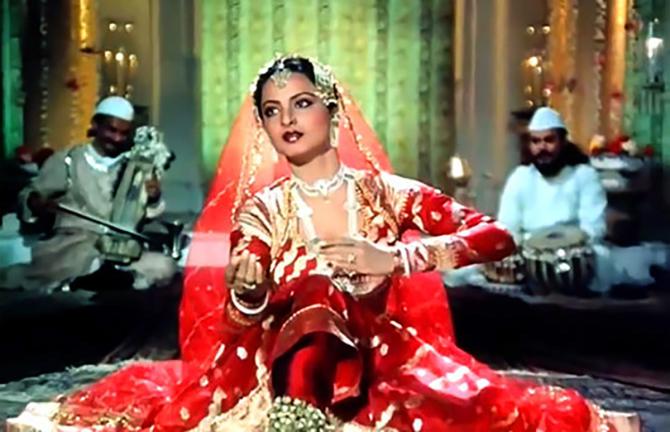 57. Piya Bawri from Khubsoorat (1980)
Asha regales in her classical rendition of Piya interspersed with Ashok Kumar's pulsating bol.
58. Yeh Saaye Hain from Sitara (1980)
Gulzar's musings about showbiz and Asha's understanding of the same is awe-inspiring.
59. Khatouba from Ali Baba Aur Chalees Chor (1980)
For the Indo-Russian produced Arabic fairy tale, Asha endorses RD's brand of exotica with her enticing inflections.
60. Dil Cheez Kya Hai from Umrao Jaan (1981)
'Is Anjuman Mein Aapko Aana Hai Baar Baar...' The singer pours her heart, soul and artistry in Khayyam's impeccable creations to produce the tour de force of her career. The upshot is a smitten listener heading for the loop button.
61. Phir Se Aaiyo Badra Bidesi from Namkeen (1982)
The quirky mood of RD's sulky strain is articulated with wonderful restraint by Asha. Yep, Kaale Kamlewaali Ki Sau.
62. Tu, Tu Hai Wohi from Yeh Vaada Raha (1982)
Asha wields the microphone to become the singing voice of Poonam Dhillon in this lovey-dovey title track of Yeh Vaada Raha.
63. Hothon Pe Beeti Baat Aayi Hai from Angoor (1982)
The songstress slips into a puckish mode to convey Gulzar's wacky imagery, Chaand Ko Chabane Ki Raat Aayi Hai, in this under-rated RD number from Angoor. I've always found Mera Kuch Saaman to be a close cousin of this one; only, the latter has superior lyrical value.
64. Jawan Janeman from Namak Halal (1982)
Parveen's smouldering jig on screen would be half as effective without Asha's scintillating input of a-has and o-hos.
65. Mere Angana Aaye Re from Naram Garam (1982)
A great playback singer can acquire the personality of any character he/she's singing for. Asha embraces the girl-next-door humility of Swaroop Sampat's Kusum in the trance-inducing Phir Se.
66. Aur Kya Ehde Wafa Hote Hai from Sunny (1984)
Sunny has a handful of pretty songs on its menu, and Asha's lilting gaayki here is one of them. Another version of the same ghazal with Suresh Wadkar is no less impressive.
67. O Meri Jaan from Manzil Manzil (1984)
Though the film flopped, RD's soundtrack hits all the chords. Asha sounds divine in O meri jaan.
68. Mann Kyon from Utsav (1984)
Asha and her didi Lata Mangeshkar have sung together earlier, but the chemistry of the sisterhood in LP's Dil Kyon is especially attractive.
69. Jaa Ne Do Naa from Sagar (1985)
Too hot to handle! Said every speaker since 1985 who has played this song. Uff, Asha Bhosle!
70. Roz Roz Aankhon Tale from Jeeva (1986)
Some movies don't merit RD's beautiful score, and so Asha's euphonic admissions deserved a better platform than the bland Mandakini or an obscure potboiler like Jeeva.
71. Jaane Jaan O Meri Jaane Jaan from Sanam Teri Kasam (1986)
In contrast, Reena Roy pays perfect tribute to the singer's ebullience with her dynamism in the popular disco ditty. Also, a-ha ha a-ha ha never sounded this good. Nor did tin tinak dhin.
72. Khaali Haath Shaam Aayi from Ijaazat (1987)
Restless abandon makes way for the hard-hitting melancholy that comes with unending anticipation in her poignant expressions. The thehrav she lends Khaali haath is why I pick it over other gems like Katra Katra or Mera Kucch Saaman from the same album.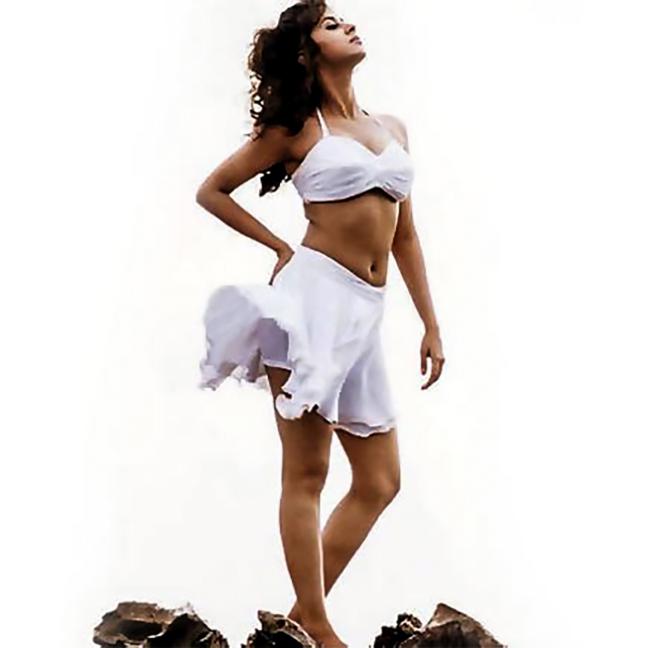 73. Pyar Ke Mod from Parinda (1989)
Asha's romantic grace in Pyar Ke Mod evoke an imagery that's both serene and soothing.
74. Jhoote Naina Bole from Lekin.. (1990)
Yaara Silli Silli it is not, but there's ample to appreciate about brother Hridayanath Mangeshkar's composition and Asha's equally powerful recital.
75. Dekha Teri Mast Nigahon Mein from Khiladi (1992)
The legend steps into the 1990s with trademark fire, imprinting her Asha-ness on a steamy duet with Kumar Sanu for a Jatin-Lalit number. What an entry!
76. Idli Doo from Khel (1992)
Any song benefits if the artist has a ball performing it. And Asha, clearly, is in mood for mischief making ridiculous demands on Madhuri Dixit's behalf during Idli Doo. Laake Do, dammit!
77. Dil Toh Dil Hai from Zindagi Ek Jua (1992)
Despite Madhuri Dixit's temptress act, this song never really caught on big time. Even so, I adore Asha's no-holds barred spirit in Bappi Lahiri's flamboyant, synthesiser-friendly beats.
78. Tanha Tanha from Rangeela (1995)
Asha's disapproval for singledom in the garb of A R Rahman's catchy music and Urmila Matondkar's astonishing makeover in Rangeela is stuff love-at-first-sight is made of.
79. Kahin Aag Lage from Taal (1999)
Rahman's refreshing take on soundtracks allowed Asha's fresh-as-ever voice to present yet another facet of her endless know-how of sur and taal.
80. Radha Kaise Na Jale from Lagaan (2001)
Rahman's originality and Asha's experience bring out the green in full force in Lagaan's Radha Kaise Na Jale.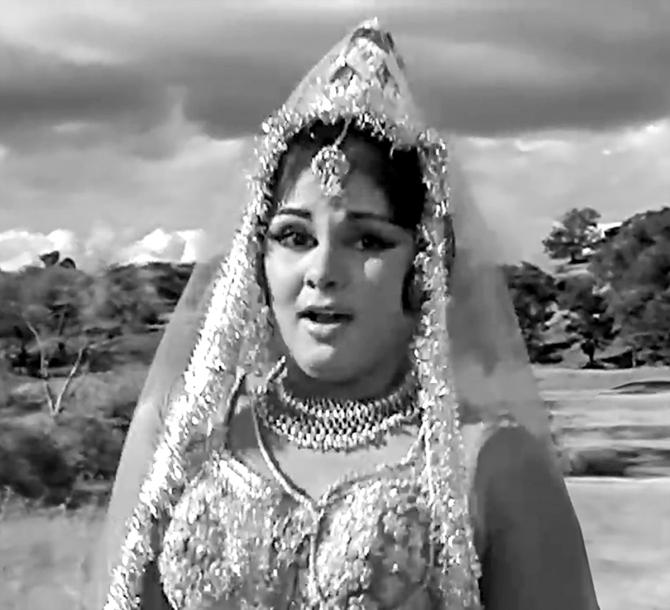 81. Arre Yaar Meri Tum Bhi Ho Gazab from Teen Deviyan (1965)
Asha's light-hearted bantering with Kishore Kumar in song has led to quite a few gems, including this S D Burman composition.
82. Betain Na Betain Raina from Rudaali (1993)
The haunting sadness and sleeplessness of this Bhupen Hazarika-Gulzar collaboration is affectingly captured in Asha Bhosle's downplayed desolation.
83. Kya Gazab Karte Ho Ji from Love Story (1981)
Asha's flair for personalising a tune, lending it inimitable lustiness is why Kya Gazab's relentless teasing holds tremendous repeat value even after 37 years.
84. Pyaar Mein Dil Pe Maar De Goli from Mahaan (1983)
R D Burman's infectious tune gets sparkling support in Asha and Kishore Kumar as the livewire duo injects this chartbuster with their energy and chemistry.
85. Mere Dil Ka Woh Shehzaada from Kabhi Na Kabhi (1998)
Asha's enthusiasm for girlish romanticism fits well with Pooja Bhatt's onscreen pizzazz in A R Rahman's vibrant ditty.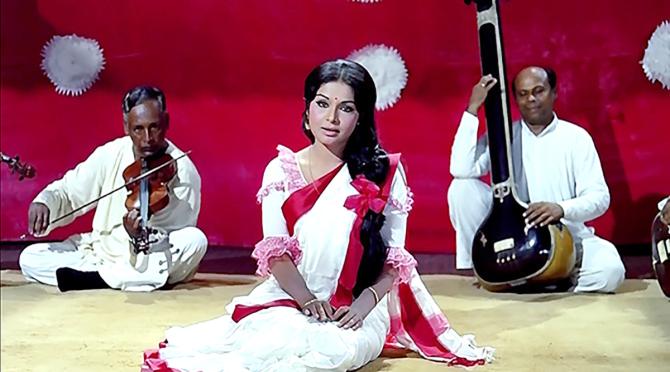 86. Sooni Sooni Sans Ke Sitar Par from Lal Patthar (1971)
The soul-stirring alaap at the end of this riveting Shankar-Jaikishan number hypnotises and how. Getting goosepimples just typing this.
87. Tasveer-e-Mohabbat from Sunghursh (1968)
On screen Vyjayanthimala's defiant mujra exudes a mixture of scorn and sarcasm, off it Asha Bhosle's expressive melody makes a passionate appeal for her case in this dramatic Naushad ditty.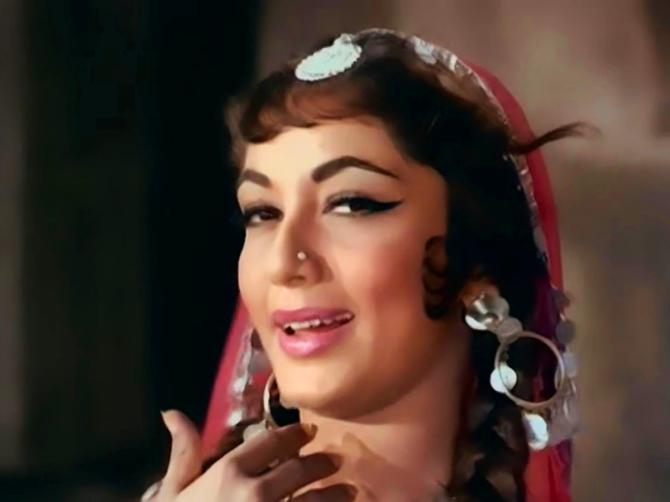 88. Jhumka Gira from Mera Saaya (1966)
Much, much, much before Rocky Aur Rani Kii Prem Kahaani fussed over What Jhumka, Asha trilled in her alluring voice and teased us with tantalising details about the events leading to her precious Jhumka's loss.
89. Jeene De Yeh Duniya from Lava (1985)
An under-rated album of R D Burman's, both versions of Jeene De Yeh Duniya -- happy and sad -- confirm Asha's command on elegant, easygoing love songs.
90. Paanchi Gaaye Re from Drohi (1992)
Asha's idyllic treat for RD from Ramgopal Varma's action thriller celebrates a brand new day, a bright new morning like only she can.
This feature was first published on September 9, 2013. It has been updated to celebrate the magnificent Asha Bhosle's 90th birthday.