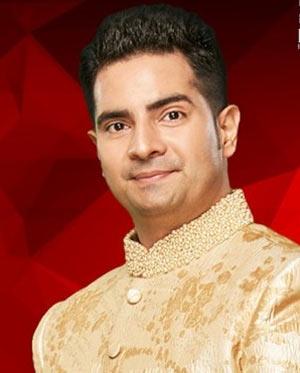 'Swami Om talks trash and I almost boycotted him in my head.'
'Manu creates misunderstandings between people, talks behind their back and keeps switching sides. Getting physical with men and leching at girls is not cool at all.'
Karan Mehra is happy to get out of Bigg Boss 10.
Television actor Karan Mehra, who is best known as Naitik of Yeh Rishta Kya Kehlata Hai, became the first celebrity contestant to be booted out of Bigg Boss 10.
It was shocking to see him getting evicted, considering he has a huge fan base. Almost as shocking as the eviction of Lokesh Sharma, one of the most popular contestants on the show.
Known for his calm composure and playing peacemaker in the house, Karan was one of those rare contestants who got along with almost everyone in the house.
He talks to Rediff.com contributor Rajul Hegde about his stint in the house.
You are the first celebrity to get evicted. Does that upset you?
I was happy to be out on my wife Nisha's birthday. But it was disheartening for my fans as they didn't see it coming so soon.
I enjoyed being in house, went in with respect and came out with my dignity intact. That matters to me. The timing was perfect.
Wasn't it a shocking elimination, considering you have a huge fan following?
After I came out of the house, I was surprised to know that I was trending, and that got the highest number of votes. Yet, I was eliminated.
I have heard that the makers had made some changes this week for the eviction -- it was based on votes and content. I found it weird to suddenly have this new criteria only for me, not Lokesh.
But 24 hours before I came out of the house, I had somehow foreseen that I might go. I had asked everyone to give their personal messages to their families.
What made you think that you would be evicted?
For the past two weeks, I felt Rahul and I were being cornered. We were called boring and lethargic.
Actually, we have worked so much in the house but it wasn't shown.
There were so many things that we did from cooking to cleaning toilets, things that we have never done before.
It could have been a cute moment for the public to see how celebrities work together. If this is of no value, then I think we were in a wrong place. After all that, you expect some appreciation for what you did. But in return, you hear something else. That's upsetting. There were other people lying around the entire day but they were not targeted.
Did you find it unfair?
Yes. People posted on social media that they had voted for me, so there's no way I could be out.
In the first eviction, I was the last person to be nominated. And in my first nomination, I am evicted.
Everybody was taken aback.
I don't want to get into technicalities but the people who believe in the show and the audience who watch it are feeling cheated. That can go against the show.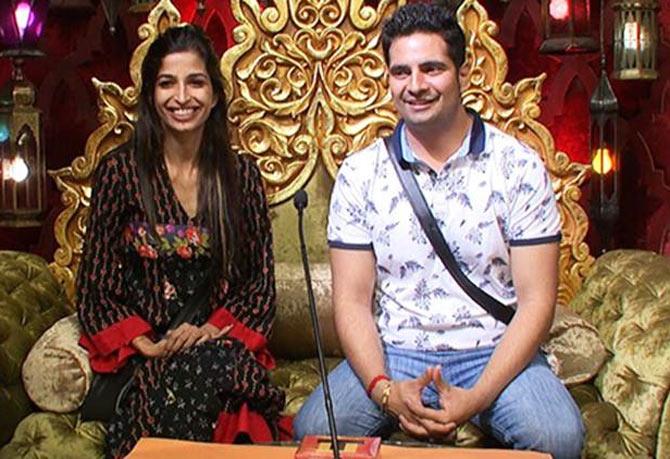 IMAGE: Priyanka Jagga and Karan on Bigg Boss 10
Was it perhaps you did not give any eye-popping content to the show?
I don't know what they were expecting from us.
Even Rahul bhai said that he is an educated guy and brought up in a certain way. We have a certain way of handing things. If I am not entertaining people by abusing, getting physical and talking behind their back, if that was the drawback in me, then I am very happy for that drawback. I am sorry I couldn't do all that; I can never do that. At least I came out of the house with respect. I have no regrets about the time I spent inside.
Host Salman Khan slammed you for not taking a stand whenever Swami Om passed sexist remarks against the women.
The first week you may have seeing me slamming Swami Om for abusing Rahul bhai; it was not in good taste.
After two-three weeks, whatever the other group was doing looked artificial. They were talking about taking a stand for women, which we were already doing.
If the same women are comfortable joking with those people after a spat, it was pretty confusing for the rest of us. Once or twice you can tell somebody but after a point, you don't want to look like a fool.
It is not my responsibility to babysit anyone. They are all adults on the show. There were a few situations where we had to take a stand and we did.
Who plays the dirty game inside the house?
Swami Om talks trash and I almost boycotted him in my head.
Manu creates misunderstandings between people, talks behind their back and keeps switching sides. He needs to change his strategy. He would call Lokesh his sister and tell her that people were using her. But actually, he was the one using her.
Getting physical with men and leching at girls is not cool at all.
I am not happy with the way he is representing a common man.
When Salman Khan asked if Manu gets extra physical with girls, so many agreed. Bani and Lopa have complained many times. We were trying to protect them. We saw that he was trying to touch Mona inappropriately and we raised that issue with her. She was okay with it, so we backed off. If she is okay with it, why would we get into somebody's personal space? I mean, his parents, friends... are all watching the show. Is this how he wants to represent the common people?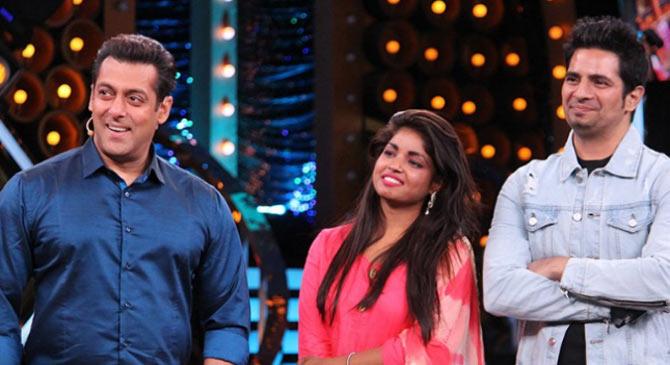 IMAGE: Salman Khan with Lokesh and Karan on Bigg Boss 10
Though you were friendly with some of the commoners, you were more comfortable with the celebs.
I was friendly with everyone.
Mingling with Lokesh, Nitibha and Akanksha was easy, they were nice. But it wasn't easy mingling with the others. They felt we were acting superior but that wasn't true.
We never behaved like celebrities. We were always down-to-earth. We adjusted to situations in the house. If they have a wrong impression about us, you don't feel like mingling with them.
Have you made new friends?
Yes. Rohan and I have worked in the same show.
I had met Gaurav socially once but I got to know him better.
I have made a few friends like Rahul and Bani.
Among non-celebs, I will probably be in touch with Lokesh, Nitibha and Akankansha.
What was the most difficult part of your journey?
Tearing my wife Nisha's picture to save Rohan from getting nominated was difficult. No one could understand how difficult it was. She was happy that I saved Rohan. She knew how hard it must have been on me. But I joined the photograph later.
Who do you think will win?
I would love to see Gaurav and Rohan go on till the end. Rohan has been handling it very carefully and maturely.
What next for you?
At the moment, I am not going to do a daily soap. I will do something different on TV or move on to films.