'I am disappointed because I wanted to show much more of me.'
Lokesh Sharma discusses her Bigg Boss stint.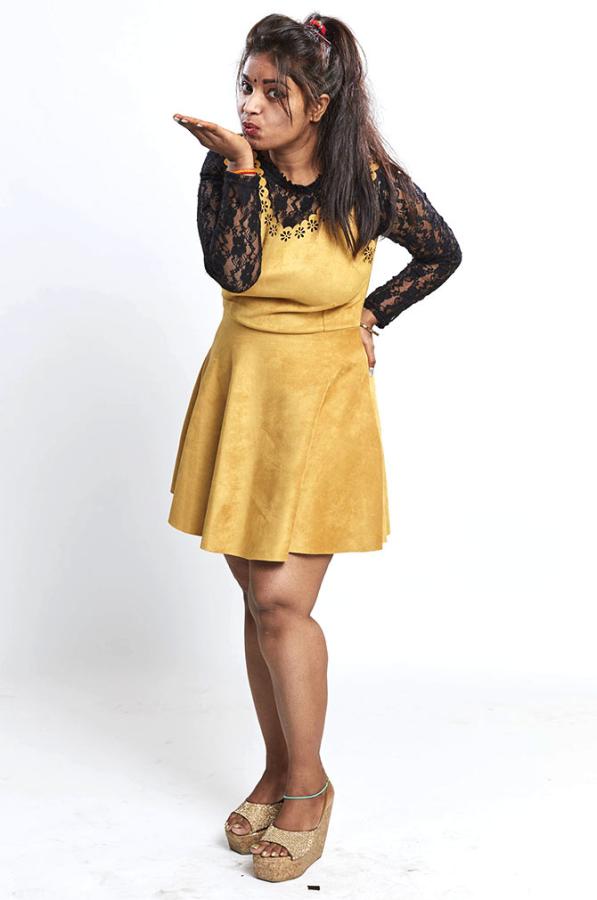 Lokesh Sharma was shockingly evicted from Bigg Boss 10 over the weekend.
During her stay inside the house, she shared a great bond with Manu, Manveer and Navin.
A strong supporter of Swami Om, Lokesh always treated him with respect. Because of her innocence, she was always considered an underdog when it came to performing tasks or decision-making.
Lokesh displayed her fighting spirit during the first immunity task but was manipulated by Navin.
She tells Rediff.com contributor Rajul Hegde why she wanted to be a part of Bigg Boss 10.
Are you disappointed?
It's a mixed feeling because I feel that could have faced more challenging situations and tasks in the house. So in that sense, yes, I am disappointed because I wanted to show much more of me.
I did show my cuteness and at the same time, showed that I am strong and can take a stand. But the problem was that nobody cared about my opinions and the points I wanted to make.
I was treated like a kid. Nobody took me seriously.
I am glad that I could be a part of this amazing journey and share screen space alongside the nation's biggest star Salman Khan. But I could have taken up more challenging tasks.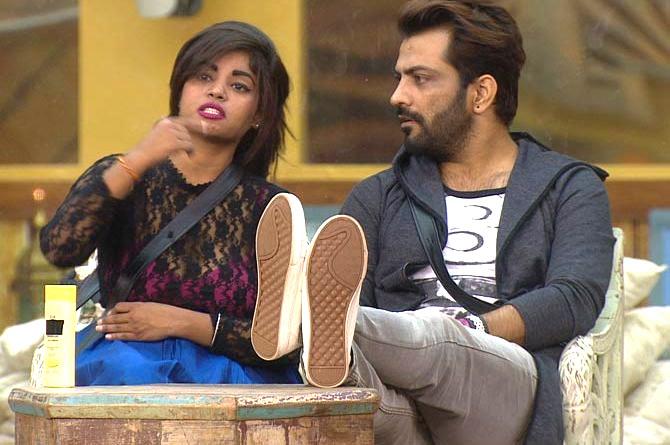 A few days ago, you told everyone to shut up. Where did you get that confidence?
Manu and Manveer are like my brothers. Every time I tried to talk, they tried to stop me. So I would keep quiet. After a point, it irked me because as a contestant, I was not allowed to talk. What was the point in being in the show? So I told everybody to shut up.
Who was your favourite housemate?
I bonded with everyone but I would have a lot of masti with my brothers. I would enjoy talking to Karan. We had an understanding and I got positive vibes from him.
Have you watched Karan's Yeh Rishta Kya Kehlata Hai?
Yes, I have been watching his show from Day One.
When I first met him on Bigg Boss, I told him that my bhabhi is a big fan of his. But I never told him that I was also a fan (smiles). I like him in his character and in person too.
Salman Khan was very fond of you.
I am his fan. Woh mere Superman hai.
From the time he has appeared in the song O O Jaane Jaana, tab say woh cha gayay haii. I loved when he imitated me on Weekend Ka Vaar.
You bonded well with Bani as well.
The first thing I missed after coming out of the house is Bani.
She may appear rough but she's soft and nice. She would give me lot of good advice, like how I should first think about myself. I have this habit of thinking about others first. I feel terrible for giving Bani's name for the Khalnayak chair.
You liked Rohan Mehra too.
Yes, I like him like a friend. He always supported me and said I was his favourite.
Who do you think will reach the finals?
Manu, Manveer and Rohan could reach the top three, and Manveer may win.
Gaurav and Bani may follow with fourth and fifth positions.
Do people recognise you on the streets now?
I think so. Some of them just stare. Maybe they feel I'm a familiar face and are trying to recollect where they have seen me. (smiles)
What did you miss the most in the house?
My parents and my brother's newborn.
Why did you take part in Bigg Boss?
I have been following Bigg Boss for many seasons now and I wanted to be a part of it. But I was disappointed because it was only for celebrities. Since I had this craze of becoming an actress, I thought that once I become a celebrity, I will take part in it.
Fortunately, this season was mix of celeb and commoners. I tried my luck, gave my auditions and became a part of the biggest reality show.
So you want to become an actress?
Yes, I am ready. I want to have my career in acting. I have done a theatre workshop from Mandi House in Delhi.