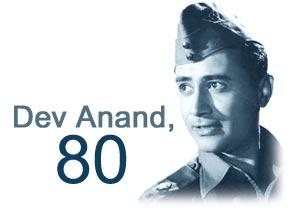 In 1949, Dev Anand and his elder brother, Chetan, launched their own banner. Navketan Films ushered in an era of exciting cinema and introduced several talented artistes and technicians. It was under the Navketan roof that directors Guru Dutt, Raj Khosla and Vijay Anand, music directors S D Burman and R D Burman, cinematographer Fali Mistry and V Ratra did some of their best work. Together, they produced films that continue to keep audiences riveted decades after they were made.
On Dev Anand's 80th birthday, rediff.com lists the memorable films that came out under the Navketan banner:
| | |
| --- | --- |
| | Simply Dev Anand: |
| | |
BAAZI (1951): Navketan's second production marked the directorial debut of Dev Anand's friend, Guru Dutt. An urban crime caper featuring Anand, Geeta Bali and Kalpana Karthik, Baazi was characterised by Dutt's attention to detail, evinced in every aspect of the film -- the stark cinematography, sharp editing and a unique approach to song picturisation as seen in the Geeta Dutt number, Tadbir se bigdi hui taqdeer.

TAXI DRIVER (1954):

Chetan Anand directed younger brother Dev in this dark thriller about Mangal, a taxi driver who gets embroiled in a series of encounters with a violent criminal gang. Inspired by the Hollywood style of storytelling, much of the film's action, including the climax, unfolds in a shady nightclub. The film featured one of Anand's best tragic songs, Jaaye to jaaye kahan, sung by Talat Mehmood.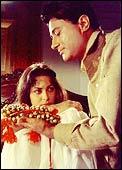 GUIDE (1965): Navketan's most ambitious production was a bilingual screen adaptation of R K Narayan's novel Guide. While Narayan himself denounced the film, the Hindi version, directed by Vijay Anand, was an ensemble of dance, music, spectacle and fluctuating emotions. The tempestuous relationship between Raju (Dev Anand) and Rosie (Waheeda Rehman) is traced against the backdrop of pristine locations beautifully captured by cameraman Fali Mistry. Shailendra and S D Burman's evocative musical score externalises every phase of this bittersweet love story -- be it Rosie's song of liberation Kaanton se kheech ke yeh aanchal or Raju's expression of estrangement Din dhal jaaye. Although the English version, directed by Tad Danielewski with a few plot variations, fell flat on its face, the Hindi edition remains one of Bollywood's best-realised musical extravaganzas.
JEWEL THIEF (1967): The banner's fascination with crime thrillers continued into the colourful 1960s under Vijay Anand's able direction. The story of a police commissioner's son (Dev Anand) who is mistaken for a notorious jewel thief comes with a built-in love triangle (featuring Vyjayanthimala and Tanuja) and an unexpected twist in the tale in the form of Ashok Kumar who plays a memorable villain. Once again S D Burman's music enhances several superb moments in the film, particularly the seductive Raat akeli hai and the elaborate climax dance, Hoton pe aisi baat.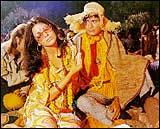 HARE RAM HARE KRISHNA (1971): Arguably Dev Anand's best directorial effort, this film, like most of Navketan's later productions, focused on a topical issue -- the problems faced by the youth. In this case, the hero goes searching for his lost sister among the Hare Krishna cultists in Nepal who become a front for drug smugglers. R D Burman's trend-setting composition Dum maaro dum became a national rage, as did newcomer Zeenat Aman, the first of many heroines propelled to stardom under Anand's tutelage.
Click here for More Features