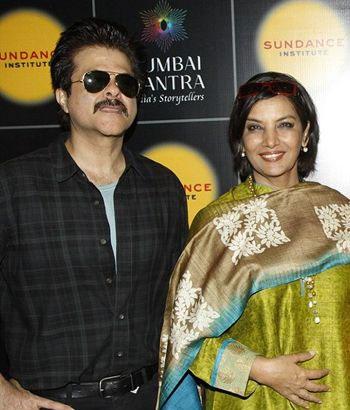 'Anil Kapoor is driven as no other I know in this profession.'
'He has a sharp sense of making the right choices. Even at the height of his herogiri, he realised that if he had to guarantee longevity of career, he would need to bag roles that offered him an opportunity to play substantial characters beyond the routine song-and-dance numbers.'
Shabana Azmi showers praise on birthday boy Anil Kapoor.
Anil Kapoor turned 60 on December 24 and we couldn't help but shower love on him!
We weren't the only ones, of course.
His colleague and friend Shabana Azmi talks fondly about AK to Subhash K Jha in this interview:
'I took an instant dislike to him when I first set eyes on Anil. He had stepped out of the lobby of Holiday Inn, dressed in black drainpipes, a red shirt with front buttons open, pulled up collar... His posture crying out loud, 'Look at me!'
I reckoned he was a rich brat, a producer's son. Kapoor attached to his surname makes him expect everything on a platter.
I was horrified to learn that he had been cast in a bit role in my film Ek Baar Kaho and that I would have to suffer him in a month-long schedule in Darjeeling.
I decided to keep him at an arm's distance although as a matter of habit, I mingle very easily with my younger costars.

On set, I discovered he was the opposite of the upstart I had expected him to be.
He was hungry to learn and like a ticking battery absorbed everything that was happening on the sets. The other youngsters in the film could not wait to party as soon as pack-up was announced but he would hang around hoping to catch favour with (director) Lekh Tandon so that he could be given at least one scene on his own where he could make a mark.
Oh how he wanted that song that was picturised on Dilip Dhawan!
He did not get it he did not let his disappointment turn into disenchantment.
He had trained under my acting guru Roshan Taneja and acting was his life's blood.
At the age of 10, he used to travel by bus alone from Chembur (a suburb in eastern Mumbai) to Pedder Road (south Mumbai) to take sitar lessons for a film called Tu Payal Main Geet in which he got to play the younger Shashi Kapoor. He earned my respect and we became friends.

He was so earnest, so committed, so vulnerable behind that cocky posture that my heart went out to him.

Thirty odd years later, my heart still goes out to Anil. He remains vulnerable with every new goal he attains. He wears his fame lightly with a wry sense of disbelief.
He is driven as no other I know in this profession. He has a sharp sense of making the right choices. Even at the height of his herogiri, he realised that if he had to guarantee longevity of career, he would need to bag roles that offered him an opportunity to play substantial characters beyond the routine song-and-dance numbers.
After being celebrated universally in Mr India, he took a calculated risk in doing Lamhe. He did Eeshwar, Beta... roles that could have saddled him with a 'vegetarian' image but he balanced these with a romantic 1942: A Love Story , a robust Ram Lakhan, a forceful Tezaab, full of every commercial ingredients that ensured box office success.
He had the canny sense to do No Entry after doing Slumdog Millionaire.

Most would have gotten so carried away with the international recognition and the Oscar that they would have turned their backs on 'masala' movies. But Anil keeps his doors wide open. He is accessible to all. He does television, radio and now a Web Series... a step ahead of the times.
When Priyanka Chopra was in two minds about whether she should do Quantico or not, it was Anil, who pushed her to take the plunge. It is for all to see what a game-changer that's been for her.
Has this changed Anil? There has been growth, of course. He is more polished, a better public speaker -- he used to be tongue-tied in his earlier years. He can make friends with Hollywood stars and Prime Ministers with aplomb. But at heart, he remains the same. He is loyal. He has the same circle of friends. His staff remains the same. He remains grateful for every kindness that comes his way.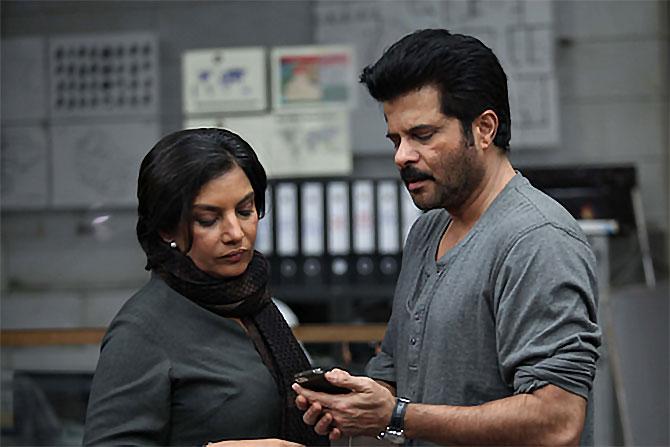 On the sets of 24 (pictured above), he gave me his personal vanity van and shifted into a smaller one discreetly. He ensured that all my needs were met and treated me like a queen. I was very touched. He never fails to mention Javed's support of him in his early years. When Javed was pushing Yash Chopra to cast Anil in Mashaal, he personally sat and edited bits from MS Sathyu's Kahan Kahan Se Guzar Gaya to make a show reel for Anil because Javed believed in Anil's talent.

The person Anil has become today has been largely shaped by Boney (Kapoor, his brother) in the early years and after that by (wife) Sunita. She is his strongest pillar of support and keeps him firmly grounded.
He is a surprisingly good father and an unexpectedly responsible family man for a person as self-absorbed as he in.
Sunita humours him but also ensures he doesn't take himself too seriously. She keeps a facade of irreverence although it is evident that she not only loves him but also admires him.
He, in turn, can barely function without her. He confesses that he wants her to accompany him on every trip from now on because he needs her.

Mercifully, he still has the ability to laugh at himself. Many mornings, he has called me and had me in splits over his creaking bones and the effort that goes into getting on to that treadmill, lifting those weights, starving himself to project his youthful exterior.

Sunita is a fanatic about fitness and keeps a tight rein on him. The Punjabi boy from Chembur now lives on salad, quinoa and dry fruit!
Abhishek Bachchan tells a very funny story about him.

Abhishek once accompanied directors Abbas-Mastan to narrate a script to Anil. They wanted him to play father to Sonam. Anil was quick to retort in horror 'How can I play father to Sonam? The public will never accept me as the father of a grown up girl!'
The irony was lost on him.
It is rare to sustain friendships in the film industry. Ours has survived over 30 years and is spilling over into our children's lives. I cannot explain the deep sense of fulfillment I experienced when Anil worked with Zoya (Akhtar) or when I worked with Sonam or when Rhea worked with Javed or when Harshvardhan worked with Saiyyami... this is the stuff Hindi films are made of. Friendships passing on to generations. How blessed we are!
Happy birthday, AK.