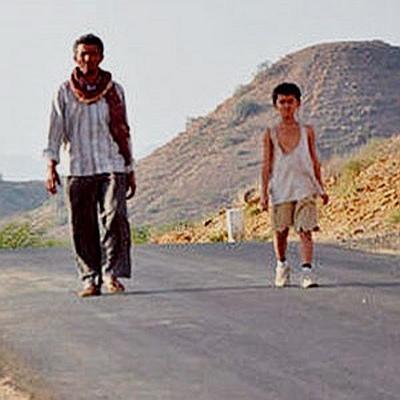 "After 21 years, a Gujarati film won the National award. And now, it's going to the Oscars. I'm so happy!" gushes actor Pankaj Jhala, who is a part of the Gujarati film, The Good Road, which has been selected as India's entry to next year's Oscars.
Jhala plays a crooked dhaba owner in the film, directed by debutant Gyan Correa.
The film tells the lost-and-found story of a young boy (Keval Katrodia), who loses his way in the desert. It also stars Sonali Kulkarni and actor Ajay Gehi as Aditya's parents.
Jadeja claims that 'good things' also happen on the road and so the name. "Usually, you think that truck drivers are bad people and dhaba owners are good but in this movie, it is exactly the opposite."
Shantibhai, who plays a truck driver in the film, is a truck driver in real life as well. He took a month's training on how to face the camera and delivered naturally. "The director insisted on natural actors, and that's why the casting," Jhala explains.
In the movie, Jadeja tries to involve Shantibhai in a crooked deal. He tells him that he should let him loot the goods in his truck, then topple the truck from the mountain top. The truck owner could claim insurance and he could sell the goods. He would give a 50 per cent share to Shantibhai, and gives him an advance payment of Rs 25,000.
Meanwhile, a child is left behind by mistake by his parents at the dhaba. Shantibhai's heart reaches out to the child, and helps him find his parents. He forgets about Jadeja's scam.
Jhala says the original title for the film was End Of The Road but when they saw so many good characters in it, they renamed it The Good Road. The film ends on a positive note. The entire film has been shot in the Kutch area and Bhuj, in Gujarat, in two months.
Though Jhala's role required only eight days of shooting, he provided other help as well, like supplying local artistes and villagers for the shoot.
"This is my second Oscar movie," he declares with a laugh. "I was the Kutch co-ordinator for Lagaan. I did everything for them here. That too went to the Oscars."
Jhala has been running a theatre group called Sanidhya for the last 30 years. His first film was with veteran filmmaker Sai Paranjpye. "They had come here in 1982 to shoot a documentary and I got a chance to act in that."
The beauty of Kutch draws the best filmmakers here, he said.
"My theatre group has also acted in a Hollywood movie, When Harry Tries To Marry (in 2011). I provided the local artistes for the dandiya raas in the movie."
Buy The Good Road DVD right here!