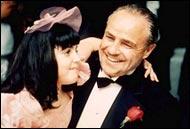 Imagine watching The Godfather without the soundtrack, or any James Bond flick, or Mission Impossible without the signature tune that launched a thousand ringtones.
What would the movies do without music, the jet fuel that powers our flights of fancy?
For generations, composers have hankered to get their scores into the movies, or into those last five minutes when the titles come up and everybody leaves the hall. Only a lucky, talented few get to compose the big movie themes and leverage the moods that jerk tears out of your eyes or fill your chest with expansive feelings of wonderment.
But what are the soundtracks that get filmmakers singing?
For its September issue the British Film Institute's respected journal Sight & Sound quizzed leading international filmmakers on their favourite movie soundtracks.
Nino Rota's The Godfather soundtrack tops the A-list for Jonathan Lynn (My Cousin Vinny, The Whole Nine Yards) and Sidney Lumet (Serpico).
'It's evocative, instantly recognisable, and it so romanticises the movie that it reinforces the audience's empathy with the central characters, all of whom are actually gangsters,' Lynn told Sight & Sound.
Music, Lynn feels, ought to be used with prudence. 'If there is sufficient suspense already, using music is overkill,' he says. While a beautiful melody can intensify romance, pathos and nostalgia, bad music has the obverse effect. Lynn says he would never use music to underline something funny. 'That's known as "Mickey-Mousing' the film,' he says. 'Music only helps comedy in a montage.'
For Lumet, Rota's scintillating score was larger than the film. 'Music should always reflect something that is not present in the rest of the movie,' he says. 'Here, the score provided a heartfelt loss of innocence, a yearning for a simpler yet more desperate time for that family. It kept the family's unspoken wish for itself alive.'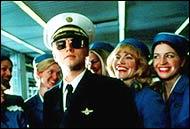 The maker of The Godfather has his special favourites, but he does not name his 

legendary Mafia trilogy among them. Francis Ford Coppola loves the music of two films of the 1940s: The Thief Of Baghdad (1940) and Spellbound (1945) by Hungarian composer Miklós Rózsa.

He also loves John Williams' work on Catch Me If You Can (2002, left), which he thought was a 'great score, wonderful orchestration... really helped the film work very well.'

'My favourite film soundtrack has to be Bernard Herrmann's score for Hitchcock's Psycho (1960),' says Norman Jewison (The Thomas Crown Affair, Moonstruck). 'It literally creates the suspense and heightens the terror. Herrmann influenced so many composers, including John Williams. When you see Spielberg's Jaws (1975), you realise the influence of Bernard Herrmann.'

'The marriage of the moving image and music is perhaps the most powerful visual communication we have,' Jewison told Sight & Sound. 'You can take almost any edited visual film sequence and change the emotion and feelings engendered by the use of music. When I made Jesus Christ Superstar (1973) from a double LP musical rock opera score by Andrew Lloyd Webber and Tim Rice, I did not realise we were actually making the first rock video... Music is as important to most films as is the written text.'

But favourites are not always a constant. For some filmmakers they are a shifting theme. Cameron Crowe (Jerry Maguire, Vanilla Sky) a man of the moment, is currently fixated with Mark Knopfler's score for Local Hero (1983). 'You can barely imagine the movie without it -- the music takes you by the hand and leads you into another world,' he says. 'It's unobtrusive and hugely effective. You can still hear that music long after you've left the theatre.'

Crowe feels the best soundtrack, 'bypasses your mind and goes straight to your soul.'

He loves Bruce Springsteen's Secret Garden in Jerry Maguire (1996), which starred Tom Cruise and Renée Zellweger. 'The song starts as Dorothy (Zellweger) is watching her child kiss the shiftless Jerry Maguire in the kitchen, before their first date. It captures her guilt and advancing melancholy -- she knows this guy won't be around much longer in her life,' he says. 'Then she decides she's going to have a great time on that date, and the music continues as she runs across the lawns of her neighbourhood to meet Jerry Maguire by his car. I kept hearing the song in my head while we were filming. Nobody could figure out why I was so happy.'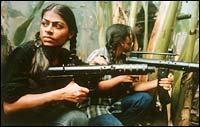 What about Indian filmmakers?
Santosh Sivan told Sight & Sound that he loves Amadeus (1984) and Stalker (1979) for 'very different reasons'.
'In my own film The Terrorist (1998) music is added on to the sounds that exist in the visuals of the film,' he says. 'The whole orchestration that happens when water makes sounds in all its subtleties and in its anger.'
Indian film music is also a big draw with some Western filmmakers.
'My favourite original score is the one from [Sanjay Leela Bhansali's] Devdas (2002) because it is of an extraordinary vitality,' says French filmmaker Patrice Chéreau. 'I can listen to it up to ten times back to back, with all the images of the film returning to me. I lift myself up from my armchair and dance in my office (hoping that the neighbours across the street are not at their window!).'
'A film without music is one-legged,' the director of Intimacy (2001) told Sight & Sound. 'And I would prefer not to make cinema rather than return to an age without cinematic music.'