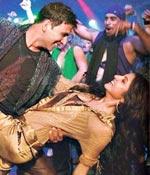 From Kal Ho Naa Ho to Salaam-e-Ishq to the latest Patiala House, we can sense a sincere association between director Nikhil Advani and Shankar-Ehsaan-Loy, the trio behind the music.
If Kal Ho Naa Ho had signature Shankar-Ehsaan-Loy music which did not hit hard on our ears, Salaam-e-Ishq survived with a self-titled song rendered by Adnan Sami.
Akshay Kumar-Anushka Sharma starrer Patiala House is S-E-L's first release of the year, and it's good news for everyone concerned.
The title track Laung Da Lashkara opens with the vocals of Hard Kaur, in an expected hip-hop techno style before we are gradually guided to a beautifully laid out track in Punjabi flavor mesmerized via the vocals of Jassi and Mahalaxmi Iyer. Everything goes well with this track except for the deliberate attempt to give the lead vocals a techno feel.
Kyoon Mein Jagoon starts off with a piano riff and soft rhythm and looks like a winner. This signature S-E-L tune gives us a warm feel and takes us to a journey of sentiment and emotion. Shafqat Amanat Ali's expression of Anvita Dutt's words and the musician's vision succeed to lure us a second time to this track.
Rola Pe Gaya begins with a folk rhythm and some typical mehandi melody, which almost unexpectedly goes into a remix mood with vocals of Shankar Mahadevan and Mahalakshmi Iyer coming in. Too much has been tried here, and nothing really hooks. Even the rap portions don't work, and it looks like a desperate attempt to pull off another Kajra Re.
Aadat Hai Voh by Vishal Dadlani has much to be said but not all good. The rendition part should have been left to more expert singers. The song is mediocre with the vocals not living up to the composition. A listen once again if ever, should be for the touching lyrics.
Suraj Jagan follows with Baby When You Talk To Me, and we feel we should have kept our expectations from this Give Me Some Sunshine singer a bit lower. There is nothing notably unpleasant in this song. But again, if not for the chorus portions where the song lives, this song is quite a let down.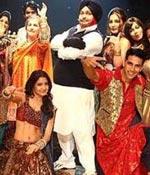 Tumba Tumba brings back the smile on our face. The folk touch clicks and there is nothing that takes this track away from Punjab. Made in Punjab, marinated with Punjabi spices, presented over a fine vocal stream of Han Raj Hans and served in a style loved by the Punjabi music lovers out there. That's Tumba Tumba for you.
The seventh song is an unplugged version of the Kyoon Mein Jagoon by Shafqat Amanat Ali. Like how Kal Ho Naa Ho cast its spell with different version of sad and extra sad moments, this unplugged version aims at nothing different.
Aval Allah by Richa Sharma sounds more like the opening prayers of an old AVM production. But the song in itself meant to be a prayer sounds divine and deep. Richa Sharma's vocals refresh the song.
The ninth track is an Asian Dub Foundation remix of the song Kyoon Mein Jagoon. It looks out of place in the CD though party animals may just like it.
The Andrew T Mackay remix of Baby When You Talk To Me comes up next. A very different approach of this remix makes the listener feel fresh. Though the mix carries a lounge mood, it picks up towards the end. A job well done.
The remix versions of Rola Pe Gaya and Laung Da Lashkara by Harry Anand have much reason to be floor burners. The optimum tempo, punch and perfect elemental additions make these tracks a DJ's must have.
You won't feel cheated for having brought an original copy of this CD.
Rediff Rating: