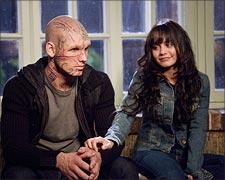 Ankur Pathak reviews Beastly. Post YOUR reviews here!
Some films have a rare ability by which they manage to get everything wrong.  

An absolutely ridiculous attempt in reinforcing the classic adage of how inner beauty is the one that gleams above and over any exterior magnificence, Beastly majestically fails in any attempt to convey what it's trying hard to.

Kylie (Alex Pettyfer) is arrogant, egocentric, and a hippy sophomore, who's incredibly popular at his superficial high school. He is full of himself and is a narcissist to say the least. He propagates a philosophy which he thinks is cool and distinctive, 'Embrace the Suck' he yells and his other equally dim-witted chums roar collectively. 

Foolish as he is, and as is established by now, he rubs no-nonsense gothic-ilk Kendra (Mary-Kate Olsen) who's controversial for being a witch, the wrong way, as he publicly degrades her. She in turn decides to chasten him with the curse that'd rob him of his good looks and he'd be on the other side of the shore, realising for the first time what it's like to be ugly. Some random tattoos and scars appear on his face, and he turns bald, as well. Those encryptions on his head appear like historical Greek trees, or some prose written neatly, though incoherently in Urdu.

The only way out to regain his extraordinary charming appearance is to get a girl to love him and within a year. And so enter Lindy – a nerdy classmate, someone stud-man had never noticed before. She's the only hope, only way out to conjure his chivalry back as unaffected.

Flaws in the film are as many as the odd cracks that have surfaced on Mr. Hunk's beautiful face. For one, the dialogues are so contrived, and so pretentious, they give an impression of being a spoof. At one instance the impatient dad tells the son who's furious over something, "Cage the rage, son". At times, when they are trying to evoke sympathy, or emotionally arouse the viewers – they end up evoking laughter.

By applying an insensitive, gimmicky ploy, the makers team up Kylie and Lindy in an idealistic villa, where Kylie tries all tricks to woo the girl. Then Kylie develops a greenhouse over his terrace to show his environmental concerns, and we see a carelessly written abrupt transformation in his otherwise self-centred persona. He softens, and begins to care about other things besides himself. The change, which is supposed to come out by his discovery of some sort of a soft-corner toward Lindy, never materialises.

The film surrenders to being monotonous, tedious, and boring. Director and screenwriter Daniel Barnz doesn't possess the charm to effectively bring out the camaraderie between the lead pair. A host of clichés follow- long walks, terrace-talks, sunset by the lake and the likes. And they, pretending to be dazed in each-other's company, say lines like, "I feel I've known you forever", and on the subject of growing some exotic garden of roses, he innocently replies, "I figured it out". Wow. You didn't figure out your part, though.

The most dangerous part of the film is its substandard performances, save for Neil Patric Harris. While Vanessa Hudgens' (High School Musical) Lindy seems totally aware of the cameras zooming on her, and in knowing that, she's awkward and flexes expressions which are deliberately manufactured. Alex Pettyfer (I Am Number Four) is best when he is not saying anything. He should rather stick to the fashion label he endorses. When he says his lines, his discomfort in being himself is evident. It's a cartoonish act. Even the house-help, which is a part almost all times successfully pulled off, here it seems artificial, and for a lack of better word, comical. She's supposed to inspire the societal conflict, (to the blacks?) as her many kids aren't granted the coveted Green Card.

Whenever Kylie does a good deed, white roses magically manifest on his wrists. No kidding!

There have been innumerable instances where a ruptured script has been saved by the reasonably well performances, like it happens in all Gerard Butler films. But Beastly tortures you with recurrent pop ballads, and emo songs.

As it struggles to reach a predictable climax (it includes a clichéd kiss in front of the entire school), the film appears longer than it is. Kylie tells some baby elephant stories to Lindy and she swoons upon hearing them. He even gets her fruit chocolates which she likes.

Beastly has its battle with a lot of demons, and maybe it could use some spells itself to come out convincing. It doesn't even manage to convey its principal message, as most of the times, you doubt the integrity of Kylie, as if he's chosen Lindy, the unassuming, easy-to-set target just to get rid of the permanent make-up.

Neil Patrick Harris gets the best lines in the film. It arouses some chuckles, and that too because throughout he is mocking the entire establishment of the film, and what Kylie is attempting to achieve.

Sheepishly, the film climaxes with a collage of pictures sloppily thrown at the global map representing a world expedition of the erupting lovelies.

Beastly is entirely fractured. It is a ghastly attempt in conveying what an unadulterated film like A Walk to Remember said, sans any tattoos.
Rediff Rating: