'Raj and DK have taken the effort to look at Moosa as a person.'
'Like, what happened to him?'
'What made him become a terrorist?'
'The emotional trauma that he might have had... that clicked for me.'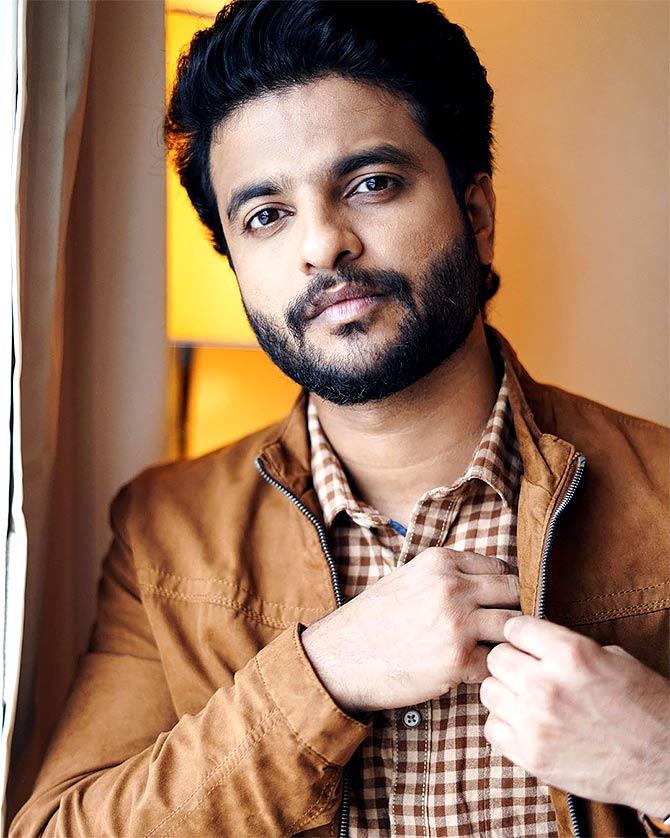 If you have watched The Family Man, you must have felt for the terrorist called Moosa.
The actor who gave him life is Neeraj Madhav, a well known name in the Malayalam film industry, who is testing new waters with this Web series.
Moosa plays the antagonist to Manoj Bajpayee's field agent, and has been getting praise for his performance.
"The whole country is watching Web series!" Neeraj exclaims to Patcy N/ Rediff.com. "I work in the Malayalam film industry, but now, when I open my Instagram or Facebook, it gets flooded with messages every three minutes!"
And to think Neeraj started his career dancing!
He was a finalist on Super Dancer, a show on Amrita TV, and dabbled in choreography before he became an actor.
One of Neeraj's earliest roles was a small one in Mohanlal's Drishyam.
Neeraj fills us in his career so far.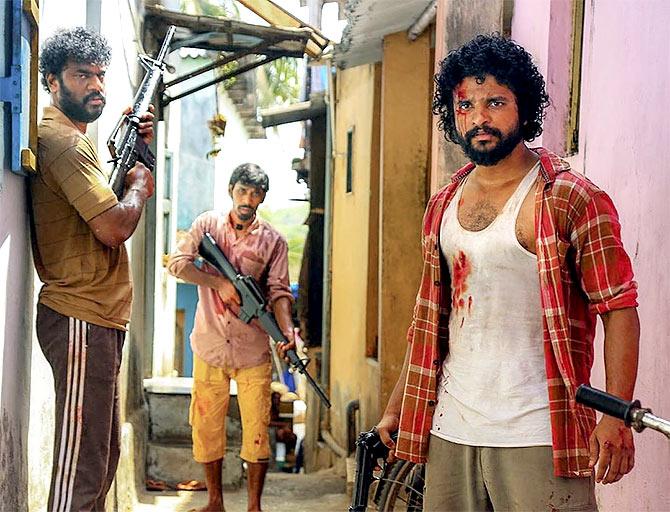 What kind of appreciation have you received for your character in The Family Man?
I am overwhelmed by the response I am getting.
I never knew it would become this big because while committing for the role, only a few things actually mattered to me -- that Raj and DK are path-breaking directors, and that Manoj (Bajpayee) sir was involved.
If these people are stepping into the streaming platform, there should be something to it.
Amazon Prime was a good platform to open with.
Plus, I haven't played a character like this before.
It had so many layers.
I wasn't sure how it would be received or how big it would get.
During that one year of filming and post-production, the whole streaming thing became so popular.
The reach has become bigger, even in the regional areas.
The whole country is watching Web series!
I work in the Malayalam film industry, but now, when I open my Instagram or Facebook, it gets flooded with messages every three minutes!
I am not exaggerating. The messages come at 3 am and 4 am as well, as people are binge-watching on the show.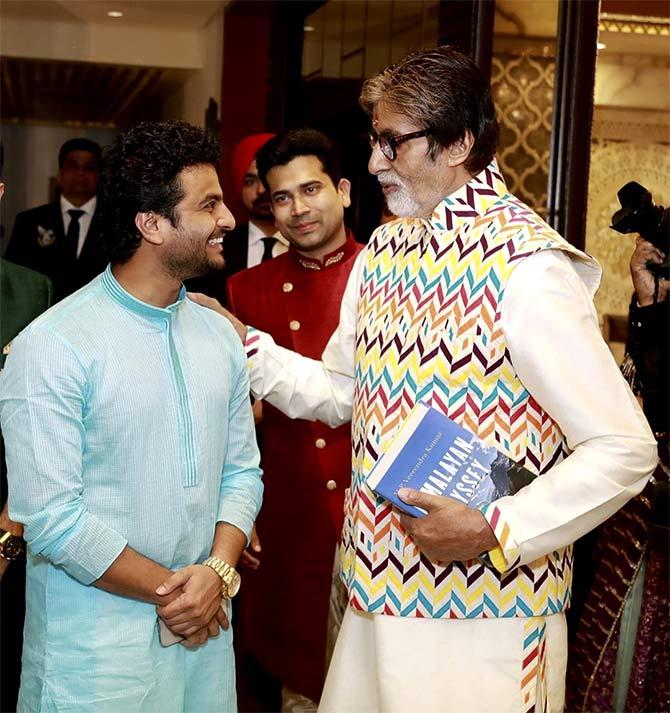 What kind of response have you got from the film industry?
This is the first time a Malayali actor has starred in a mainstream Web series, so they (the Malayalam film industry) are taking it very seriously.
(Director) Geetu Mohandas and (actor) Tovino Thomas are two people who have always supported me, and I got appreciation from them.
Recently, I met Amitabh Bachchan at a function. I went up to him and asked if he had watched The Family Man.
He said he was about to watch it, so I told him that I was in it.
He said, 'I know. I have seen you on the posters and in the trailers.'
I was super-excited that he had recognised me!
Like cinema, these things doesn't change on a Friday night, right?
It's always there.
So people will keep watching it.
Plus, it is a 10-episode series, so they will take more time to watch it.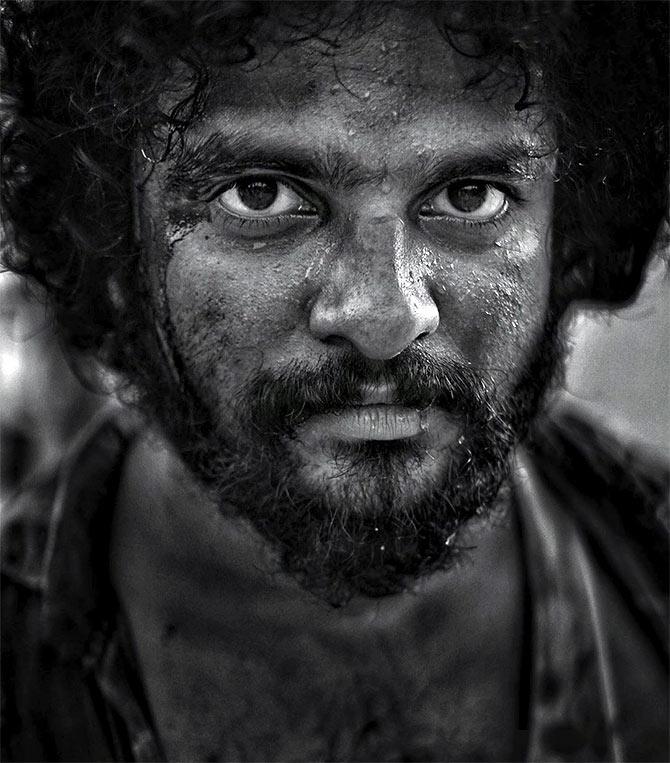 How did you get this role?
I got a call from (casting director) Mukesh Chhabra's office.
They wanted me to audition for a Web series.
I told them I would like to know more about it.
We don't have an active casting agency culture in Kerala.
I wasn't reluctant to give an audition, but I had a couple of experiences of doing national-level auditions for ads and they had not worked out.
I was expecting to get a call back from the second AD or the script assistant. Instead, I received a call from DK.
He said they had done research on me, and that I was apt for the character.
They wanted to check my language skills.
He briefed me about the story and how my character would fit in.
I immediately said yes.
I did the audition and in a week, I was in.
Was it difficult to say the dialogues in Hindi?
It wasn't easy.
I have learned Hindi as my second language in school, but we don't speak it regularly.
I had to put in a little effort to remove the accent and to be fluent, especially because we were shooting in sync sound.
What kind of preparation did you do for your character?
I am an instinctive actor.
I do my research, but do not adapt to somebody's body language.
Every time you play a character, there is a reference.
Here, it was difficult because even if you have some reference from the media, they (terrorists) are portrayed as a brainless zombie-killing machine. There's no human side to it at all.
But Raj and DK, through their writing, have taken the effort to look at Moosa as a person.
Like, what happened to him?
What is going on in his mind?
What made him become a terrorist?
The emotional trauma that he might have had... that clicked for me.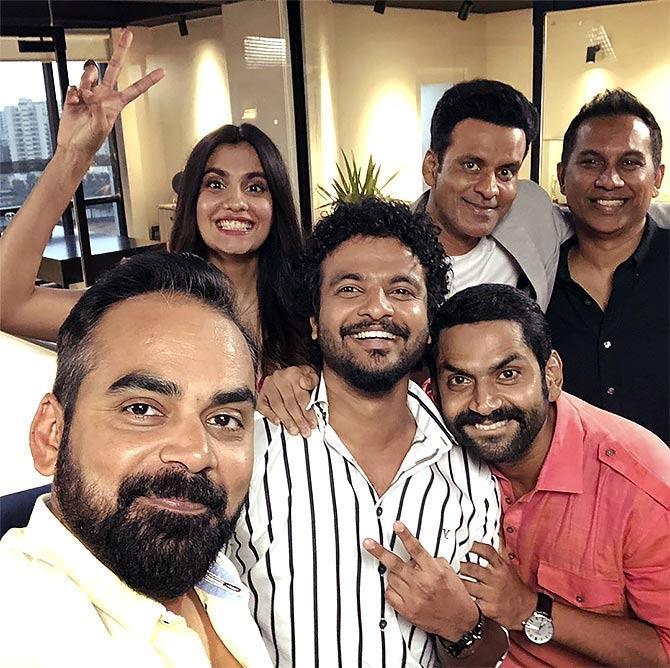 How was it working with Raj and DK?
They are super cool guys; the coolest in the crew!
They function very well as a unit. You never see them in conflict, at least not in front of us.
Only one of them will talk to us; both of them will never come and explain.
One would explain a scene. Then, the other would take up the next scene. They had this perfect balance between them.
They are very progressive and unbiased. You can see that in the writing.
They don't take sides.
They don't say actors are just tools. No, they take our input.
They may even improvise the scene with our suggestions. They give us a lot of freedom as actors.
Also, Raj and DK have taken the effort to reach out to actors from all over.
It is such a solid role, the safest bet would have been to catch somebody from Bollywood.
But Raj and DK came to Kerala, and found a person who is active in the industry.
They also trusted Priyamani; she has a Tamil background.
There are actors from Kashmir, actors from Delhi... they actually took an effort to get that pan-Indian feel.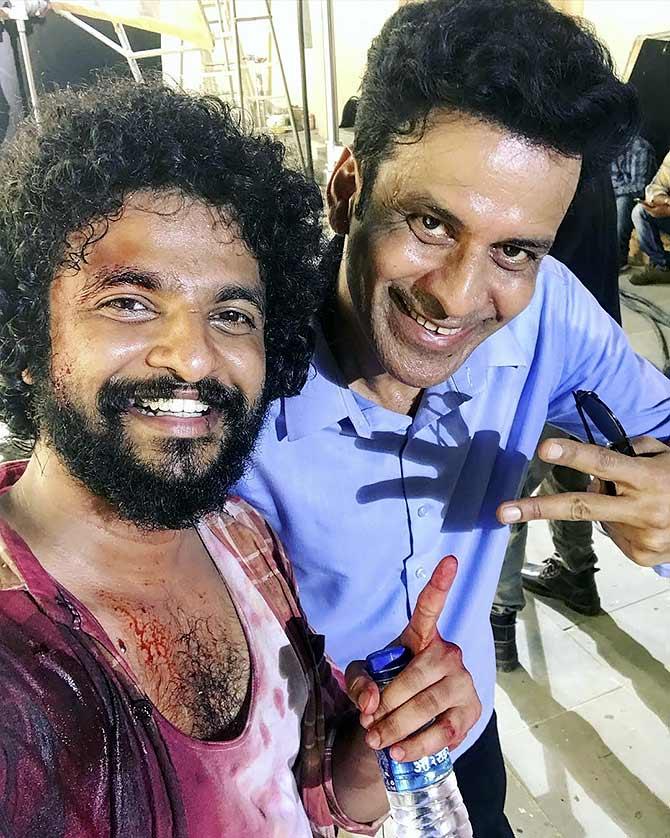 Manoj Bajpayee was one of the reasons why you took up this role. What did you learn from him? Were you nervous?
Yes, I was nervous.
I had met him during the reading sessions and figured that he would be a cool guy.
But I didn't know how he would be on the sets.
Our first scene was the one where I get arrested.
It is a very intense scene.
We were running out of time, and did not get time to rehearse.
He was such a sweetheart! He knew I had trouble with the language initially.
I have experiences of working with actors who block you mentally or overshadow you, or don't make you feel comfortable, and you cannot do anything.
But when you act with Manoj sir, he improvises a lot. He is unpredictable.
So if you show the courage, rise to that space and play along, your acting and performance automatically elevates.
Usually during retakes, most actors will repeat exactly what they did the first time.
But this guy will do something new *every* time!
After the first scene, he patted my back and said, 'Good job.'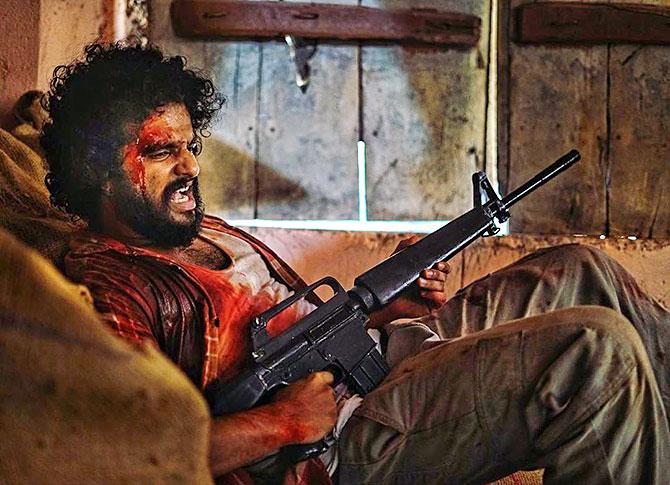 Did you feel bad that your character dies in the first season?
Initially, yes.
But there are a few aspects to that. Firstly, I am playing the main antagonist of Season One.
So even if I make it to Season Two, I don't think I will remain the main antagonist.
When I spoke to Raj, he gave me his perspective that Moosa's death glorifies him.
'Even when he is killed, people feel bad for him,' he said.
DK said Moosa's thread is the only one with closure and clarity.
So I am not unhappy now.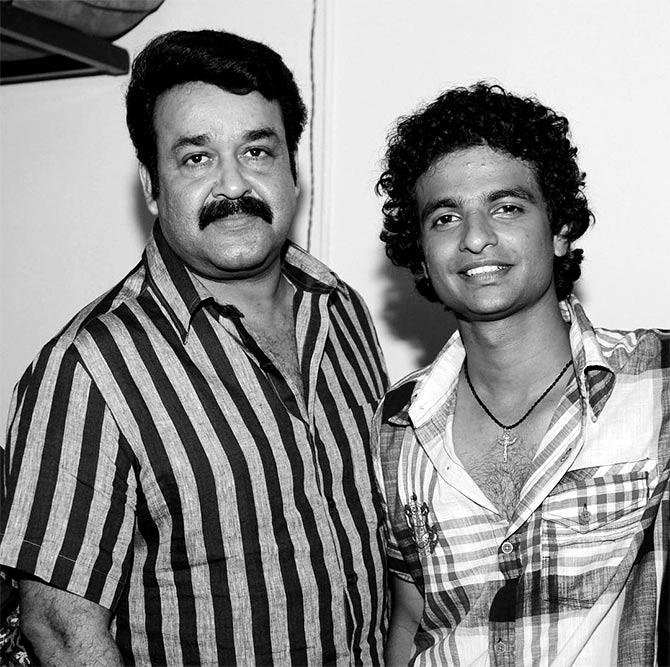 You were a winner on Amrita TV's Super Dancer show in Kerala. When did you start dancing?
I started dancing when I was three.
I took Bharata Natyam lessons for five years from Kalamandalam Saraswathy, a renowned classical dancer.
I was a Prabhudeva fan, so I would dance to his songs during my college days.
I also did hip hop, but that was self-taught.
I did choreography as a part-time job, but did not want to take it up as a career choice.
Dance was a passion because my mom is a classical dancer and performer. She is a school teacher; my father is retired veterinarian doctor.
He writes, so initially, I was aspiring to become a writer-director. I accidentally ended up as an actor.
After graduation, I joined the School of Drama and Fine Arts in Thrissur. I learnt acting and direction.
I always wanted to act, but wasn't sure about it.
I was more of a writer and director.
I accompanied a friend for an audition and got through. That's how I got my first movie Buddy (2013).
After my third film Drishyam, I realised I have a career and started taking things seriously.
I have written a screenplay for a movie called Lava Kusha.
I have choreographed a song in Oru Vadakkan Selfie.
You played the lead in Paipin Chuvattile Pranayam.
Yeah, that was my solo debut.
Do you feel you have arrived now?
Definitely. For me, it was always getting bigger with the next movie.
I always made an effort to push myself because when you are in a comfort zone, people would want to keep you there.
I started with comedy, so people wanted me to continue doing that.
They don't want to experiment with you.
So I had to push myself always to break the typecasting. It wasn't easy to because I was steady and earning money.
Movies like Oru Mexican Aparatha and Oozham were game changers for me.
I waited for something like Paipin Chuvattile Pranayam because it addressed a serious issue.
I wanted to make my debut with a solid story.
I wanted to grow as an actor and that's when The Family Man came to me. I am extremely happy that even though my industry people did not have the courage to experiment with me, Raj and DK came from Bombay and trusted me with such a challenging role.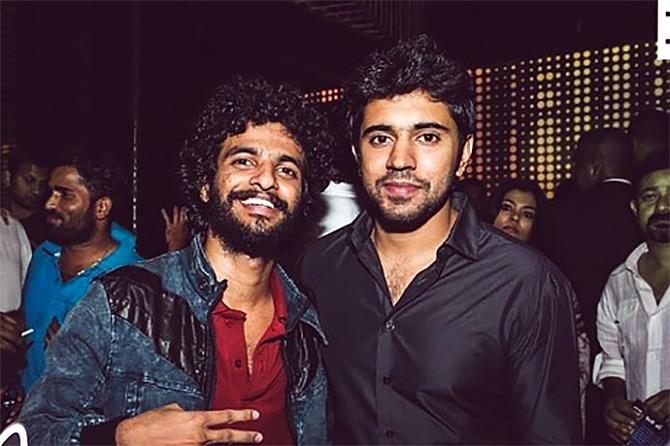 Are you open to doing more Hindi projects?
Definitely! As an actor, experimenting gives you a kick.
Did you know I was cast in Chichchore while I was filming for The Family Man?
The casting agent was getting a good response from Raj and DK and so they suggested my name.
I went for the audition.
(Director) Nitesh Tiwari -- he is such a cool guy! -- saw the audition and was very happy.
We had two sessions.
I got a make-up test and was almost finalised for the part of Sexa -- it was initially a South Indian character.
Nivin Pauly had been approached for it and then it came to me.
Unfortunately, things did not fall in place, as I was filming for The Family Man and a couple of Malayalam movies simultaneously. They had to start shooting in 15 days.
When I could not give my dates, they made it a Punjabi character and cast Varun Sharma.
I am happy the film did well and feel sad that I could not be a part of it.