'That's the way it should be -- people should see your work and then want to work with you, not because you are a celebrity's child.'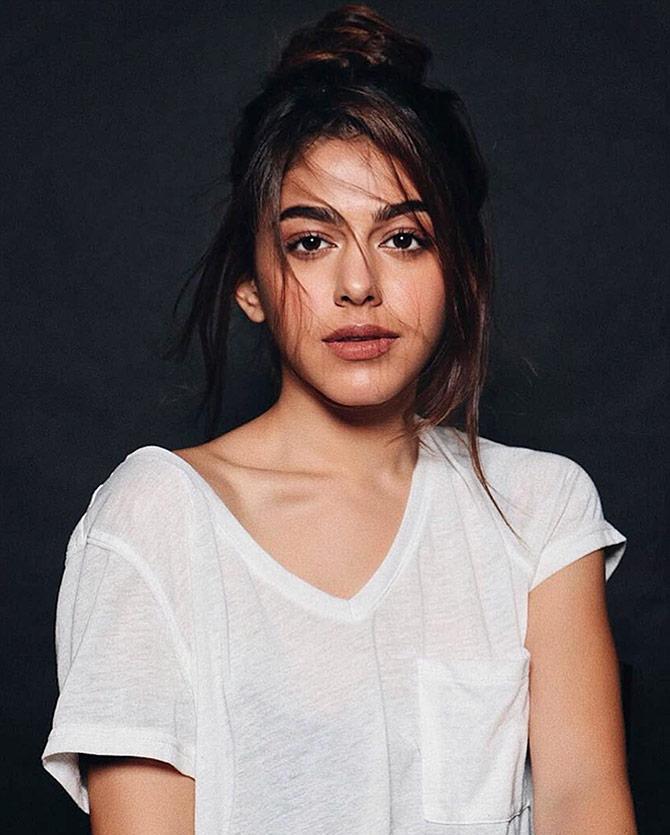 Pooja Bedi's dauhter Alaya F makes her debut in Jawaani Jaaneman.
It's a long way from her days of babysitting in New York to bagging a career in Bollywood, and it hasn't really been an easy ride.
"This film wasn't offered to me on a platter. I gave several screen tests before I got selected," she tells Rediff.com Contributor Divya Solgama.
Your first job was babysitting. Now, you are an actress.
I did babysitting to earn pocket money.
I was studying at New York and would finish the money my parents sent me because firstly, it was a limited amount and secondly, New York is super expensive.
I got a decent amount from babysitting to live my life there.
I was studying film direction in New York, as my goal was to be an actor.
I completed my course, came back to Mumbai and did an acting course here for two years.
And now, I am making my debut with Jawaani Jaaneman.
You seem to be a very independent girl. Is that why you removed your surname?
My full name Alaya Furniturewala has too many vowels, so I cut it short with Alaya F.
I am very proud of my last name, I cut it short only to make it more concise for my screen name.
Independence has been very important to me since childhood.
When I started studying in New York, I had to manage all alone. You have to make your own friends, do your own stuff, find your own way in every situation.
My mother is staying in Goa presently and my brother is studying, so I am living alone.
I have been financial independent for a long time now.
I purchase my groceries and even pay my driver's overtime. It's stressful, but I enjoy doing my own stuff.
What made you debut in Jawaani Jaaneman?
I faced a lot of rejections before I got Jawaani Jaaneman.
Even this film wasn't offered to me on a platter. I gave several screen tests before I got selected.
People are showing interest in me after watching the trailer, which is wonderful.
And that's the way it should be -- people should see your work and then want to work with you, not because you are a celebrity's child.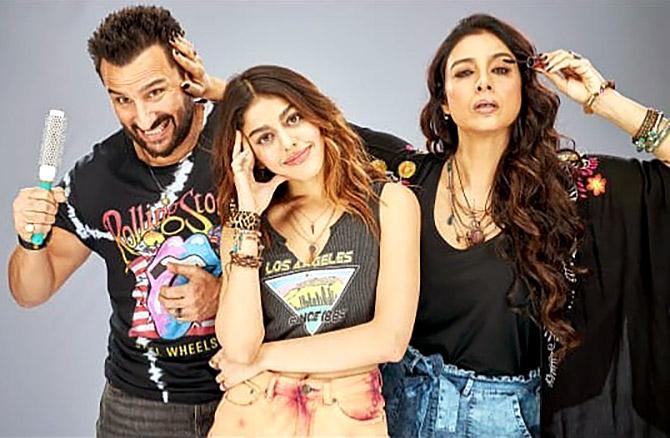 Were you excited to see that you would be working with Saif Ali Khan and Tabu?
Saif is co-producing the film, so he was already in it.
Everyone else joined the cast later, and it just got better and better.
At first, I thought how can my movie be better when Saif sir is playing my father?
Then I heard that Tabu ma'am is playing my mother.
Later, I heard that Faridaji (Jalal) is playing my grandmother.
So Jawaani Jaaneman is like Yash Raj meets Dharma (laughs).
The film is directed by Nitin (Kakkar) sir, who is so talented.
On the sets, I am hyper-professional.
Recently, Saif sir looked at me and said you are the most positive person I know.
But on the sets, I am very professional. I will never have my phone in my hand; I will first focus on work and only after that if time permits will I joke around with people.
Your mother made her debut in Vishkanya in which she eats snake poison and becomes a poison girl. Have you watched that film?
I watched that film very recently on YouTube.
I like pulling my mother's leg, so I did some mischief with her with this film.
The three of us -- my mother, my brother and I -- have a Whatsapp Group, and in which my mother was teasing me about something. To give her back, I searched Vishkanya on YouTube and got several videos related to it.
After that, I was just sending video after video to that group, and my mother and brother were laughing!
It was hilarious.
Your mother is known for films like Jo Jeeta Wohi Sikander, Lootere, Phir Teri Kahani Yaad Aayee. Which is your favourite film?
Jo Jeeta Wohi Sikander.
Which is your favourite movie from your grandfather Kabir Bedi's filmography?
I liked Octopussy because it's a James Bond movie, and seeing my nana in it was quite cool.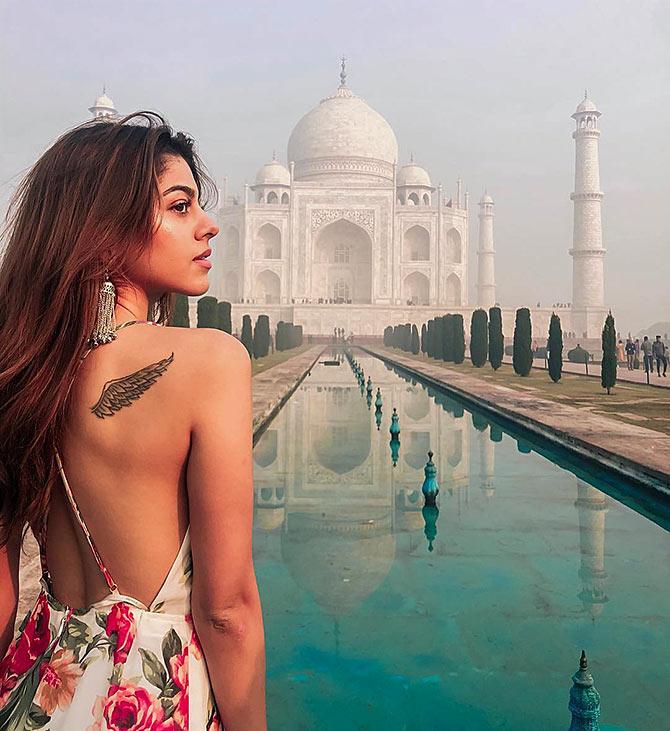 You had a fan-girl moment with Hrithik Roshan on the sets of Kites in which Kabir Bedi starred.
My nana knew I was a huge fan of Hrithik.
So when he was shooting with him for Kites, he asked my brother and me to visit him.
We were very young and were literally star-struck.
Hrithik was so warm and lovely, but we were expressionless.
When my nana told Hrithik that we are big fans, he must have been thinking that these kids don't look it. But when we went back to the van, we were jumping and screaming that we just met Hrithik Roshan!
Have you visited your mother's film sets?
By the time I was born, my mother had pretty much stopped acting in films.
She was doing other things; I remember visiting the sets of her talk show, Just Pooja.
You said you wouldn't be surprised if you woke up in bed with Kartik Aryan, and the statement went viral. Tell us about that.
That was an awkward moment! (Laughs)
I was doing an interview and the interviewer asked me what would I do if woke up with Kartik Aryan on my bed.
I casually said nothing and I won't be surprised.
Now this statement was misleading, but then I clarified and said I didn't mean it that way.
I clarified that I would not be surprised because I tend to friend-zone with everyone.
A lot of my friends crash over at my place because my home is a very chilled out place for everyone.
Besides Hrithik, who are your favourite actors?
I love Ranveer Singh.
Also, Kartik and Varun Dhawan are doing wonderful work.
Ayushmann Khurrana is doing amazing work.
How was your experience interacting with Salman Khan on the sets of Bigg Boss?
It was so much fun!
Salman sir is always warm and welcoming, but being on the stage with him and Saif sir was quite intimidating.
I was a bit scared because it's an overwhelming and surreal feeling for me.