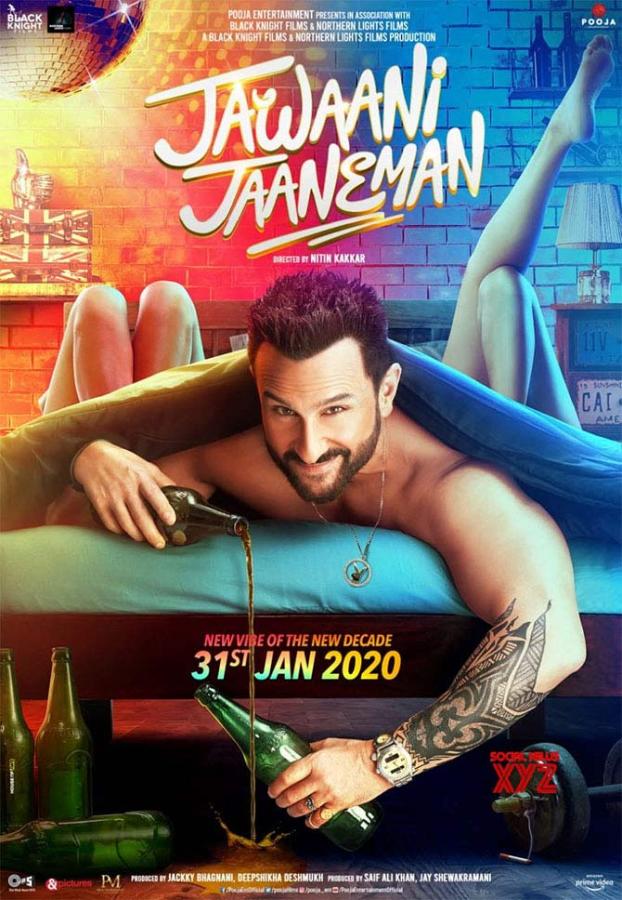 Alternating between an uptown playboy and commitment-phobe man child prone to partying hard and getting away with it by dishing out a perfectly-phrased aw-shucks apology in the end, how Saif Ali Khan is that?
In a nearly three decades-long career, Saif has portrayed this type so often and so well, it took a drastic transformation like Omkara for people to realise he can also play somebody else.
The actor, who turns 50 on August 16, is back to his 'wine and women' ways in his next, Jawaani Jaaneman.
Only this time, the revelry's rude interrupter is a pregnant teenager, claiming to be his daughter.
Sukanya Verma offers an onscreen recap of this onscreen wild child.
Yeh Dillagi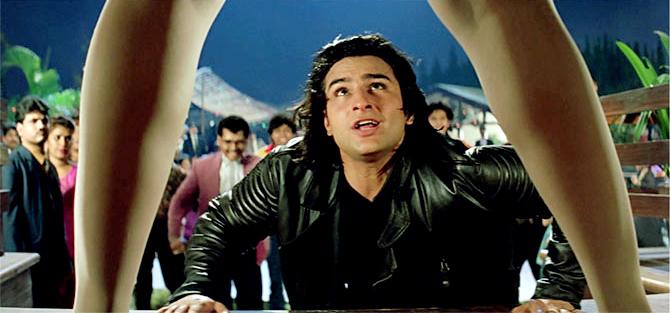 Jawaani Jaaneman doffs its hat at Saif's Ole Ole days in its remix.
In this Yash Chopra produced Sabrina rip-off, the suave star is a typical skirt chaser, high on old money and overconfidence.
He comes of age, of course, after discovering true love for Kajol only to learn she's involved with his older brother, Akshay Kumar.
Dil Chahta Hai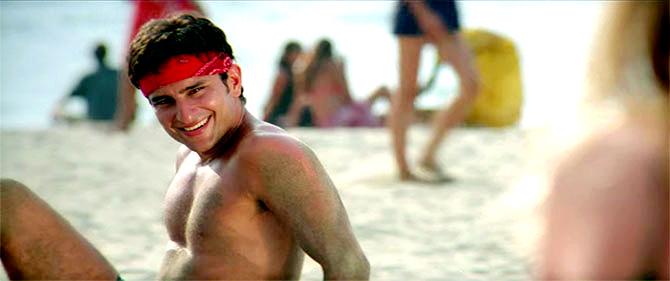 'Aaj Pooja kal koi dooja,' quips Aamir Khan in a scene, aptly encapsulating Saif's Sameer in a shell.
He's not so much a flirt as he is foolish.
And desperate.
As someone constantly falling in and out of love, it's hard to take his stupid feelings seriously.
Thank God, he does find 'the one.'
Kya Kehna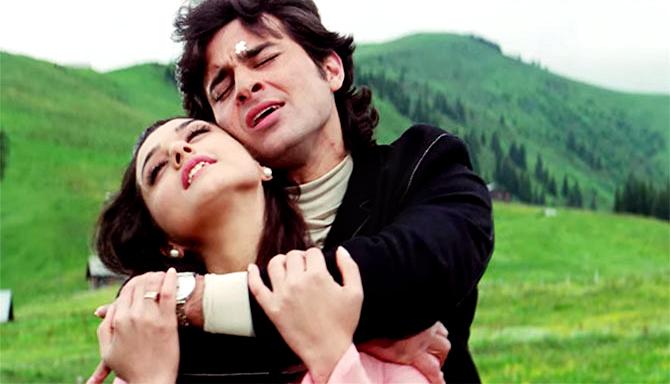 Saif doesn't just behave like a cad, but uses it as a punchline to justify shoddy treatment of his classmate in Kya Kehna.
Despite his womaniser reputation, the latter falls for him and ends up serving a cautionary tale for teen pregnancy.
Saif does feel sorry, but not nearly enough to receive a happy ending.
Hum Tum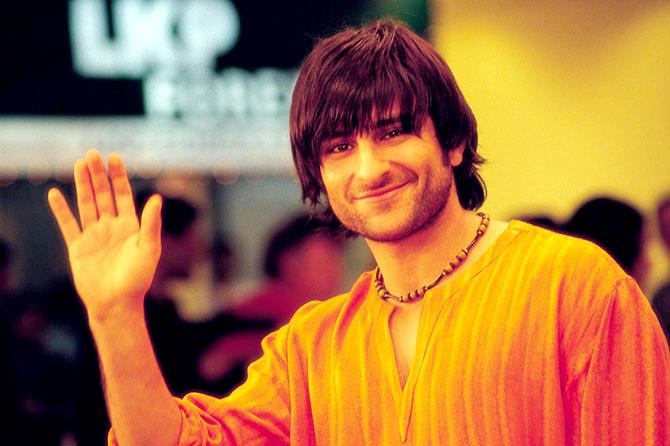 'Ladkiyan buses ki tarah hoti hain. Har do minute ke baad ek aur aati hai agar traffic na ho toh,' believes Saif's character in Hum Tum. (It won him a National award.)
A two-timing slob never out of excuses that keep serious relationships at bay keeps bumping into the love of his life over a span of many years in Yash Raj's When Harry Met Sally rip-off.
Salaam Namaste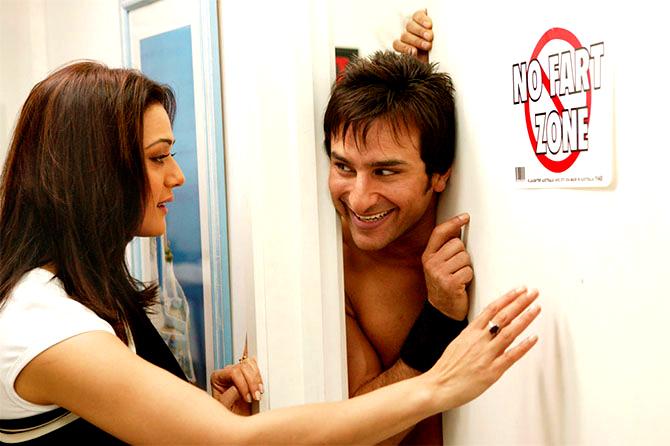 Some more Peter Pan syndrome follows in Salaam Namaste, heavily influenced by Hugh Grant's Nine Months, after Saif discovers his live-in girlfriend is pregnant with their child.
When she declines an abortion, things go sour between them.
Eventually, he decides to stop being a baby himself and embrace his new role and responsibility.
Cocktail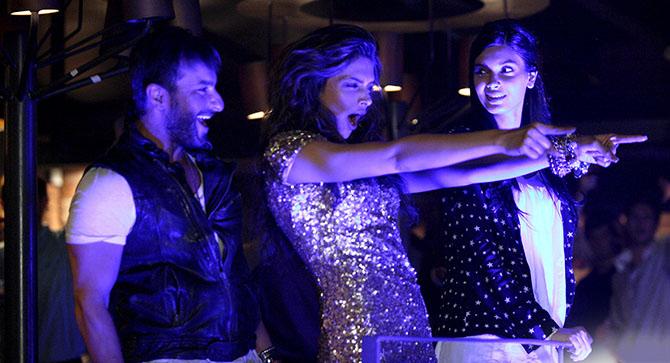 Once again, our man swoons before Deepika Padukone and Diana Penty, dumping one for another in Cocktail's conventional romance in the garb of a hip, urban rom com.
Except a 40-something Saif is no longer endearing in his attempts to play cute, charming and cheeky.
Happy Ending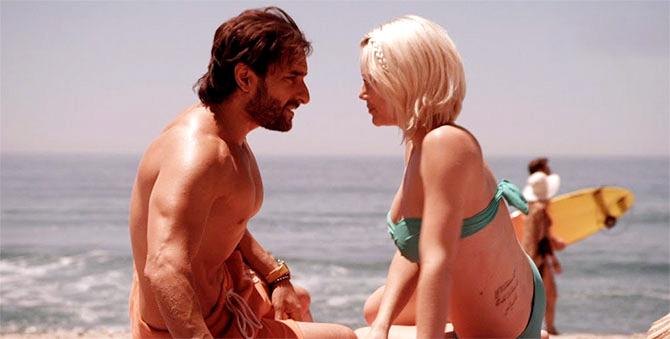 There's a song right in the beginning that goes Haseena Tu Kameena Main to underscore the sort of ladies's man his writer's block-ridden author is.
Three girlfriends down -- Kalki Koechlin, Preity Zinta, Kareena Kapoor -- and a fourth one in the making -- Ileana D'Cruz -- and the track record couldn't be more crystal clear.
Kaalakaandi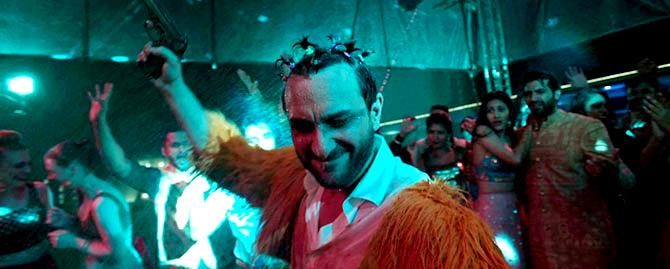 Saif's a perfectly decent chap until the discovery of a terminal illness prompts him to let go in entirety.
Things get wacky and psychedelic after he trips on acid and dives into a wild night of brazen adventures and footloose behaviour.
Unhinged and fabulous, Saif going bananas is a joy to behold.
---
Sukanya Verma is the Principal Movie Reviewer for Rediff.com. She can be contacted at mailto_sukanyaverma@rediffmail.com
---