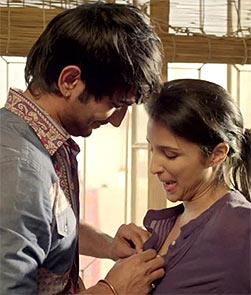 With the arrest of the film censor board's CEO on charges of demanding bribes to clear films, the regulatory role of the panel is in focus once again.

Days after assuming office in January, Rakesh Kumar, the CEO of the Central Board of Film Certification, or CBFC, gave his views on contemporary cinema in an interview with Mumbai Mirror. "The seriousness in content is missing. Filmmakers are pushing the envelope a bit too far," he told the daily.
The former Indian Railways employee rued the terrible language in Gangs of Wasseypur and complained that he was embarrassed while watching with his five-year-old daughter, Shuddh Desi Romance, a UA rated film that requires parental guidance for children below 12 years.
Kumar, who set out to check violence and vulgarity on screen, was recently nabbed by the Central Bureau of Investigation for allegedly demanding bribes to clear films quickly.
The arrest, and the subsequent stories of alleged misdemeanour that tumbled out, caused many to question the archaic appointment system which led to someone from the railways being given the job to certify Indian cinema. CBFC is a statutory body under the Union ministry of information and broadcasting that regulates public exhibition of films, guided by the Cinematograph Act of 1952 and the Cinematograph Rules of 1983.
Before Kumar, its CEO was Pankaja Thakur who had a largely positive stint but came from the customs department. The board is made up of non-official members and a chairman, all of whom are appointed by the central government. Headquartered in Mumbai, it has nine regional offices that are assisted in the work by advisory panels.
The panels are nominated by "drawing people from different walks of life for a period of two years", according to the CBFC website.
Bollywood veterans say the appointments are often politically overseen. They are driven by the whims and fancies of political masters and bureaucrats, says Rakesh Sharma.
The documentary filmmaker, who had heated run-ins with the board for the release of his 2003 documentary, Final Solution, was once invited by its former chairperson, Sharmila Tagore, to speak at a workshop for advisory panel members. The members, he found, included an influential corporator's wife and a political leader's chartered accountant.
One of the startling suggestions made by them at the session was that directors must submit scripts for examination before making the film.
"These are people who are patently incapable of implementing the Cinematograph Act or Article 19 of the Constitution, leave alone applying their own mind to it," says Sharma.
It is not uncommon, say insiders, to find panel members submitting reactions to a film which are identical -- word-for-word.
In a recent column, Bikas Sharma, filmmaker and editor of DearCinema.com, illustrated the travails faced during the certification of his first short fiction film. He had to fill the same form multiple times and make repeated follow-up calls before his film was seen by an examining officer. He was even asked to locate the file and DVD he had submitted in the censor board's cluttered office in order to collect his certificate.
That, he concludes, is the reason agents thrive at the board.
While some bear the scruffy demeanour of roadside vendors, others dress carefully and speak English.
Producers busy themselves with promotions and marketing deals on the film's completion, and pay these men a few thousand rupees to do the dirty work of pushing certification paper.
Agents will type out final edit scripts, songs, submit the DVD and get a date for the screening. There are times when multiple clearances are required -- for instance, if you have animals in the film, it has to be cleared by the lone animal welfare board based in Chennai. Agents take care of all these procedures.
Some producers feel that agents are a necessary link in the certification chain because they save them the drill of talking to censors.
"We use agents to look for real estate or get a passport. It is the same here. They help lubricate and make the process easier," says Vivek Rangachari, the founder of DAR Motion Pictures. While most are helpful, there are several touts who take advantage of clueless newcomers. For instance, one agent was arrested for allegedly exacting money on Kumar's behalf, while another was instrumental in trapping the CEO with recorded conversations and calls.
Ajay Bahl, whose debut film, BA Pass, released last year, says part of the problem lies in filmmakers trying to get a lenient rating for their content. Bahl was firm about securing an A rating suitable for his film's erotic theme and was pleasantly surprised when the board certified it within two weeks. He reckons that may have been a result of Thakur being the CEO.
The swiftness of CBFC seems to hinge heavily on the quality of the advisory panel, the people holding office and the workload.
Ashim Ahluwalia, the director of Miss Lovely, which is based on the seedy C-grade film industry that flourished in the 1980s, was able to reason with the board and bring down the number of suggested cuts for an A certification from 157 to four. This, however, took a year.
CBFC often complains of being short-staffed and having to deal with a backlog -- a fertile breeding ground for speed money.
According to reports, it can range from Rs 20,000 for Hindi and English films and Rs 10,000 for films in other languages.
In a media interaction, censor board chairperson Leela Samson had said producers were to blame for much of the mess, having played along with corrupt officers.
"Please have your films ready at least two weeks before release. Please don't book your theatres under the presumption that your film will be certified in a day or two," she stated.
Film practitioners do not disagree.
"Taking or giving bribes is equally wrong but producers are under pressure. They are in a hurry to release the film during festival weeks or when there are no sporting events," says Supran Sen, secretary general of the Film Federation of India.
In 2013, a committee was formed under Mukul Mudgal, the former chief justice of the Punjab & Haryana High Court to look into the functioning of CBFC, and included film personalities like Tagore and Javed Akhtar.
Its suggestions remain to be reviewed following the change in government in May this year.
Lalit Bhasin, lawyer and a member of the committee, says the new information and broadcasting minister, Prakash Javadekar, is keen to discuss the suggestions. Bhasin is of the view that all members of the board should be selected on merit from the fields of cinema, art and law. He also recommended that the Film Certification Appellate Tribunal, which only hears cases of filmmakers dissatisfied with the rating awarded, should be able to hear appeals from others like the public or government.
The very need for a censor board is questionable in the Internet age. But some regulation is required, states the Mudgal Committee.
"History shows that films have sparked off political debate and threatened governments, heralded social change causing society to deviate from age old dogma and also sent real life lovers to their death in their misplaced hope of emulating the classic romances," says its report. "It is perhaps in salute to such impelling powers of persuasion that it is the only form of art, deemed fit to be regulated by an Act of Parliament."
However, beyond the job of a rating agency, CBFC should not wield the power to cut, maim and butcher films, says Rakesh Sharma.
Others reckon that, as in the United States, the industry should put forward its own body to decide on certification. If the censor board must exist at all, it should be open to working with filmmakers, suggests director Milan Luthria. His Dirty Picture was withheld minutes before its television premiere and aired at a later time slot with 54 cuts that he says reduced the film to shreds.
"Why can't we have a forum to discuss the guidelines or have censor screenings without the producer and director sweating outside?" asks the director. "You feel you are at their mercy. The nature of that relationship should change."