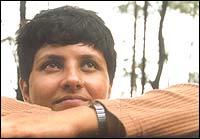 To direct Aishwarya Rai and Sanjay Dutt in your very first film is no mean feat. But Leena Yadav, who is just 34, has managed it all too well.
The director, while giving due credit to producer Pritish Nandy Communications, says it was easy convincing the trio – including Zayed Khan -- to act in Shabd, which releases on February 4.
Born in Madhya Pradesh, Leena was brought up 'all over India,' thanks to her armyman father. The director, who came to Mumbai in 1991, says she is not an avid reader ('I read once in three, four years!').
Leena started her career as an editor of ad films and television serials. She started directing serials in 1996. And films was just another step away.
Leena chats with Ronjita Kulkarni about her first film.
How did you get Pritish Nandy to produce your film?
My husband Aseem Bajaj is a cameraman. He has done films like Vaastav and Fida. He suggested that I get into films. I kept stalling it because I wanted to be sure of my strengths and weaknesses. I didn't want to go wrong while making a film. But one can never be completely sure.
I had written the script four years back. In 2003, Aseem had just finished shooting Chameli. He liked working with Pritish Nandy Communications, so he suggested that I do my first film with them.
I met Rangita Nandy and gave her a narration. She liked it and she wanted me to give a narration to her father Pritish Nandy immediately.
At the end of it, they were talking about the casting and how they would promote the film. I was quite taken aback because they didn't even know what I've done in the past. They placed a lot of trust on me, based on my script only.
How did you choose your cast?
The casting was Mr Nandy's idea. But they never forced anything on me.
Within a month, we met Aishwarya Rai. As I was narrating to Ash, Sanju and Zayed, I saw my characters come alive in them.
I have worked with Madhuri Dixit on the television show, Kahin Na Kahin Koi Hai. Though I would love to do a movie with her, I think Ash was the perfect choice for Shabd. I didn't approach any other actress.
After I finished my narration with Ash, she started asking me questions, referring to certain scenes. I was amazed at the level of concentration with which she listened to me.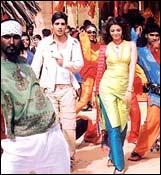 For Sanju's role, Akshay Kumar and Ajay Devgan were approached first.
Yes, but it did not go on to a level where a full narration was given.
Do you think the audiences will accept Zayed in a professor's role?
I've had professors who are very young looking. He's one of those who have just finished college and just started teaching. He's not those hard core professors.
I always describe Zayed's character as Sunshine. He's full of laughter and love -- one of those guys who are too good to be true.
I think Zayed is very similar to Sunshine.
Where did you get the inspiration for your story from?
I'm very fascinated by writers. They believe in what they write. There is a thin line between them writing about reality and them influencing that reality.
In our line, one faces extreme success or failure. So what happens to that person who faces extreme success and then extreme failure? Where does he go from there? What is his mindset?
In this film, Sanjay Dutt wins a Booker prize for his first novel, but his second is a complete failure. The film begins when he's about to start his third.
Tell us about your first shot.
It was with Sanju in his study. The study room is an important aspect in the film, since he is a writer. I was very nervous. I kept thinking this is my first film, I can't go wrong. Besides, Sanjay Dutt is in front of me. What if I say 'action' and he just turns around and says 'shut up.' But these things you just build up in your mind.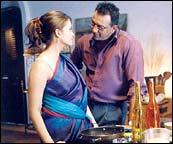 How was your working relationship with him?
It was amazing. We called him Sanju sir. He was a big brother to everyone on the sets.
He's one of the most intelligent people I've met. As a director, if I have to tell him about a situation, I feel that he's already lived it. He was totally involved in the character.
We never had any creative differences. We discussed the scenes a lot. He would also contribute by changing his shirt if he felt it did not suit a particular shot. The more the actor thinks about it, the more he gets into the character.
I met Sanju sir for the first time when I gave him the narration, and then directly on the sets.
There are different types of actors. Some people build on their emotions just before the shot, but with Sanju sir it's different. He would do a lot of masti just before a very emotional scene. Initially, I would panic. I would hope that he was in the right frame of mind. But the moment the camera was on, he would transform and deliver exactly what we had discussed. After four, five days, I got used to that.
Tell us about your first scene with Ash.
The first shot with her was when she returns home from college, carrying a lot of vegetables. Her maid informs her that her husband (Dutt) has not eaten anything the whole day, so why had she bought so many vegetables.
After the narration, Ash and I would meet to discuss the character and her wardrobe. She was very involved. Even during the shoot, she would call me up from the hotel (we were shooting in Goa) to discuss a scene. Sometimes, she would even refer to my first narration.
I wasn't in awe of any of the actors but one had heard stories. A lot of people had scared me.
Tell us about the music.
Music is by Vishal-Shekhar. The songs were part of my script. The lyrics do the job of dialogues.
The music touches your heart. I love all five songs in the film. I can't choose from them.
I met Vishal-Shekhar during the narration. You know, I had no past references with anyone in the film, except my husband who was the cameraman. I worked with all these people for the first time in Shabd.
I remember while shooting the song, Bolo na bolo to zara, we were shooting in an old fort in North Goa. The song was shot entirely in the night. We had heard a lot of ghost stories about that fort. There was a well there, in which prisoners were apparently thrown in. We got the well covered up.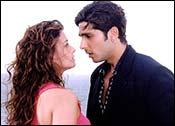 And during that song, the entire village descended upon us to watch the shooting! Finally, we had to allow groups of five to watch the shoot.
What did you find most difficult while shooting the film?
What was tough for me was that there were three complex minds in the film. The story is complex but we had to say it in the simplest way.
Sanju plays an award-winning actor, so his language had to be immaculate. At the same time, the audience had to understand. We worked hard at making the film communicative.
Why the title Shabd?
We were hunting for a title for the film for a long time. Words were an important part of the film. We kept beating around the bush because we wanted the Hindi word for a 'web of words'. Mr Nandy suggested Shabd. And I said this is it! It's the perfect title.
Was the transition from television to films difficult?
Yes. Somewhere, television had prepared me, but the kind of pressure and responsibility (one has in films) was very different. Even ten years down the line, someone may watch your film and say that he either liked it or not. That stays with you while you are taking a shot.
People will not know whether it rained while we took the shot or if something went wrong. They will judge it for what it is.
How was the experience of working with your husband?
Aseem and I argued a lot on the sets but we never take it home. He has given me a lot of emotional support through this film. Making the film has been quite a journey for me.
I met my husband through work. My first directorial venture was This Week That Year, which was also Aseem's first show. After that, we got married.
That show was also Nikhil Kapoor's first anchoring job. After that, Nikhil and I opened a production house for a while. So it was a very important show in my life.
What kind of films do you like?
I like dramas and thrillers. I love Guru Dutt's films. A film is complete if everything about it is good. Everything must complement each other. My favourite films are Sholay and Dilwale Dulhaniya Le Jayenge.
What next?
I want to make something very different from Shabd -- maybe comedy or action. But I will decide after I see what happens to Shabd.