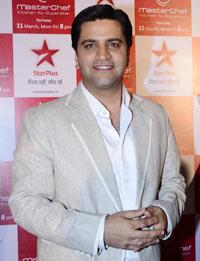 Rajul Hegde speaks to Executive Sous Chef Kunal Kapoor who became very popular after the launch of Master Chef India.

His love for cooking, he says, began right in his own home in Delhi when he was a young boy.

"I lived in a big joint family and all my cousins were girls. I didn't want to play with them so I would watch the men cook," he said.

"All the men in my joint family were great Sunday cooks. Almost every Sunday I would sit on the big kitchen counter—the kitchen was bigger than the living room--or Dalda ka dabba and watch my father or uncles cook meat and chicken. Women prepared the rotis. I realised that it was normal for men to cook.

"I would occasionally stir the meat and my father would teach me the names of the ingredients that went in."

It's a far cry from being a Sunday cook to making cooking one's profession, so how did that happen?

Being the only son in a family where all the men were bankers, everyone expected him to be one too. "But I wanted to be different and by then I was inclined towards cooking. So without much thinking, I joined hotel management in Chandigarh and instantly felt most comfortable in the kitchen classes," Kapoor explains.

Hotel management didn't have the glamour associated with it today. "It was a job for losers. I got lots of flak but my parents always supported me. My mother said Jo bhi karoge imanadhari se karo (Whatever you do, do it with honesty). It was the guiding force or motto in my life."

It also got him where he is today: chef at Diya, the specialty Indian restaurant at the Leela Kempinski, Gurgaon. The restaurant has won the best Indian restaurant award and is rated amongst the top five Indian restaurants in Delhi.

Kapoor was recently awarded the prestigious Sir Edmund Hilary Fellowship in the field of Food & Beverage by the Government of New Zealand.

Having been part of all the three seasons of Master Chef, he is in the best position to sum up the show.

"The first season was kind of a start for India, a sample of what a food show can be. The second season was making it bigger and better, and in the third season we have come back to our roots, that it, desi tadka,"
he says.
"It doesn't mean that we are not going to cook international cuisine, but we will really concentrate on local foods. Like, for example, bajre ka roti, how we can move notches above in culinary terminology. Make Indian food in a new avatar."
So how has life changed after
Master Chef
?
One obvious change is that people recognise him and want his picture and autograph. But, bigger than that for him is that, "I have made my family really proud, especially my parents, who are very proud, and very much associated with
Master Chef
and what I am doing. I think that is where it begins and ends for me."
The other plus point could be that it's perpetually Diwali at the master chef's home.
"We have these beautiful outdoor lights in my house to decorate only during Diwali. But now, Diwali is celebrated twice a year in my house--once during the real Diwali and the second time when
Master Chef
is on throughout the season.
"This one odd house will have lights throughout the season. This is what my father does and it's a small/big gesture to show that he is proud of this son. I think that is the biggest achievement for me," he says with pride.
And how does his wife react to the chef's celebrityhood?
"She is proud of me and likes it when people tell her, 'Hey, may be you married the right guy.' But she complains that I don't give enough time to the family. The higher you get on the success ladder the less time you have for the family. You gain a lot but again you lose a lot. I am trying to balance it out. And I can't stay away from my adorable son for long."
The
ghar ka khana
, though, is cooked by his wife, he admits. He cooks for parties. "I like to relax, watch movies and catch up with friends on my day off, and have food cooked by my wife."
His year-old son, Ranbir, gets gourmet meals cooked by papa, simple though they may be.
"I like the idea of cooking and feeding my son as it's his first year. I like to cook simple food like khichdi and pumpkin soup."