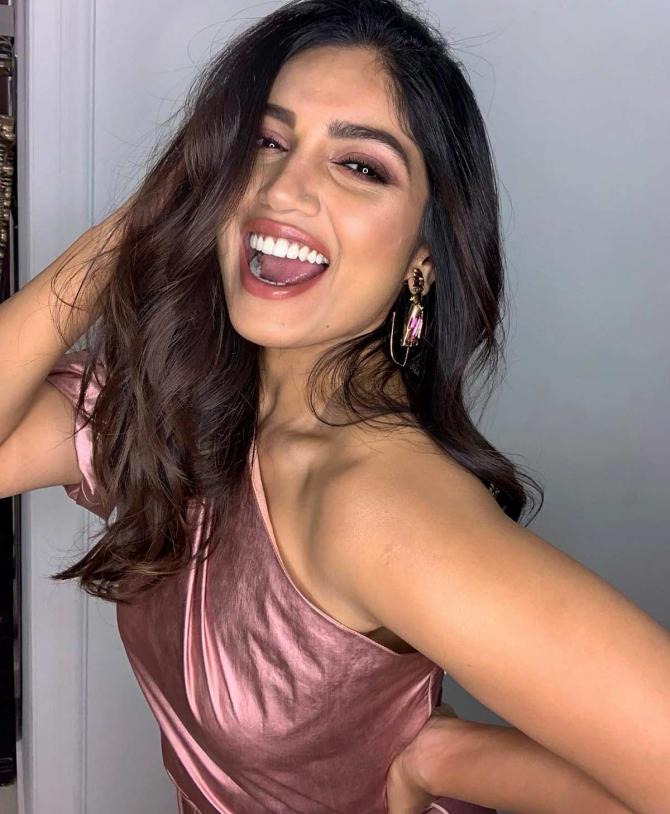 Did you know that Bhumi Pednekar auditioned Ranveer Singh long before he became a star?
Yes, the casting director turning brilliant actress has many stories up her sleeve, and she shares them with Neha Dhupia on her chat show, No Filter With Neha.
"Seema Pahwa, who is such a brilliant actor, played my mother in the film and we worked a lot together. So, it's like the holy trinity -- Ayushmann, me and her. Whenever we get together, mostly our films work," Bhumi says.
On enjoying her time off
In some ways. I miss shooting.
But generally, I'm really enjoying this time off.
I have not been home since 2016.
I have been shooting back to back. Dum Laga Ke Haisha released, I took about six months off and then I started shooting.
And this is literally, the legit the first break that I have.
It's a mad house okay, my house is a mad house because we are literally like, including my help, Nimisha, my sister, my mum, we are like six women in our house.
We all get our periods together, so the hormones are bloody raging like it's mad.
And we have like this one sweet boy called Ram Bhaiya, he toh loses it. He is like where am I stuck.
So we've literally like marked the date, I tell them, 'Okay, guys you are losing your shit. What date is it? Mark it!'
And I'm like, if I'm allowed to go crazy, so are they right.
Everyone's allowed to like have their space.
On the toll her hectic roles takes in her life
Bala was a very, very, very difficult experience.
I think it's probably been the toughest even though my role was, in duration, shorter than all the other work that I have done because it was me, Ayushmann, Yami (Gautam), it was this ensemble cast but it was very difficult.
We were shooting in Lucknow, it was about 49 degrees.
Ayushmann had like his bald patch on, I had this intense makeup.
It would take us two hours in the morning, so I would wake up at 3 am every day.
I would quickly get a 20 minute run like there's a lot of work that goes behind looking a certain way.
I have to work out at least for 20 minutes, if I get more than that I'm very lucky.
I go and workout then I reach set at about 4:30 am. 4:30 to 6:30-7:00 am, I would be in makeup because it took a lot of time, just getting that colour on. It was layers and layers of building and at times, it would crack because your skin is different everyday.
Your skin reacts to makeup differently everyday.
The temperature... so the moment I would step out, they had to kind of match it right, so I would have my director and my DOP come in, check the colour. At times, it didn't work so I had to go back into makeup. It was very difficult and the colour was so toxic, I felt sick.
I felt sick shooting Bala because I think I was under extreme stress. Extreme, extreme stress.
I think everybody was very stressed because 49 degrees is not the best weather to shoot in especially when you're doing a film that's so sensitive to a look.
It was just very difficult because every two, three hours, we had to touch up which means it's a 40 minute process of removing it and then it screws your skin.
Just before Bala, I had finished Saand Ki Aankh, so I literally had like 10 days between both the films.
Saand Ki Aankh had prosthetic, makeup, so I had actually burnt my skin.
I mean this is sounding a little scary but I had like superficial burns when I was shooting for Saand Ki Aankh.
So I think it was just the culmination of what the year was because I was shooting back to back.
No, so Sonchiriya was earlier, so I think it was just like filming back to back. I barely had four days between each film.
I think my body just gave up, so it literally reached a point where my arm started swelling up, it was very very scary.
It was very tough but my producers were obviously kind enough when they kind of gave me a couple of days off.
I took proper consultation and we just kind of zeroed down to the fact that it's not an injury. They still don't know what happened but I think it is stress-related.
That's when I realised that I can't be this person. I have to value my health above anything else because that's the only way I'll last.
That's why I really value this break.
A lot of people don't really understand what stress can do to your body, so please don't stress.
Meditate, do yoga, workout, love your body, eat right.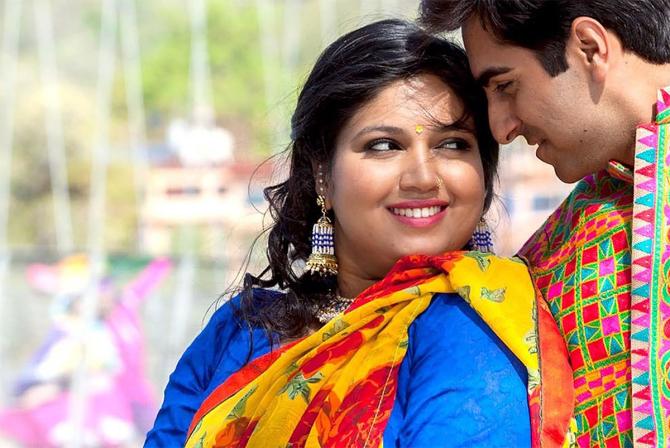 On her audition for Dum Laga Ke Haisha
I always wanted to be an actor but you know when your suddenly in your teens, your like 'Okay, maybe I can do this' because by the end of it, I want to be in the films. Maybe I can try being an AD or do something because there was no way out.
I was just looking for different kind of jobs just to be in the system.
I read Dum Laga Ke Haisha and since that day, I was praying everyday. But it was tough, they didn't give me the film after that one audition.
Then Sharat (Kataria, director) came in, he auditioned me for two-and-a-half months.
He grilled me and he was very tough with me because he didn't want to give it to me easy and rightly so.
I'm glad I earned it.
So he would me for two hours, he would audition some more girls that were like contenders with me. I was auditioning new girls as well.
So we tested about 250-300 girls and then finally like, thank God.
It was actually a very tough time.
On her unique acting school for Dum Laga Ke Haisha
For this one, Seema Pahwa, who is such a brilliant actor, played my mother in the film and we worked a lot together.
So, it's like the holy trinity -- Ayushmann, me and her.
Whenever we get together, mostly our films work, the luck has been very good so far.
She was training me and the first day I met her, she's like 'Kal salwar kameez pehenke mere ghar aa jana.'
I reached her house and woh mujhse zhadu karwa rahi hai, chai banwa rahi hai.
For a month, I have cleaned her house. For a month!
I kind of realised okay, this is what real life is. Until now, I was living in a bubble.
I need to get out of my shield and experience life. And she gave me that opportunity.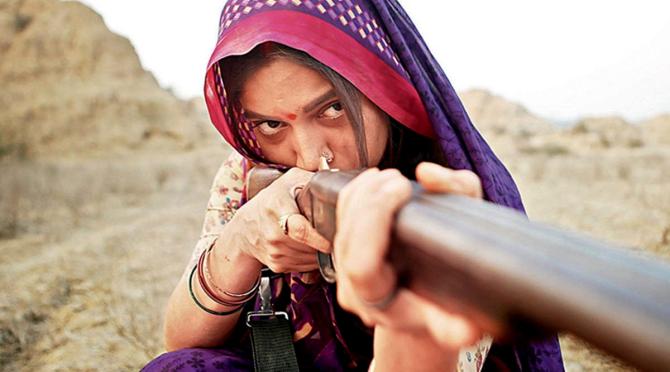 On her preparation for Sonchiraiya
Firstly, I love preparing for my characters. Especially for Sonchiriya, I didn't take a film for eight months.
I was like this film requires something extra. Sonchiriya and Saandh Ki Aankh were the two films I really prepared for.
For eight months I did not, forget threading, I was walking Aram Nagar mein, my God, it would be so embarrassing because I had to pick this child and run in the movie. So I was physically training myself very hard because I was like I have to be strong enough to run in the ravines.
That's the kind of training I went through for Sonchiriya and (Abhishek) Chaubey, he is such a wonderful director.
He had turned his office into a school; he had literally made like this village set-up.
Then we would work on our dialect because Sonchirya was very heavy on the language.
And we started off with, I was like, how are we going to do this, right? But then you see everybody around you so motivated.
We reached a point where we were speaking to each other in Bundelkhandi, it just became like our second language.
And the terrain was so difficult, we didn't really have any luxury.
We didn't have internet, we didn't have any basic necessities.
We were living a very basic life, it was like you are in boot camp and it was three months of that.
When she auditioned Ranveer Singh
I'm actually in the audition, it's on YouTube!
I remember the first I met him and I was like this guy... and it's on YouTube because I had one of fan clubs tag me on it and I was like... how did they find this!
It was great fun yaar, his energy was just amazing.
I was blown away.
I was so intimidated by him because I was like, my God what a fantastic actor and what energy!
From whatever I've heard from Shanoo (Sharma, casting director) he is as authentic as it gets.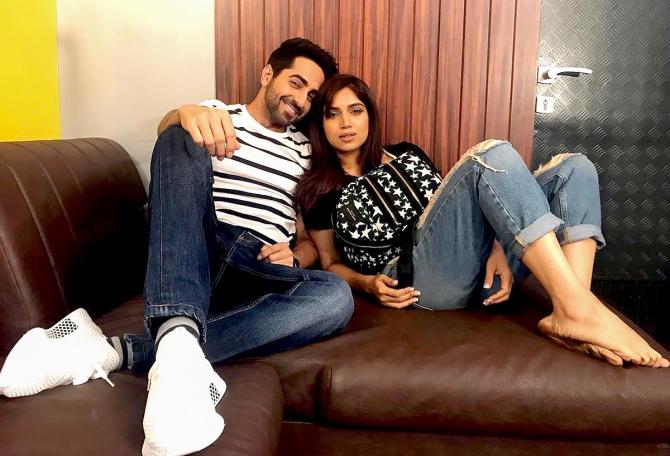 The ideal man for Bhumi, taken from star qualities.
The wit of: Shah Rukh Khan.
The looks of: Ryan Gosling.
The discipline of: Aamir sir.
The stamina of: Ranveer Singh.
The money of: Akshay Kumar.
The talent of: Vicky Kaushal.
The humour of: Kartik Aaryan.
The heart of: Ayushmaan.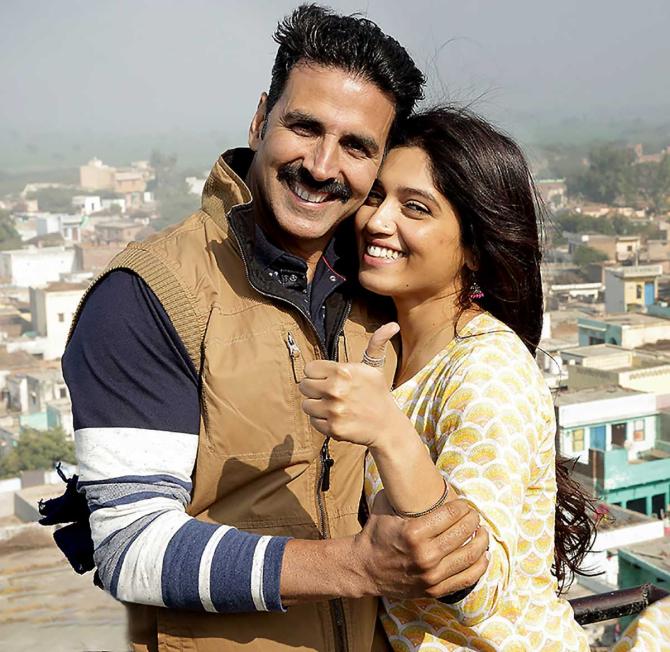 Who would be good at these professions?
Cricket commentator:Ayushmann
Stand-up comedian: Arjun Kapoor
Sex upchaar doctor: I think, Ranveer. I think he will have some great hacks.
Stylist: I think Hrithik Roshan. I think he is very slick.
VO Artist: Vicky Kaushal. I think he has a very nice voice. Listen, of course Raju, it has to be Raju. It has to be Rajkummar (Rao) because he is so good with accents.
Politician: Akshay sir.
Gym instructor: Sidharth Malhotra.
Therapist or agony aunt/uncle: Kartik Aaryan. He is full of fundas, I love him.