Well, director Ketan Mehta thinks so, which is why he is sent the actress a legal notice.
Is Kangana Ranaut becoming controversy's favourite child?
Simran writer Apurva Asrani accused her this week of taking credit for his work on the film.
Now, filmmaker Ketan Mehta has sent her a legal notice for 'hijacking' his dream project on Rani Lakshmibai of Jhansi.
Mehta and Kangana were supposed to team up for Rani of Jhansi: The Warrior Queen. But the National Award-winning star recently announced another film titled Manikarnika - the Queen of Jhansi with director Krish.
"We sent the legal notice earlier this week, but there is no response to it. After we learnt that they are making the film on the same subject, we decided to go the legal way," Mehta told PTI.
"This is complete breach of trust. I believe hijacking a fully developed project is a brazen attack and this is not acceptable," added the award-winning director of films such as Mirch Masala and Maya Memsaab.
The filmmaker, who has worked with some of the biggest movie stars, says he is in deep shock and has never faced a situation like this before.
"It's my dream project and I have been working on it for 10 years. This has been a life-long ambition. I have worked with stars like Aamir Khan, Shah Rukh Khan and Naseeruddin Shah, but this has never happened to me. This is unethical."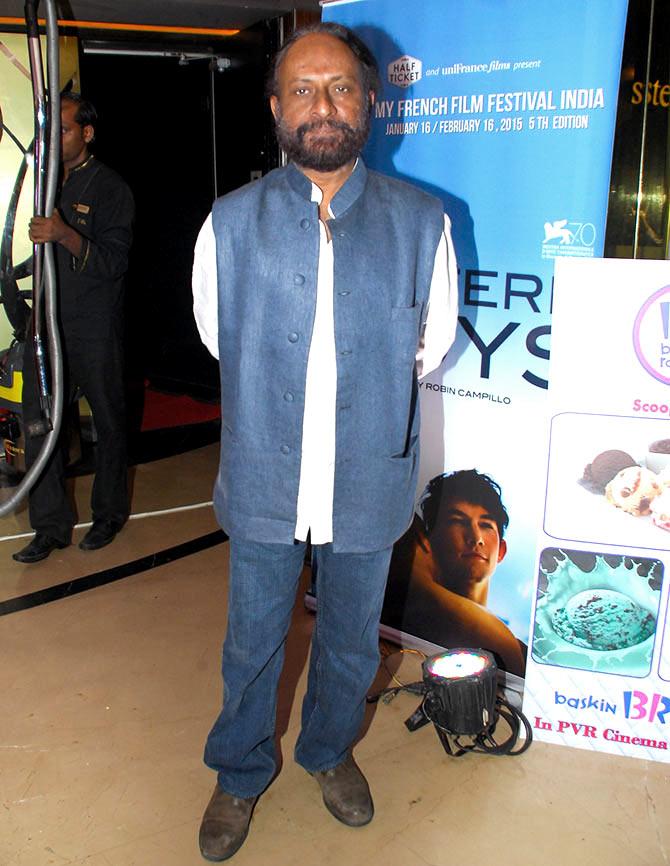 IMAGE:Ketan Mehta at the My French Film Festival India in 2015. Photograph: Pradeep Bandekar
Mehta says he approached Kangana to play the Rani of Jhansi in June 2015 and the Queen actress committed herself to doing the film.
"Since 2015, we have been talking about the project. We have shared various versions of the script, research material, and books with her. We were planning it as an international co-production so that we could reach out to the global audience. She had said she was excited about the film."
Before taking legal action, Mehta tried to contact Kangana.
"I was hospitalised for minor surgery. I recovered in early March and that's when I learnt she is doing the film with someone else. This is shocking. She said she was under great pressure to start the film after the box office failure of Rangoon. She said producer Kamal Jain wanted to do the film with a new team. It's crazy," he said.
Apparently, Kangana said she was not keen on doing the film in English. But Mehta says his film was supposed to be bilingual -- English and Hindi -- and that the 30-year-old actress was aware about it.
"This is fabrication of sorts as the film was supposed to be made in both English and Hindi. The story of the Rani of Jhansi has the potential to travel across the globe. It's the story of a courageous woman."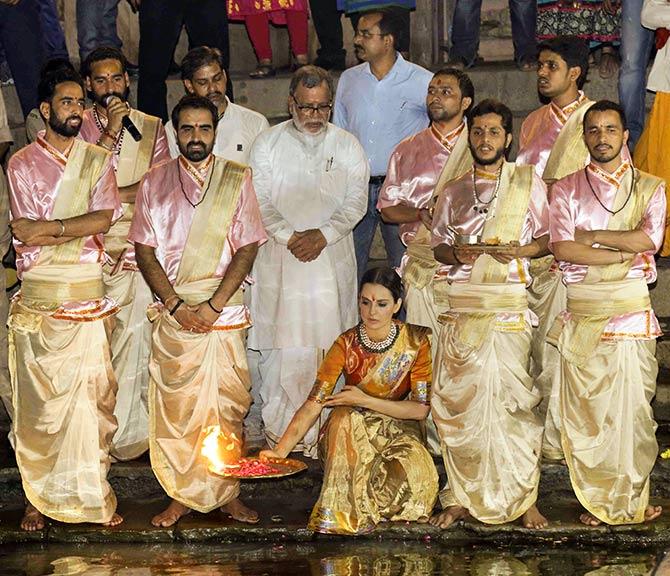 IMAGE: Kangana Ranaut performs the Ganga Aarti at the Dasaswamedh Ghat in Varanasi at the launch of her film.
Kangana, he says, never informed him that she was not keen to work on the movie with him.
"She had said she would like to work on the script with us and she sent some notes for it. We were waiting for the final draft from the writer so that we could fine tune it. Even our film was to start soon."
Kangana launched the first poster of Manikarnika in Varanasi earlier this month. The actress was accompanied by the director, producer and composers Shankar-Ehsaan-Loy.