'Usually, my characters are flawed but this one is extraordinary.'
Kangana Ranaut discusses her new film Manikarnika: The Queen of Jhansi.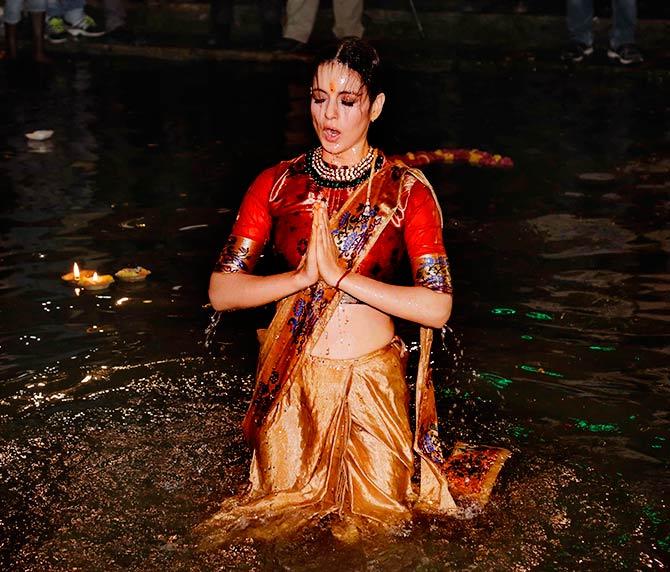 IMAGE: Kangana Ranaut takes a dip in the Ganga during the poster launch of her new film Manikarnika: The Queen of Jhansi

She has mostly played flawed characters but Kangana Ranaut says she is lucky to finally do a 'heroic' role with her portrayal of Rani Laxmibai, the warrior queen of Jhansi.
Kangana will essay the titular role in Manikarnika: The Queen of Jhansi, directed by Krish. Baahubali writer K V Vijayendra Prasad has penned the screenplay for the movie.

The actress, who has been a part of women-oriented films like Queen and Tanu Weds Manu, says it is the most exciting character of her career.

"The way Vijendra sir has written and conceived it, it's very superhero-like. Usually, my characters are flawed but this one is extraordinary," Kangana says.

Rani Laxmibai's presence in popular culture has been limited, except for Sohrab Modi's 1953 film Jhansi Ki Rani and a television series that aired between 2009-2011.
"When I signed this film, I wondered why there was no film on this Jhansi ki Rani yet? Suddenly, I felt fortunate that there isn't much yet. If there was even one film on Rani Laxmibai, irrespective of its quality or content, nobody would have repeated it. It's a stroke of luck that I'm doing it," Kangana adds.
The film will have grand action sequences and Kangana is doing her best to "match up to her director's vision."
"This film is essentially not an action film but action will be a very important aspect. Krish was very clear that her extraordinary power will be expressed through riding. He wants to use that so he did some research and understood that she was extraordinary when it came to riding, probably one of the best in the world," she says.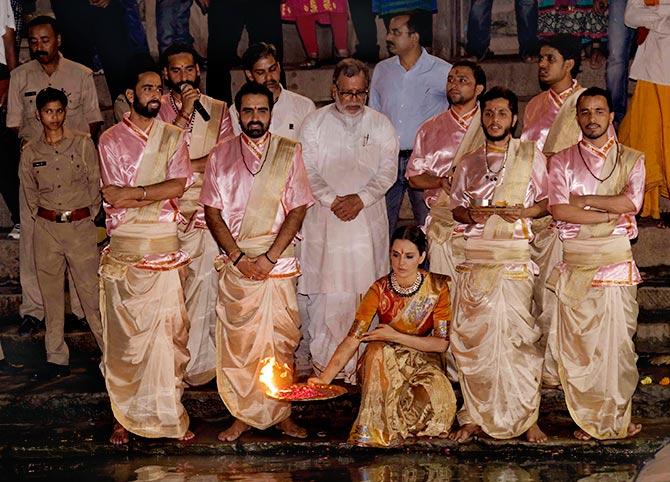 IMAGE: Kangana Ranaut performs the Ganga Aarti at the Dasaswamedh Ghat.
Rani Laxmibai is known for her rebellious attitude. When asked if she has a similar streak in her, Kangana replies, "Yes, I'm rebellious but she was a rebel with a cause and that makes her a hero. I rebel if my instincts tell me to. She was a hero and I'm a bada**."
Kangana clarifies that Mangal Pandey director Ketan Mehta was never on board to direct Manikarnika: The Queen Jhansi.
She informs that Mehta has been working on a different project in English.
"Ketan Mehta and A V Shankar are a different team," Kangana says.
Two years ago, Mehta had announced a biopic and Kangana even began preparing for it. But it was never made, as the actress and the director reportedly had a fallout.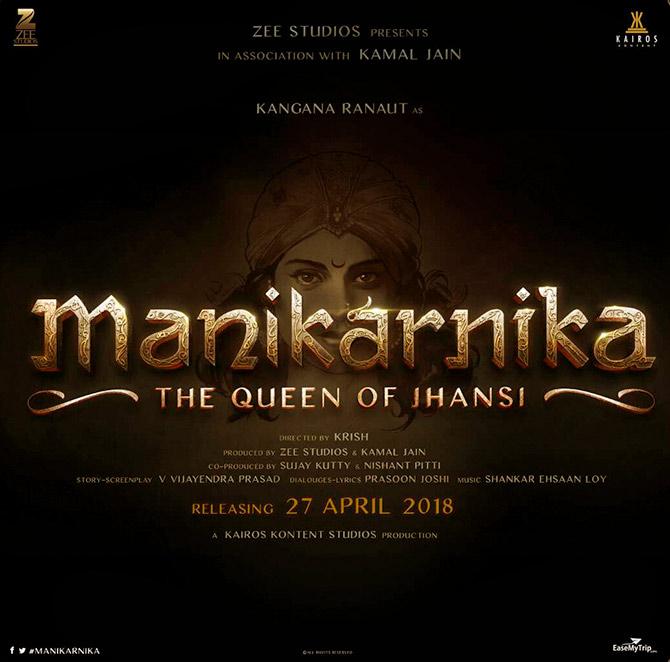 IMAGE: Kangana Ranaut launched the 20 feet poster of Manikarnika: The Queen of Jhansi, here is the look of the poster.
Manikarnika: The Queen of Jhansi directorKrish had made his Hindi directorial debut with the Akshay Kumar-starrer Gabbar.
"(Producer) Kamal Jain and Zee Studios were making this (Manikarnika) film with a different take. But both films were offered to me. I felt Manikarnika was more relevant to Indians, as Rani Laxmibai is our superhero. It's not like this film doesn't have an international appeal but we should make it for our people. We should release it all over the world but not make it in English. Even the two scripts were different," Kangana says.
The Queen star will begin shooting for the film in June.
It will be a 100-day shoot in six places in the country, including Varanasi, Jhansi and Rajasthan. It is slated to release on April 27.
Manikarnika will chronicle the life and struggles of Rani Laxmibai during the fight for independence.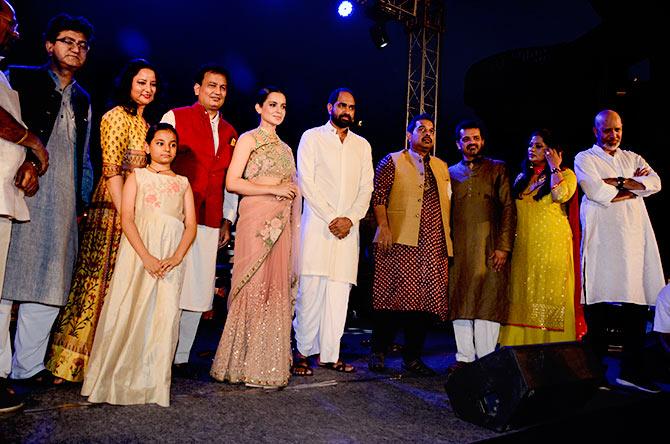 IMAGE: Lyricist Prasoon Joshi, producer Kamal Jain Kangana Ranaut, director Krish and composers Shankar Mahadevan, Ehsaan Noorani and Loy Mendonsa.
Now that Kangana has proved her mettle in acting with films like Gangster, Queen, Tanu Weds Manu the two-time National Award winner is set to foray into filmmaking.
She confirms that she will start working on her film after Manikarnika: The Queen of Jhansi.
"It will be a comedy," Kangana informs.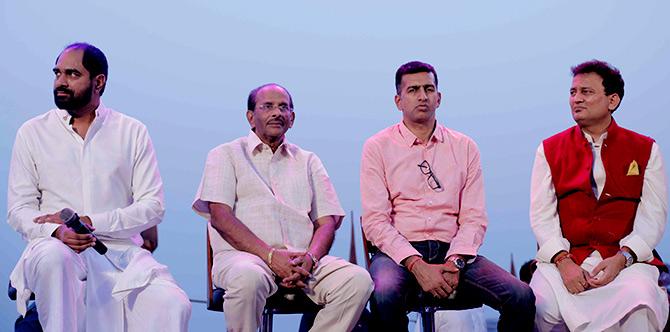 IMAGE: Director Krish, writer V Vijendra Prasad, Busniess head Zee Studios Sujay Kutty and producer Kamal Jain
"I feel there are projects and then there are films that fulfill something within you. I remember when I was 15 and I left home, I did not know when I would feel like I have achieved something. My life has come full circle. Before this, no amount of success and failure could make me feel like an achiever," she says.
"Now I don't want to just waste time on this (going in a loop). I am moving on to the next phase, which means that I will focus on my career as a filmmaker and will act in my films. I was telling Krish that he's the last director I'm working with," she says.
"As an individual, I feel I will be known as a filmmaker, not as an actor. I still have to get into that," she says.