'He will keep saying, 'I won't do it,' but he still comes and does it; that's part of who he is.'
'He is certainly a prankster.'
'He is a director's delight.'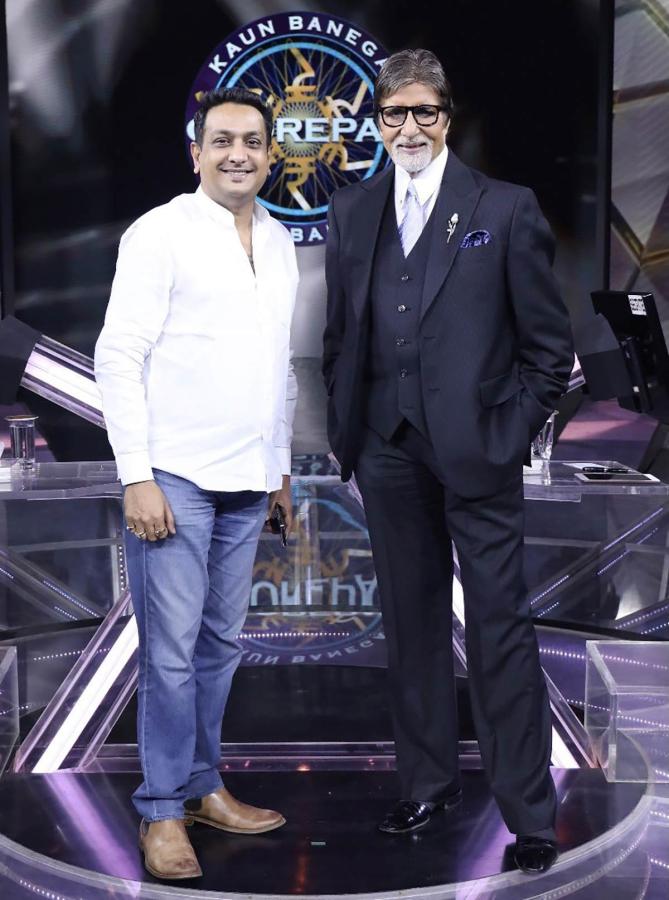 Arun Sheshkumar has been directing Kaun Banega Crorepati for seven years.
"The TRPs are saying it all. Viewers are back," says Arun, talking about the reception to the latest season ofn KBC.
"For Mr Bachchan, the beauty of KBC is that he gets to meet the common man. He gets to know their stories in their own words, gets their reactions instantly. That's what makes it very special for him. As a result, his energy has increased fourfold over the years. When we take a break of about 6-8 months between seasons, he's looking forward to the next shoot," Arun tells Rediff.com Contributor Prateek Sur.
You've been directing KBC for over half the show's life. How has your life changed since you took on KBC?
I think life has been pretty good.
It changed for the better after KBC.
It is one of the most professional shows on Indian television in terms of the shooting process. It is up to world standards.
It is great to be associated with the show.
Every director dreams of being a part of one big show in his life and, for me, that happened with KBC.
I had done almost all the properties across non-fiction in Indian television. My parents would ask me, 'When are you going to direct KBC?'
It was more like a status symbol within my family and friends's circle. After that day came, there was no looking back. It's a great feeling.
What's your first memory of meeting Amitabh Bachchan for KBC?
There is a little story that dates back to a seven-year-old Arun Sheshkumar who is a mad, mad fan of Mr Bachchan. In fact, my study room was full of collages of Mr Bachchan's magazine cutouts. I was a typical fanboy. I still have those photographs with me.
My friends too were mad fans of Amitabh Bachchan. Every October 11, we would wait outside his bungalow from 7 am for a picture, for that darshan he gives everyone on his birthday.
A couple of years later, I became one of the privileged few who got a chance to meet him on his birthday every year. I used to give him flowers. He used to send a note thanking me for the flowers and for reaching out to him. Then, one day, I actually got the chance to actually work with him at an event. I was stumped!
Finally, when KBC came along, it was a dream come true even though, by then, you're a much more seasoned and mature person.
Now, you're in the director's chair, so the command is different. Yet, it was an absolute pleasure. It took about 30 to 60 minutes to break the ice with him and it took a couple of days for us to get comfortable with each other.
Till then, he was being directed by Siddharth Basu on KBC. One day Mr Basu told Mr Bachchan that he was going to hand over the reins; that was the kind of introduction I got.
The respect came right there and my work, I believe, has earned me more respect over the years. Mr Bachchan calls me Arun and that itself is a lifetime achievement. It's like winning a national film award.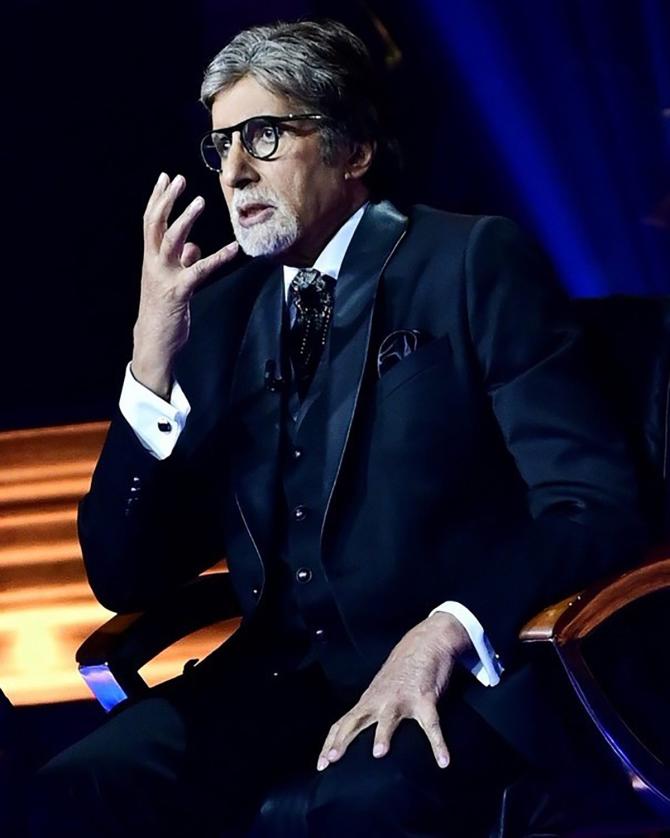 It's Season 13. Are there any additions to the game format?
Every year, we try to reinvent ourselves. This time, there are two changes. The fastest finger first round has changed completely. And the response we have got for the revamped process after the initial episodes aired has been brilliant. People have loved the new format.
Earlier, those competing in the fastest finger first round had four options that you needed to present in the correct order. Needless to say, you needed to be the fastest to do so.
The pressure to answer in the right order in order to reach the hot seat was too intense. We felt a lot of people were not getting the right opportunity to reach the hot seat.
The new format levels the playing field for contestants who are not technologically savvy.
This year, we have returned to the original format of Who Wants To Be A Millionaire, Season 1, which too has changed over the years. But the original fastest finger first format was on Mr Siddharth Basu's mind for the longest time.
In the format we are using now, contestants have to answer three rapid-fire questions. Whoever answers correctly, in the least amount of time, will reach the hot seat.
As far as the set goes, we haven't disturbed it too much.
We have retained the classic set, but we brought in more technology like augmented reality.
We now have LED flooring with an AR mapping projection system, which gives you the illusion that it's a well.
We've also got a virtual ceiling.
So, a lot of technology has come in.
Will the 'audience poll' lifeline return this season?
We had discontinued this lifeline last year.
But now, the audience is back and so is the audience poll.
After all, that is one of the USPs of the show.
What sort of changes have you made to the shoot process, considering the current pandemic situation?
There is nothing that has changed since last year; that was our test run as we were shooting in the midst of the pandemic.
The only difference, this time, is that the audience is back.
We have ensured that everybody who comes onto the set is vaccinated. RT-PCR tests are done, antigen tests are done; everybody is tested on a daily basis.
Social distancing is strictly maintained. We all wear our masks.
The audience is watching from a distance.
We've got bucket seats for them. They're seated in an appropriate manner so that there is zero interactivity among them.
Last year, when we were shooting amid the pandemic, we were very lucky that we didn't have a single case, unlike other shows.
This year too we're hoping it will be the same.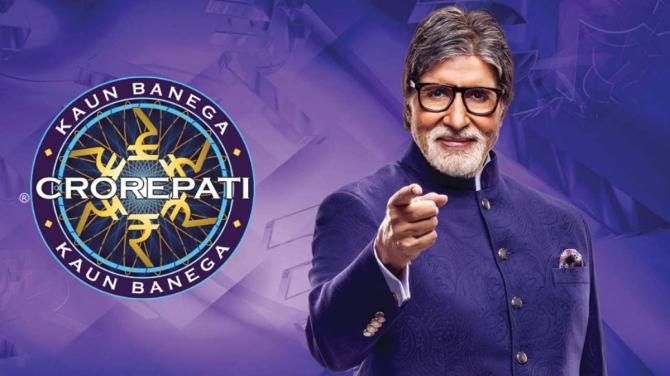 Considering Amitabh Bachchan is almost 79, is the unit following any special Covid-related precautions as far as he is concerned?
Yes, we have to. He is extra fragile.
Mr Bachchan is the most protected personality on the set. He has a separate entry-exit door, which we introduced last year.
He is always up and running and a super fit man, but we want to be extra cautious. We don't want anything to go wrong because of us.
His rooms are isolated. Even if the team wants to chat with him or brief him, we do it through a glass screen.
He's completely guarded. All Covid practices, including social distancing, are in place.
Is it difficult to shoot in this 'new normal'?
I won't deny it. It is suffocating. It is difficult.
But, as they say, life has to move on. This is the new normal and we have gotten used to it now, but it is uncomfortable.
We all crib. We don't like the partitions in between us. Even when the team is having lunch together, there are partitions on our tables.
We can't have interactions with our fellow crew members.
But all these precautions are for our safety.
We are hoping this will go away soon. Most of us are double-vaccinated. I am. So is Mr Bachchan. And many people in our crew. But we are still taking all the precautions that are required.
Amitabh Bachchan is known to be a director's delight. Are there any instances where you and he don't agree and you have had to put your foot down?
Very rarely. He is a thorough professional and he has seen more Deepavalis than I have. He knows exactly (what needs to be done). He is a no-nonsense person. He trusts his director.
If I tell him, 'Sir, we have to do this in this way,' he does resist sometimes and say, 'Why do you want to do it this way? Let's continue to do it this way only.'
But if I reason it out well, he does agree and do what I say.
He does bully a lot. He will keep saying, 'I won't do it,' but he still comes and does it during the take; that's part of who he is. He is certainly a prankster. At the same time, he is a director's delight.
You ask him to be at a certain mark and, even without seeing the mark directly, he hits it perfectly. That's a great help to the cameraman as we shoot in a multi-camera set-up.
When the show began, Amitabh Bachchan often spoke of being uncomfortable because, for the first time, he had to be himself on screen. How much has he changed as host over the years?
For Mr Bachchan, the beauty of KBC is that he gets to meet the common man. He gets to know their stories in their own words, gets their reactions instantly. That's what makes it very special for him.
As a result, his energy has increased fourfold over the years. When we take a break of about 6-8 months between seasons, he's looking forward to the next shoot.
We've all become like an extended family to him.
Apart from that, when it comes to work, he's a professional and knows what he's doing.
What has got added over the years is a lot of emotion on his part. He looks at KBC as his property and has become more personal.
He has started opening up a lot more. He started speaking a lot more. He has started sharing anecdotes.
When it started, KBC was purely a quiz show. When and why did you decide to focus more on the contestants' backstories?
I deny this completely.
To be honest, you're not the first one asking me this question.
KBC was originally a quiz show and will always be a quiz show. It's a show where you can win money. It's a show about sharing your knowledge. It's also a show that entertains its audience not just with general knowledge questions but also by telling stories.
Over the years, television has evolved. There is so much content available in the market.
In KBC, we are just getting to know the contestants better. We are not telling them 'Talk about this' or 'Do this'. They are doing it on their own.
They are asking Mr Bachchan their own questions and sharing their personal stories on their own. You know there is no structure to that.
What we are basically telling the viewers is that this is the person's background, this is their life, they have reached the hot seat because of luck or hard work and they are here to win the game with their knowledge.
This is purely because we want the viewer to connect with the contestant, get associated with the contestant's story and relate to it. It's still the same plate that we are serving; probably, the items are arranged a little differently.
Is there anything that's sacrosanct and will never change?
I think the uniqueness and the classic look of the show and the way that Mr Bachchan conducts it... that's never going to change.
Those are the two strong pillars of the show.
The way he asks a question, the way he locks the answer, the way he looks into the eyes of the contestants... that's all him. He owns it and we don't want to ever change it.
Then, there's the look of the show which is identified (everywhere).
I would like to give credit to the music of the show as well.
Even though we re-did it two years ago with Ajay-Atul, we retained the signature tune. We just added new instruments to it. It boomerangs and you associate yourself with that sound.
These three things will never change.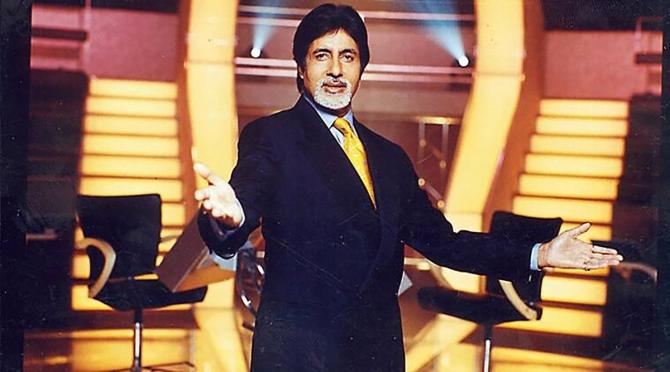 When KBC began in 2000, there was a boom in Indian television. Do you think television has changed since then? Have audiences grown with time?
Television is evolving. There is so much competition that everybody, including the viewers, is trying out different things.
Due to restrictions during the pandemic, there was a point in time when television shows had to take a break and were not able to shoot. So many viewers moved to OTT platforms.
But television has its own unique appeal. People did come back to watching their daily soaps and their non-fiction shows. The TRPs are saying it all.
Yes, viewers do like newer things but they like their old favourites as well. How much we evolve, the core has to be maintained. And if the core is right, the extra frills really don't matter to the viewers.
I'm saying this from experience.
This is what I've noticed in my 22-year stint in television -- the core must be the same. It does not disturb the viewer when you add or subtract frills. But the moment you start changing your core drastically, it puts off the viewers. People tend to switch channels then.
Lastly, you've worked on some of the biggest non-fiction shows. What does it take for a show to become popular?
A lot of hard work.
Whenever my friends, relatives or acquaintances return from watching a shoot on the sets, the first thing they say is, 'Oh, it just takes half a second to switch channels if you don't like something, but there's so much hard work that goes behind putting this up.'
There's a lot of hard work that goes into the making of a show. Don't judge a show in the first 30 seconds. We are trying our best to entertain our viewers with the best entertainment, information and knowledge.
There's a lot of pain involved. Then, there's also luck.
We don't make KBC, the contestants make the show. They make it interesting. That's why every episode is so different. And every season is so different.