'The moment he said my answer was right, I wanted to cry with happiness. But I did not want to cry in front of everyone and spoil my kajal.'
Anamika Majumdar looks back at her winning moment on Kaun Banega Crorepati 9.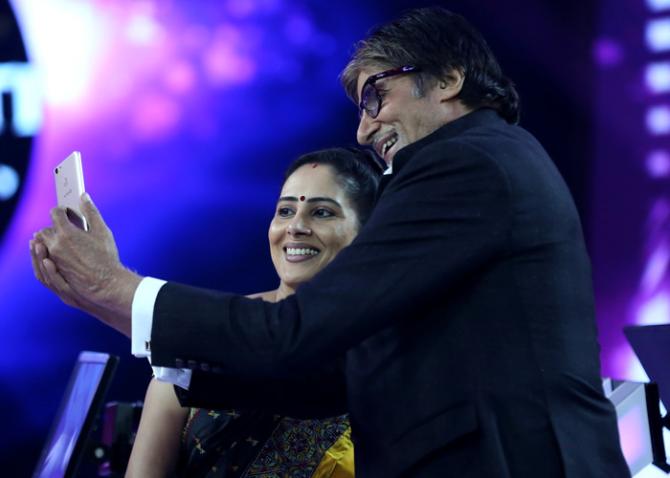 Social worker Anamika Majumdar, 41, decided to try her luck in Kaun Banega Crorepati Season 9 because she wanted to raise funds for her NGO, Faith in India.
She went on to make history, as the first contestant in the season to win Rs 1 crore.
Faith In India has been helping impoverished women and children for the last eight years in Jharkhand.
Anamika talks to Rediff.com's Rajul Hegde about her stint on the hot seat, and meeting the show's superstar host, Amitabh Bachchan.

Have you been following Kaun Banega Crorepati?

I am a big fan of Amitabh Bachchan. I have been following the show for many years.
The format of the show is also exciting but I never tried for it.
This time I did, as our NGO needed funds.
Though I knew the answers during the Fastest Finger First, I thought I may not get selected because I wasn't quick. I got nervous but luckily, only two of us gave the right answers. And I was the lucky one to get an opportunity to play the game show.
How did you prepare for KBC?
I started reading newspapers daily. I read a lot -- right from history to current affairs.

What was it like sitting on the hot seat opposite Amitabh Bachchan.
It was a big deal for me meet Mr Bachchan in person and play the game.
I have watched all his movies; and my recent favourite is Piku.
I was nervous but he made me feel comfortable. I felt I was talking to someone from my family. He was very supportive throughout.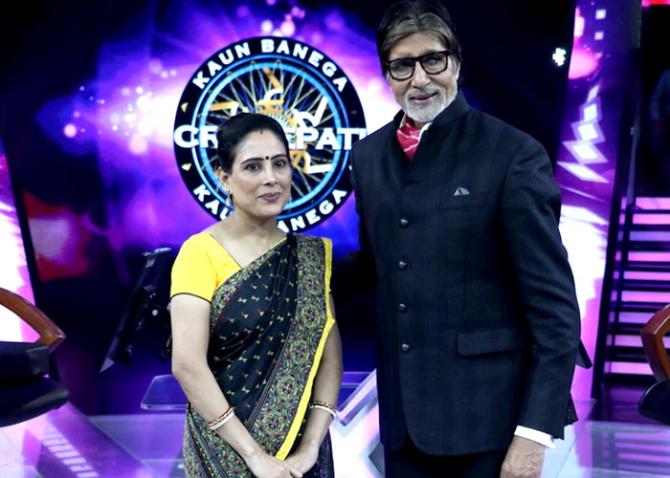 Did you really know all the answers or were you just lucky?

I knew the answers to the initial questions. But moving ahead, I had to use all my lifelines.
By the time I came to the Rs 1 crore question, I did not have any lifelines. I hadn't slept the previous night, as I was the roll-over contestant.
I was excited and nervous and did not want to lose after reaching that point.
I was confused during the final question. I wasn't sure about the answer but I took the risk and attempted it. And I am happy with the result (smiles).
What was moment like after you won Rs 1 crore?
The moment he said my answer was right, I wanted to cry with happiness. But I did not want to cry in front of everyone and spoil my kajal. But I couldn't control my tears (laughs).
How did your family react?
My husband doesn't like my involvement with the NGO too much, as he feels my family is neglected. When I came on the show, he thought I may not win anything. Now, he is very impressed and proud of me. My children are happily giving interviews to everyone as I am still in Mumbai.
How will you spend the prize money?

I will contribute the whole amount to our NGO, which works for women and children in Jharkhand.