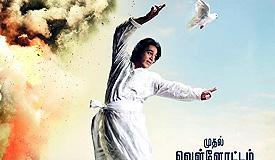 Kamal Haasan
's much-awaited film
Vishwaroopam
will not hit the screens, both Direct-To-Home (DTH) and theatres, as scheduled.
The original plan was to release the movie in
DTH platform
on January 10 and January 11 in theatres, but now it was stated that the revised dates will be announced later. Theatre owners have been objecting Haasan's decision to release the movie first on DTH.
"In-line with the postponement of the release date of the movie
Vishwaroopam
(Tamil & Telugu)/
Vishwaroop (
Hindi) across theaters and on the DTH platform by Rajkamal Films, we have stopped taking bookings for the movie premiere," said Shashi Arora, CEO- DTH/Media, Bharti Airtel.
The movie was scheduled for January 10, 2013 at 9.30 pm on Airtel DTH. "We are awaiting confirmation from Rajkamal Films on the revised dates," he added.
The actor-cum-producer of the movie Haasan could not be reached for a comment and no official communication from his office has been made.
Salil Kapoor, COO, Dish TV also confirmed that the company has received a communication from Rajkamal Films saying it is reviving the plan, and the release, both in DTH and theatres, has been postponed. "We are waiting for more clarity, since no reason was stated," he said.
Similarly
other DTH players, who inked with Rajkamal films, have also confirmed that they stopped booking. Haasan last week announced that he joined hands with six DTH players -- Airtel DTH, Tata Sky, Videcon, Sun Direct, Dish TV and Reliance Big TV -- to air his Rs 95-crore movie, around 8-10 hours before it was scheduled to release in theatres.
Meanwhile, the movie has created one more confusion in Chennai.
While advertisements in newspapers have stated that bookings in theatres will start from January 8, all the theatres have turned down Haasan's fans that went to theatres and tried booking online. It was also stated that the movie will not be released on January 11 as said in the advertisement.
Business Standard also called the theatres, which were listed in the advertisements, to cross check and all of them have said they are not taking bookings.
The theatres include, Sathyam, Devi, Devikala, Escape, Inox, Pilot, Perambur S2 and others in the city. The representatives of the theatres said they were instructed not to take any bookings and few of them were told that the movie release postponed to January 25 or 26.
Sathyam's spokesperson said we are yet to receive an update on the same, therefore we will not be able to comment on this at the moment.
The controversy on releasing the movie started after the actor decided to release it on DTH platform on January 10, a day ahead of its release in cinemas.
Exhibitors and theatre owners have started protesting to this decision and the Tamil Nadu Theatre Owners Association (TNTOA) announced that it would not release the film in theatres.