A nondescript studio in Andheri, a Mumbai suburb, is not where you expect to find a globally respected jazz-rock virtuoso. Especially not next door to DJ Nasha's 'one stop shop for DJs.'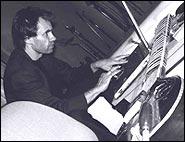 But Jonas Hellborg, the Swedish bass guitar phenomenon who exploded onto the music consciousness in the mid-1980s playing with guitar God John McLaughlin's new incarnation of Mahavishnu, is hunched over his HP Pavilion laptop, unaware of the incongruity of the scene.
Hellborg is recording for what holds the promise of taking Indo-jazz fusion to the age of nanotechnology.
His Status six-string bass rests on the wall of a 12 foot by 8 room. A cable snakes its way from it into his 'Line six delay and 14-second loop unit.' Another emerges from the eight-inch long green gadget to a compressor pedal, from there onto a router, and then into a computer through a mixer. Simple by 21st century standards.
His partner in melody, Mumbai-based sitar player Niladri Kumar, has a set-up that would make purists miss a staircase. He plays a five-string sitar, which he calls the zitar and is in the process of patenting. It has a pick-up and is plugged into a Boss GT-6 guitar effects processor -- a rocker's delight -- and goes out from that into the mix.
"Can I ask you a favour? Would you mind being my capo [a device that pushes all the strings together onto a particular point on the fretboard]?" Jonas asks.
Before I can pinch myself, the index finger of my left hand becomes Jonas Hellborg's sixth left-hand finger, holding the strings on the ninth fret while he shows Niladri the motif for one of his compositions.
It is an experiment, Jonas says about the power trio of V Selvaganesh -- ghatam God Vikku Vinayakram's son -- on the kanjira, Niladri and he are recording for. Ganesh is in Chennai, but he has recorded some tracks with Jonas, and Niladri is adding melody to the bedrock.
Niladri's sitar sounds like a manic guitar. He rips off pure Indian riffs, the sound pure distortion, over complex rhythm structures. "55-57-59, then 555-777-555-999," goes Jonas.
Niladri, who was classically trained since he was four, then gleefully overdubs effect-drenched sitar scapes. Underneath, Selvaganesh's kanjira grooves through time signatures as complex as 5 and three-fourth as if it were a rock beat.
In bits and spurts between the playing and recording -- which sounded fabulous to a fusion sceptic -- Jonas spoke to Senior Assistant Editor Sumit Bhattacharya in an exclusive interview.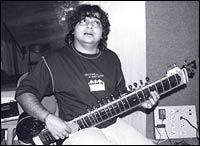 How did the two of you get together?
I heard about Niladri first from Selvaganesh, and we were talking about it for a long time -- to do something together -- and Niladri has also been doing stuff with Selva.
What is it about Indian music that attracts jazz musicians? Coltrane, Mclaughlin, you.
I guess there is a certain kind of methodology and discipline in certain areas that does not exist in the West. In the West, you have a lot of focus on harmony and structure and stuff like that. In India, you have a lot of attention to rhythm and melody and ornamentation. I think the West is lacking in that department.
For me, it's about learning an aspect of music, I don't even think about it as Indian music. It's just like another music that interests me. It's actually not Indian music per se -- it's certain Indian music. There's lots of horrible Indian music too.
Like?
Even if you take Indian classical music, there's lots of terrible Indian classical music, and there's lots of great Indian classical music.
There's a lot of fusion music happening, and a lot of it is confusion.
Yes yes, there's a lot of crap. It's like with everything else -- you have to do things for the right reasons. If you try to do fusion without understanding the two parts that you're fusing, it's going to be rubbish.
Say, if you have a Western and an Indian musician who are to play together, both have to have a mutual understanding. Otherwise, it will be like an Indian and Chinese guy talking together. The Indian doesn't know any Chinese and the Chinese guy doesn't know any Indian.
It's not enough to put sounds on top of each other. You have to find a meeting point.
Even Shawn Lane [the cult guitar guru who Hellborg played with] was into Indian music.
Yes.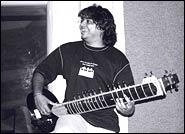 After Shawn [he died in January 2004], were you consciously looking for Indian musicians to play with?
No. I am not looking for anything specific. Things happen, and they tend to just happen when they are meant to happen. But it is a gravitation of forces. For me, it's self evident that we [Niladri and him] would play together. There's nobody who has the idea that Niladri has, of playing sitar like that -- with a new sound and taking it further.
What are the plans with the band?
The only plan was for me to come here and for us to try some stuff. We both know it will be sensible for us to do something together, we'll see what comes out. We're recording now, and we don't even know if this is a demo, a record or some trials to see how we can play together.
Who are the musicians you are most comfortable playing with?
At this moment, the only musician I know I have a long-going musical relationship that is going to continue is Selvaganesh.
No fantasy line-ups? No one you want to bring out of the grave to play with?
No, I'm too old for that!
You burst on to the scene as a phenomenon in the 1980s. What was it like handling that kind of pressure, straight away playing with John McLaughlin? Were there ups and downs?
It was only good. That was a dream come true. From age 14, the only person I really wanted to play with was John McLaughlin. I didn't have any other heroes in music. So it was perfect and I fulfilled my dream. After that, I could forget about the dreams because I had lived my dream. And from then on, I could start work on music in a much more serious manner. [But] It was pretty dramatic when it happened, to get that gig.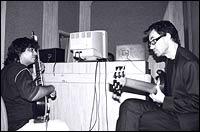 How did it happen?
He called me up! Which is kind of insane, and I just could not believe it.
If somebody were to say what you are trying to do is the new Shakti, what would be your reaction?
There are obvious links since I played with John and John did this before and it is the idea of fusing Indian music with Western music and that was the first band that did it. But in one way you could call that whole type of music Shakti music. Because even Remember Shakti -- what does it have to do with the original Shakti? Not much. It has two of the original members but the way they are playing the music is very different from what the original Shakti did. Not only the fact that there's no Viku [Vinayakram] and [L] Shankar but also the form of the music is different.
Have you studied Indian music or is it a feel thing for you?
That's a difficult thing to say. I know a lot of elements of it [Indian music]. I pick up what interests me. I don't care to study in order to become a performer of either North Indian or Carnatic music.
But the aspect of it that I like, I learn. I know quite a bit of Carnatic rhythms and compositions, calculations and stuff like that, obviously. I have studied both North and South Indian ornamentation, to figure out how the ornamentations are done. But I couldn't explain any raags for you. I wouldn't know if they are morning or evening raags or what they are called.
Because for me, that's not relevant. Because I am not Indian, I don't have that relationship with it. For me, it's just sounds, it's just music. It doesn't have any extra-musical meaning at all.
Throughout your career the rock aspect, the aggression, has been an integral part. Is that what's bringing you together?
Of course it is. That is related to passion, the force -- a driving kind of music. I like that. But also the whole idea of taking things in new directions appeals to me. Just the fact that you would consider playing an electric sitar with effects and distortion and things like that. It's just a great idea.
Do you think Indian music is the 'in thing' globally now?
I don't think so. It's like saying the Italian espresso is the in thing in India now. No it's not, you have Baristas everywhere, but it's becoming a part of Indian culture. Indian music is everywhere, Indian food is everywhere. There's more Indian food in the West than Indian music, so are you going to say Indian food is the in thing? No! There's a lot of other food at the same time. We live in a world where everything gets compacted and everything becomes part of everything else.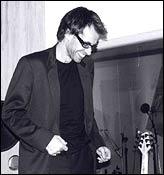 But jazz musicians don't collaborate that much with musicians from any other part of the globe.
[That's because] There is this other element to Indian music -- it is a highly developed form of music. So of course, it is going to appeal to other musicians who play developed forms of music, like classical musicians or jazz musicians. That is evident, but if you look in a pop sense, you don't hear tabla in Britney Spears for instance.
But you do hear a lot of bhangra in the UK underground.
But UK underground is still the underground, it's not over-ground! It's still a fringe thing!
Would you sign an autograph?
(Signs) I don't understand it [why people ask for autographs]. Unless you want to forge a cheque!
Photographs: Arkadyuti Basu