Name the film that declared, 'There's nothing worse in life than being ordinary.'
Or, 'We love you very much. Even if you were Jeffrey Dahmer we would love you.'
Or, 'I shall call him Mini-Me.'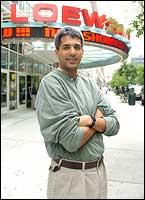 Do you remember the movie that had this memorable quote, 'If you can't spot the sucker in the first half hour, then you are the sucker'?
It is from the little-known movie The Rounders.
Audiences worldwide will instantly recognise, 'Momma always said life was like a box of chocolates - you never knew what you're gonna get.' Forrest Gump not only won multiple Oscars but grossed a robust $650 million worldwide.
Those interested in movie trivia and quotes can happily spend several hours going through Jai Nanda's delightful book, I Know What You Quoted Last Summer.
Nanda, who runs the Lenox Project in New York, dedicated to building the self-esteem and character of indigent youth, believes in Hollywood's passion for sequels. His recently published book is a follow-up to his popular What's That From? The Ultimate Quiz Book of Contemporary Movie Lines that came out about eight years ago.
The son of two professors (Indian father, American mother), Nanda is a graduate of the University of Michigan. Though he majored in English and history, his great passion has been cinema. You can feel it the moment you open his book.
Nanda recently took time off from the non-profit foundation he runs for New York children to discuss his latest book and his immediate plans. He has seen very few
desi
films but says he had so much fun with Gurinder Chadha's 
Bend It Like Beckham
that he wonders if there are more such films out there.
| | |
| --- | --- |
| | Also Read |
| | |
His book has many unfamiliar quotes.
Among his favourites is the following exchange:
'Is there's a children's book about an elephant named Babar?'
'I don't know, I don't have any?'
'Children?'
'No, elephant books.'
Guess the movie. It is a one-word title and it starts with F. It happens to be one of Nanda's all-time popular movies for quotes, he tells Arthur J Pais:
Here is a little quiz for you. Director Jay Chandrasekhar made the hit Super Troopers two years ago. What is his full first name?
If it is Indian, it could be Jaikumar. Or may be Jerry. I give up. What is it?
Jumbulingham Chandrasekhar.  I am not surprised he shortened it. Did you shorten yours?
(Laughs) No, no. I can assure you this was my given name.
You run a programme for inner city students. Do you recommend movies to them?
Sometimes I do, though I am not always successful in convincing them.
What movie did you recommend to them recently?
A film I loved quite a bit, Bend It Like Beckham. Many students in my programme are athletes. It is a film about athletes. It is also a fun film, very life-affirming.
Did they go to it?
No. I think they went to see things like 2 Fast 2 Furious.
Were you born in a movie theatre?
No, but I have been in love with movies for over two decades. Unlike many friends, I began falling in love with movies late in high school. The interest kept increasing with the popularity of the VCR.
That helped in writing your first book?
Yes, it was possible to see a film many times at home and remember the quotes.
How did that lead to writing the book?
The idea came from the game my friends and I devised. We used to have fun with movie quotes. Often we used to ask, 'What's that from?' One day, a friend suggested it could be the title for a book. I immediately thought I would write the book.
How did you acquire an agent?
It came from a chat I had with my mother's agent who was very much interested in popular culture. When I spoke about my idea, she immediately asked me if I wanted her to represent me. In about six months, I had a contract for the book.
Then the fun started?
Fun? It was also a lot of work. The big problem was what to include and what to leave out. I could have filled the book with quotes from a handful of films, Caddyshack and the Monty Python movies.
How did you research for the book?
There were days I would borrow about eight to ten videos and return them in the morning. The guy at the shop kept shaking his head, meaning to say, you can't be seeing all of them. He was right. I was seeing bits and parts, going over the parts I remembered.
Why did you write the new book?
When the last one came out, I felt I had left out some significant quotes. There have been many new movies since, with either funny, absurd or serious quotes that people discuss.
What is a memorable quote to you?
Something you remember long after the film is over, something that you remember suddenly in the middle of doing something.
| | |
| --- | --- |
| | Recent features |
| | |
Who are some of your favourite actors who do justice to good lines?
Robert De Niro and Jack Nicholson are among current actors who continue to remind us that age is no match for a great quote.
You say there are certain quotes that do not translate well from screen to page.
Take some Roy Schneider lines in the Steven Spielberg classic Jaws. Unless you see the shark, the expression on his face and hear the tremor in his voice, the line would be flat on the page.
On the other hand, are there some lines that can be enjoyed without visuals and sound from the movie?
There are films like Erin Brokovich that have many lines that can be enjoyed any time.
Did you think of going into movies, especially as a writer?
That is too much hard work. I don't think I will have the discipline needed for screen work, at least for now.
What would be your next project or book?
Let us see how this book does. I am tempted to work on television quotes. Though I am afraid I would be overwhelmed. There are too many shows out there with good quotes.
What would some of them be?
M*A*S*H for one. There are many good shows that have come up in the last three decades. It will be a difficult choice.
What was the frustration part of your current book?
When I wrote my previous book, I left out a few quotes, like from The Outlaw Josey Wales. I made amends for those omissions in the new book. I am sure many will still cry out in horror at my omissions.
What would I tell them? Have pity. I am just one man in a land of so many quotes.