Home > Movies > Bollywood News

Hrithik's still popular!

Priyanka Nair | August 05, 2003 13:25 IST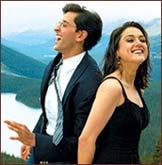 Hrithik Roshan may be down, but he's certainly not out. The failure of his last film, Sooraj R Barjatya's Main Prem Ki Diwani Hoon, does not seem to have made any dent in his popularity.
His next film, father Rakesh Roshan's Koi... Mil Gaya, also starring Preity Zinta, has met with overwhelming response at the box office in Mumbai and other Indian metros. The film is being publicised as India's first sci-fi film. Reports say it is a cross between Steven Spielberg's E.T. The Extra-Terrestrial and Tom Hanks' Forrest Gump. Koi... Mil Gaya releases on August 8.
All shows at Mumbai's Galaxy (of the G7 multiplex), Cinemax, Chitra, Starcity, Cinestar and Jaya theatres, where the film will screen, are booked through for Friday, Saturday and Sunday. "If it [the failure of MPKDH] had made any effect [in Hrithik's popularity], KMG would not have got the response it has got at the box office," says a theatre owner.
| | |
| --- | --- |
| | Also Read |
| | |
G7 owner Manoj Desai says, "It has been an extraordinary opening for the first time after [Ashutosh Gowariker's] Lagaan. There were not less than 1,500 people at the theatre. We had to call the police to control the crowd."
According to one distributor, the owner of Delight cinema in Delhi had to cancel his matinee show because of the crowds outside his theatre for the advance booking of KMG.
In fact, Hrithik's Monday visit to New Delhi to promote KMG saw about 5,000 people thronging the Digital Talkies multiplex in Gurgaon -- this was the result of just a day's notice of the event.
Advance booking aside, KMG will definitely be an acid test for the actor who, for the first time, claims to have been completely honest to himself while playing the character of Rohit in the film. He says, "I tried to explore the child in me. That is where my learning of the character in the film came from."
With inputs from Vijay Singh in Mumbai.
Click here to read rediff.com's stories on Koi... Mil Gaya.
Click here for More Features


What do you think about the story?








Read what others have to say:





Number of User Comments: 17








Sub: Certainly more than Shahrukh.

i wanna tell tht Hrithik may have given flops in his career, but he is certainly more popular than Shahrukh Hakla Khan. He is charismatic.


Posted by Rajaat









Sub: When was Hrithik unpopular ??????

Hey when was Hrithik unpopular? He is the most adored Star of India, the most talented one, rightly called the phenomenon. He is already back ...


Posted by Anaand









Sub: Yo!

Hrithik is not only just popular... he is still ruling our hearts! :-) He is the BEST! As always. I don't why media is bent ...


Posted by geeta









Sub: Hrithik`s Popularity

Hrithik is a world class actor. His recent films though did not fare well, he performed with ease and honesty. I see only HIS starrer ...


Posted by Mitul Pradeep









Sub: Great to see hrithik

Hey Hrithik is one of the best actors ever produced by India. I can't miss any film of him. I am requesting to all the ...


Posted by Anubhav Upadhyay






Disclaimer