Home > Movies > Bollywood News

Target Dhanush!

Shobha Warrier | August 06, 2003 14:18 IST



Things have been looking good for the Tamil film industry.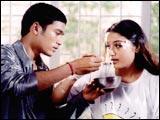 Vikram recorded two hits, Dhool and Saami. Nala Damayanthi (Madhavan, Geetu Mohandas) ran well in the urban centres of Tamil Nadu; Parthiban Kanavu (Srikkant, Sneha) also fared reasonably well.
Sarat Kumar's Arasu and Paarai, the Tamil remake of Jayam, from Telugu, are also doing extremely well.
On the other hand, the anticipated Priyamana Thozhi (Madhavan, Jyothika, Sridevi) flopped.
The film that hit the jackpot, though, is Kaadal Kondein. Last year, the Selvaraghavan-directed Thulluvatho Ilamai with father Kastoori Raja as producer and brother Dhanush as hero, was an unexpected hit. Though it was the biggest earner, critics called it a B-grade soft porn film made for adolescents.
The film was about parents who do not understand their teenage children. Starved of love, the children run away from home. In their journey, they discover the facts of life, including love and sex. They soon realise there is no place like home and no one can replace parents. The film was a hit among youngsters.
Now, with the stupendous success of Selvaraghvan's second film Kaadal Kondein, starring Dhanush yet again, no one calls Thulluvatho Ilamai a fluke anymore. Dhanush is no longer described as an inelegant hero. The Tamil audience has even started comparing him to Kamal Haasan!
The school kid of Thulluvatho Ilamai has transformed into a gawky college-going teenager in Kaadal Kondein. The success of the latter is not only because of the unusual story penned by Selvaraghavan but also because of its offbeat treatment.
Dhanush, an orphan from a small town, gets admission in an engineering college in the city. While his urban classmates ridicule his funny, unsophisticated ways, a girl sympathises with him and helps him transform into a confident person. The cruel, sadistic side in him surfaces when he realises that the girl is in love with somebody else. The film deals with issues like child abuse and the life of an orphan in a very compelling manner.
Made on a shoestring budget of less than a crore, the film has been going houseful for a entire week. Not even a Rajnikanth film gets released in three theatres simultaneously in a complex anymore. Trade sources say the film made ten times more than its cost in the first week itself.
Mechanical engineer-turned-director Selvaraghavan is the most sought-after director in the Tamil industry now with the best banners (Supergood Films, Lakshmi Moviemakers and Surya Movies) after him. It is rumoured that he is being offered Rs 1 crore for a film.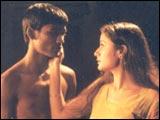 He has already signed to make a film for leading producer A M Ratnam with the latter's son as hero.
Twenty-year-old Dhanush is also being chased by filmmakers even though he is an unconventional film hero.
Noted filmmaker Balu Mahendra who has signed Dhanush for his next film says, "His unconventional looks and abundance of talent set him apart from the other chocolate-faced heroes. He will go places."
Click here for More Features


What do you think about the story?








Read what others have to say:





Number of User Comments: 5








Sub: Kaadhal Kondein

What Sobha Warrier is exactly true. It was an excellent film and congratulations to Shobha and rediff for promoting such an offbeat movie which broke ...


Posted by Sanil Abraham









Sub: Where is all the required attention for Kaaka Kaaka?

Why is there absolutely no info on Kaaka kaaka. The movie is quite obviouly a huge hit. Where is all the fuss? Why isn't anyone ...


Posted by an_insomniac@hotmail.com









Sub: sure loser in quality!

i saw kad..kon...its starts of well alright ...but the director has lost his sense of direction by the end of movie.its like rediculing the very ...


Posted by preethi









Sub: Operation Dhanush seems more apt

Kamalhassan is an acting maestro ..someone actually says Dhanush can be compared to Kamalhassan, i would by all means consider hitting the silver screen in ...


Posted by Subbudu Dasan









Sub: No...

Who said Priyamana Thozhi is a flop? It is still running reasonable crowd shows in India and will certainly recover it's costs and may make ...


Posted by Sai






Disclaimer