Jai Bhim is a story of hope and despair, observes Utkarsh Mishra.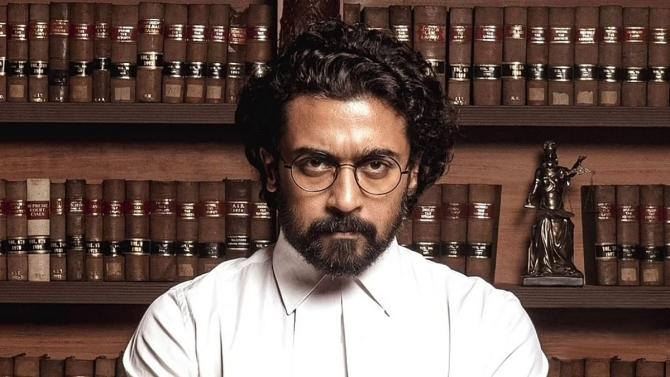 Almost a third of undertrial prisoners in India belong to the scheduled castes and the scheduled tribes, while their share in the total population of the country is less than 25 per cent.
Citing these data in a report (external link), the National Dalit Movement for Justice and the National Centre for Dalit Human Rights pointed towards a 'pattern of targeting Dalit and Adivasis and call for investigation of factors leading to the continued victimisation of the community by the police and further victimisation as undertrials'.
If you are intrigued by these statistics and want to go beyond them to know what it means to live this institutional harassment and torture without having committed any crime, then watch T J Gnanavel's Jai Bhim on Amazon Prime, starring Suriya in the lead performance.
The film is based on a true incident where a tribal woman knocked on the doors of the Madras high court to know the whereabouts of her husband who was arrested on charges of theft and later 'went missing' from police custody.
The case was fought by human rights lawyer Advocate Chandru, later Justice Chandru of the Madras high court, played by Suriya in the film.
Jai Bhim is a story of hope and despair.
Hope, because you see a destitute tribal family getting justice after fighting against the power and might of the political and social institutions.
Despair, because you know that this delivery of justice is not the norm. On the contrary, there are thousands of poor, destitute beings, languishing in jail on false and flimsy charges, who have no access to the judicial process and who are crushed and stomped by the executive at will.
The fact that this script is being played out in our country every day makes it even more poignant, even to those who think they understand caste.
It is a story of hope because you see a tribal woman, Sengeni (played by Lijomol Jose), in her most vulnerable state, standing up to the most powerful authorities of the State.
It is a story of despair because you witness the cost she has to bear for her defiance. And you know that the odds of her getting justice are not very promising.
Hope, because you see a lawyer fighting a human rights case pro bono, putting all his efforts in getting justice to the most marginalised sections of society. Despair, because you know that there aren't many such lawyers.
And even those who strive to use their legal prowess to fight for justice for the poor and marginalised are intimidated by the State. Only a few days ago, a fact-finding team of four Supreme Court lawyers was booked under the draconian Unlawful Activities (Prevention) Act by the Tripura police, 'for promoting communal disharmony' with their social media posts about the recent violence targeting Muslims in the state.
The scene where Sengeni enters the Madras high court for the first time and is awestruck by its grandiose exterior starkly conveys how justice is still out of bounds for people like her while we celebrate 75 years of Independence.
It also makes you angry, and you feel the rage constantly experienced by Chandru, witnessing the massive injustice inflicted upon these poor, hardworking people who barely have enough to make the ends meet.
But he carries it well. And though he is shown to admire Marx and Lenin -- alongside Dr Ambedkar and Periyar -- he doesn't believe in destroying the existing order but knows how to fight within the precincts of law for those who are denied their basic rights.
It is a much-needed message for the present times.
However, it is also true that Chandru's struggle depends heavily on well-meaning people within the establishment. As Dr Ambedkar said in his final address to the Constituent Assembly, 'however good a Constitution may be, it is sure to turn out bad because those who are called to work it, happen to be a bad lot'.
This is where our role as a citizen becomes important. Until we hold accountable those who are called to work this Constitution, we will remain what Nani Palkhivala called 'a third-class democracy under a first-class constitution'.
And, therefore, I hope this movie reaches beyond its niche audience.
To those who need to understand the brutality of caste hegemony, who need to understand how deeply caste divide is engrained in our society and how it drives the lives of all of us.
To those who accept police torture as a 'necessary evil', to those who think that fundamental rights are not rights but favours one has to earn by behaving as an 'ideal citizen' as per their definition of the term, to those who need to understand that it is in the interest of all of us that country's institutions function properly and independently, to those who don't feel the necessity of electoral, judicial and police reforms and to those who think that caste hegemony is a thing of the past and who cite 'misuse' of SC/ST (Prevention of Atrocities) Act as a counter each time they are introduced to incidents of Dalit suppression.
I know many of those would like to dismiss it as exaggeration. They would like to dismiss it as 'Leftist propaganda' to 'defame Indian society' as you see a lot of Marx, Lenin andrRed flags in the film.
But if the film teaches one thing, it's that those of us who honour the dreams of our ancestors who sacrificed everything in their fight against the mightiest empire on earth in the hope to establish a just society, cannot give up on the struggle to ensure justice, liberty and equality to every member of that society.
Rediff Rating: