A Web series shouldn't be outright unrealistic.
Being Bollywoodesque is always suicidal, asserts Utkarsh Mishra.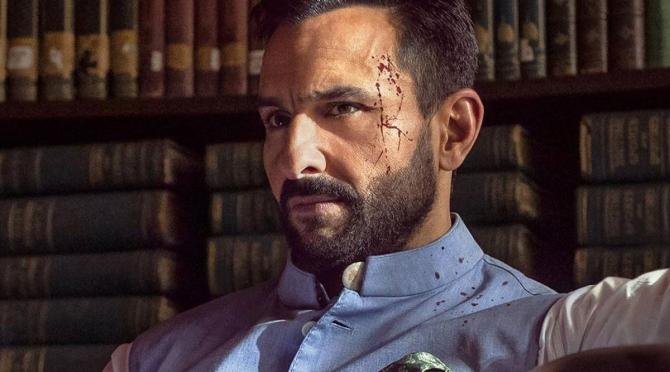 Given the ensemble of skillful actors consisting its cast, Tandav raised a lot of hopes.
But it turned out to be a big disappointment.
As a matter of fact, all of them acted very well.
But when the script is so weak, how far could good acting pull off a show?
Tandav offers multiple plots, bound together with loose threads, which is a major put off.
The Web series does not offer anything new.
At times, you feel like you are watching Mirzapur, most of the times you feel like you are watching Prakash Jha's Rajneeti.
The enthusiasm of student politics reminds you of Mani Ratnam's Yuva (you can't miss this one as they have used the title track of the movie).
But there s a difference.
While the plots of all the above were based in a state or a small fiefdom, Tandav takes it to the highest level of the country's politics, which, I think, was a fatal mistake.
Not only because it fails to incorporate the details and complexities such a magnitude requires, but also because of the unscrupulous manner in which it proceeds.
The story tries to offer suspense and thrill.
But it is so stale that it's not unpredictable.
The same old way of depicting the dark underbelly of India's electoral politics -- unprincipled, power hungry leaders and their grim-faced henchmen doing all the dirty jobs.
Even the basic plots of the story are so carelessly written that it feels outrageous.
Imagine a three-time PM dying on the eve of a most certain re-election while a plausible takeover by the heir apparent is already being discussed.
Even the politically uneducated would smell something fishy.
But here, everything is taken care of simply by managing one TV channel and a small coterie of people.
Now, I am not saying that a Web series can't be dramatic.
But it shouldn't be outright unrealistic.
Being Bollywoodesque is always suicidal.
Similarly, the student leader (Mohammed Zeeshan Ayyub) is catapulted to fame -- so much so that he is able to find screen time amid the sudden death of the sitting PM -- on the basis of a staged video of an incident of police firing. Seriously!
Even if they didn't show Samar Pratap Singh (Saif Ali Khan) killing his father Devki Nandan (Tigmanshu Dhulia), and only revealed it later, it would have shocked few.
(It's nothing like Dhulia's Ramadhir Singh in Gangs of Wasseypur betrayed by his seemingly foolish son.)
And while dying and being told by his son that he has poisoned him, Devki Nandan, who is shown to be a shrewd politician, asks, 'What do you want?' (Man! What else? A sports car?)
The screenplay could have been much better.
Obviously, nobody can doubt Gaurav Solanki's ability.
One can trace the inspiration behind most of the characters.
The fact that Saif Ali Khan's role reminds one of Sanjay Gandhi finds mention even in the show.
But others can be found resembling to real life personalities too.
Zeeshan Ayyub's revolutionary student leader shares a lot of details with Kanhaiya Kumar.
The elderly duo -- played by Tigmanshu Dhulia and Kumud Mishra -- two friends, who challenged Indira Gandhi during the Emergency and later, one became the prime minister while the other always harboured ambitions to be one -- could remind one of Atal Bihari Vajpayee and Lal Krishna Advani.
It also has some powerful female characters, though their road to success essentially involves offering sexual favours to more powerful men.
Now, to be fair, none of the plots opened in the first season have found closure.
The field is still wide open.
Tandav may turn out to be good in subsequent seasons.
There are crucial details yet to be revealed, most importantly, who is the mystery man claiming to know the secret of the PM's death?
But the first season can be summarised in one dialogue of Mirzapur 2: 'Aapse better expect kiye the hum.'
Rediff Rating: