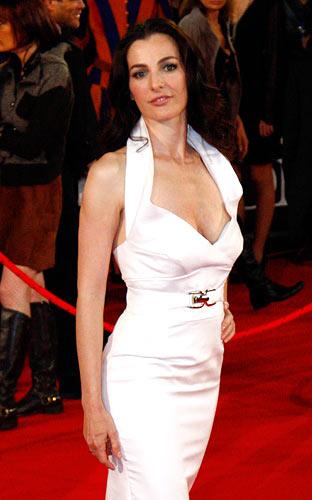 When acclaimed director Ron Howard's Angels & Demons releases in India two weeks from now (on May 29), audiences here will get their first taste of actress Ayelet Zurer -- known in the film industry as 'Israel's Julie Roberts'.
It was her riveting performance as the distressed yet beautiful pregnant wife of a 'Palestinian terrorist hunter' in Steven Spielberg's frenetically-paced Munich that first launched her name internationally. She hasn't looked back. And Hollywood keeps calling.
Now, in Angels & Demons, the follow up to Howard's massively successful The Da Vinci Code, the 39-year-old Zurer will star as Italian physicist Vittoria Vetra; she'll star alongside Da Vinci hero Tom Hanks, who plays Harvard symbologist Robert Langdon, a man whose startling discoveries threaten to shake modern day Christendom to its core. Now, the duo must unravel clues about the shadowy group known as The Illuminati, who are killing off Catholic Cardinals as a form of retributive justice. 
Zurer, who lives in the United States with her husband and son, is currently on a promotional tour for her film. In an interview with The Los Angeles Times, she described her character, Vittoria Vetra. 'I think driven would be the right term for Vittoria. She's used to saying what's on her mind,' Zurer reportedly said. 'I knew from Ron, he wanted a very realistic sense of the character rather than that brave superhero from the book with long legs, great skin and great intelligence, but at the same time, I don't know how real she'd feel if you saw her on-screen running in shorts. He said the realer, the better.'
Though she admits she grew up on stage, her career has not followed a straight and narrow path. At 21, she first tried her hand at modelling, in Japan; but ultimately she decided the high fashion life wasn't for her. From there, she studied acting in New York City, where she truly blossomed as a potential star brimming with talent.
Upon returning to Israel, she won that country's top acting award in 2003, for her performance as a woman who loses her husband in a terrorist attack, in Nina's Tragedies.
Zurer's work soon earned the attention of high-placed people, resulting in an audition for a director named Spielberg and a film named Munich, which tells the story of how Israel hunted down and killed the terrorists responsible for the 1972 massacre of Israel's Olympic team in Munich, Germany.
Given that her own mother had experienced the Holocaust at that she herself grew up in the conflict-ridden Middle East, Zurer was able to pour her heart and soul into the project.
And the rest, as they say, is history.
Photograph: Tony Gentile/ Reuters