Missed yesterday's episode? Fear not. Rohan Shinde brings you up-to-date.
It's a new week in the Bigg Boss house. The story remains the same, but the alliances have changed. Former foes have become best buddies.
Day 36 starts on a romantic, intimate note between Puneesh Sharma and Bandgi Kalra.
Surprisingly, Shilpa Shinde and Vikas Gupta – the biggest enemies in the house – aren't fighting as much as they normally do.
Hina Khan tries to grab footage by again talking about the families of the other contestants.
And Benafsha Soonawala is finally seen.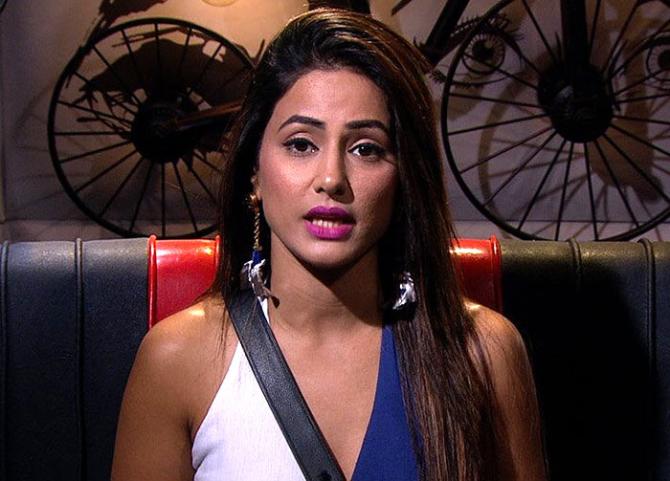 New week, new alliances
Hina (above)and Priyank Sharma team together to instigate Arshi Khan, leading to a huge fight between Arshi and Priyank. Obviously, everyone else had to join in.
Now, it's Hina, Luv Tyagi and Priyank against the rest of the house and everyone is cornering Priyank today.

Benafsha, who hasn't been seen much, took on Akash Dadlani in a full-fledged argument.

Hina is smartly using Luv and Priyank to her advantage in her battles with the other housemates.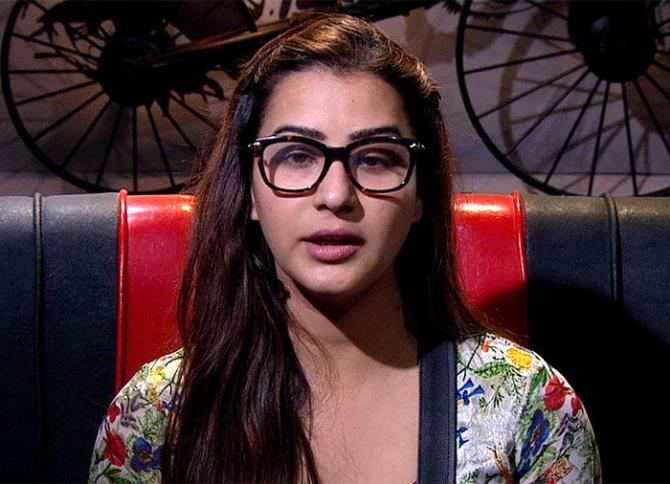 Nominations, served with a twist
Shilpa (above) – who had won a task during the Weekend Ka Vaar episode -- is declared safe by Bigg Boss in the nomination process.
Captain Puneesh gets a special power and is asked to nominate seven housemates for this week's eviction.
He nominates everyone he does not like – Hiten Tejwani, Priyank, Sabyasachi Satpathy, Benafsha, Mehjabi Siddiqi, Luv Tyagi and Sapna Choudhary.
Hina escapes the nomination due to a pact with Puneesh last week, when she had agreed to be nominated instead of him.
The rest of the house had to nominate two people each from those listed by Puneesh. And here's how that went:
Hiten: 1 nomination – Sapna.
Priyank: 5 nominations -- Shilpa, Sabyasachi, Mehjabi, Akash and Arshi.
Sabyasachi: 5 nominations -- Vikas, Shilpa, Priyank, Hiten and Benafsha.
Benafsha: 5 nominations -- Bandgi, Luv, Mehjabi, Akash and Arshi.
Mehjabi: 4 nominations -- Priyank, Hiten, Benafsha and Hina.
Luv: 2 nominations – Vikas and Sapna.
Sapna: 4 nominations -- Bandgi, Sabyasachi, Luv and Hina.
As a result of these nominations, Priyank, Sabyasachi, Benafsha, Mehjabi and Sapna are in the danger zone this week.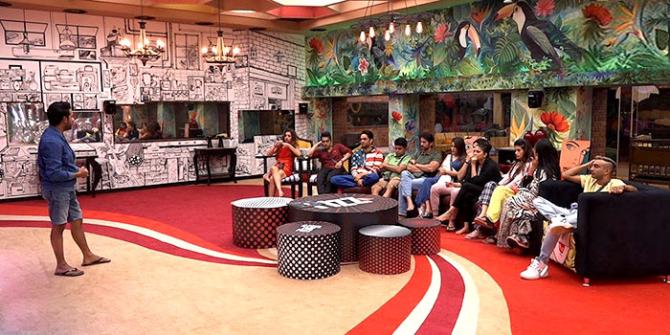 Advantage, Shilpa
Shilpa gets one more advantage from Bigg Boss after winning the Weekend Ka Vaar task.
She gets to watch the recordings of what the housemates told Bigg Boss in the confession room during the nomination process.
My take
Priyank had no reason to instigate Arshi and start the fight, which everyone else joined in to gain footage.
Puneesh used his power well to nominate his enemies in the Bigg Boss house.
With everyone getting annoyed in today's episode, the ground has been set for a hugely acrimonious week ahead.