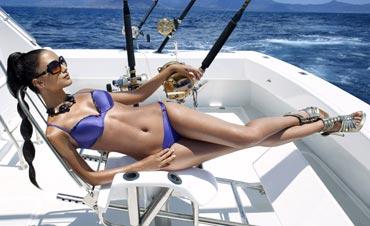 Ranbir Kapoor is living it up to his player persona.
The latest girl in the actor's life is apparently Kingfisher calendar model Angela Jonsson.

Sources have confirmed that the duo have been going out together almost every night since they met 15 days ago. They were spotted at a hip city nightspot a couple of days ago.

Although how they met is still a mystery, this couple is the current talk of B-town.

The 20-something model is quite a looker and is said to have floored even Siddharth Mallya, who is dating Ranbir's ex-girlfriend Deepika Padukone.

Born to a Mangalorean mother and Icelandic father, Angela had won the Kingfisher Calendar model hunt 2001 and aspires to break into Bollywood someday. She has been taking acting and diction classes.