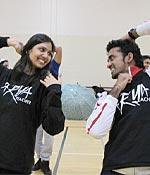 As Rupal K Patel and 59 dancers were twirling to recorded songs by Shuba Mudgal, A R Rahman and many others for hours and hours last week, they were conscious that they would be making history on November 26.

Their performance would mark the first time an Indian troupe has danced in the annual Macy's Thanksgiving Parade's 84 years history. The parade will go a distance of 2.5 miles in Manhattan.

The dancers from Patel's Arya Dance Academy, which is marking its 10th anniversary, were rehearsing Kathak, folk and Bollywood dances.  

In the parade, Patel, 32, will talk at length on how much of an American kid she is.

"I was born here and I have lived here all through my life," she says.
She will also say with pride how much of her parents' culture she has absorbed to the extent that she quit her corporate job to start her own dance academy. From having just about six students the first year, it has 4,500 students across America now.
Last week, she found her dual identity vindicated as she began rehearsing for the parade. She had known several months ago that her group had been accepted but the realisation became stronger as the parade day approached.
"As an American Indian, I feel very proud that the Arya Dance Academy's participation shows how much America appreciates and accepts other cultures," she says.
The news made for a big story in New Jersey's The Star-Ledger, which gave a page-and-a-half to the story, though the headline 'Bollywood on Parade' did not really reflect the reality, as Patel and fellow artists will mostly offer non-Bollywood dances.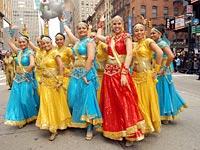 Thousands of New Yorkers and millions of people across the world watch the annual parade. It is also a big tourist attraction, drawing not only American tourists but also visitors from many countries. Patel and her dancers will have a minute of televised time on NBC.

Macy's said over 100 groups had sought to join the marching bands at the parade. The Arya Dance Academy was among the nine groups chosen this year.

'Their company was absolutely incredible,' Orlando Veras, a spokesperson for the Parade, told The Star-Ledger. "The presentation was amazing. We think they will add appeal for our wide-ranging audience.'

"I am an American girl," says Patel, who grew up in a small town in Georgia where her parents ran a motel. "I love American festivals, and I love Turkey and everything about Thanksgiving. And I have been watching this parade for over 26 years."

Patel, who is also trained in western classical dancing, learned Kathak. "And I have been wondering for many years when India would be part of this parade."

When

she approached the parade committee a year ago, she had to not only submit a tape of her students' performances but also convince the committee of the reputation her dance school has acquired over the years.

"One of the things our dancers and instructors are aware is that we are not only celebrating American heritage but also our Indian heritage," Patel continues. "Whether we are born here or came here a few years ago, we are showing how proud we are of our heritage. And we are hoping that Indian artists and performers will be welcomed into many mainstream parades and celebrations across America."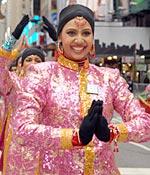 Starting in Parsippany, New Jersey, the company has been steadily expanding.
"Not a week passes without parents in a number of states calling us to ask if we could facilitate the opening of another branch," she says.
"Our instructors are well trained, and our students are very serious about learning the dances and practicing them, even if they are doing it for fun," she says. "Some people think we are teaching just Bollywood dances. In reality, the students cannot take the Bollywood steps unless they have a good command of Bharatanatyam or Kathak."
Patel who has a degree in computer science and business from Boston College, worked for IBM for about a year.
"The corporate world did not excite me at all," she says.
So she began telling her mother -- her father passed away 20 years ago -- and friends she would quit her job and start a dance academy.
"They said I would be making a huge mistake," she adds. "My family and friends told me dance was not a profession, at best it could be [for an Indian girl] a hobby. I listened to them patiently."
But her mind was made up. "In fact, even as I was preparing them for this shock, I had already quit my job," she recalls with a hearty laugh.
Bollywood was not very big then, and she had absolutely no desire to turn her academy into a Bollywood dance studio. She knew right then that traditional dance was a good foundation for segueing into any other form.
"I did not set out to run a dance academy for hundreds," she continues. "I would have been happy with just about 100 students in the New York Tristate area. But one thing was very clear to me, I wanted nothing else but to be fully involved with the dance academy."
Patel not only continues to dance but also works as an instructor. Most of the students are of Indian origin, she says.
"But in the last few years we are also seeing children of multiracial parents and it is interesting to see how their non-Indian parents are encouraging them to learn the dance," she adds.
Photographs: Paresh Gandhi