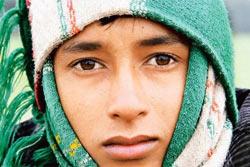 Sourav Sarangi is an award-winning filmmaker whose latest work Char… The No Man's Island explores the border between India and Bangladesh, defined by a river and its ever-changed course.

The beautifully shot documentary examines the impact of nature and the political border on the lives of people who live in the region.

Sarangi was in Berlin for the European premiere of his film at the 63rd Berlinale. The film was well received with sold out screenings and engaging post-screening discussions with the filmmaker:
He speaks to Aseem Chhabra about his film.

Did you grow up in West Bengal?

I was born in Bengal, but my grandfather migrated to Orissa.

Most South Asians know about the border between Bangladesh and West Bengal, but few would know that the border changes its topography as the river shifts its course. How did you get to the story?

In the flatlands of Bengal, Ganga and the other rivers converge. The river is very powerful there and it keeps changing course.

It was an irony that when the British left India they had to create a border, and they looked at convenient issues, first language, then religion...

The British made the border along the river between Bangladesh and India, which is in between the Murshidabad district in India and the Rajshahi district in Bangladesh.

My understanding of a river is that it wants people to come together and cross from one side to another. That's how our civilization has formed. That's how our languages evolved.

So, when you make the international border along the river, you are saying to people, no don't cross it. There is something wrong with the concept, to set the river as a border.

But the river must have changed its course before too?

The river always changed its course, but until 1947, it was not an international border.

But the border can't move. It's fixed. One country cannot get bigger and the other cannot get smaller. So, then what happens to the people, because my concern is with the people who live by the river.

If the land goes, then your home goes. If your lose your home, you lose your identity.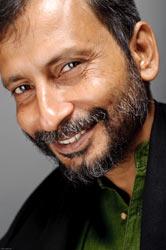 You show chunks of land falling into the river at the beginning of the film.

That struck me when I was trying to make a television film. It was very striking. So, I started shooting chunks of land breaking in 2002 and 2003.

It was very close to the Farakka Barrage, which is not technically a dam, but is similar to it. That also contributed to the changes in the landscape, because if you try to control the river, it will react.

You raise another dimension about these new islands that start to form in the river.

That is bound to happen. If you build a dam, then the river becomes shallower and shallower with the sediments.

In the monsoon, the water spreads and breaks the land and becomes wider.

The natural phenomenon that the river does is to create these islands and the river finds many channels and sub-channels. So, the river is forming and re-forming its shape according to the rule of the nature and then you have the man-made international border.

This char island, when did it form?

It's a fragile island that keeps shifting. Char is a generic term. Any island formed within the river is called char. I chose a particular char, where the border is.

Previously the border passed through the river, but now the river has shifted and the char has formed on the same spot. Was it easy for you to move and shoot around the border and on the char island?

No, you can't just reach there, because it is a prohibited zone. It's a border. You cannot be there without the permission of the Border Security Force. I had to get super special permission to move around freely from the BSF headquarters. It's a sensitive area, so they suspect everyone, especially journalists and filmmakers.

There is a lot of movement between the border, smuggling for instance. You were able to film the kids smuggling rice after they have spent time in school.

That happens on all borders. If there is a border, there will be border crimes. The same thing is happening between India and Nepal and India and Pakistan.

I am not trying to focus on the border crimes. It's a way of life. It's a way of survival for the people who live there. My focus is not to portray my young protagonist as a smuggler boy. My purpose is to look at the adolescent boy who acts like a man, taking responsibility of the whole family.

I make him my protagonist for his human qualities. I don't want to make him a hero as a smuggler who crosses the border. He is crossing the border psychologically and sociologically. That is more important in a film where he is crossing a border between man and nature, where it begins and where it ends.

Do these characters identify themselves as Bangladeshis or Indians? Or do they consider themselves as Bengalis? Eventually, there is no difference between the Indian Bengalis and Bangladeshis, other than religion.

They are Indians.

I get your point, but they all have to have a nationality to live along the border. You cannot live there without an ID or nationality. In a city or inside the country, it's not so important, but here you have to have it.

To reach home, you have to show something. So, everybody is nationalised.

But on the other hand as a national citizen you are supposed to get certain assured things from the nation -- like roads, electricity, schools, health supporting system.

What do you get on the char? Nothing, nothing, nothing!

They could say we don't belong to any country, we don't belong anywhere, we don't have any nationality, we just have this ID card, which matters to the BSF guards. But the card has no other value, because they get no other benefits.

They pay taxes and yet what is the government doing about it? So if they say we are not citizens of India, I think they have a strong point about it.

There is the larger issue of people crossing the border. Assam has had many Bangladeshi settlers...

The border is defined, but it cannot be fenced. It's a very porous border. But if you make the river the border, you cannot put a fence.

When you make a border, you have to consider this. You cannot blame the river for it. Because the river is for crossing.

Or they have families -- there is the Murshidabad district and Rajshahi district and people have families in both the districts. They don't need visas and passports. They just move naturally. You have to accept this reality.

It is a peaceful border. There is no war going on. These activities continue.

But we must remember even in peaceful times there are conflicts between man, nature, technology, traditions, the army and the people.

Unfortunately, India does not have a culture of documentaries.

I don't agree. India has a tradition of story tellers and story listeners. The kind of story telling we do in documentary is very popular in other forms in India.

If you look at the song tradition or dance or scroll paintings in India -- it's not fiction per se. It's very much non-fiction and sometimes it is non-narrative.

This is our Indian culture and tradition.

It's unfortunate that the media -- print and electronic -- doesn't realise that in India and they do not pay attention to the potential of documentaries in India.

If Shah Rukh Khan was here, you would run after him to interview him.

Well, I wouldn't run after him, but I have also come to interview you.

I am not saying you yourself. There are two Indian documentaries (Powerless and Char) and look at the kind of audience response and attention they are getting here in Berlin. That is something lacking in India.