'Helmet is a proper family film, just a film on condoms.'
'It can never be a sex comedy.'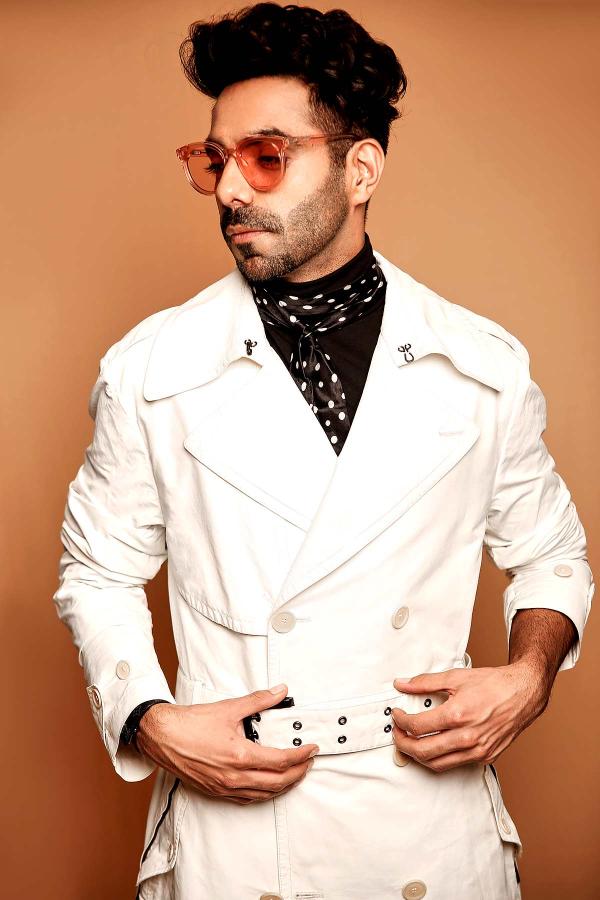 Aparshakti Khurrana is very excited about his latest film, Helmet, co-starring Abhishek Bannerjee and Pranutan.
The film was stalled due to the coronavirus pandemic, but has finally been completed.
So what is it about?
"It is a proper family film, just a film on condoms," he tells Patcy N/Rediff.com.
How does it feel to be back on the sets?
It's amazing!
We have been blessed to be back to work with a proper team -- director, writer and co-actors.
Otherwise, I was shooting from home for all these digital collaborations.
I could utilise my time in the right way.
Having said that, there's nothing like coming back on a film set.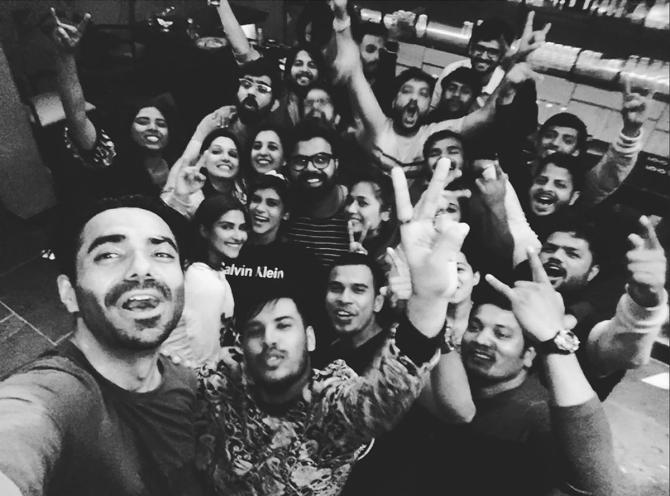 What safety precautions were taken on the set?
They have hired agencies who are sanitising the entire set every hour.
At the entry points, certain people to keep a check on our pulse rate and body temperature.
They also keep a check that everyone is wearing a mask. Not just wearing a mask, but also covering their noses... a lot of times, we wear a mask but forget to cover our noses.
There were the pictures of a wrap-up party...
There wasn't a party, there was a shoot and the climax has a song.
The song shoot actually looked like a party.
We just shot for two days.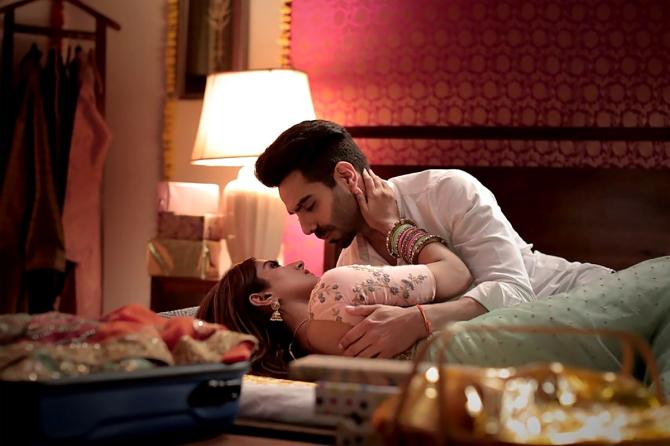 Is Helmet a sex comedy?
Not at all.
This is the first time, in the past one year that I have heard such a comment on our film.
It is a proper family film, just a film on condoms.
It can never be a sex comedy.
I don't think that the audience, or any journalists, would expect me to do a sex comedy.
I think I have been a part of good, relevant, content and taking that forward, I hope this also falls into the ambit of good, relevant, content.
We have shot the film with that honesty.
I hope people connect to that honesty once they see the film.
Pranutan plays your leading lady.
Kudos to Mohnish (Bahl) sir and the entire family for giving her such a nice, warm and humble upbringing.
I think after being Nutanji's grand-daughter, she had to be pretty in front of the camera. It was great to have her on board in Helmet.
She's the kind of girl we needed to complete the package.
It was great to shoot with her.
When you spend time with each other, you understand each other better.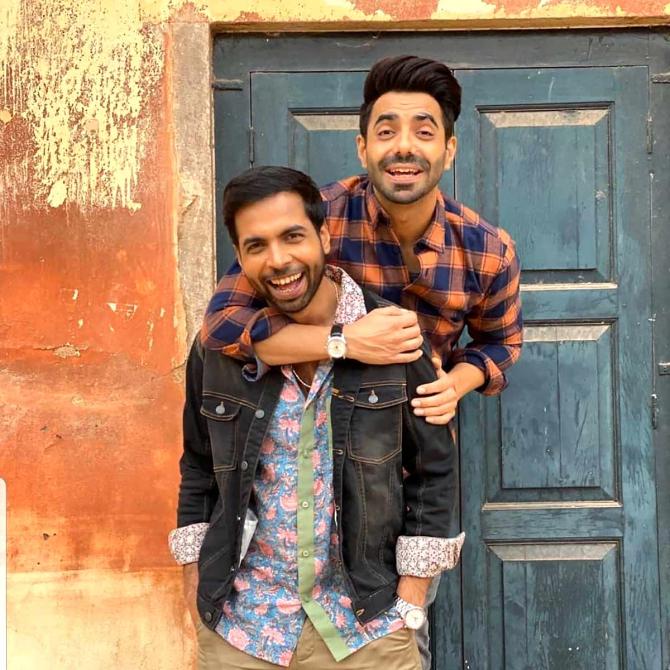 How was it teaming with Abhishek Bannerjee once again after Stree ? You are very good friends with him.
Absolutely!
Especially after Stree, we got really close and and have a certain chemistry on and off the camera. You will see that in the film.
You will realise, okay, whenever these two come together, it will be a smooth give and take.
That mainly comes from spending time, be it any relationship.
If you spend time with someone, you will always have that smoothness. Abhishek and I are no different, we cracked that during Stree.
There is a certain kind of chemistry between me. Abhishek, Raj (Kummar Rao)and Pankajji (Tripathi) -- all those team-bonding exercises, which happened during Stree, helped and is still helping.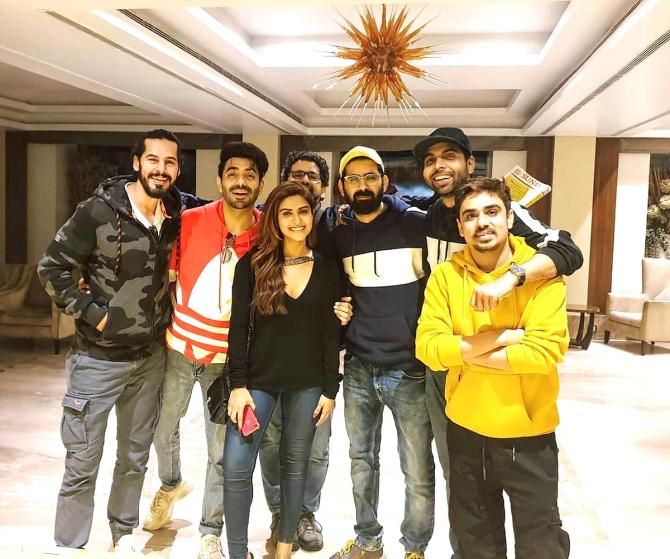 Satram Ramani is directing a film for the first time. How was he on the sets? Could you make out he was a newcomer?
When you know the subject, you can never be like a newcomer. You will always be the master, the leader, the captain of the ship.
I think right from word go, when I heard the narration through him and writer Rohan Shanker, both of them have such control over the body language of a film.
I think Satram has slept over the film again and again to rework the scenes before finalising the draft.
Satram and Rohan are close friends offset as well.
Jab aap ka homework complete hota hai, you are not nervous on the exam day.
They knew what they were saying and touch wood, we also knew what they were saying.
We were always on the same page.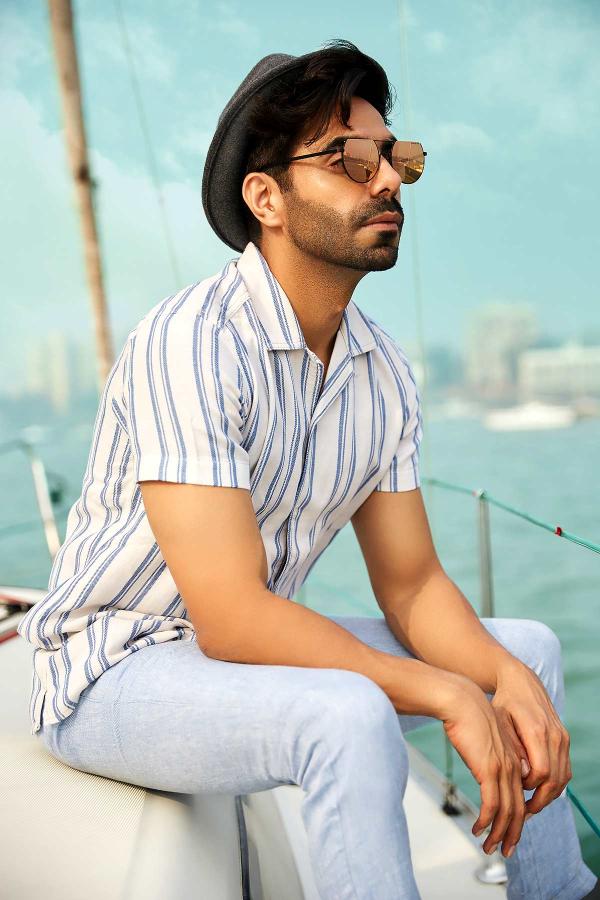 When do you think this movie will release?
Keeping the current situation in mind, it's not something which really bothers me. All the films are coming on OTT now, so why not this one?
I have shown patience, and can show patience again.
In case this film doesn't reach the theatres, I am totally fine with starting my journey again to to have that theatrical (release) for another film.
Having said that, it's not something we have decided right now. It's the producer's call whether it will release on OTT or theatres.
It's not really about the platform; audiences and artists are just hungry for good content. You deliver good content and people will watch you.
What kept you busy during the lockdown?
I started with Instagram live sessions and moved on to Instagram Anatkshari.
I did a lot of digital collaboration.
I did videos with my family.
I composed five songs and have send them to Bhushanji (Kumar of T-Series).
Very soon, we will close down to one song. My last single was also with T-Series.