'I have never had a foul experience in the industry.'
'There are rotten apples everywhere, in your family, relatives, friends circle, colleagues...'
'It's very vulnerable because of the glamour, but it's very heartbreaking to hear bad things about the industry.'
'It's not such a bad place.'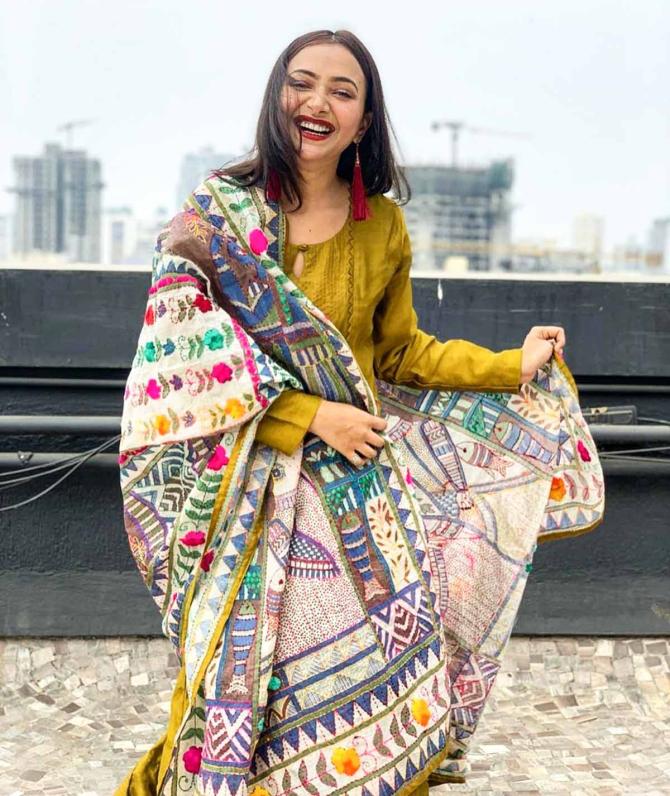 Shweta Basu Prasad is a fast talker.
The Maqdee actress, who has grown up into a beautiful woman and is dabbling in various kinds of roles, is very articulate and confident of what she says.
She has five releases this year, including the recent Hostages 2, and she tells Ronjita Kulkarni/Rediff.com, "I've never been this busy."
How did you get Hostages 2?
I got a call last year that Director Sachin Krishn really liked my performances. I think he had seen The Tashkent Files and he wanted me to test for this role.
Around that time, I was finishing Serious Men, which is directed by Sudhir Mishra.
Since Hostages 2 is being presented by Sudhir Mishra, he wanted me to test for the part too.
My character's name is Shikha; she's an investigative officer.
Her character runs parallel to the story, so I have had little interaction with the rest of the cast. In fact, I have only one scene with Shibani (Dandekar), and one scene with Ronit Roy.
Because Shikha is not in a very high post, she's young and she's a woman, nobody really takes her seriously.
Although she comes from a place of honesty, they think she is naive. But she is not, and she carries on with her investigation.
When you watch the season, you will see that with my character comes a lot of revelations and surprises, and audiences will start rooting for her.
Do you like to watch thrillers?
Oh, I am a huge fan. One of the greatest thrillers India has ever produced is Jewel Thief. I am a huge Vijay Anand fan.
I love The Rear Window by (Alfred) Hitchcock, Sriram Raghavan's Ek Hasina Thi and Andhadhun.
What is like working in the new normal? Do you like it?
Yes, I quite like it. I was just discussing with the cast of Hostages that this is so cool.
We can be in pajamas at home and attend a press conference!
Otherwise, we would have to get a stylist, do your hair and everything and then go out. That has its own charm and excitement but this is so nice!
We don't have to commute, it saves time and we are also saving the environment by sitting at home and getting the work done.
You recently shared a post on Instagram, where you stood up for the film industry.
The Producers Guild of India had written an open letter about how badly the image of the industry is being painted right now, that it's a bad place, full of vices...
I think that's very heartbreaking for someone like me who is an outsider, who has zero family connections with the industry and no Godfather. Still, I am very happy with the work I am doing today.
I have five releases this year alone.
I have worked with wonderful people like Vishal Bhardwaj, Naseeruddin Shah, the team of Hostages... these are lovely people, who have come from good families, they are educated and passionate about their work...
So what I mean is don't generalise things.
When you say that the industry is a bad place, you make all of us look bad.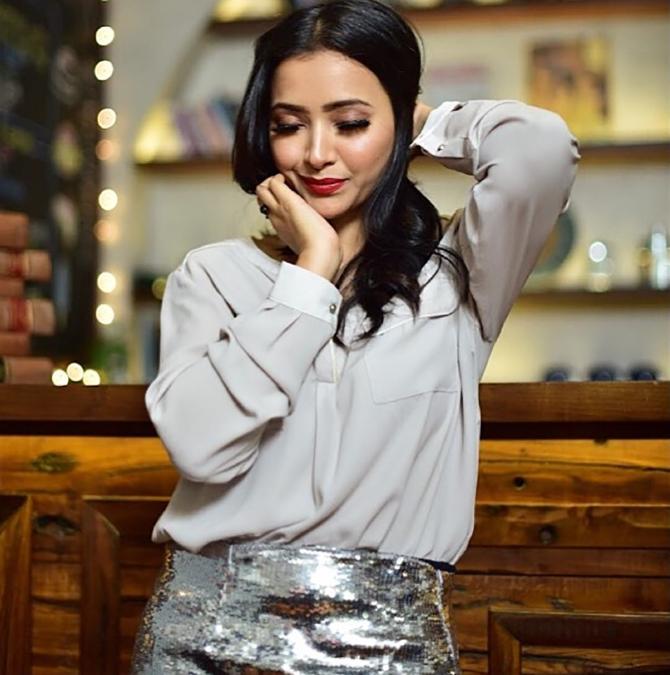 How difficult is it to make a career in Bollywood?
I have never really had difficulties. Thanks to my earlier work, Maqdee and Iqbal, I keep getting work.
My work is getting better, so I can't complain.
You get your work according to your talent.
I have never had a foul experience in the industry.
There are rotten apples everywhere, in your family, relatives, friends circle, colleagues...
Don't make the industry a soft target. It is very vulnerable because of the glamour, but it is very heartbreaking to hear bad things about the industry. It's not such a bad place.
It is the only place where there is no gender bias, no bias against religion or caste, your social background...
If you are talented, you are on.
You coloured your hair blue during the lockdown.
I had a wonderful lockdown because I come from a place of privilege. I have a roof above my head and food on my plate, and a really wonderful family and friends.
Yes, I coloured my hair blue.
I also started a blog series called Actors on Actors, where I would invite actors and talk about older actors.
Like, I invited Anupam Kher, and we had a chat about Dilip Kumar.
I invited Raghubir Yadav and we spoke about Balraj Sahni.
I invited Divya Dutta, and we spoke about Shabana Azmi and her great performances...
I remember when we were chatting on Instagram Live, and Shabanaji started commenting on our live show. It was so cute, you know, because she is just starting to figure out Instagram.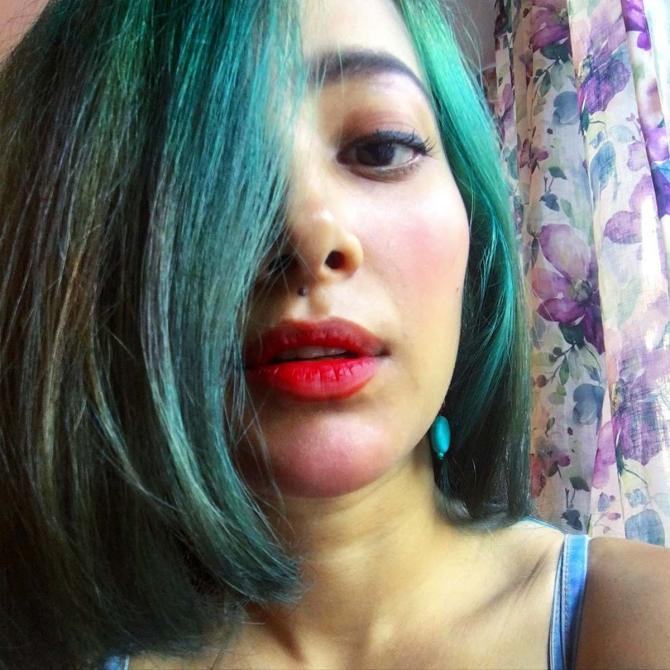 What are the top five characters that you have done that are closest to your heart?
I can only answer this when I am 45 because I have just started my career.
There is nothing to look back to except Maqdee and Iqbal, and maybe The Tashkent Files,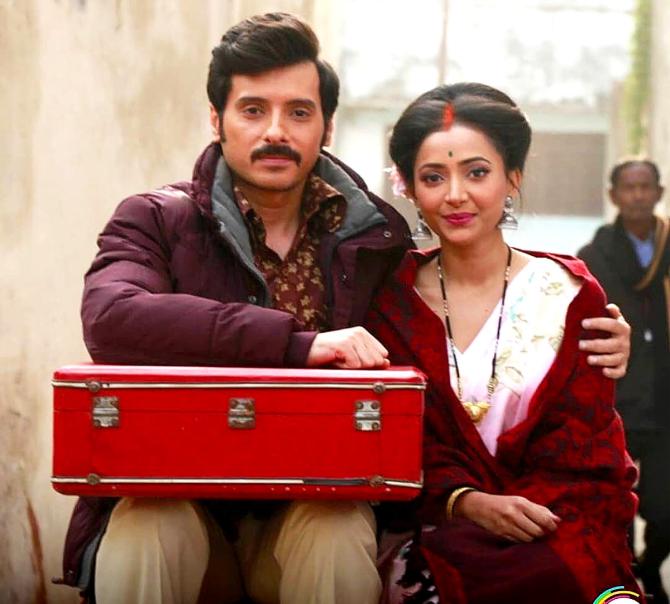 What are the five projects that are coming up this year?
Shukranu, with Divendu Sharma, is already out.
Then, there is Hostages 2.
There's Comedy Couple, with Saqib Saleem. We play stand up comedians in that film.
Sudhir Mishra's Serious Men with Nawazuddin Siddiqui.
And there is one more series that we shot last year.
Is the OTT the best thing to happen to actors like you?
Oh absolutely. I've never been this busy.
If you asked me this question two three years ago, I'd be lost. I'd be wondering yeh saal kuch milega ya nahin, dekhenge.
But OTT is such a character-driven platform, there are more characters than main leads.
Everything is very story-based, especially with long formats like Web series.
All the characters are fleshed out.
It's a great time to be actors or technicians.
I don't know anyone who is unemployed right now. Everyone is so busy.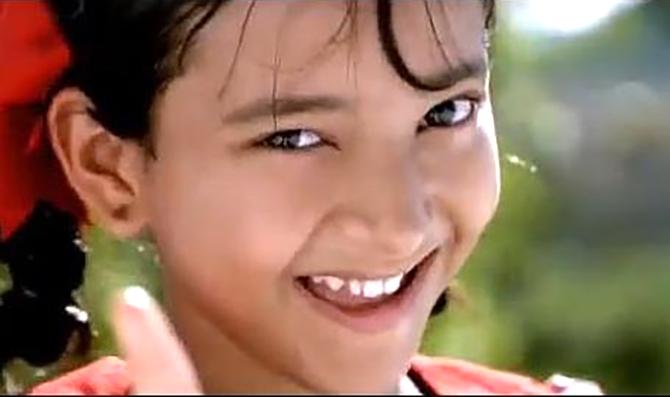 You started your career as a child actor with Maqdee and Iqbal. Why didn't you do more films then?
After those films, my parents did not allow me to take up any more films because they wanted me to study.
I was offered Rajkumar Santoshi's Halla Bol and Madhur Bhandarkar's Traffic Signal.
I am grateful to my parents that their priority was my education and not the limelight.
They wanted me to complete my graduation, which I did.
After my graduation, I made a documentary film between 2011 to 2015, which is on Netflix now. It is called Roots, and it's about the dying visibility of Indian classical music. I interviewed A R Rahman, Pandit Birju Maharaj, Pandir Jasraj, Vishal Bhardwaj, Shubha Mudgal...
Then, I produced short films.
I was an assistant director with Anurag Kashyap for a year-and-a-half. I was the script consultant for Phantom Films.
So I had a good many years behind the camera before I started acting again.
What made you become an actress?
I started acting before I even knew what acting was.
Maqdee was more like a picnic for me. Luckily, it was a very good film and I ended up winning a National Award. I got critical acclaim when I was 11-12 years old.
That time, it was fun.
I think it was around Iqbal when I started thinking more technically. I knew things better.
But I started taking acting seriously as a profession about four years ago.
After I completed my graduation, I was more interested behind the camera.
My focus stayed there until I did the short film Interior Cafe Night, which I produced and also acted in. It had Naseeruddin Shah, Shenaz Patel and me. That got my interest in acting back.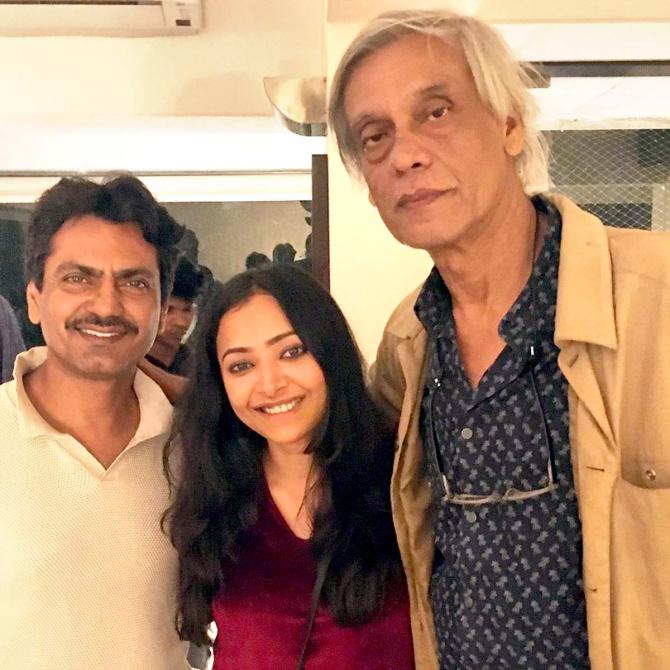 Are you still in touch with Shabana Azmi?
I keep meeting her; I met her last year at MAMI. She met up with my mother at the festival too.
I love her, she is such a great actor. I am a huge fan.
I am so lucky that I have already worked with her, but when I did, I had not seen her work.
Now, after seeing her work and being such a fan, I'd like to work with her again.
Did you even know who she was when you worked with her?
No, I didn't! My mother made me watch Masoom and I was like she looks like a sweet auntie.
But when I met her on the sets of Maqdee, she was in her witch costume, and I was so scared!