'End of the day, my thing is, entertainment, entertainment, entertainment.'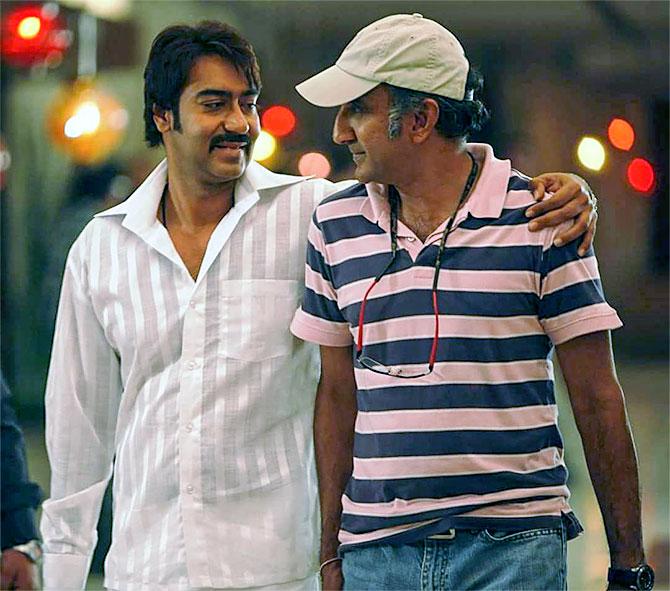 IMAGE: Ajay Devgn with Milan Luthria. Photograph: Kind courtesy Baadshaho/Instagram
Milan Luthria's movies have one element that can never go wrong: The dialogues.
Baadshaho wins in that aspect as well.
His latest film has got neither decent reviews nor decent box office collections, but the director defends his choice of subject.
"People are fed up of romantic stories. They want either a message-oriented film or something that is very dynamic, but with some connection with the truth," Milan tells Rediff.com's Jahnavi Patel.
Why did you think of setting a film during the Emergency?
When Ajay and I were shooting for Kachche Dhaage in Rajasthan, a distributor friend of mine had come to visit us. He asked us if we had heard about this story.
In 1971, royal families had been asked to declare their undeclared wealth. Some of them did not.
When the Emergency happened, the army was sent in to arrest people from the royal families.
When they were in jail, the palaces would be looted.
The gold (from the palaces) left Jaipur in army trucks.
Till today, nobody knows where it has gone.
We were fascinated by this story.
I asked some other people too and they said that everyone in Jaipur knows this story.
We didn't follow it up much then because we got busy with other films.
After some time, I started finding out more.
Nobody knew where the gold went and all records of the raids were removed from the archives.
I don't make boring films; I wanted something exciting.
So I started thinking: Can we do an heist film? Can we make it a multi-starrer?
Can we have different characters coming in? What kind of drama can we create from this premise?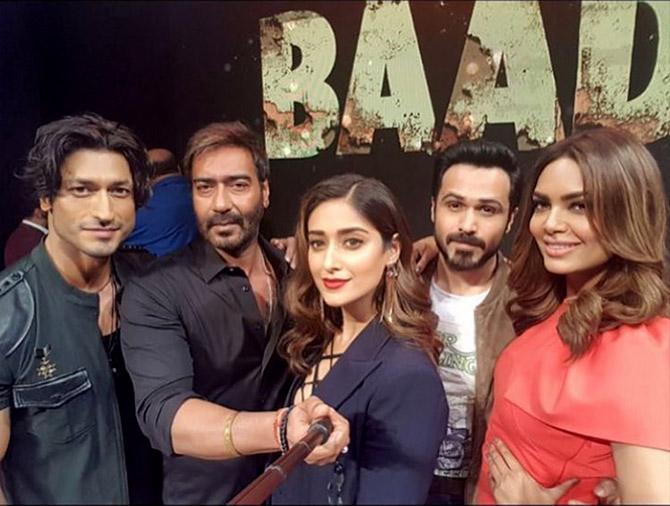 How did you do your research since not much is known about this?
We reached a dead end very quickly, which told us that some people had suppressed this information because at that time, even the media was censored.
We were not making the film like a biopic. We wanted to make a thriller, so we just took the premise and that was enough for us.
We did find out about the habits of the people, how they lived, entertained and dressed, the kind of jails they had... it was very fascinating because Rajasthan is a very vivid place.
We travelled a lot, met a lot of people on whom we based characters like Vidyut's, Ajay's and Emraan's.
We didn't need any more information than this.
It is a nice mix of fact and fiction.
End of the day, my thing is, entertainment, entertainment, entertainment, vo toh karma hi hai.
There has to be music, romance, comedy, action, drama, suspense, sab kuch hona chaiye ek picture mein.
What do you think about remixes today?
I think the audience is very clear that if you do it well, if you don't really destroy somebody's work, they are happy.
They get a good melody in a fresh recording with fresh voices.
Unfortunately, there are some people who do a terrible job. They really screw up the original song.
Being a music lover, that hurts.
I have done Rashke Qamar in this film, it is a classic. Now I would have to be an idiot to spoil that.
The responsibility of respecting these songs is on us.
This trend has started and it is not going to stop, people will pick up songs and use them again.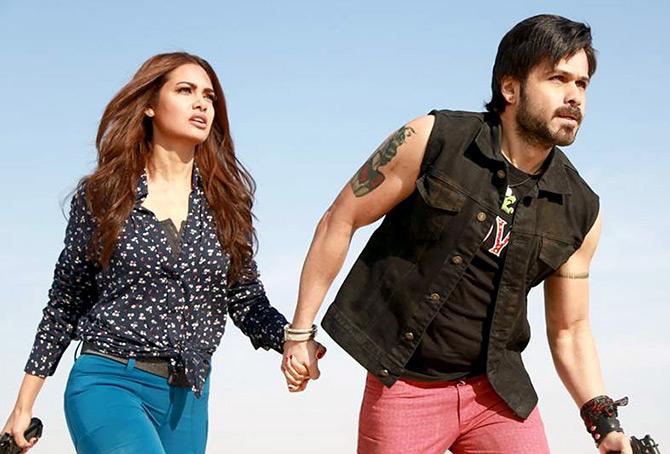 IMAGE: Esha Gupta with Emraan Hashmi. Photograph: Kind courtesy Baadshaho/Instagram
How did you choose the cast?
It has a lot to do with instinct.
If I want a man who is earthy, the epitome of loyalty and yet is a bit of a badass, Ajay Devgn comes to my mind.
If I want a woman who plays a princess, a porcelain beauty, who collides with this mountain of a man of Ajay Devgn, somebody who is elegant, classy, slightly Western in her approach that is why the people of her state feel she is a bit of a misfit, I think Ileana is great.
If you think of a badass chick who has attitude, who can fire guns, who has a great body, sex appeal and who can take on the boys, I think Esha is proving to be one big time.
I wanted a very good looking man with a great body to play an army officer, somebody whom you look at in a uniform and are just floored and also somebody who can take on action with Ajay Devgn. I thought Vidyut had that personality.
In the classic Western films, there used to be the wizened old man, the drunk who was always an unshaven, witty guy. Sanjay Mishra has taken to this as a fish to water.
Then I wanted a man who is very witty with quirky one-liners. On one hand, he has a tattoo of a gun and on the other, there's a tattoo of a chick.
He wears t-shirts with 'free love' and 'night special' written on them. Tell me, who will you think of? It has to be Emraan Hashmi.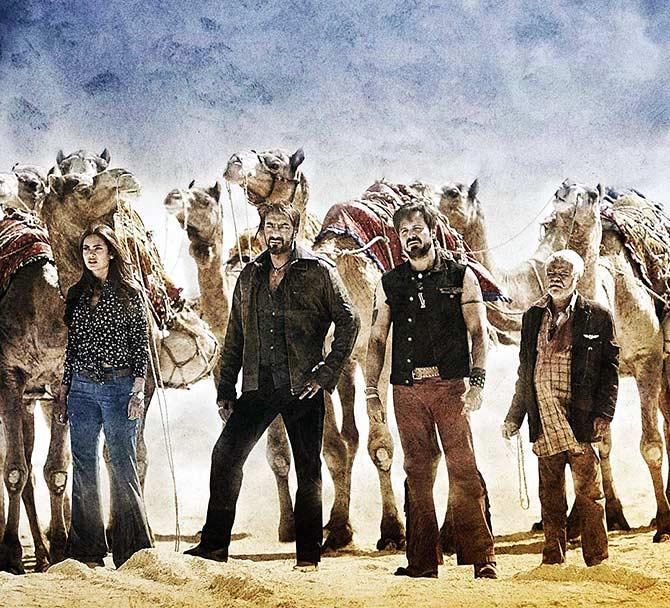 IMAGE: Esha Gupta, Ajay Devgn, Emraan Hashmi and Sanjay Mishra in Baadshaho. Photograph: Kind courtesy Baadshaho/Instagram
What is it like to direct a multi-starrer?
It is difficult to get such a big star cast, living together for 67 days.
Actors want reassurances, pampering, affection and it is very difficult to manage that with everyone.
Plus, sometimes you have to make a particular actor wait because somebody else's work is not done.
This (shoot) was not done in a studio. So we were travelling 100 km, and everybody had to reach at the same time.
Sometimes people would be irritated of waiting when the food did not reach on time.
Or if there are three actors in one scene and one forgets the lines, the others will have to be patient.
Fortunately, I have had a lot of experience working with senior actors and multi-starrers, so you kind of try to defuse the tension and our crew managed to get along.
I have a very strict rule that no matter what happens, after pack up, everybody will have dinner together.
We used to get done by 7:30 pm. I would keep a big table out in the garden and at about 8:30 pm, by the time we have made calls to our homes and spoken to our families and had a shower, we would be together for about two hours, and not talk about work.
We would listen to music, crack jokes, eat.
Sanjay Mishra used to entertain everyone. He is a really funny guy.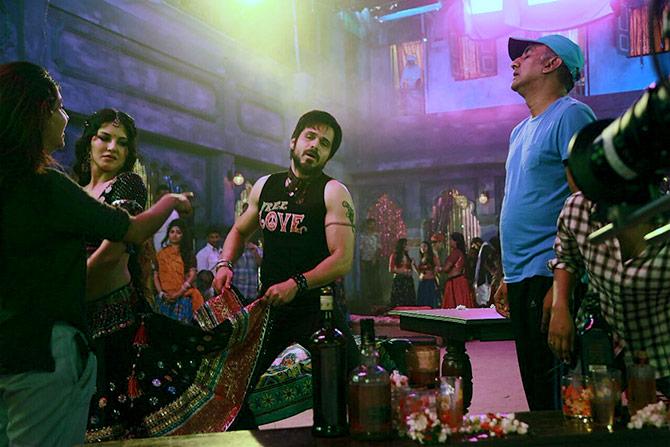 IMAGE: Milan directs Emraan and Sunny Leone in Baadshaho. Photograph: Kind courtesy Milan Luthria/Instagram
Movies have been flopping at the box office. Is the industry going wrong or is the audience expecting something else?
I think it is bad filmmaking, writing, direction.
We have figured that out because I don't think any film that deserved to be successful has not been successful.
The smallest of films -- whether it is Lipstick Under My Burkha or Hindi Medium -- has found its audience.
The biggest films like Sultan, Dangal and Baahubali have found their audience.
The audience is very clever. It will not put its hand in the pocket if there's something below par.
Today, watching a film costs time and money. To spend four hours, to watch a three-hour film, gets too long.
Our film is two hours and 15 minutes. You can't go beyond that because there is no patience.
You mount massive marketing budgets and do 20 city tours, but they are of no consequence.
You cannot fool the viewer.
If he likes your trailer and music, nine out of 10 times he will buy your ticket, especially in the smaller centres.
In Mumbai and Delhi, we are very distracted.
I love watching films, but so many of these trailers I see and wonder who is going to see this movie, yaar.
So it is the industry to blame.
We have to work hard, write better films, we have to make sure films are engaging and engrossing, that they are not self-indulgent or boring. Then people will watch.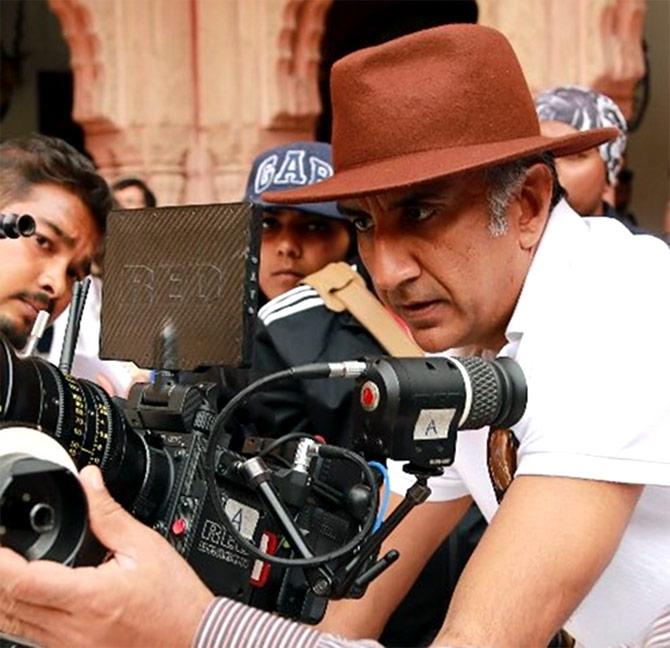 Photograph: Kind courtesy Milan Luthria/Instagram
The sanskari Pahlaj Nihalani has made way for a seemingly more liberal Prasoon Joshi as the censor board chief. Relieved?
I don't think it has anything to do with the individual.
I think the system is filled with old quick sand, anybody will drown in it.
The policies and guidelines are so vague and old.
As filmmakers, we are not clear.
We have gone blue in the face, from Aamir (Khan) to everyone, saying don't call it censorship.
Censorship was what happened during the Emergency.
This is certification.
Let people choose what they want to see.
I watch films with my six-year-old daughter. Sometimes there is a scene which is objectionable, I just shut her eyes.
As a parent, I am responsible enough.
If you are responsible enough to vote, drive, drink, work hard, pay your (tax) returns, then you should be responsible for the content you watch.
If there are people who want to watch adult content, let them. Just certify it.
Even the new team that comes in has to tackle the issue.
The real issue is the guidelines and the rules. That has to change.