Emraan Hashmi and Esha Gupta have seen failure and come out stronger.
Now, they are ready with Baadshaho.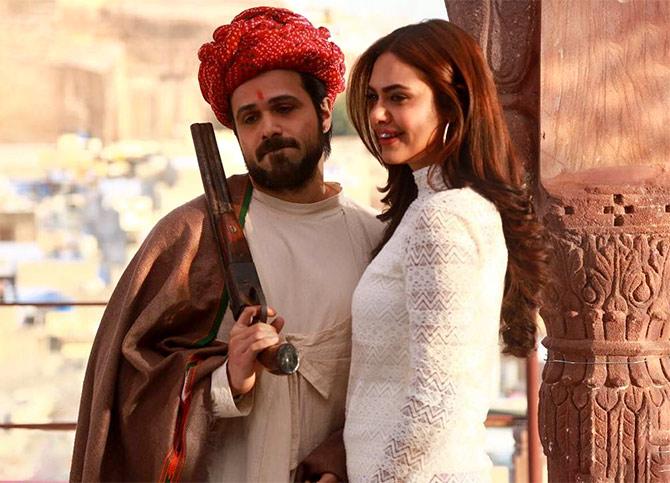 IMAGE: Emraan Hashmi and Esha Gupta in Baadshaho.
Esha Gupta sits on a sofa and sprinkles pepper on her omelette and hash browns.
Emraan Hashmi sits on the other side, and watches her.
As they get ready for their interview for their film Baadshaho, Emraan says with a straight face, "All you'll get from that side is the crunching sound."
Emraan and Esha seem at ease with each other.
With Emraan barely seen at filmi parties, Esha is his source of industry gossip.
"Esha knows everything! I don't know anything, any gossip, so I catch up on all the tabloid news from her," he says.
Emraan and Esha chat about Baadshaho and much more with Rediff.com's Jahnavi Patel.
Emraan, director Milan Luthria, Ajay Devgn and you come together after seven years, after Once Upon a Time in Mumbaai.
It's a different film, but I don't think the experience was different.
It's very easy working with them.
Because they had worked together (in Kachche Dhaage and Chori Chori), they had an equation from before. I was the new entrant into the group.
They made me feel at home from the first film itself.
I have crossed that stage of initial inhibitions and of never having worked with Ajay before.
He was very welcoming and chilled out.
Milan's pattern of working is to start early morning, and end by 5:30 or 6 pm.
He never shouts on a film set. He's very clear and supportive of the actors.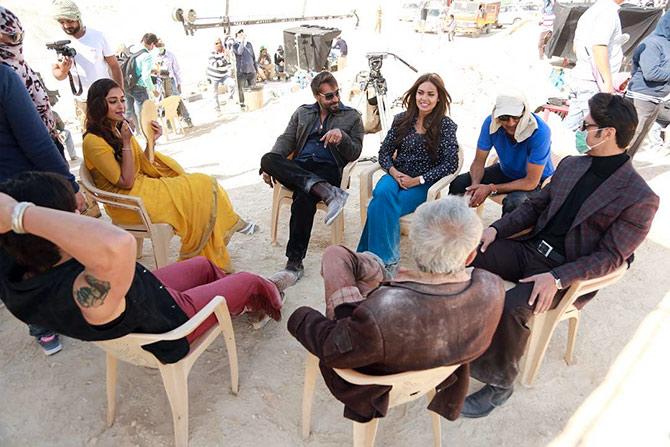 IMAGE: The Baadshaho team takes a break -- Ajay Devgn, Esha Gupta, Milan Luthria, Vidyut Jamwal, Sanjay Mishra, Emraan Hashmi and Ileana D'Cruz. Photograph: Kind courtesy Baadshaho/Instagram
Milan mentioned that after the shoot, he would make sure everyone had a meal together, and not talk about work.
Emraan: When you're working for 60 plus days, it's very important to unwind because you are staying in the middle of a desert in Jaisalmer.
There's only so much of your room and television or gym that you can handle.
There was a durbar set-up next to the pool, with six seats.
We would be there by 8:30 pm, after pack up and would just chill, play board games or snooker.
It was entertaining, listening to their stories, gossip.
Esha knows everything, so I catch up on all the tabloid news from her.
Esha: It would be a two, three hour drive to the shoot location.
Thank God, I had actors who were cool and easygoing. They make you feel comfortable.
We had a lot of fun.
Everyone had their own stories, especially Ajay and Milan.
They used to tell stories of the olden days of shooting, and the number of days it would take then.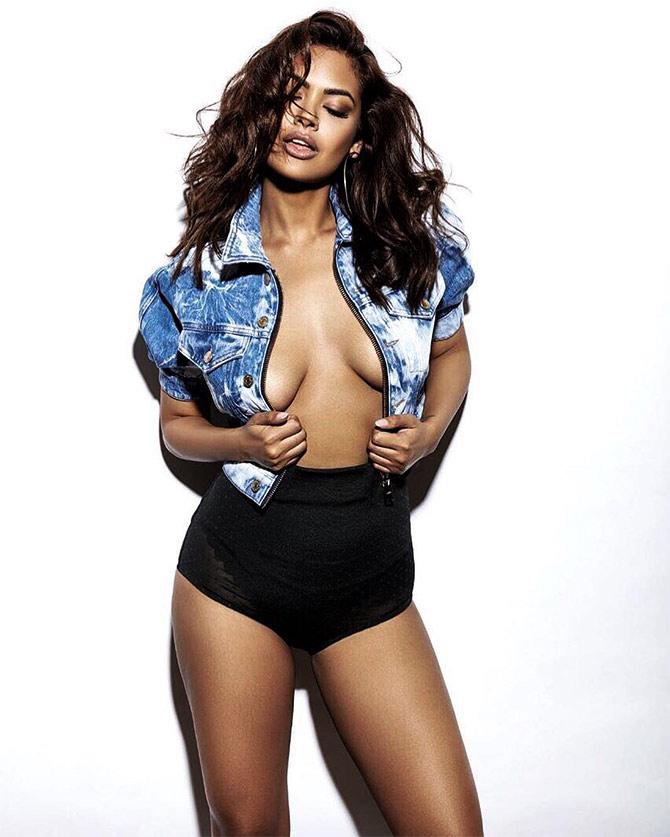 Photograph: Kind courtesy Esha Gupta/Instagram
Esha, you are looking trendy in the trailer and the songs. What do you have to say about the fashion of the 1970s?
It was the coolest; that was the hippie era, the free love era.
The credit goes to Milan sir and (costume designer) Payal.
I don't think I did so much even for Rustom.
If you are doing a period film, if it doesn't look authentic enough, it's not going to be authentic.
Emraan has worn bell bottoms throughout, and has different hair.
I've worn bell bottoms and knotted tops.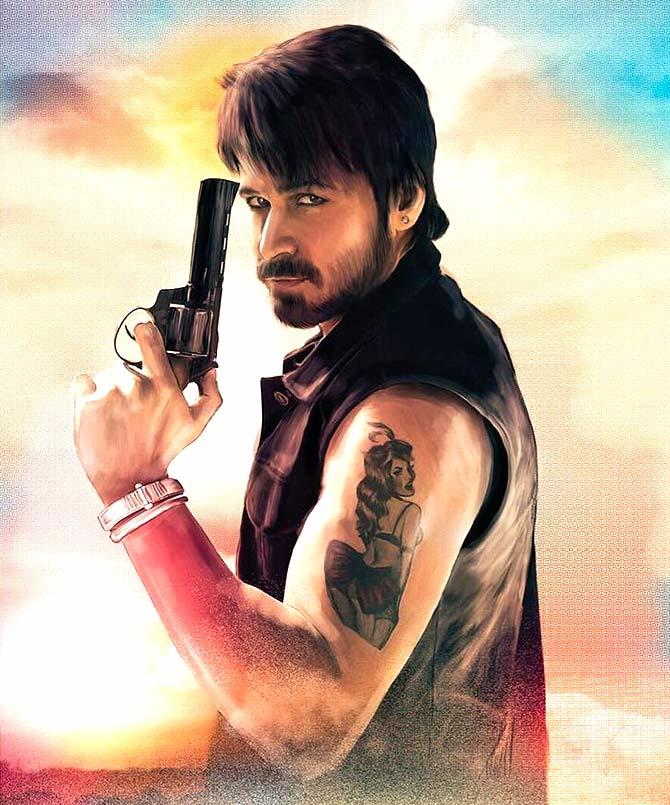 Photograph: Kind courtesy Emraan Hashmi/Instagram
Emraan, we haven't seen you in such a look before. Your t-shirts has things like 'Free love' and 'Night love' written on them.
My look is inspired from a guide we met in Rajasthan.
To mingle with the tourists, he knew a little bit of French, English, Rajasthani, Hindi and all.
He used to wear these cool t-shirts with a dhoti or sometimes he used to wear a pagdi. We sourced it from that.
We added the tattoos.
Basically, he is a bit filmi. It was the era of Amitabh Bachchan, Vinod Khanna, Shashi Kapoor... so he extracts his style from the cinema of that age.
I was dreading wearing cut-sleeves in the film because we were shooting in Rajasthan, where it was five or six degrees in the night.
Everyone was laughing about it, but I had the last laugh in February when it became hot in the desert, and they were still wearing three, four layers.
How different will Baadshaho be from other heist films?
Emraan: It's set in a different era, and that adds a different tone and texture to the film.
I was a little sceptical of doing a heist film because most of the film offers I got were more style than substance.
This film has visual finesse and at the same time, the characters are well written and defined.
It really keeps you at the edge of the seat.
When you feel they can't accomplish the mission, that's the best part of the film.
You feel that the odds are always stacked up against them.
Esha: If you google it, which I did, you will see it actually happened to a royal family during the Emergency.
Till now, nobody knows where the wealth went.
For me, doing something related to true events is really exciting. Rustom was also like that.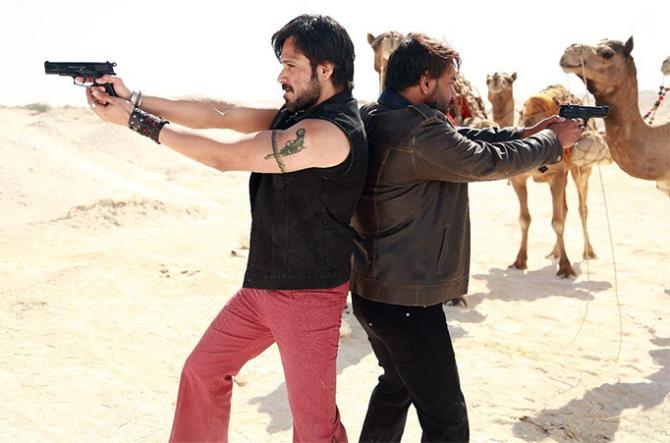 IMAGE: Emraan Hashmi and Ajay Devgn in Baadshaho.
Esha, how much action will we see you do in the film?
I wish there was a lot of action, but there's not much.
There's more relatable action in this film. Because it's 1970s, we can't show extra flying and the Matrix happening.
The song Socha Hai has been remixed for the movie. What do you think of retro remixes?
Esha: I like the fact that we even announced ke bina rap wala gaana remix agar aap sunna chahte hai. We maintained the originality.
Secondly, it is a 1970s song, that's why Milan sir chose it.
It's different from the other two songs in the movie because we are trying to show the kind of relationship -- the chemistry and love -- that these two characters have.
I don't mind if old songs are remixed as long as they are done well.
Emraan: All these songs are timeless.
If they are made contemporary, without spoiling the aesthetics of the original track, I think it works because a lot of youngsters don't know about the (original) song.
For them, it's a fantastic song.
It works in our film because it's retro, the film and the song are from that time.
You would image that in a heist film where would there be scope for songs. But Milan has beautifully woven it in.
Once Upon a Time in Mumbaai was a gangster film, but how do you weave in songs? He brought out those love moments and wove the songs in very well.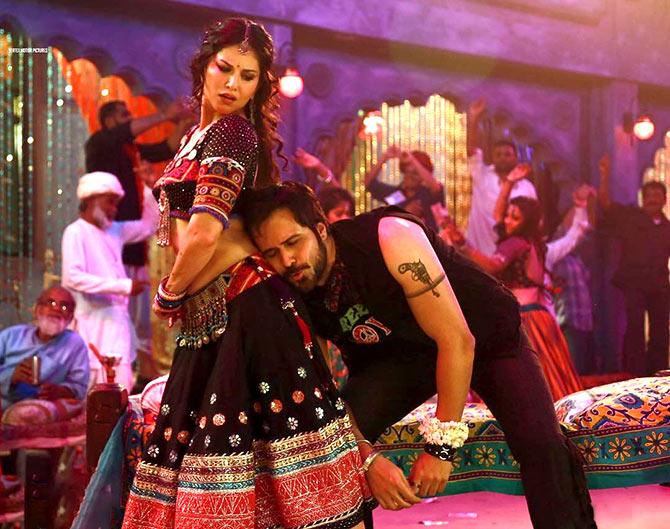 IMAGE: Sunny Leone and Emraan Hashmi.
Emraan, you have a special number with Sunny Leone.
We started shooting with this song.
It was very chilled out working with her. She is a thorough professional.
She has no hang-ups when she is on set.
Failure is part and parcel of life. Do you think we have taken the word too seriously?
Emraan: Yeah, we have. There's too much of stigma attached to the word 'failure'.
The most successful people have the highest failure rates because they learn what not to do.
Successful people have tackled obstacles and overcome them.
You can't always ride on that (success) wave.
There's no one on this planet who has had a life without that.
There are going to be good days and bad days.
It's true to every profession, including the film industry.
Esha: You have to accept failure beautifully.
If you are not confident, failure will break you.
I am here on my own terms. It's taken me a while.
I had a whole year of no films in these five years (of my career). I did only songs.
I didn't give up; I didn't want to.
I know I am hardworking, I have the talent, but it just takes a bit to come around.
But it's fine, I am still here.
I am still laughing. I am still at it doing my best.