'I have the best role in Baadshaho.'
'The film revolves around my character, so it doesn't get any better than that.'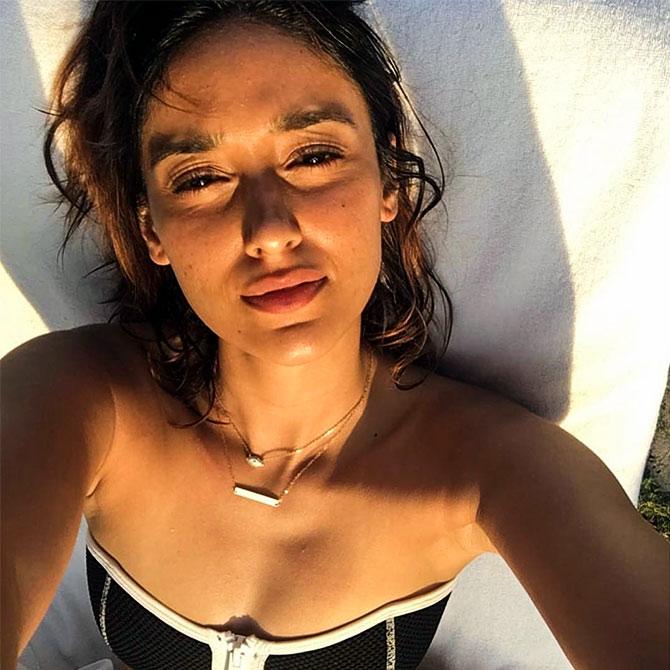 Photograph: Kind courtesy Ileana D'Cruz/Instagram
Clothes hang on a rack, footwear are neatly placed in a line.
Ileana D'Cruz seems to have had a long day with outfit changes.
She looks exhausted, but gorgeous in a white formal top, a black skirt and neatly tied hair.
Her legs are stretched out on the bed.
She insists she's not tired promoting her new film Baadshaho.
"We've just started," she says, with a smile.
Fresh from the release of Mubarakan, Ileana tells Rediff.com's Jahnavi Patel what to expect from Baadshaho.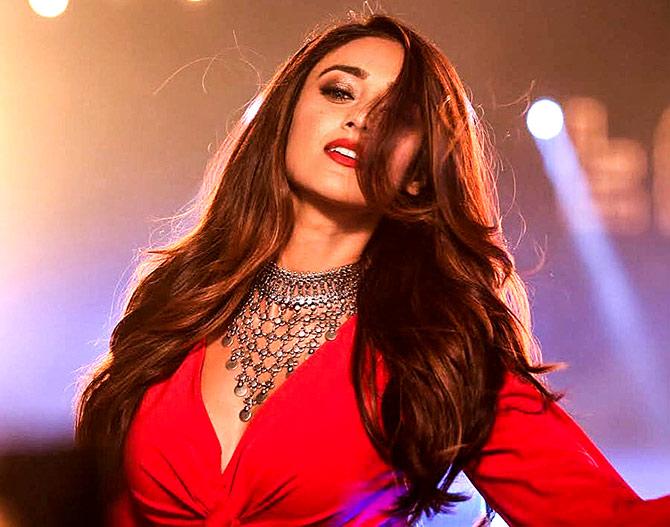 IMAGE: Ileana in Mubarakan.
Mubarakan got good reviews. Were you expecting such a response?
When Aneesji (Bazmee, director) narrated the script to me last August, I was laughing so much.
I was trying to picture who would play which role.
It's a film I would like to watch on a really stressed out day, something I'd probably unwind with.
I expected people to find it funny but when you've heard the script, worked on it for a few months and it's been on your mind for almost 10 months, you aren't sure.
Has it come out the way one expected it to come out? I don't know what people would think.
I watched the movie twice -- once with Arjun (Kapoor, co-star), the director and a couple of production people, and it was just 'haan, okay, it's funny'.
The next day I watched it with a houseful of people, at least 150, and it surprised me how much they were laughing.
The gravity of it all hit me. I found it even funnier then.
Our intention was to make people laugh and we managed to do that.
I was hoping people would like my bits at least. (laughs)
You have done films of different genres. Was that a conscious decision?
Absolutely. I didn't want to play the same old characters.
I didn't want to get slotted.
When I came with Barfi!, everyone expected me to do films like that.
I got two offers of playing a Bengali girl again. But I just didn't want to do that.
I don't want to get typecast.
I want to do commercial films, do something completely unexpected.
I want people to look at it and go like 'We didn't recognise you.'
That, for me, is my job as an actor.
I have been acting for a while now and feel that after a while, you're okay doing the glamorous stuff, you're okay doing the same old roles that you can sleepwalk through, but I'd rather take a risk and try something different.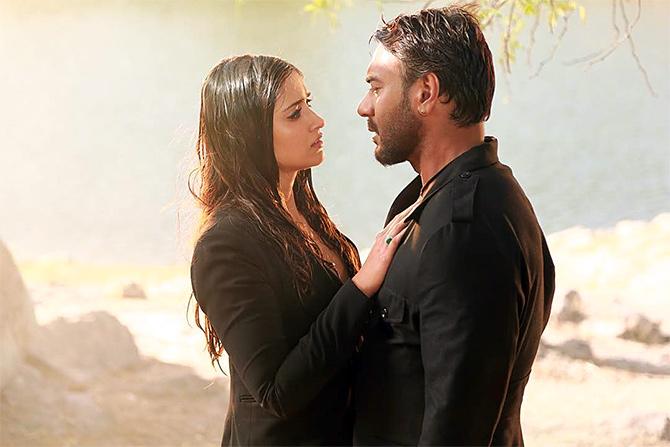 IMAGE: Ileana with Ajay Devgn in Baadshaho.
You've been a part of movies which have two lead actresses.Baadshaho has two actresses as well. Are you secure as an actress?
Whatever roles and films I have done, I have played the main lead.
I am happy with the way my roles have shaped out.
I have never worried too much about who is playing the other role because I feel your insecurity would show if you're positive that the other person has got a better role or that the other person will overshadow you.
If the other person does overshadow you, it's because of your shortcomings, not theirs.
They are obviously doing their job and doing a good one.
At the end of the day, it is the acceptance you get from the audience.
People either like you or don't.
As long as I am happy with my role, I have zero issues.
As far as Baadshaho is concerned, it's an absolutely outstanding role.
For me, it's not a two-heroine film. I feel I had the best role in the film.
The film revolves around my character, so it doesn't get any better than that.
Since it's a multi-starrer, is every character well defined?
Since we are six bad asses, every one of us has a story to tell.
Each one of us has a journey, but they are all linked to me.
It is set in 1975 during the Emergency, based on an actual event when the prime minister had the military come into a royal family's household, seize the loot and a lot of people were thrown into jail.
This film revolves around Geetanjali (Ileana's character) and the fact that she ends up becoming the queen because of her father passing away.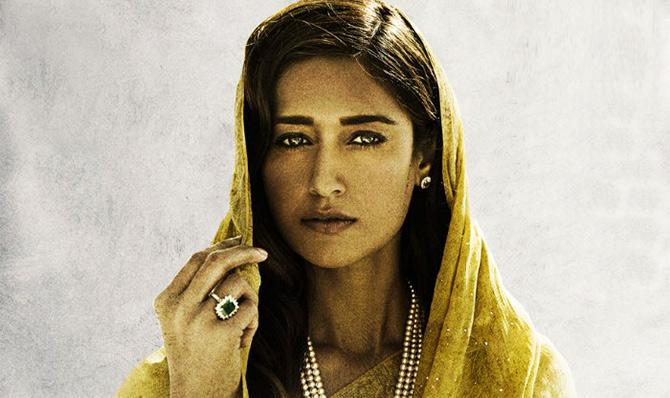 IMAGE: Ileana's look in Baadshaho.
To play a character based in a specific era, does more research go into it?
I have never done research for my roles.
The only research I would do is look up hairstyles or makeup references, maybe styling.
I have really worked on my look for Baadshaho. I was very particular about how I wanted to be seen in the film. Hopefully, it has worked out well.
I haven't done research for my role because the film is (a work of) fiction, based on an actual
I would rather stick to what has been written in the script than add my own inputs.
I didn't look up pictures or videos to see how people conducted themselves in the 1970s.
I had a great director (Milan Luthria) who had faith in me and let me do what I want.He guided me when it was required.
Do you like the 1970s style?
I love it!
We had the lovely big hair then.
In our industry, we had Zeenat Aman, Parveen Babi, all these lovely ladies.
I love the pants they wore then, the prints. It was so colourful.
It's like the style I like to wear. You see me in baggy pants, hipster jeans or bell-bottoms most of the time.
Was there ever a time when you felt like packing your bags and going back?
Yes, lots of times.
But instead of actually making such a drastic move, I decided to take a backseat for a while.
People said I took a break in between, I wasn't there for a while, and I replied that it was intentional.
I didn't want to sign films coming my way because I didn't think they were worth it.
I said I'd rather wait for a good script to come my way than sign anything just to be seen.
I'd rather do something else with my life, like visit my family.
I have had a pretty good life and have reached a stage where I am not okay with mediocre roles.
I am not okay with being a part of mediocre films.
I am okay with waiting and being choosy.