'Marriage is a practical solution in terms of bureaucracy, but it's not a real validation of whether your relationship is successful or not.'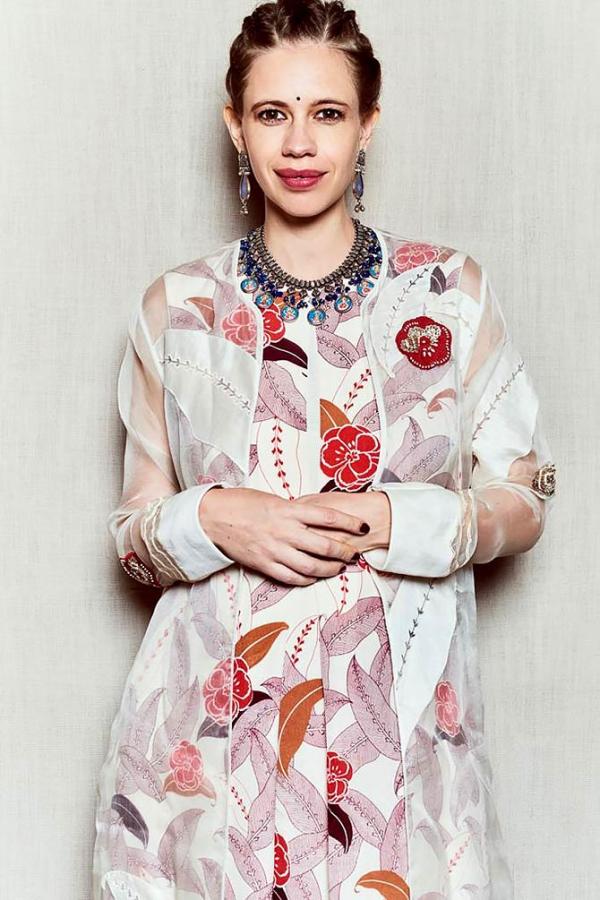 "My mother has been waiting to be a grandmother for so long!" Kalki Koechlin exclaims with a laugh.
The actress is about to enter her third trimester of pregnancy, and her eyes are bright with excitement.
It's also a good day for her -- "I don't have any nausea" -- and she's out promoting her new podcast series for the BBC, Kalki Presents: My Indian Life.
What was her first reaction to her pregnancy?
"I was shocked. I couldn't believe it. I told Guy (Hershberg, her partner) and he was thrilled, jumping all over the place. But I said I'm going to get another pregnancy test because I don't understand how this happened. We weren't planning a baby," Kalki tells Ronjita Kulkarni/Rediff.com with a smile.
Then she adds, "I do want to have children; it's something we had discussed. But I wanted that after two years. It happened quicker than we imagined."
"In the beginning, I didn't feel maternal at all. I was like, what is this alien invasion eating me up from inside!"
In fact, Kalki had been very passionate about *not* having kids when she was younger.
"There is so much of pressure from family to have kids as soon as you get married. Anurag (Kashyap, her ex-husband) had a daughter, so we did not feel the need to have children," she says, adding, "I had even considered tying my tubes, but my gynaecologist advised me not to do it."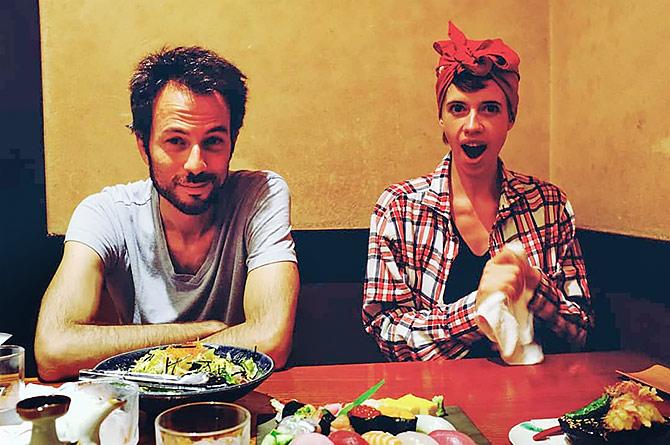 Kalki met her partner Guy, a classical pianist, on a vacation to Israel.
"Our relationship has mostly been long distance -- he's in Jerusalem and I'm here. The commuting is hard to balance when you are a busy actor. Every two months, one of us would go to the other country; the immigration (at the airport) know us really well!" Kalki laughs.
Did they ever consider marriage when the baby came along?
"We have never been averse to marriage," she answers. "We have been dating for two years and seriously discussing our future and kids together. But it was always after two years. Neither of our parents is giving us any marriage pressure, so when we found out we were pregnant, we didn't think that we have to get married now. It's wrong to do something out of hurriedness. Let's see. Maybe our child will be my bridesmaid!"
Being an unwed pregnant woman in India, what sort of reactions is she getting?
"I keep getting compared to Sarika and Kamal Haasan! And I'm like, you have one example from 30 years ago?" she asks incredulously.
"People are still stuck on this taboo of 30 years, ago but it's no longer a taboo really. People are in live-in relationships and they are deciding to have children. Even on their own... Sushmita Sen has done it. I don't think there is anything shocking about it in today's age."
"I personally don't believe in marriage for religious reasons. Marriage is a practical solution in terms of bureaucracy, but it's not a real validation of whether your relationship is successful or not."
What about social media? The trolls haven't been kind to her lately.
"People criticise you without knowing your background, without knowing you," she replies. "I have learnt not to take it personally because it isn't personal. That person doesn't know you and your daily life. It's just like you cannot let your ego go crazy when everyone says they love you; that's an illusion too."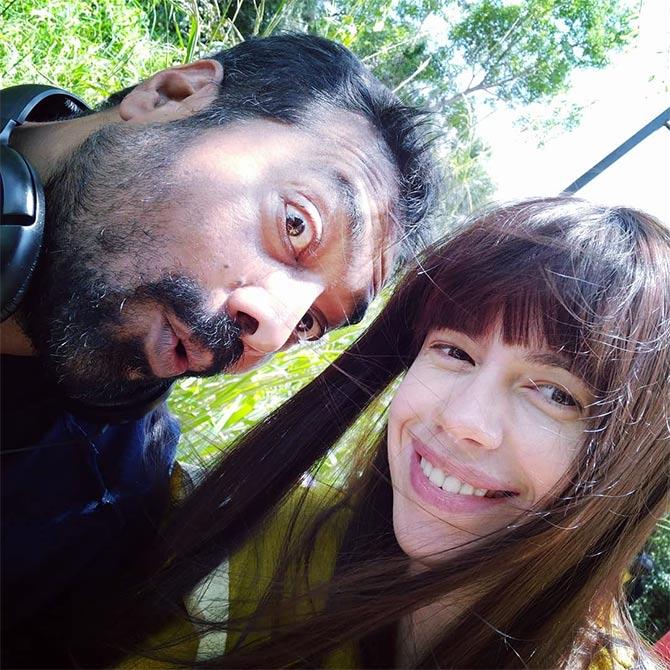 So whom does she go to for mommy advice?
"There's Rachael D'Souza from theatre, Konkona (Sensharma), my sister who lives in Paris... Her son is one and her daughter is five. She's given me all her baby clothes and her maternity clothes, so I am sorted," she grins.
The sister that Kalki is referring to is not her biological sister.
"She is my mother's first husband's second wife's daughter," Kalki explains, adding, "My mother had a divorce (before marrying Kalki's father Joel Koechlin), and her husband got remarried and had Kochi. She was also born in India. I am a year younger than her."
"My mother has also kept my baby clothes," Kalki says.
The paparazzi seems to love celebrity babies. Is Kalki afraid of how they may take to her baby?
"I do want my child to have privacy, but I will not hide my baby away in a storeroom! I want my child to grow up with real friends and have exposure to different economic strata, not just a certain social circle," she says.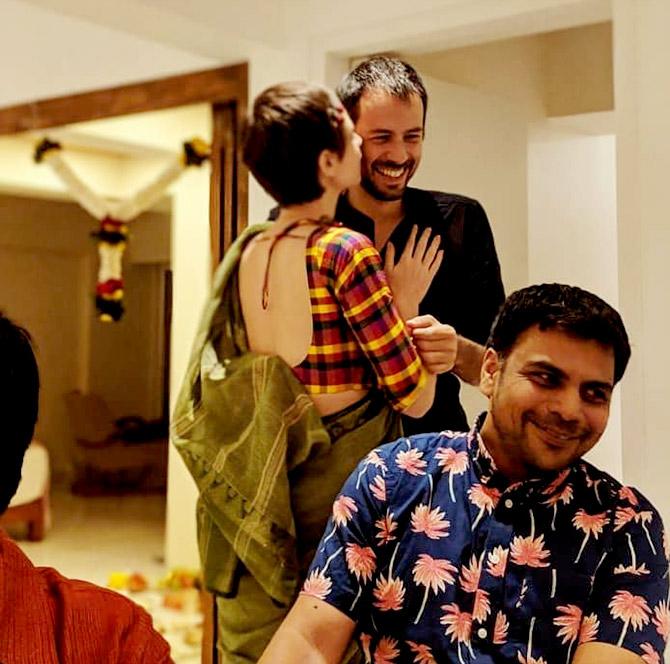 Kalki, who has been getting cravings for grapefruit, plans to have a water birth when it time for her delivery at the end of January.
"It's very good for the mother," she feels.
"My mother gave birth to me naturally in our house in Pondicherry. My father was holding a kerosene lamp because there was no electricity!" she laughs.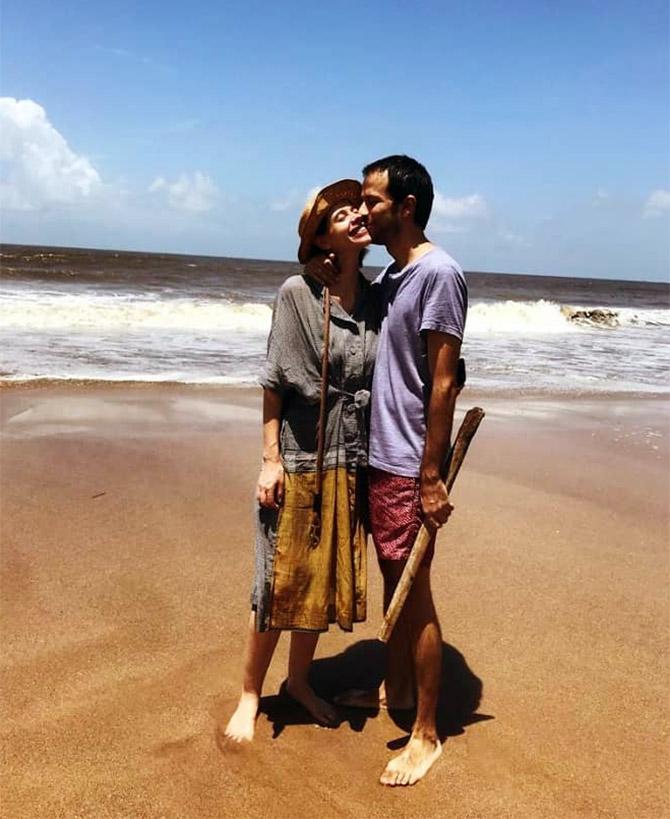 So what was Kalki's childhood like?
"Mixed," she answers. "I grew up in a fishermen's village outside Pondicherry. I would be barefoot running around the fishing nets, playing cricket in the gali with Tamilian friends. On the other hand, I had these very hippy parents who would teach hand gliding."
"I grew up speaking French at home, Tamil with my friends and English in school. I grew up without a religion at home, but I went to a Christian school so I was very influenced by that," she says.
Kalki admits that she was a lonely child, as her brother was 12 years older than her.
"He left (home) by the time I was eight or something. My parents were quite busy and I was in boarding school. I had a lot of teenage angst, and that's how I started to write poems," she says.
Is that when she wanted to be an actress too?
"I wanted to be an actor since I was seven," she answers. "I was watching Peter Pan and I wanted to be Tinker Bell! In school, in my first drama production I was a sheep in a nativity play. Then I was a singing tree. I finally got my due when I played Titania, the queen of fairies, in Midsummer's Night Dream."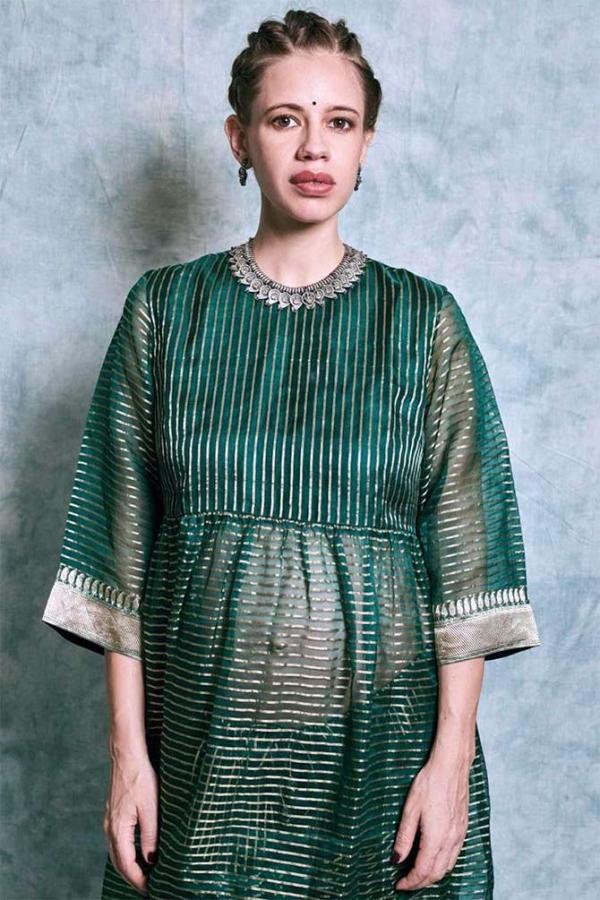 The Zindagi Na Milegi Dobara actress, who came to Mumbai 11 years ago to make a career, plans to go slow now.
"I will have to choose projects in a more selective manner and that I am prepared to do. I will take three months off on maternity leave and then slowly let work trickle in."
The work, she elaborates, is the second season of Made in Heaven and a play in December, 8 Months Pregnant.
"That will be my last project before I take leave," she says.
Will Kalki be based in India or Israel when the baby comes?
"Here," Kalki replies. "Guy is looking to find work here. At some point, I will return the favour and spend time there. We will have a travelling baby for sure."