'Women are so unsafe in our country... Leaving the country isn't a solution. We need to stand up for ourselves.'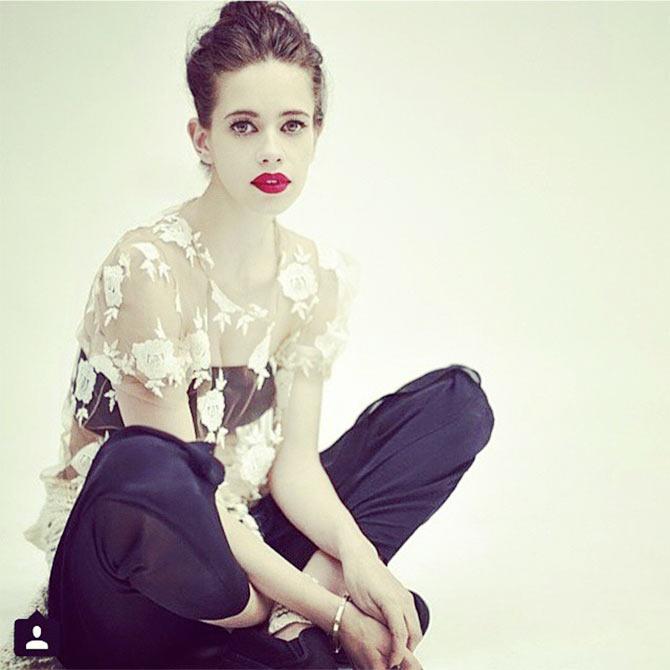 Photograph: Kind courtesy Kalki Koechlin/Instagram
Rape.
Violence.
Eve-teasing.
Menstruation.
Do's and don't's, rules to live, defined by gender.
But do these really need to define a woman's life?
No, says Kalki Koechlin, in this spirited interview with Tista Sengupta/Rediff.com. What is needed is change.
The effort needed for that change to happen, Kalki says, is not just the woman's responsibility. It is the responsibility of her parents. Her family. Her husband. Her children. And the society that she lives in.
In an interview, you spoke about being sexually abused at the age of nine and mentioned how 53 per cent of India's population is dealing with child sexual abuse.
How can we change the mentality regarding sexual abuse? How should parents and children deal with this issue?
It's probably a lot more than 53 per cent now. Most women I know were sexually abused in their childhood or have faced some kind of molestation. It's so unbelievably common.
Young kids and especially teenagers --- who are going to start falling in love, get sexually active with their hormones going crazy --- can't have a conversation regarding this with their parents.
It's important that parents are educated on how to talk about sex with their children. They need to openly talk to their child about practical things like explaining private parts.
Our parents don't even tell us when we get our periods.
I know there are cases when children have told their parents that they have been sexually abused and parents say, 'Beta, don't talk about these things.' This is the worst form of rejection a child can get.
It's the responsibility of the adult to make the child feel comfortable. It can't only be the duty of the school. In any case, our schools also do the bare minimum. Some alien biology diagram can't give you a real concept.
What role should the government play?
The government needs to invest in our educational system. In curriculum abroad, such as in Germany, educational sex videos are put up in schools for teenagers. These videos not only talk about sex in terms of biology, but also in terms of what it feels like to love somebody.
A kid can learn a lot of things at school, but when they go back to a traditional conservative family, he can't talk about his problems. So, just like child care centres, there should be centres for women to talk about their issues, centres where they get to know how to address their child's problems.
If parents choose to put their child in a progressive school, they also need to learn what progressive means.
How should girls deal with body shamers?
There's a lot of pressure on women to look in a certain way. It's not easy to live in a world that objectifies women.
You shouldn't feel awkward in your own body and constantly try to be an image for somebody else. You should to be comfortable in it.
Do you think women's empowerment and feminism are two completely different things?
I don't know why such a big deal is made about feminism. According to me, anyone who believes in equality between men and women is a feminist.
You might not want to label yourself as that, but if you believe that men and women should have equal pay and rights, you are certainly a feminist.
Feminism is a representation of women's rights in a patriarchal world where their rights are skewed and not balanced. For example, if we lived in a matriarchal society and men were treated badly, then the reverse would happen.
Women's empowerment talks about a society in which women are still so repressed that we need to teach them how to be empowered, just like in rural areas. So feminism and women's empowerment are related.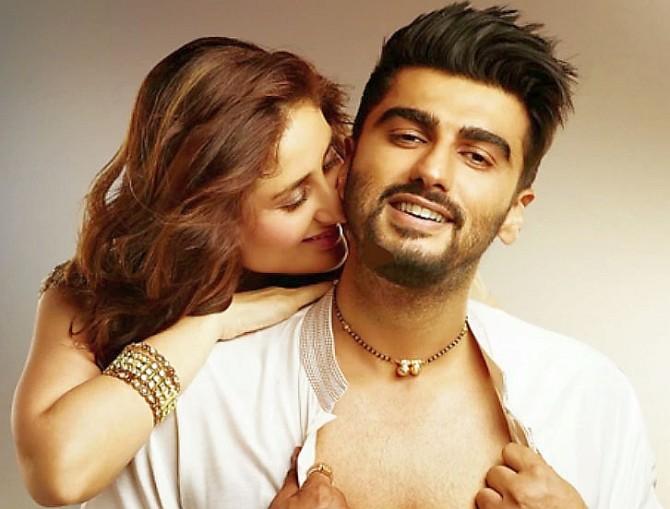 IMAGE: Kareena Kapoor and Arjun Kapoor take on gender stereotypes in their upcoming movie Ki & Ka.
What about eve-teasing, a common occurrence in every woman's life? How should women give it back to eve-teasers?
Today, we have the power of phones. You can click a video or a picture of the rickshaw driver if he is being abusive or annoying or if a guy is touching or staring at you. Something like what a girl did on a flight (external link). I think that was simply brilliant.
But then, each situation would be different. Most of the times, it's safer to ignore. But if you are with a group of girls and someone eve-teases you, you can certainly give it back. Sometimes, when you shame the person, they do get embarrassed.
In The Printing Machine, you not only question the catcallers and the rapists, but also the media.
We get so enraged about a certain issue for like two days. There will be so much hype on social media. Even the other forms of media start talking about it. Eventually, we completely forget about it.
That might happen because someone is being paid to not talk about it anymore. You need to have people questioning them and following up the story. That's responsible journalism.
I had intelligent journalists come to me and do beautiful interviews with all the right questions. But at the end, they very apologetically ask me about Anurag (Kashyap, her ex-husband), as their editor has asked them to.
Next thing is, when I read the article, I see a sensational headline. All the other interesting stuff is pretty much cut out.
I know it's not the fault of the journalist. She must have said that she wants to write the story in a particular way. But someone must have told her that it's not going to sell, so better to talk about the marriage status.
The media should give facts than opinions. When you have a case, it's very easy to sensationalise it and make shocking headlines. There's very little serious journalism happening.
Just like we need better writers in Bollywood, in journalism too, more educated writers are required. Stories need to be more objective than subjective. You can write an article which is sensational, but why not also write an article that speaks about something meaningful?
It's not about only blaming the media, even the audience should know what they want and what they choose to take.
IMAGE: Eve-teasing is rampant in Bollywood movies. Varun Dhawan teases Ileana D'Cruz till she succumbs to his charms in Main Tera Hero.
Do people really know how to use a social networking platform responsibly?
NO. Social media has allowed every jobless person to come out with the most random statements. You just have so much rubbish on the internet. And you can waste your day reading such random stuff.
It's like Yin and Yang.
Social media comes with immense freedom where you can put out your own statements. It's an important tool but we should value it. We tend to misuse it a lot.
How do you feel being a woman in India? Does the feeling change when you visit other countries?
Other countries are coping with such issues too. Why is it that most people only talk about India and its problems everywhere? I live in this country and so I am talking about it.
Every country has its own problems and intricacies.
With respect to women's issues, there are rapes all over the world. When I was studying in London for five years, I felt really unsafe. I lived in a pretty rough area of London and coming home at night was scary. There were lot of gun fights and rapes.
As an Indian, I feel that we are somewhere lucky, as changes have started to happen. For example, things have changed in the last six years in Bollywood. The heroines are starting to stand out in a film.
We have had Kangana Ranaut, Deepika Padukone and Vidya Balan play the role of a hero in films. It's very encouraging.
IMAGE: Protesting atrocities against women. Photograph: Utpal Baruah/Reuters
Indian men... what do they need to know?
I have so much advice for men (laughs). They need to know that their mother is, not their wife... and their wife will never be their mother.
Indian men mostly come from a generation where they have seen their mothers being at home. Now they are meeting women who are independent, educated and opinionated. They should treat women just like they treat their male friend or colleague.
Most importantly, they should know what women go through during their periods. Men who talk about women equality and their rights should come forward and support us.
It's not a men versus women fight. It's about men and women being on the same platform.
Is Incredible India 'intolerant' when it comes to respecting women?
Yes, India is intolerant towards women, at least when it comes to their safety issues. When I was shooting in Jharkhand, I was constantly being followed by two soldiers to ensure that I was safe.
Women are so unsafe in our country.
I don't think it's wrong to criticise one's country. It's a healthy way to improve things. In fact, people who love their country should discuss it. Criticising is a way to make something better.
Leaving the country isn't a solution. We need to stand up for ourselves.