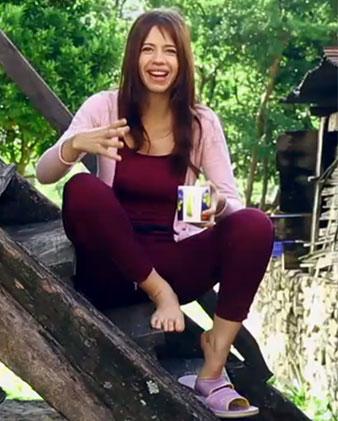 A first-of-its-kind travel show explores the special bond a father and daughter share.
Rediff.com's Anita Aikara speaks to actress Kalki Koechlin who set out on a journey to the northeast with her dad.
Some of the best trips in life are the ones we took as children. That's because we had our parents to watch out for us and take care of us.
Actress Kalki Koechlin took several road trips in her childhood with her father Joel Koechlin by her side. It's from him that she gets the travel bug -- her mother Francoise Armandie introduced her to books and literature.
With a flourishing career in show business, Kalki's trips reduced and so did the quality time she spent with her dad, an avid biker and photographer.
In her words, he is the "most incredible man in her life.". She proudly mentions that Joel wears multiple hats -- pilot, mountaineer, ski instructor, friend, philosopher, guide and her papa, of course!
Back in the 1970s, he hitchhiked all the way from France to India. After living on the streets of Banares, he headed down south to Pondicherry, where he met Kalki's mother.
Kalki had long wanted to take a road trip with her father, to relive those childhood memories. And that's how Kalki's Great Escape took shape.
On the show, telecast on the Fox Life channel in India, the father and daughter explore northeast India, riding on their Royal Enfield bikes.
Their journey kicked off in Guwahati and through the show, you see them travel to Arunachal Pradesh (and its different towns), Assam, Meghalaya and then end the journey at Shillong. In all, they cover 3,500 km.
Kalki shares some memorable stories from her northeast adventure with Rediff.com's Anita Aikara and reveals how easy it was for her to sacrifice her actress vibes and get into biker mode.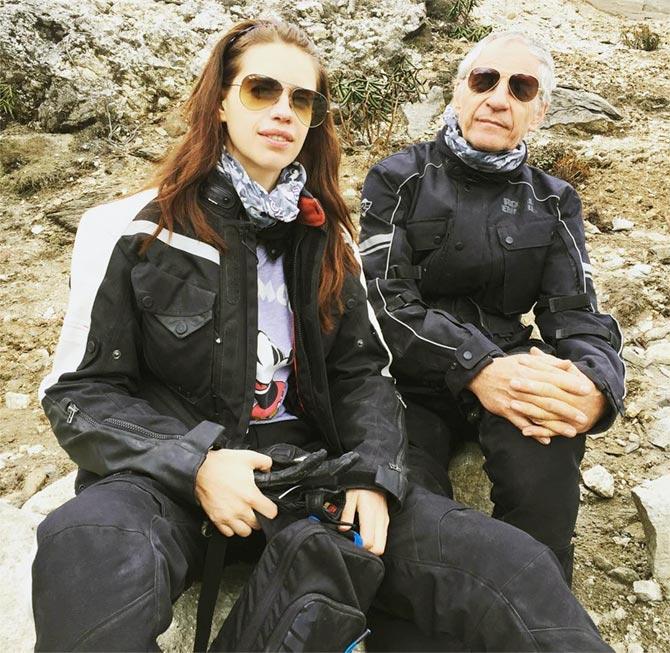 IMAGE: Kalki and Joel Koechlin, all set to take off. All photographs: Kind Courtesy Kalki Koechlin/Instagram
How did this trip take shape?
Dad and I have been planning a vacation to the northeast for quite some time.
Also, it has been a really long time since we did a motorbike trip.
It was then that Fox Life talked to me about a new travel show. They had wanted to do it in Australia.
I told them, "Look if you want to do a travel show, I'll rather do this (the northeast)."
Because I would get to travel with dad and explore a part of the country I had not seen before.
They liked the idea.
Was it easy convincing your father to take the trip?
He was a bit worried about the shooting part.
"Oh god! Do I have to be an actor now?" he asked.
I told him, "You'll get to do what you love and you'll get paid for it too!"
He was not too difficult to convince.
I think it was the only way we'd get to spend that much of time together.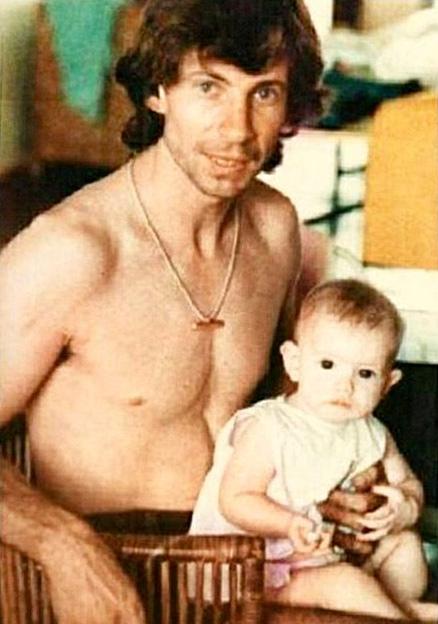 IMAGE: A childhood photograph of Kalki with her dad.
Do you travel with him often?
We have been on several trips when I was younger. I always rode pillion with him. We travelled to the Satpura National Park, Madhya Pradesh, when I was a teenager.
Then we drove all the way to Ladakh and have also done a lot of skiing in Kashmir in the winters.
For the last three years I haven't done much travel. But otherwise we were going every year. My last trip with him was to Gulmarg.
I get my love to travel from my father.
He has a great sense of humour and has always been the free-spirited person of the family.
My mother is more of the intellectual sorts. She introduced me to books and literature.
Dad is the adventurous sorts, who hitchhiked from France to India. He lived in Banares on the streets for six months, just like a proper sanyasi.
He then went south to the (Auroville) ashram at Pondicherry and that's where he met my mother.
What was the experience riding on highways on a Great Himalayan bike like? Was it easy?
Not at all! I was not confident of my biking skills.
On the first day of the trip, I was thrown right into the highway on a bike. That made me a bit nervous.
My father is a pretty good biker and he kept leading the way.
Sometimes we'd take turns and he would let me ride in front of him, especially on quieter roads with less traffic.
At times, he would go much faster than me, turn around, get bored, come back and ride with me.
By the end of the show, I was really giving him a run for his money.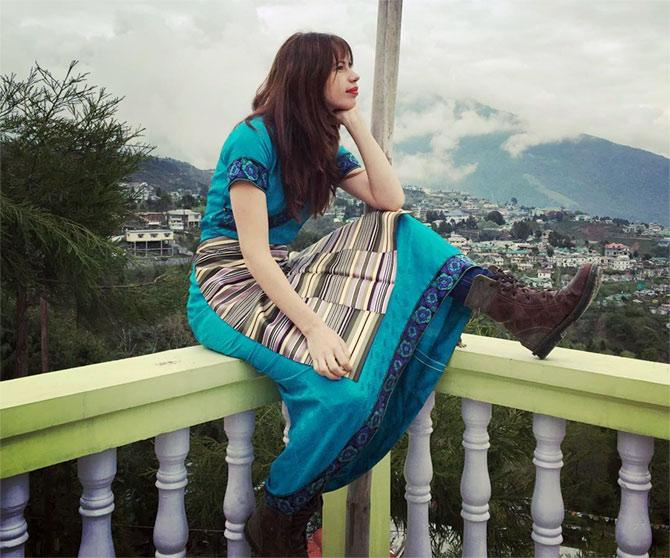 IMAGE: Kalki chills on a rooftop in Arunachal Pradesh.
How did you prepare for the show?
I was initially worried about the kind of bike I'd be riding.
I asked them to send the bike to me a month in advance, so that I could ride it around in Mumbai.
The Himalayan (which I rode during the trip) is very different from the other bikes.
It is lighter and higher. It's a dirt road bike and has a much better suspension.
I enjoyed riding the bike a lot. It is a great option for people like me who don't like riding heavy bikes.
Dad and I also watched the Long Way Down. It's a television series where Ewan McGregor and Charley Boorman undertake a motocycle journey on rough roads across different countries.
My father actually recommended that to me. He said, "Watch this! It will give you some inspiration."
Was there any script? How did your father, a non-actor, manage?
The idea of the show was to reach certain destinations at the end of the day. There was no script and no rehearsals. It was all improvised.
Dad was not really nervous, but he hated the process of having to repeat things.
He would ask, "Why do I have to shoot it again? I have already said it once in front of the camera."
And then when we would insist on repeating the story, he'd tell some other story.
Thankfully, most of the times, we didn't know the cameras were rolling.
The idea was to try and capture us in the moment.
The show marked the first time a father-daughter duo of OCI holders crossed the Arunachal border check-post!
We faced some difficulty there. It's just the white skin. People are not used to it.
The officials told us we needed permits to cross the Arunachal border. They thought we were foreigners because of the colour of our skin.
I tried convincing them and then finally one of them recognised me from Yeh Jawaani Hai Deewani!
People have often asked me, "Aacha aap Indian ho? Aap Indian nahi lagte ho."
I have got used to it. It's part of me and who I am now.
There are several people who don't know that I speak Hindi. At times they talk about me in Hindi, when I turn around and reply in Hindi, they get shocked.
IMAGE: Kalki's spirit of adventure is evident in the show.
People think you have to look Indian to be Indian. What do you think of it?
Yes that happens! Even people in the northeast suffer from that.
They were saying the same thing, "Why are we not looked at as Indians? We are looked at as Chinese, etc."
That is such a sad thing. India is such a diverse country and we have such different looking people all over. More awareness is needed, I guess.
You met a few fans during the trip...

Oh yes and dad found that extremely cute. "So nice these people are," he would say.
He is a proud father and was thrilled that his daughter has become a symbol of women's rights.
In one of the episodes you will see fans coming up to me and saying that they have been inspired by me.
Dad has never told me that he is proud of me. But through the show, I got to know that.
Did you face any challenges?
Once dad fell off his bike. He was so confident on the bike and it's funny how he always kept going off on the road.
So one day when I was riding, I just saw the top of his bike on a big pothole.
I didn't see dad because he was at the bottom.
No one witnessed what happened, but dad claims that a truck came along and pushed him off the road. I am not sure if he was being overconfident or not.
Luckily, he escaped without any major injuries.
Other than that, we didn't face any challenge.
We rode for eight hours daily and wrapped up the entire show in two weeks.
We never rode at night, as I was not very confident riding in the dark.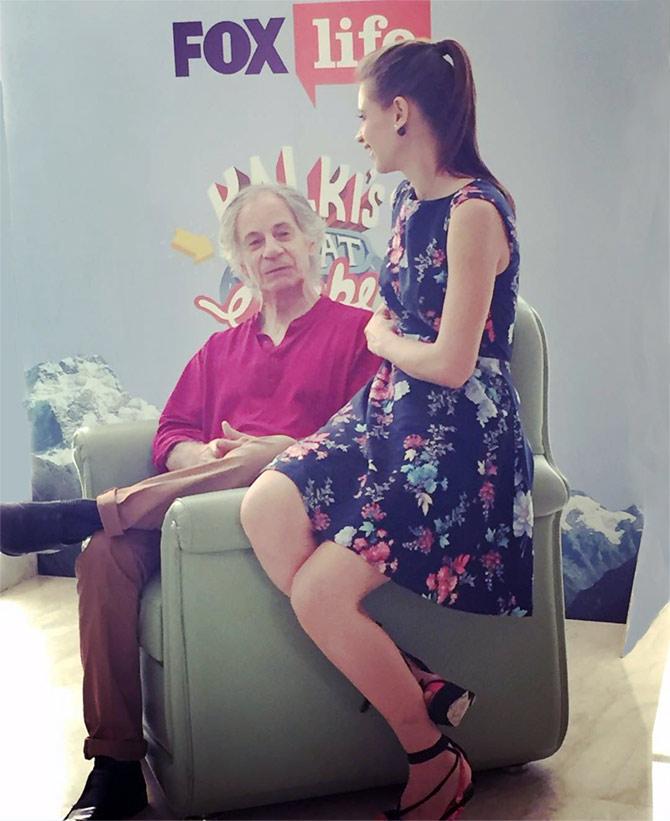 IMAGE: The father-daughter duo at a promotional event for the show.
Among the two of you, who is the one in command?
I tend to be the smooth talker. Dad loses his patience very quickly.
Also, he doesn't speak the language, so that is a challenge for him.
But on the road he was in command. He is very fit even at his age as he goes trekking and cycling.
Your dad is a tea person... what about you?
I like my coffee. I am a South Indian filter coffee person.
You mentioned on the show that you'd use Google maps. Did it actually work there?
No! It did not. There's no 3G in half those places.
As we were riding, we noticed 4G advertisements placed everywhere. But there were so many places with zero network.
Thankfully, dad had a map with him.
Did you eat something out of the ordinary there?
Yes! One dish which made me cry was the silk worms.
They were horrible. It was crunchy on the outside and gooey on the inside.
My father forced me to have it at the end of a really long day and I was so hungry.

Arunachal has a lot of food variety and so does Assam. Only Meghalaya is hardcore non-vegetarian. But you will find basic food like dal and chawal everywhere.
We would eat light in the day and stop by at some small dhabas. There are plenty of light food options like thukpa and momos.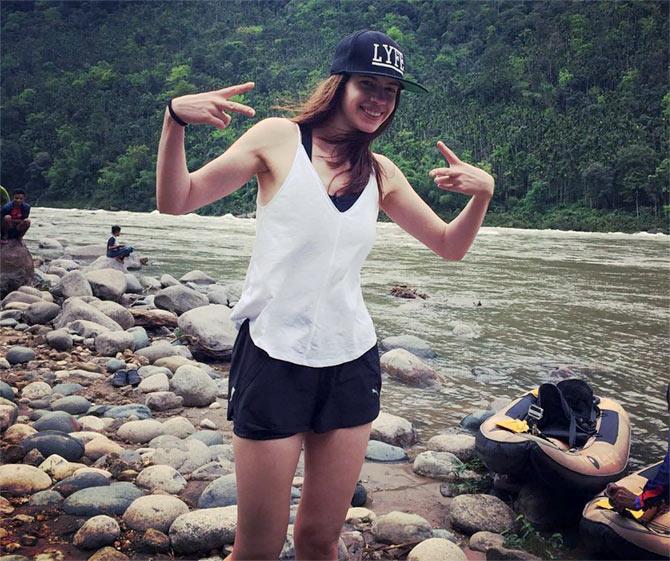 IMAGE: The show has plenty of fun moments with Kalki trying her hand at kayaking and archery. Here she is just about to race her dad on a kayak.
How was the rice beer you had at Sangti village?
It was really good. My father doesn't drink much. But he had so much of the beer that I was really surprised.
He never drinks like this!
I challenged him and by the end of it, he was just gulping it down.
What were the precautions you took during the trip?
We travelled light. In the northeast you need to be ready for any weather because we literally experienced heat, rain, snow and hail.
It's best to be prepared and well-equipped with waterproof gear. It is good to travel in a group, especially in isolated places.
We would start our day very early at 5:30. There was nothing to do at night, so we ended up sleeping early.
You must carry your own toilet kit. Sometimes the conditions of the toilets are not great --- some of the public toilets were very, very dirty.
In most places people were very sweet and accommodating. They would welcome us to use the washroom in their house.
What's that important part of travelling that people often miss out?
To be responsible towards your environment.
When a place becomes popular, tourists come in large numbers. But they need to learn to treat nature with respect.
You can see Kalki's Great Escape every Saturday on Fox Life at 8 pm. Repeat telecast: 10 pm, Fridays.