'Sometimes, I wish someone would tell me that this will happen at this point in time, so I know how my life will be.'
'I don't know what my evening is like.'
'I don't know what my tomorrow will be like.'
'The uncertainty sometimes takes a toll on me.'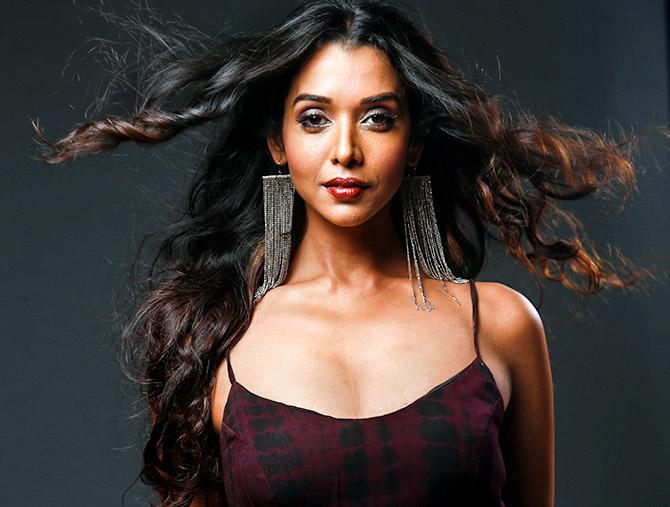 Anupriya Goenka seems to have become the face of the digital platform.
She has been seen in a slew of Web series like Criminal Justice, The Final Call, Abhay and Sacred Games, and there are more in the pipeline.
The actress, who has featured in films like Tiger Zinda Hai and Padmaavat, will also be seen in the Hrithik Roshan-Tiger Shroff face-off, WAR.
"I am looking for that one role, which has it all, and will take me through a journey of some sort. I hope I am walking towards it," she tells Patcy N/ Rediff.com
You featured in two big projects, Tiger Zinda Hai and Padmaavat. Did work start coming in after that?
Yes. I think after these movies, my image really changed.
My work got recognised.
More and more people got to know me.
It took some time for me to realise that I have fans. It still feels weird that there are people who follow my work.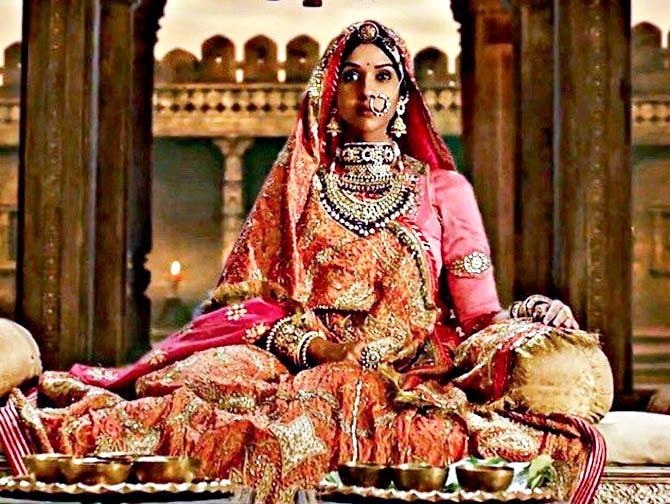 How have you changed personally?
I haven't changed at all.
I am still as obnoxious!
I am a reserved person, and that hasn't changed.
My friend circle is pretty much the same.
The only thing that has changed is that I used to audition a lot before; now, there are narrations.
Now, people approach me for projects, and that's a blessing.
There are some events that I go to, which I didn't earlier, and that has added to my routine.
I have my own team now. I have a stylist, a makeup artist, a PR team.
It's great because they support you; they can make or break you as an actor.
How expensive has it become?
Thankfully, I have been getting work and I am doing well. But it's a dent on your pocket for sure.
It is a huge expense that you have to maintain.
I come from a space where vanity was really considered vanity, like spending two hours in make up or spending 'x' amount of money on clothes.
It's against my DNA.
But you have to do it, it's a part of your job.
I am still learning,
I think I have far less as events as many others do.
I can't even imagine how A-list actors manage their lives. There must be another kind of pressure and another kind of management behind it.
But I don't let it be the most important thing.
I am here as an actor. I enjoy acting and that's the main reason I'm here.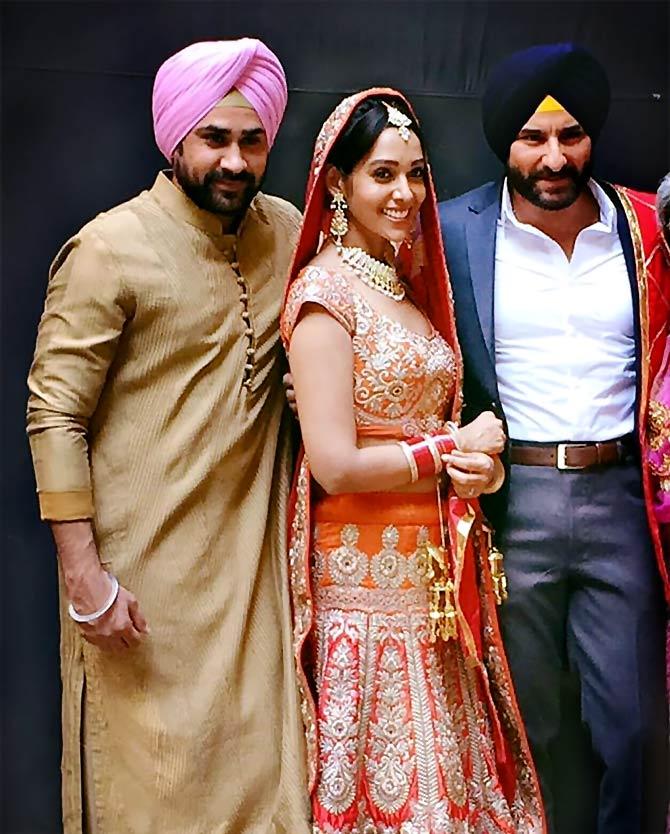 How did you get Sacred Games?
I had auditioned for it in July 2017.
I was in Dubai, shooting for Tiger Zinda Hai, so everything was planned over the phone.
In the first season, we did have scenes for Megha, Saif's ex-wife, but we could not keep them because they did not want to divulge into his personal life.
This season, there will be bigger graphs.
The experience has been fantabulous, not just because it is such a big series and has done so well but primarily because the team is fantastic.
The production house, Phantom, and Anurag (Kashyap), Vikram (Vikramaditya Motwane) and now Neeraj (Ghaywan) and all the ADs were so good.
They were all on the same page and very respectful.
What was it like working with Saif Ali Khan?
Saif is adorable.
He's one of the best stars I have worked with; he's so comfortable.
He's extremely down-to-earth.
His body language is so casual and simple.
He would introduce himself to everybody, even the ADs.
He's very erudite and proper.
In the first season, we had an intimate scene that is not in the series now.
I was nervous because I don't know how to be with a star.
I have done intimate scenes before but at my own level, where I knew what the chemistry would be.
With Saif, I was nervous because I did not know what was okay and what was not, and how I could tell him.
He was too much of a gentleman to even discuss.
After couple of takes, we did discuss, and he said, 'Oh, you're okay with that?'
I said yes.
So he said, 'Oh, I did not understand. I was confused.'
During another intimacy scene, Vikram said, 'He's more nervous than you. You need to make him comfortable.'
It's very important for him to know that the other person is comfortable.
After every take, he would ask me, 'Are you okay?'
After a while he understood I was okay, so I started asking him, 'Are you okay?'
One can have great conversations with Saif.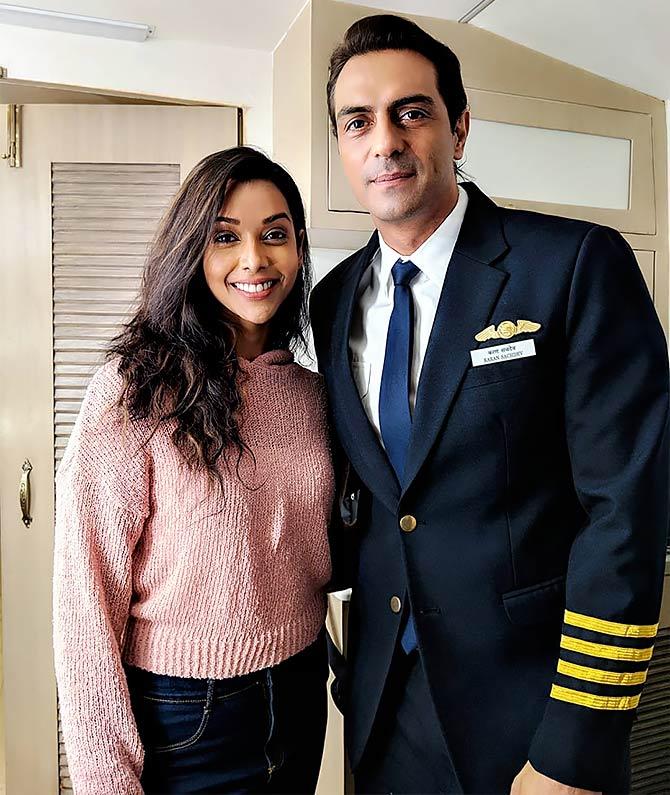 You will be seen in Yash Raj Films' WAR next.
YRF feels like family.
They keep their actors very happy.
Even if I am not working, I know they are there somewhere; I can reach out to them for advice or help.
You have done quite a few Web series like Abhay, The Final Call and Criminal Justice. Do you think Web series is the way to go?
Absolutely. This is one of the best time for a creative person because you do not depend on a particular platform to express yourself.
There is such variety, you get to work with different people. That's another high.
It's not only about your role, it is also about who you are working with.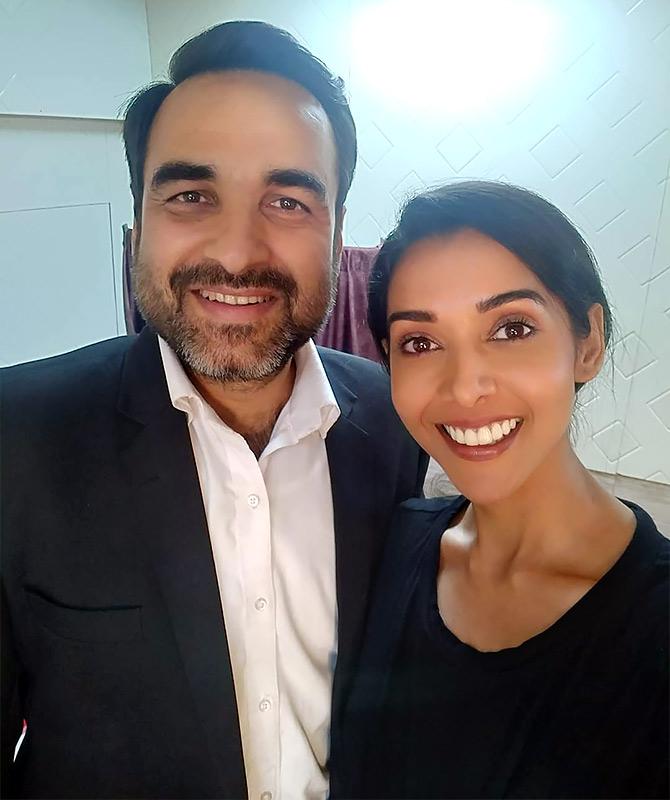 How do you choose your work?
Instinctively.
I have three to four parameters, primarily, the role and the script.
If you like the script, if it's saying something, if it's meaningful and interesting, I want to be a part of it.
Then comes my role, whether it is satisfying and utilising me properly.
Will I be able to learn something from it?
Sometimes, you do it for the director that you want to work with, or the production house.
I am doing Asura primarily because Tanveer (Bookwala, director) is a friend of mine.
I read the series and enjoyed the content.
I also wanted to work with Arshad Warsi. We were supposed to work in an ad but that did not happen.
What is Asura about?
Asura is a thriller.
As human beings, we have a good side and a bad side and it is upon us who we let take over.
It talks mythology, and keeps going back for referencing.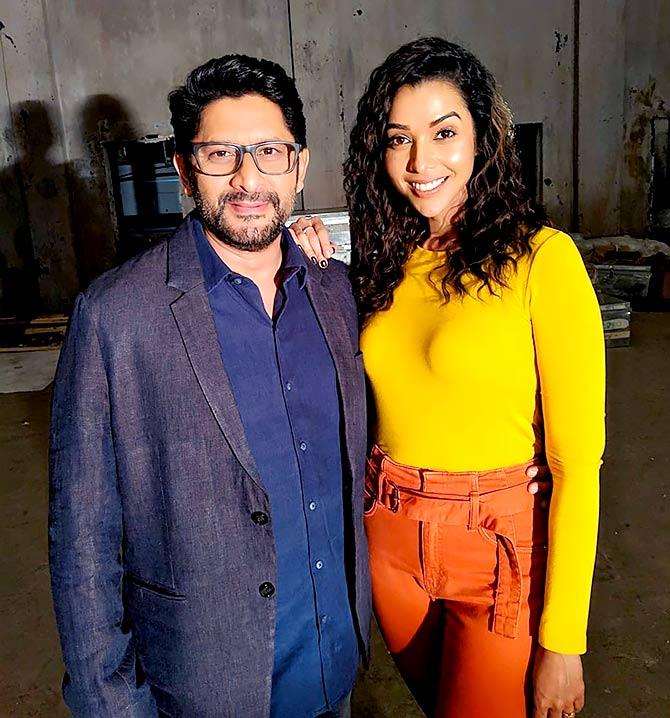 How do you balance film, digital, ads, short films...?
Last year, I did three or four ads but this year, I just did one.
Ads excite me.
Obviously, the monetary part matters too.
Ads are getting very competitive, so you just can't pick up anything.
I enjoy doing it as ads have been my bread and butter for the first four, five years of my life in this industry.
I survived only because of them, so they will remain special.
You played a lesbian in the Myntra ad. Any apprehensions before doing that?
Not at all. I did it because it was a lesbian role.
The money was not good at all.
None of us did it for the money, it was because we related with the script.
It is India's first lesbian ad.
People will remember it.
Nobody trolled us, I didn't get any bad messages.
It made me feel that India is ready to accept such relationships.
Director Shoumik Sen Gupta did a great job.
How do you look at your career so far?
I have always been working; that's a big blessing in this industry.
I take care of my family.
I have collaborated with people and have done roles that require talent and a certain amount of performance.
I have worked with teams which expect no less of you.
I have been able to learn from each one of them.
I am still looking for roles that will challenge me.
I am looking for that one role, which has it all, and will take me through a journey of some sort. I hope I am walking towards it.
We had spoken in February 2018, and I had asked you if small roles frustrate you. You had said yes. Is it still frustrating that you have to still look for better and bigger roles?
I don't think I can say I am frustrated because of that, as it's a journey for everyone.
Saying that it frustrates me is like saying I am the most talented one and they are not.
There is no dearth of talent today, and everybody is here to work.
So obviously, some work will go to me and some to someone else.
What is frustrating is the wait because it's very uncertain. You don't know where you are heading.
Sometimes, I wish someone would tell me that this will happen at this point in time, so I know how my life will be.
That's why I loved the corporate structure because you know that you are going in a certain direction.
But here, you don't know.
Today, I am doing this interview with you.
I don't know what my evening is like.
I don't know what my tomorrow will be like.
Everything is so haphazard.
The uncertainty sometimes takes a toll on me.
But it's also exciting.
I have got used to this lifestyle now.