'What you see is the depiction, not the glorification.'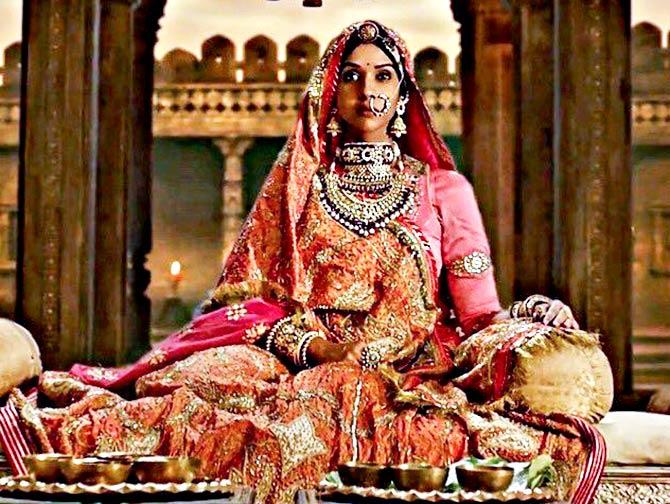 IMAGE: Anupriya Goenka, who plays Shahid Kapoor's first wife in Padmaavat.
It's hard to be noticed in a film starring Deepika Padukone, Ranveer Singh and Shahid Kapoor.
But Anupriya Goenka made her presence felt playing Shahid's first wife in Sanjay Leela Bhansali's Padmaavat.
Anupriya has been an actress for six years now and has done roles in Bobby Jasoos, Daddy and Dishoom.
She got noticed in the Salman Khan starrer Tiger Zinda Hai, and now, of course, Padmaavat.
Anupriya tells Rediff.com's Patcy N about her journey from Kanpur to Bollywood, Bobby Jasoos to Padmaavat.
You played Shahid Kapoor's first wife in Padmaavat. It's an important character, but the film has stars like Deepika Padukone, Shahid and Ranveer Singh.
Nagmati is Maharawal Ratan Singh's first wife. She is a very self-centred, materialistic, person. Sanjay Sir wanted those qualities highlighted, but at the same time, he wanted a performance that was not in the face. He said she should look sweet and vulnerable as well.
I loved working with Sanjay Sir. Working with him and being directed by him was a high. I learnt a lot.
I see this as an important character. She's the reason why the two men met. Her main role in the film is to highlight the perils of ego, of not being magnanimous enough to think of the greater good.
She does not have the characteristics that Padmavati has and that's why she is constantly fighting within herself. She tries to fight Padmavati's aura.
It was a great experience for me to get attached to a project like that.
How did you get the role?
Casting director Shruti Mahajan referred me to Sanjay Sir.
Usually, you do the rounds of auditions and then meet the director after a long time. Here, I met Sanjay Sir first, then he briefed me, approved my look test and personality and then I auditioned for the role.
It went on for a couple of months and finally, I got the role.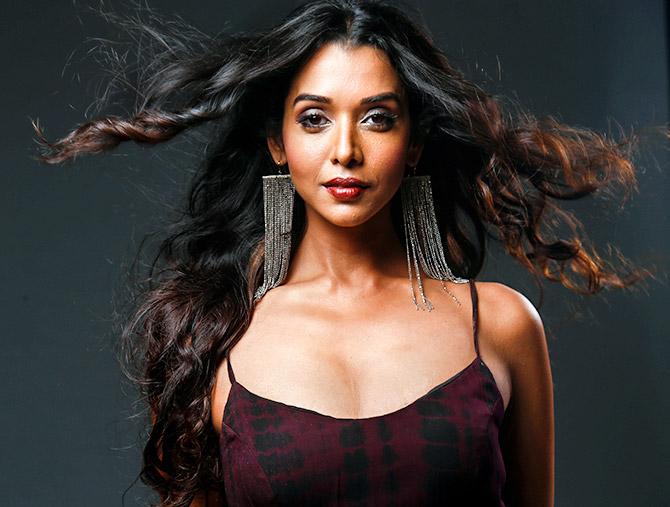 IMAGE: Anupriya, as she is in real life..
What was it like working with Deepika and Shahid?
I got to learn a lot.
I love the way Deepika carries herself. She is very dedicated and hard working. She's like the girl next door, but with an elegance.
Her tuning with Sanjay Sir is fantabulous. Of course, she's done three movies with him, but it is not easy to portray these roles so beautifully.
I was completely in awe seeing her dance on Ghoomar.
Shahid is very hard working and dedicated. He gives you your space. And yet, he is there to support, encourage and guide you.
A lot has been said and written about the jauhar scene.
What did you think about that, and Swara Bhaskar's open letter?
I am proud of that scene.
It's breathtaking and an extremely emotional scene.
Just that one scene communicates a lot. It is very powerful.
I have seen people in the audience get unnerved.
About Swara's opinion, when a film-maker makes something and presents it to the audience, it is out there to be opined over.
I respect Swara's opinion; it is her right to have one.
But to me, personally, I feel it is a story based in the 13th century. It clearly depicts what happened then and I can relate to that emotion.
For me, jauhar was not done because the society was patriarchal or that the men wanted their women to die after their deaths so that nobody else could abuse them.
It was done because there was no other option.
In the 13th century, if you are taken away by invaders, you would be facing a life of brutality.
An honourable death would be far better than that kind of a life. You cannot relate to that in the 21st century.
What you see is the depiction, not the glorification.
While performing that scene, we were transported to that time because the sets were so beautiful.
To say that we infused a negative thought to the 21st century mind is not true because our audience is very intelligent.
They understand what is meant for cinematic experience and what is the depiction of the story in the 13th century, rather than getting influenced in a wrong way.
The film is doing well, so it means the audience is relating to it and loving it.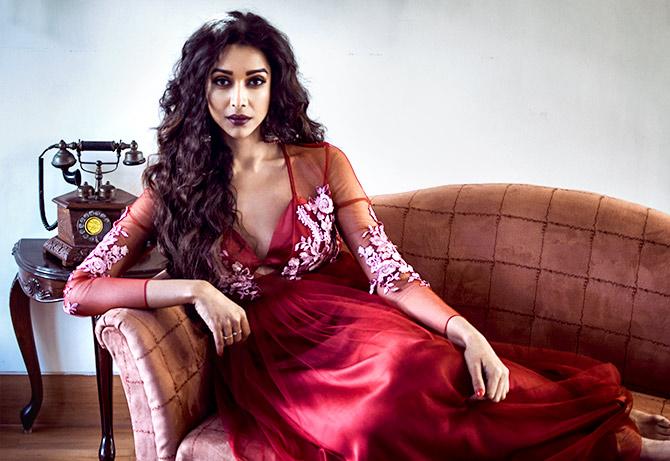 IMAGE: Anupriya, as she is minus the grease paint.
Tell us about yourself.
My father had a garments business in Delhi which shut down.
After I finished my education, I entered the corporate world.
My interest in acting started when I was in Standard 12, when I did a workshop with an NSD extension for students.
We did plays together, and that experience changed me.
I did not want to pursue acting as a career then.
I shifted to Mumbai, and worked in the corporate world for four years and bought a house.
I brought my parents to Mumbai, and that's when I thought of taking a break and give an acting career a chance.
I started with theatre.
How did you convince your parents?
I did not come to Mumbai to act. I came here to look for a job as our business had shut down, and it was a difficult time for us.
I booked a flat without even having a job.
Since I come from a business family, investments come naturally to me.
Once I gave the down payment, I took up a job in a call centre to pay off the loan.
I started working when I was 17. After working for seven-eight years, I informed my parents about my acting decision.
I took a three month break to do theatre. I was going to return to my job, but I didn't.
I carried on theatre on and off, and kept shifting between jobs for one-and-a-half years.
After that, I started doing advertisements, as I needed the money to survive.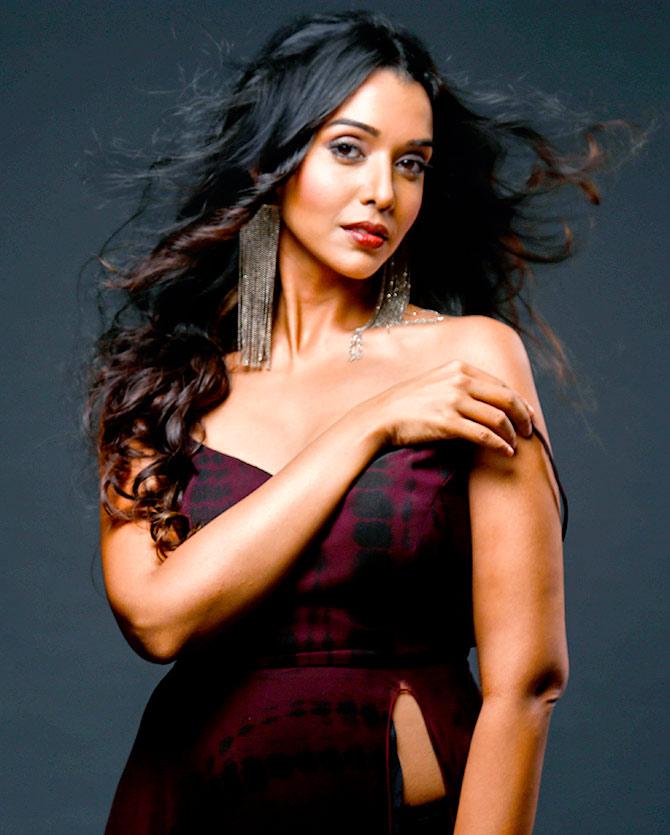 IMAGE: Anupriya began her career in Telugu movies.
Your first acting break came with 2013's Telugu film Potugadu.
I was first offered the Telugu film Paathshala, but it released after Potugadu.
I was shooting for an ad in Malaysia when I got a call from Chennai. Somebody had seen my pictures and liked them.
I met them in Mumbai, and auditioned for the role. The next day, I signed on.
Paathshala took 10 months to get made. It was a very grueling process.
During that time, my Bharat Nirman campaign with Pradeep Sarkar as well as Potugadu happened.
How difficult was the Telugu language?
Very difficult.
During theatre, I had never faced problems with my lines and I was very proud of myself.
But when I was doing Telugu movies, I had to memorise my lines and I am not good at that.
I had to understand the lines, so I would ask my coach to teach me the pronunciation and meanings of each word. It was quite tough.
Your first Hindi film was Bobby Jasoos.
I stayed in Hyderabad for a long time (for the Telugu films) and needed a break.
I wanted to come back to Mumbai. The first film I signed when I came back was Bobby Jasoos.
I took it up because I liked the production house and have always been fond of Vidya Balan.
But I was concerned about playing a small part in an established film. Dia (Mirza, producer) assured me that it was a beautiful part, so I took it up.
I'm glad I did it because the characters you play are more important than the length of the role. Plus, the experience counts.
Since then, I have chosen my characters, not the length.
You did a small role in Dishoom. Does doing small roles get frustrating after a while?
Of course! As actors, we go through uncertainties on a daily basis. I don't think it ever stops.
The only good thing was that I had great ads (Anupriya has done ads for Coca Cola, Garnier, Stayfree, Kotak Mahindra, Pepperfry and Dabur), which gave me a lot of exposure.
It does take a while to get a role in which your performance gets noted.
I have done a film with Nagesh Kukunoor called Maya. I'm waiting for it to release.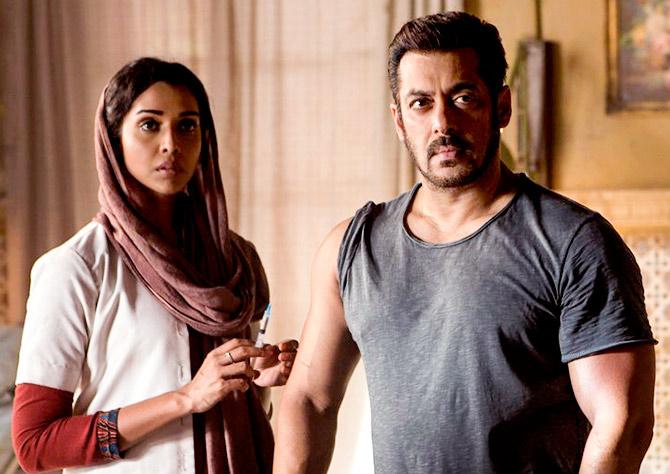 IMAGE: Anupriya with Salman Khan in Tiger Zinda Hai.
You auditioned for Sultan, but bagged a role in Tiger Zinda Hai.
I have been in touch with Shanoo (Sharma, casting director) for a year or two.
I had auditioned for Sultan for two weeks -- I had auditioned for Anushka Sharma's part. It was like climbing the ladder.
It was basically the same team for Tiger Zinda Hai -- Ali (Ali Abbas Zafar) was directing it. I had had a lot of interaction with him during my auditions during Sultan.
So when Tiger came to me, I auditioned for Poorna's character and went through a couple of rounds. Then, I got selected.
What's it like to work with Salman Khan?
Really nice. Salman Sir has a divine personality. He has an extremely caring attitude towards his co-stars.
He is very giving, honest and chilled out.
It is very easy to depend on Salman Sir.
How has life changed after Tiger Zinda Hai and Padmaavat?
It has changed quite a bit. The kind of love and affection I have been on social media is overwhelming.
People in the industry have come to know about me and have appreciated my work.
I am getting interesting offers.
People recognise me on the streets sometimes. They take pictures with me and it is quite overwhelming because sometimes, you don't know how to react to all this.