'What is the fun of making a film without any message?'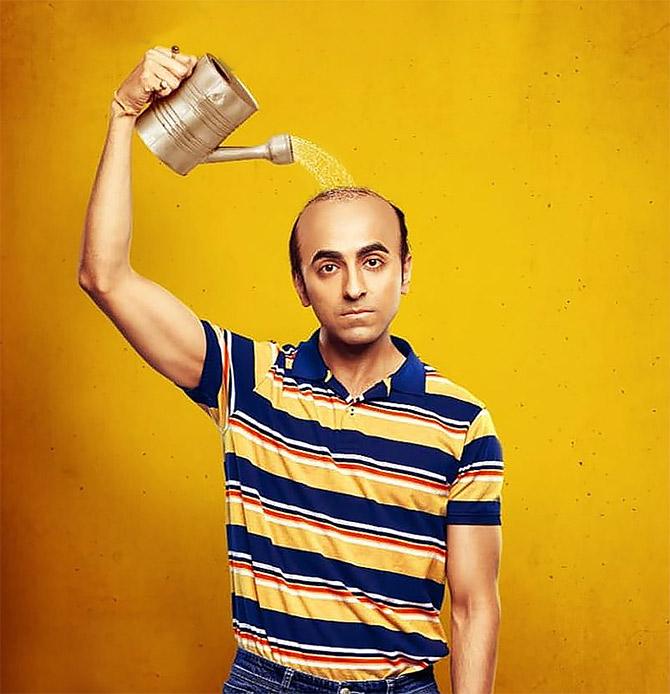 Ayushmann Khurrana has had six back-to-back hits in three years.
He likes to tackle various issues that the common man faces and seems to have mastered the art of playing diverse characters with ease.
He ends the year with Bala, wherein he plays a young man suffering from baldness.
"The word 'takla' is quite derogatory. It is not celebrating self-love," Ayushmann tells Rediff.com Contributor Mohnish Singh.
You have delivered six consecutive hits at the box office. Was the success so hot that baal ud gaye and you have become Bala?
(Laughs) I have ventured into far-fetched territories like sperm donation and erectile dysfunction.
This (baldness) is one of the most common issues. Most of my friends are suffering from it.
They are losing hair in their late 20s and 30s.
I have met both kinds of people -- the ones who are bothered about balding, and those who don't care at all.
The idea is to give the latter more prominence -- you should not be bothered about it.
That is the message of our film.
What is the fun of making a film without any message or value creation?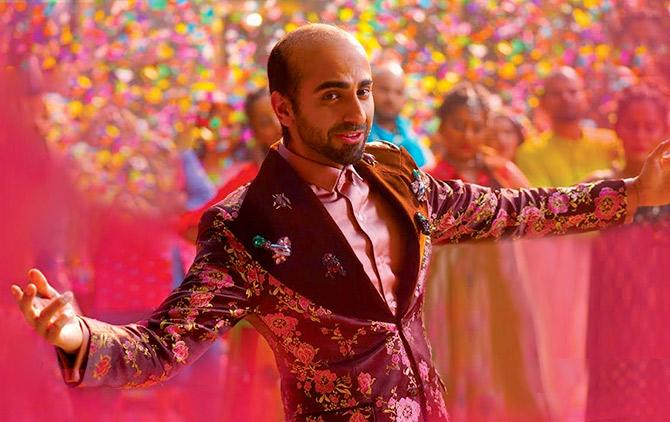 What do you have to say about comparisons with Ujda Chaman? One of the latter's promotional communications says 'Takle Ki Love Story'.
The word 'takla' is quite derogatory.
It is not celebrating self-love.
Bala is not about just about receding hairlines or baldness, but is about discovering yourself and loving yourself, more than anything else.
We shot our film first and we announced it first.
At the same time, there is just one line that is similar. Otherwise, it is a different film.
I have seen the south film; our film is completely different.
Does it bother you that both movies on a similar topic have almost no gap between their releases?
That happened with Bhagat Singh also (as many as five films on the freedom fighter released on the same day in 2002).
The film which is good will do well.
You should be confident about yourself. We are very confident.
It is a beautiful film with one of the best scripts I have ever read.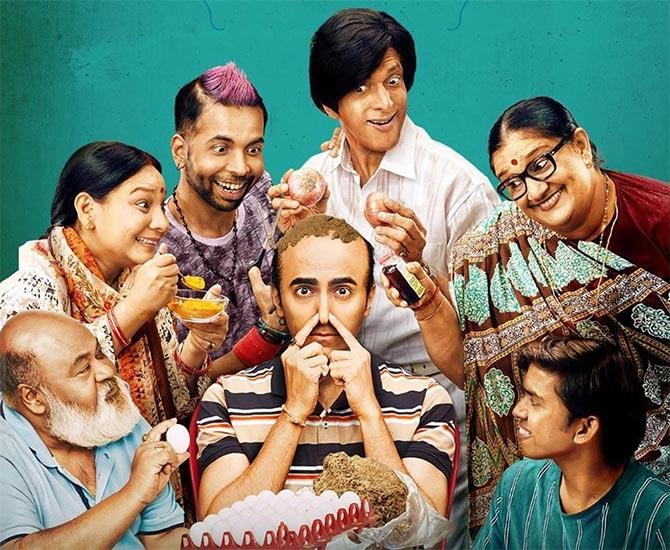 How challenging is it to pick different subjects and characters?
Of course, it is difficult to choose topics that are rare and novel every single time, but I am glad we are born in a country full of taboo subjects.
Our country is full of conservative as well as progressive people.
When they meet, comedy emanates.
Seventy percent of our people are in rural areas.
When these people migrate to cities, they get a culture shock when they see women smoking or behaving in a way they feel is not right.
Cinema gets fodder from these kinds of situations.
With Bala, there is one definition of beauty which is followed across the nation.
People have these diktats that the guy has to be tall and have good hair, and a girl has to be fair.
We need to challenge these definitions of beauty.
And we have done that in Bala.
After delivering back-to-back box office hits, do you think you are a star now?
I seriously don't know what to say.
Of course, it comes with success.
Successful films reflect on your stardom.
You get less time with your family.
People start seeing you in a different light.
There is a National Award now (Andhadhun), so that gives you another credibility.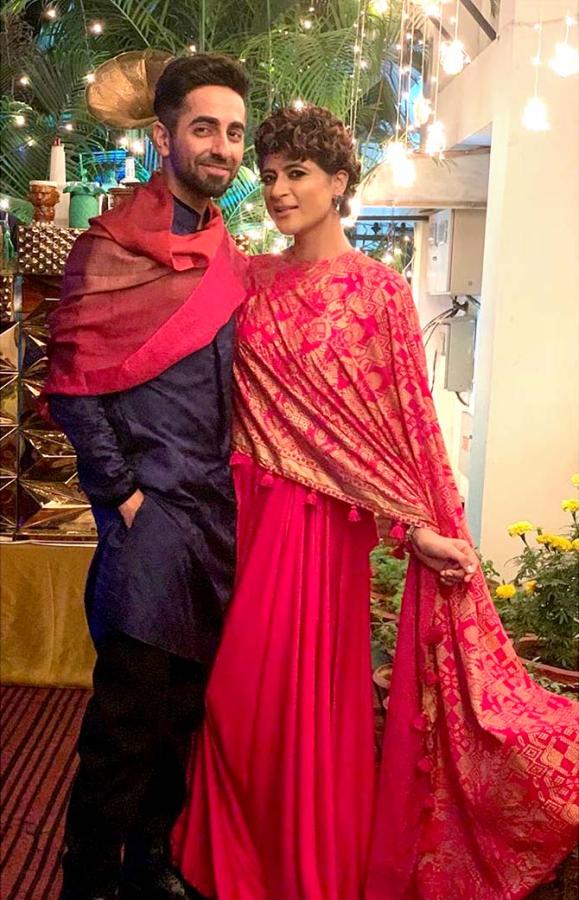 How would you describe stardom?
Stardom, by default, makes you an opinion leader.
Everybody puts you on a pedestal and expects you to give an opinion on everything.
At the same time, stardom is treading a thin line between contentment and ambition, for your own sanity.
You can never be completely content or you won't be excited to work.
And you cannot be only ambitious.
In that case, you will be going cuckoo in your head because you might become too bullish.
You have to tread the middle path.
And how do you do that?
It is difficult.
You approach a particular film with ambition. If it does well, you have to be content.
You should not think that you need to do better than this.
You just have to go with the craft.
Don't think about commerce, that is not your headache.
Go with the craft, go with your gut feel. That's it.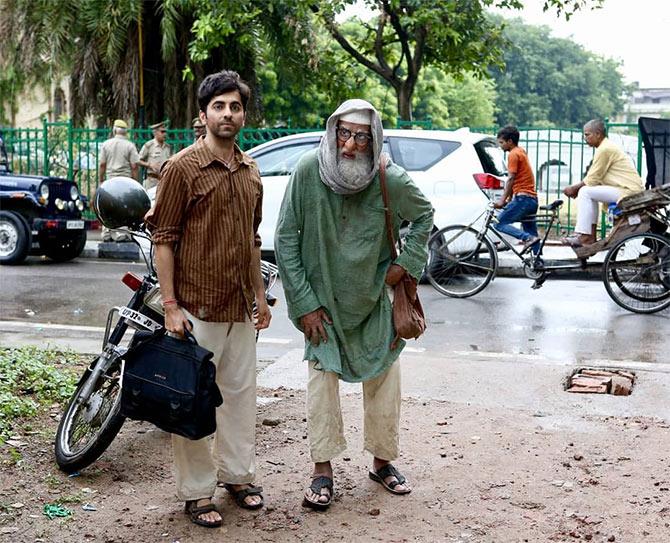 While selecting your films, do you feel any pressure to match the success of your previous films?
That pressure is always there.
You just have to touch that benchmark every single time.
There is pressure, but it is a happy one to have.
It is just that recent successes give you confidence to be more radical.
It gives you the courage to be more of a risk taker.
At the same time, I want to take it easy now.
My line-up for next year is ready -- Gulabo Sitabo and Shubh Mangal Zyada Saavdhan.
Now I am just reading scripts.
I am thinking about a third one. Let's see how it goes.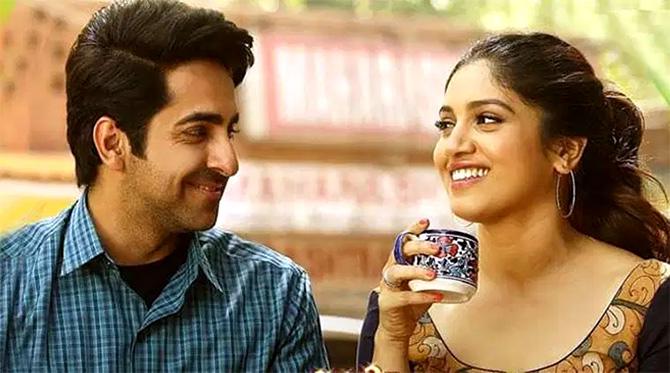 You are pairing up with Bhumi Pednekar and Yami Gautam once again. Is there any pressure to perform better than the previous collaborations?
There is a pressure to see how different you can be.
I had this chemistry with Annu Kapoor in Vicky Donor.
Dream Girl was completely different.
There is pressure that the film should not remind you of your previous chemistry or camaraderie.
With Bala, it was a challenge to be different.
I am glad they (Bhumi Pednekar, Yami Gautam) had different, well etched out characters in the film.
Yami plays a model endorsing a fairness cream.
On the other side, Bhumi is dark-skinned and plays a lawyer and my childhood friend.
Bhumi's character is interesting because she is dark-skinned, but not complexed.
I probably take inspiration from her as to how this girl is so confident.
The film is not just about receding hairlines and baldness. It has different layers.
It is about self-discovery, killing your complexes and coming out like a phoenix.
What complexes did you have?
I was extremely skinny. That was my complex.
This version of mine, ah, I am still lean, but I was very skinny as a child.
I wanted to be a fast bowler, but my coach told me that I was too skinny for that.
So I started bowling spin.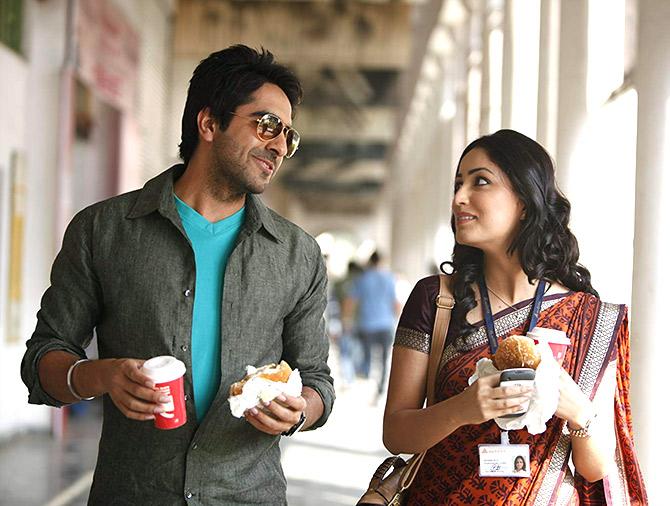 How liberating is it to redefine heroism in films? Would you like to play a superhero?
I need to look like one first!
The idea is have your own space.
Bala is about self-discovery.
It took me a while to discover myself.
After Vicky Donor, there were unsuccessful films.
I discovered myself then and thought that this is my zone. I just need to play to my strengths.
Once in a while, I can change my zone -- which is slice of life, quirky, taboo films -- and venture into films like Andhadhun or Article 15.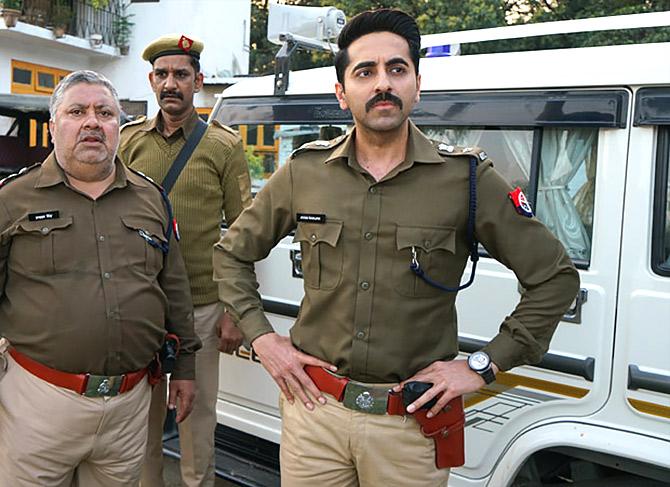 How satisfying is it to do a film like Article 15?
I was not the first choice for these films; I extracted them out of the directors!
I will still go to a director and ask them to give me an action film or a grey character.
I need to make that effort otherwise no one will write such stories for me.
When you saw yourself in prosthetics for the first time in Bala, how did you feel?
I became a different person altogether. I did not recognise myself.
I thought I looked like my grandfather. He had less hair.
I started empathising with a lot of people, like my friends. That was my homework.
But the prosthetic was the toughest part.
I wanted to shave my head, but since we had different stages of balding, I needed a prosthetic.
It would take two-and-a-half hours to get ready.
Film-maker Kamal Kant Chandra accused you of stealing his idea of a film based on a bald man. Would you like to comment on that?
Let me tell you that I got the same idea from six people.
There was a film called Hair Is Falling in 2011.
Other films on receding hairlines have been made, but they were not successful.
It is my decision to go with the best director, producer and choose the best script on the same subject.