'I am at peace with my body type, now people need to make peace with it.'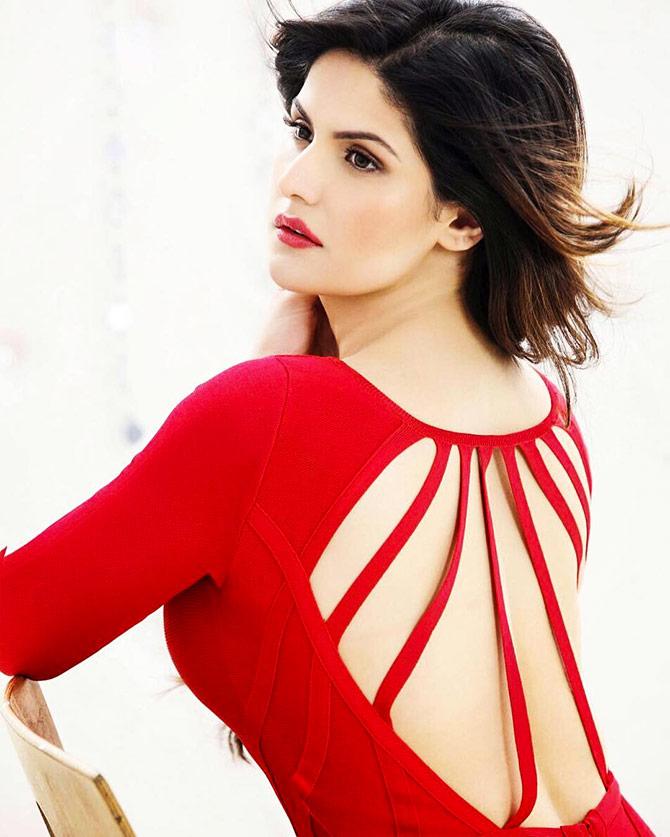 Photograph: Kind courtesy Zareen Khan/Instagram
"I am an easy-going person," Zareen Khan says when we meet her for an interview.
"I can break the ice with people in no time. I think I can even make a wall talk to me!" the actress exclaims, and breaks into peals of laughter.
Zareen may only be a few films old, but she's not one to be taken lightly.
She blasted the makers of Aksar 2 for making her wear minimal clothes after being assured that it would be a 'clean' film. The makers of Aksar 2 blamed Zareen for being unprofessional, but she stood her ground.
"I am a no-nonsense person. I will not tolerate injustice," she says firmly.
"I wanted to tell my side of the story because I didn't want any other girl, who is new to the industry, to be taken advantage of," she adds.
She also talks about her mentor Salman Khan and actresses being body-shamed.
Rediff.com's Jahnavi Patel listens in.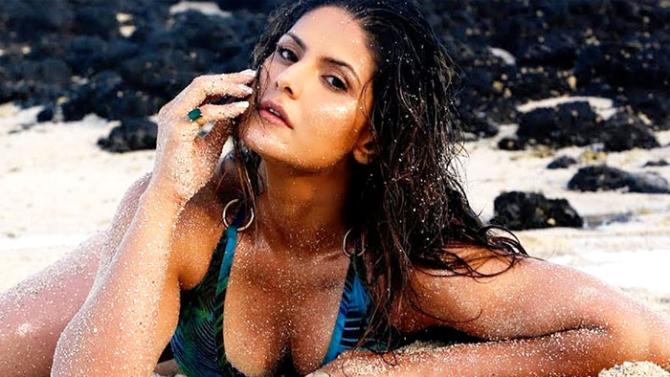 IMAGE: Zareen Khan in Aksar 2.
What went wrong with Aksar 2?
I come from a very simple background and like living my life controversy free.
When Aksar 2 came out, the things I said in interviews didn't happen after the release. It happened throughout the making of the film.
I chose to keep quiet because it was my own film, so I cannot say bad things about the people I am working with.
But after the film released, when fingers were raised at my professionalism, I decided it was time to speak up.
I will not tolerate injustice.
A lot of people feel that if a person doesn't belong to a film background or has no godfather or influential boyfriend/father, it's okay to say things because nobody will support them.
But I am not somebody who needs support.
A lot of people even thought it was a publicity stunt.
I wanted to tell my side of the story because I didn't want another girl, who is new to this industry, to be taken advantage of.
What was the bone of contention?
(Hesitates, then continues). The film turned out to be different than what was promised to me.
It was clearly told to me that they were not tying to make another Hate Story 3.
When we started filming, a lot of inputs came in... I don't know what the reason was, whether they lost faith in the film or their vision...
I am not saying that I am against doing what I did in Hate Story 3, but the makers (of Aksar 2) said they were making a clean film in the beginning. Then, they just added stuff in between.
When I tried to put my foot down, they chose not to make me a part of the film.
I saw the movie after it released. I took my family and friends to a theatre and paid for it.
Anyway, that whole negativity is left in 2017...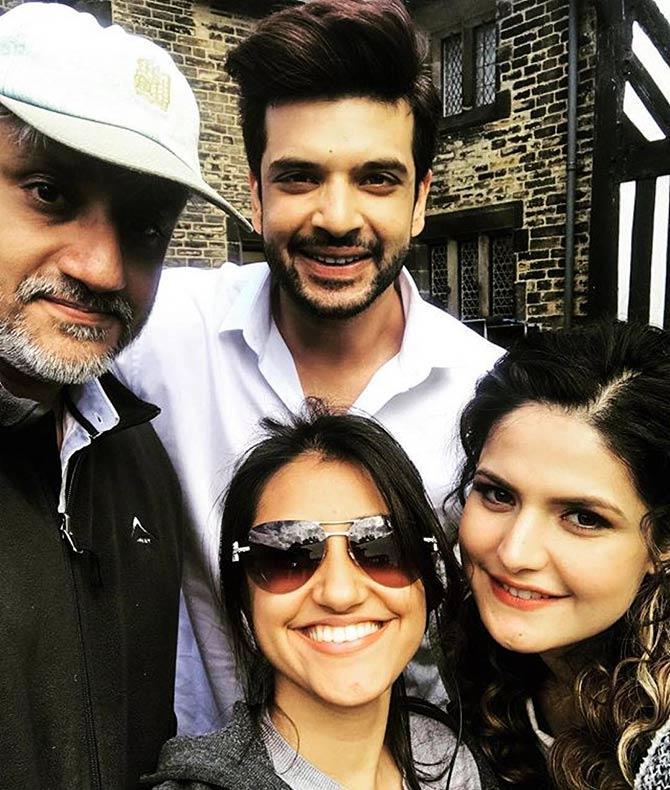 IMAGE: Zareen with 1921 Director Vikram Bhatt, co-star Karan Kundra and Vikram Bhatt's daughter Krishna. Photograph: Kind courtesy Zareen Khan/ Instagram
1921 didn't work at the box office.
Why do you think horror movies don't work in India?
The horror genre isn't explored much in our country.
Very few film-makers make horror films.
Unfortunately, a horror film ends up as unintentional comedy.
It's surprising because a major part of the population likes watching horror. Today's generation would love to watch a Conjuring or an Anabelle, but if you try giving them the same content in Hindi, they will be like, 'What bullsh*t!'
I think we have double standards. We, Indians, love imported things. (Laughs.)
The perception is that Indians don't know how to make a horror film. People need to change that perception.
They need to come out and see what we are offering.
People need to come out of their influence of the West and try and accept what's being made here.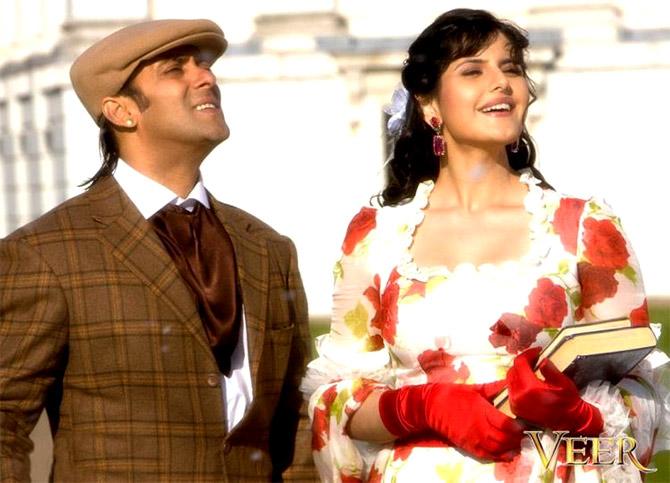 IMAGE: Salman Khan and Zareen in Veer.
You debuted with Salman Khan in Veer where your role was small. Now, you play central characters.
My role in Veer wasn't small.
Take any established actress today. They will have small roles in a Salman Khan film because Salman is Salman!
I don't think even the audience wants to see anyone else in his movies.
In spite of that, a newcomer like me had a prominent role in Veer. It was my dream debut.
I am a huge fan of Salman and I'm in this industry because of him.
If Veer had released today, would it have been a bigger film?
Yes. Timing galat thi (the timing was wrong).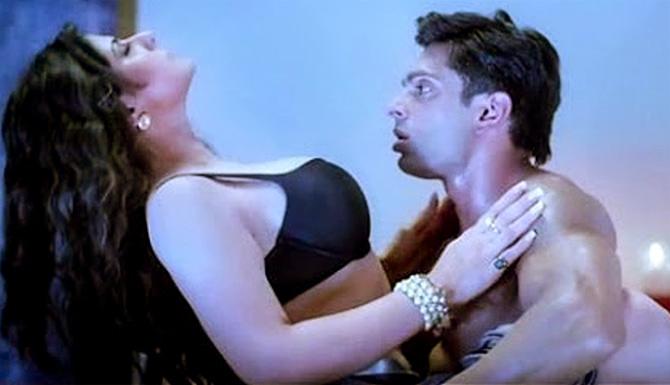 IMAGE: Zareen with Karan Singh Grover in Hate Story 3.
When you started in Bollywood, you were a part of multi-starrers. Now your films are smaller in scale, but you are the lead. Is that a conscious move?
After Veer, I did a song in Ready. Then,I did Housefull 2. They were all big films.
After some time, I was getting lost in all that.
I took a step back to understand what was happening.
There was some time when I wasn't visible on screen because I was figuring what to do.
I realised I didn't want to do too many multi-starrers because I was being perceived as someone who can fit somewhere.
Once I figured that out, I decided not to do films just for the heck of it.
I became more careful because I would be the only one who would get criticised when the films didn't do well even though there might have been a number of reasons.
Then Hate Story 3 came my way.
Initially, I was quite sceptical as it was difficult to imagine myself in a role like that.
I wasn't sure I'd be able to pull it off or if the audience would accept me in such a role after seeing me as a princess or a girl-next-door.
Hate Story was an erotic movie so there was supposed to be a lot of skin show.
And I'm still criticised for my weight.
But I took the chance, and it worked.
Now, films are being made where I'm the central character, and the film revolves around me.
So it's okay if the film doesn't have a big budget, as long as it satisfies me and I have a good role in it.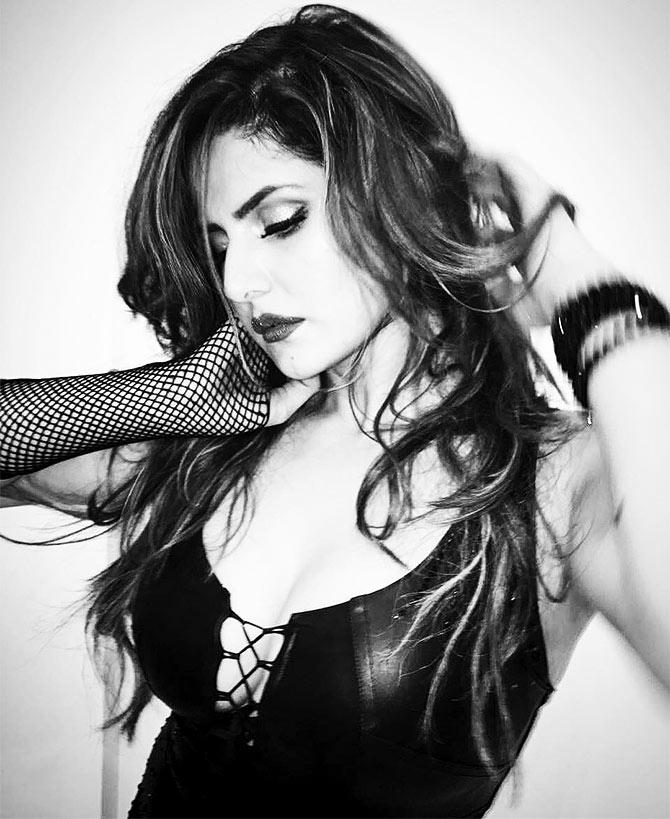 Photograph: Kind courtesy Zareen Khan/Instagram
Will it be tough to return to the family audience space?
No. I did one film (Hate Story 3) which was erotic and another (Aksar 2) which turned out to be erotic (laughs).
1921 is a very clean film. It's a soulful love story.
There will be a change in perception after this film.
I am also doing a film with Anupam Kher, where I play a cop.
I have an offer for a comedy film as well.
So if people were just seeing me as an erotic actress, I don't think these films would have been offered to me.
Luckily, I haven't been stereotyped.
How do you look at body shaming?
I have come to terms with it.
For me, being a certain weight is only for my fitness.
I do not need to go out and prove to the world that if everybody is becoming size zero, I need to become that too.
My body type is different.
If I try to become that weight, it may not look good on me.
I am a big structured girl.
I am at peace with my body type, now people need to make peace with it.
As actors, we should be judged for our acting abilities, not our body weight or our clothes.